Road Trip
The Great American Pie Festival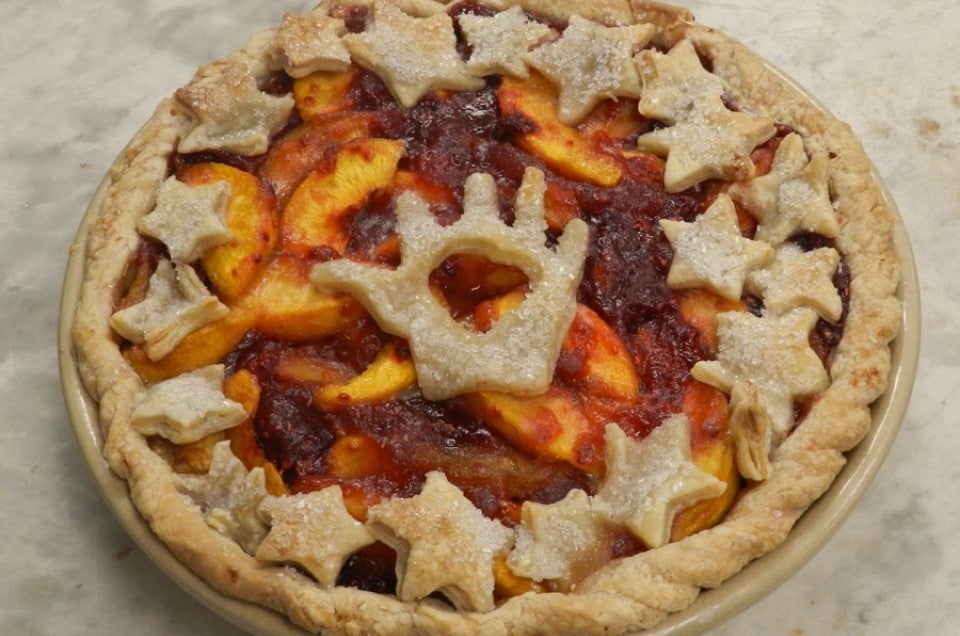 For your entire adult baking life, people have raved about your pies. "You should enter this in a contest," they say. "You'd win for sure!!!"
So you decide to go for it. What happens next? More (and in some ways less) than you think. More about the less later.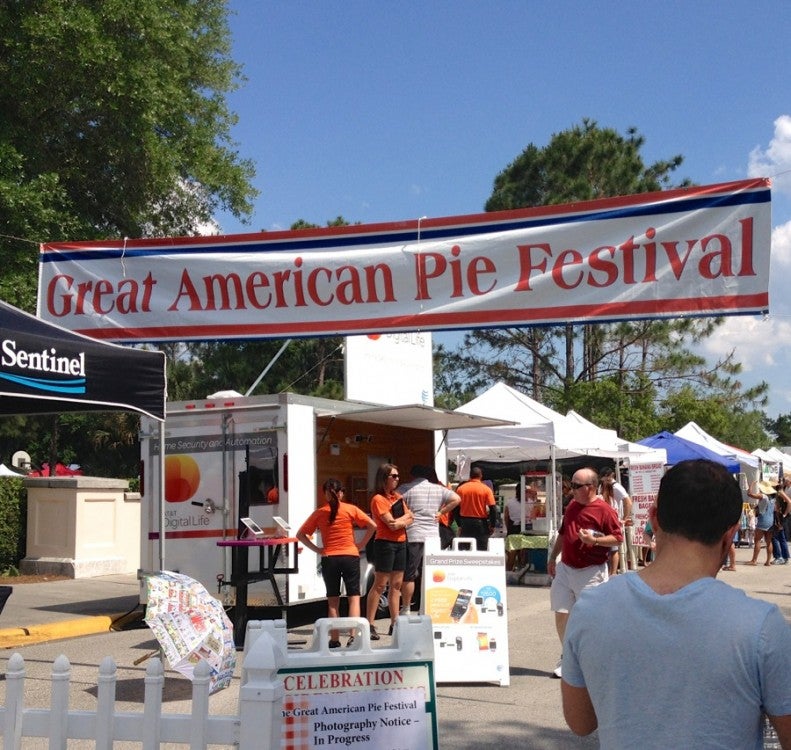 Fellow "Baking Sheet" newsletter colleague Gwen Adams and I spent last weekend in Orlando, Florida, attending, doing demonstrations, and judging at the Great American Pie Festival, which is put on by the American Pie Council. The creative director of the festival, the ebullient Linda Hoskins, gives an overview of last year's festival here.
Dedicated to all things pie, whether commercial, professional, or amateur, the American Pie Council puts on quite the extravaganza every year – beginning with a day devoted to commercial pie manufacturers.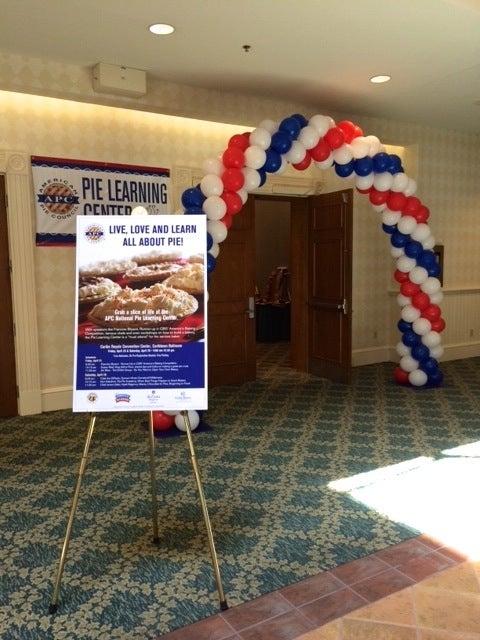 The Pie Learning Center was the place to be to learn about ingredients, current regulations, and pre-made fillings. We arrived that afternoon and set up our display table, and did some prep to get ready for the demonstration the next day.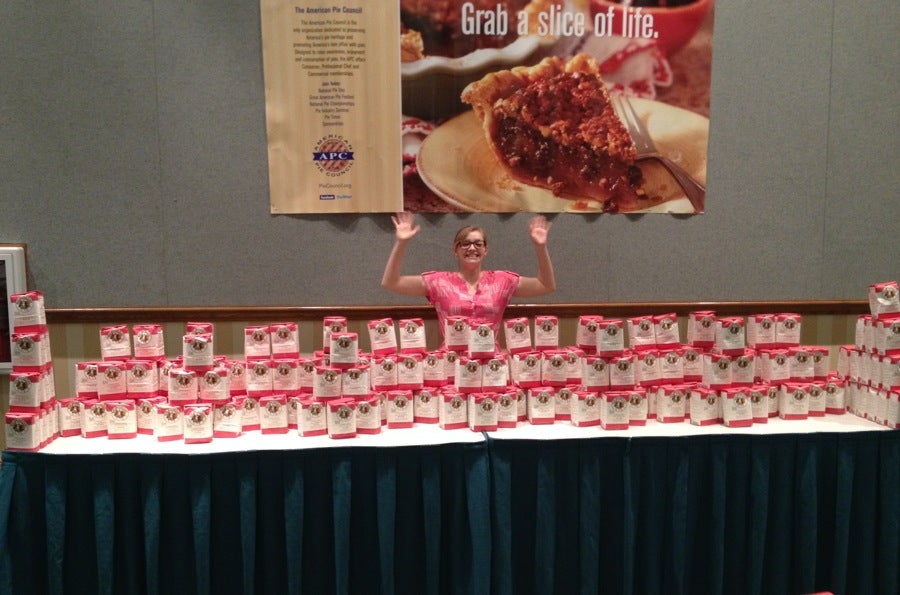 Friday began with a very, very big table getting loaded up with pies from commercial producers.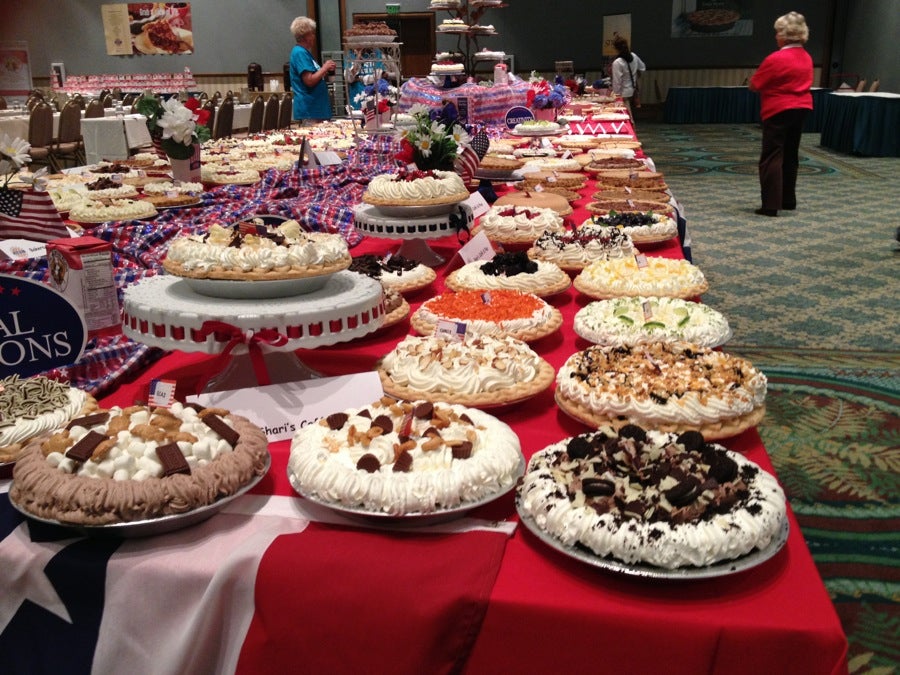 Baker's Square, Publix supermarkets, Legendary Baking, and several other pie manufacturers were required to bring two pies for each entry: one for judging and one for this amazing display.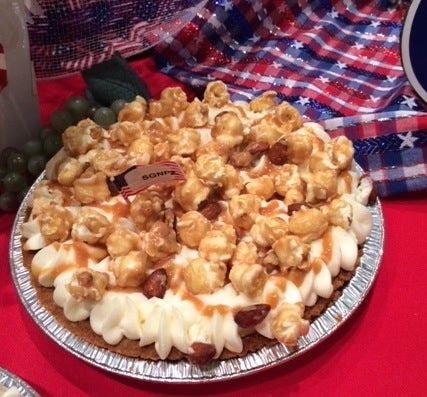 Gwen and I were both fascinated by this popcorn-topped pie. We saw others with all the trendiest flavors available: salted caramel, bacon, flavored marshmallows, you name it.
First up was a terrific demo by Francine Bryson, a native of Pickens, SC and recent contestant on CBS' The American Baking Competition. She made her Chocolate Peanut Butter Bacon Mousse Pie, which was mighty tasty, if I do say so myself.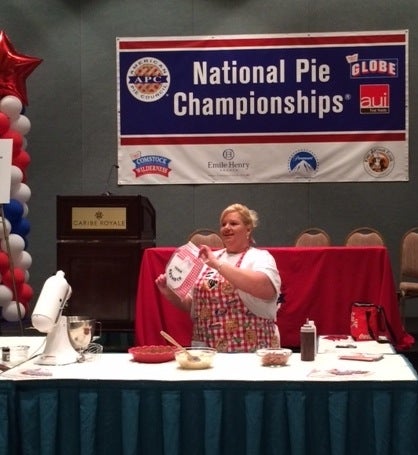 Then yours truly did her thing. I demonstrated our all-butter pie crust, then made an apple pie.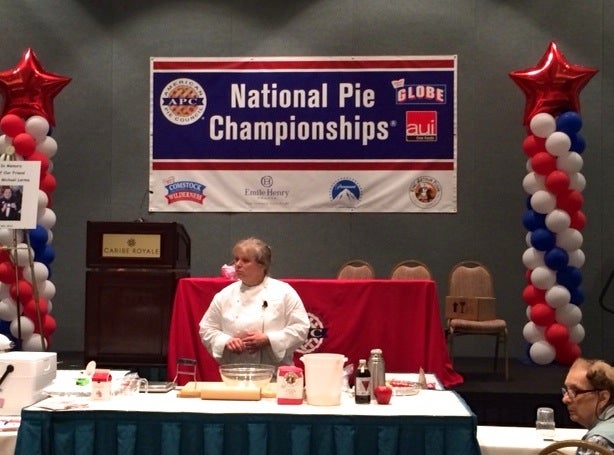 I was lucky enough to have a very engaged and attentive audience. They asked good questions, and you can see I'm taking one in above.
All the time I was doing this, Gwen had a steady stream of interested people coming up to our table to get their free flour. You can see the boiled cider bottle in its hero spot on the table; I gave tastes of it to Francine and several other attendees. Everyone I give it to wants to buy a bottle immediately, without fail. One of the bonuses of this demo was having a pie I could bake off to bring to the demo at the festival the next day.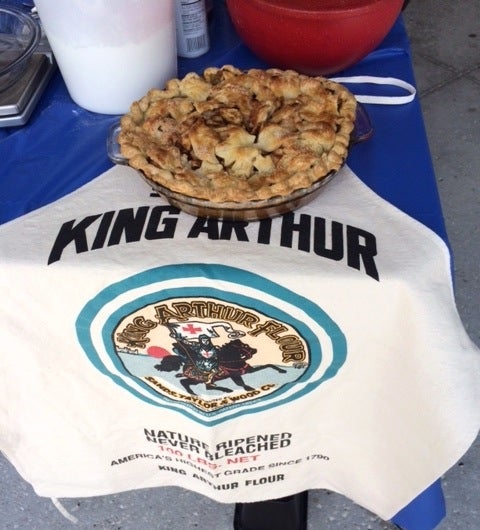 On day three, the judging for the amateur pie competition took place; hundreds of volunteer judges gathered to receive instructions on the procedures to follow, and to get a look at how to tabulate scores.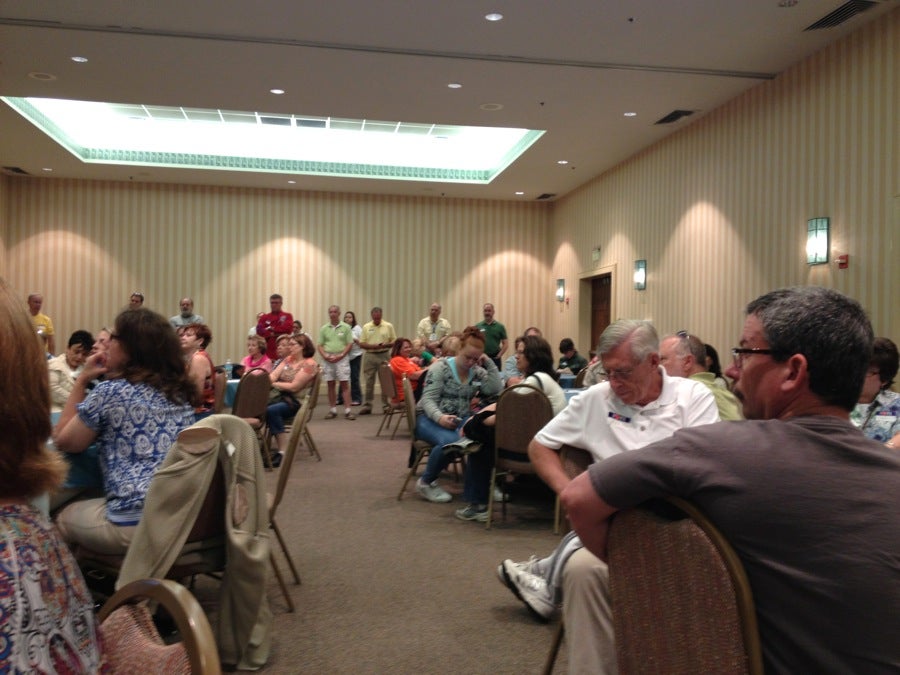 For the amateur competition, you can choose 20 different categories to enter. Some people enter four or five, some only one.
King Arthur sponsored the apple pie category, but cherry, blueberry, coconut, cream, citrus, pecan, chocolate, "innovation," gluten-free and sugar-free were also being judged.
Some judges were assigned to specific category tables;  some were allowed to choose their category. I ended up at the blueberry pie table, while Gwen judged at one of two apple pie tables.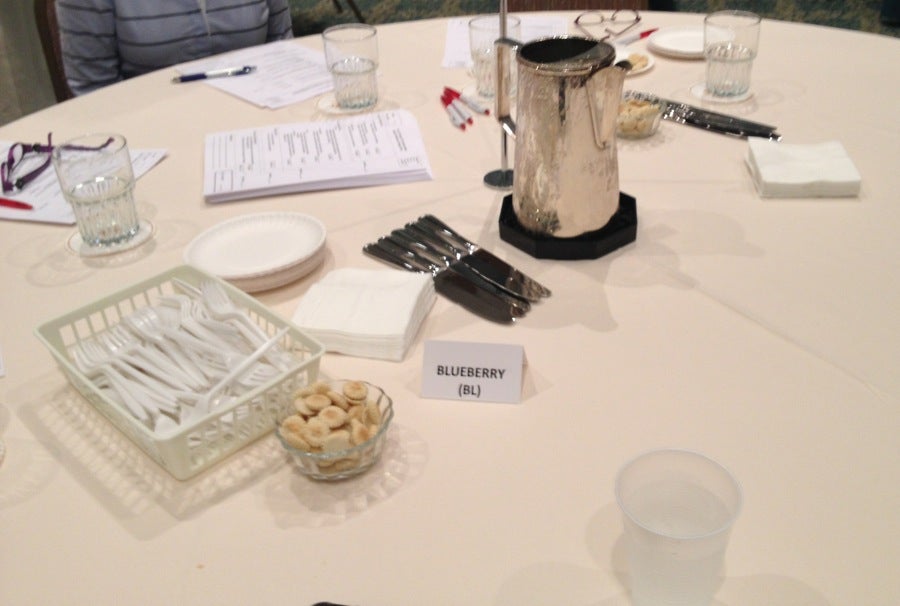 Volunteers in red T-shirts displayed the pies uncut, so they could be rated on their appearance; then cut a slice so we could see and rate the pies on their cross section. Lastly, we all took a taste of the sample slice and wrote down our ratings.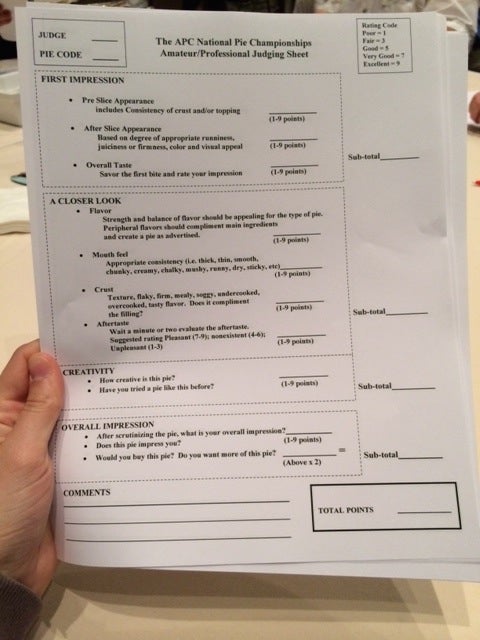 The score sheets provided space for us to give feedback; we were encouraged to keep our comments positive.
Which brings me back to the opening salvo of this post. If you've ever thought about competing, you'll immediately realize there are a lot of differences between making a wonderful pie for your family in your own kitchen and entering a competition. At home, you know where to find ingredients, you know how your oven behaves, and you don't have to really go out of your way to get from inspiration to delectation.
In a competition, you're in an unfamiliar location (unless you already live in Orlando or within driving distance to arrive at the competition with your finished pie by 9 a.m.), and baking in whatever oven is in the hotel suite you're staying in. Looks absolutely matter. Every part of your pie is going to get evaluated and compared to other pies in that category.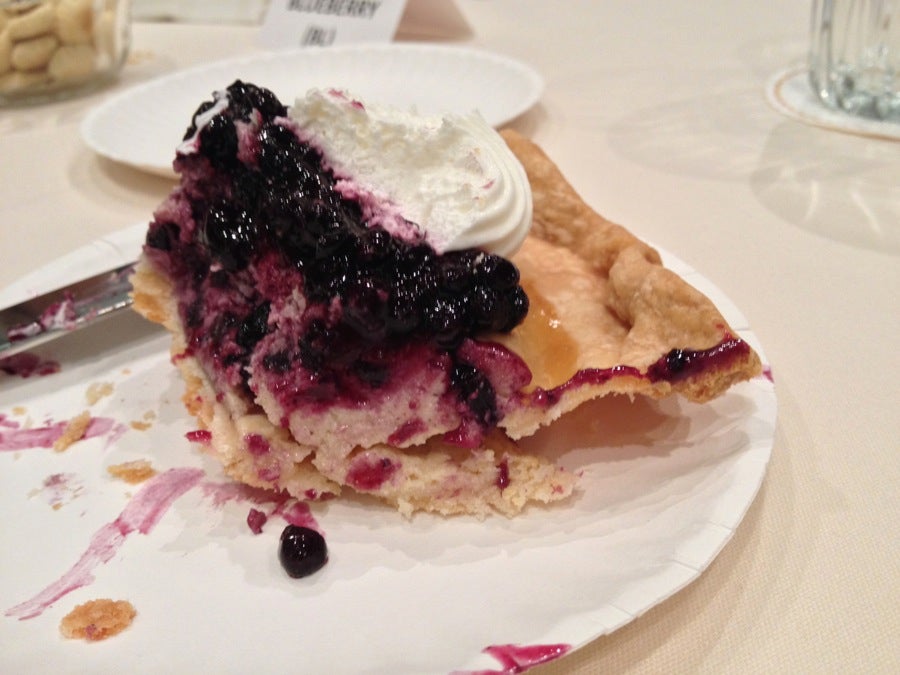 It can get hairy, and it's important to have a resilient, never-fail sort of recipe. Francine gave some very good advice at her demo: if you're going to compete, make two of whatever you're entering, so you can taste one of the pies. That way you'll know what the judges are tasting.
As you can see from the score sheet above, looks matter, but only so much. In my category, the best-looking pie was by far the worst tasting.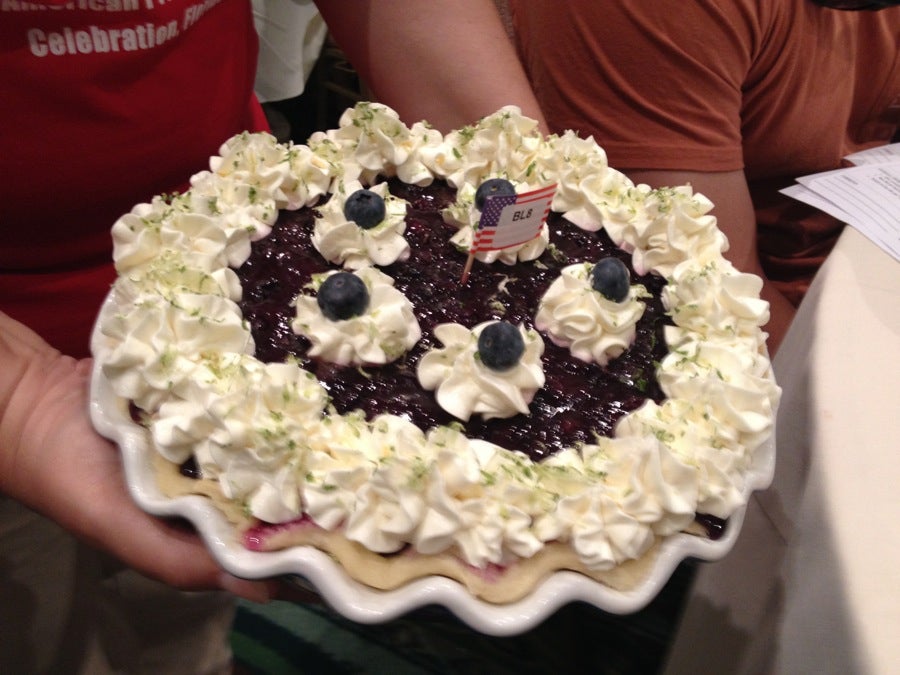 It had lime oil in it, which could be fine, but it had so much that it literally burned the inside of our mouths and overpowered the blueberries completely.
My favorite pie to eat was this one...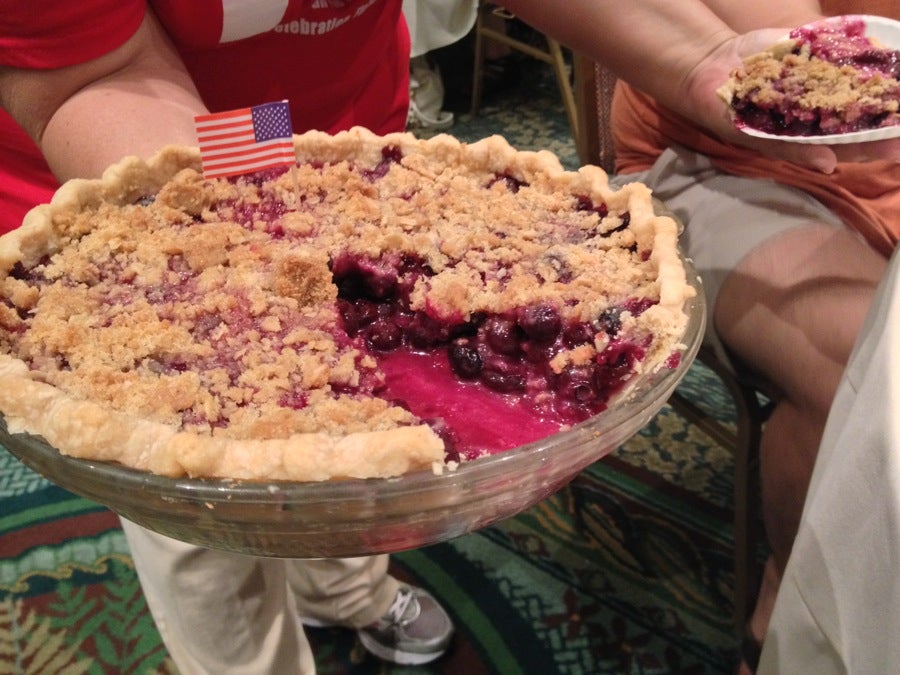 ...a blueberry crumble that was just delicious. It ended up taking third place in its category.
Meanwhile, Gwen was studiously working her way through a LOT of apple pies.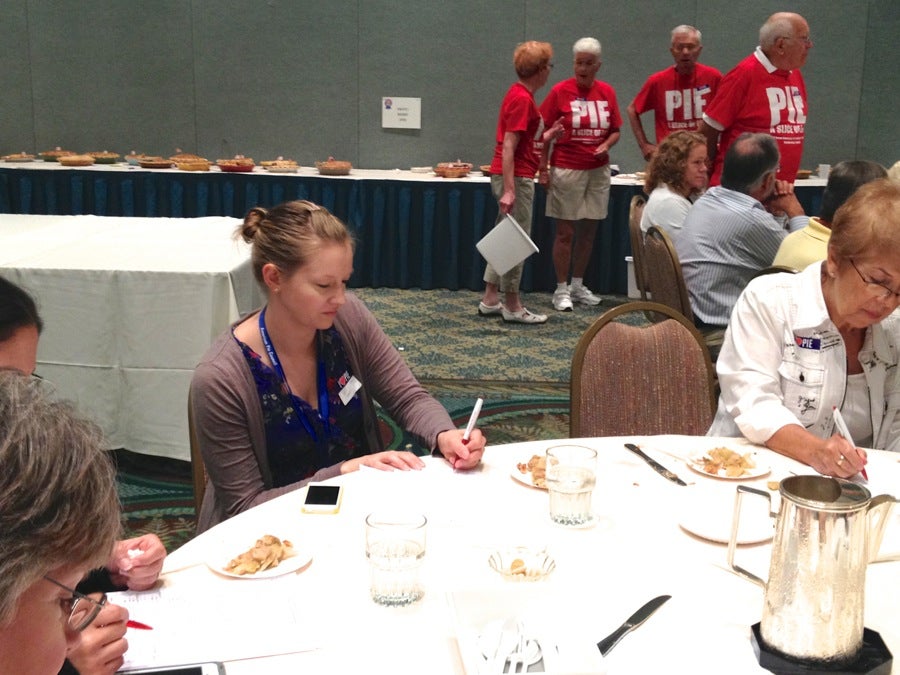 I'll let her tell you about it.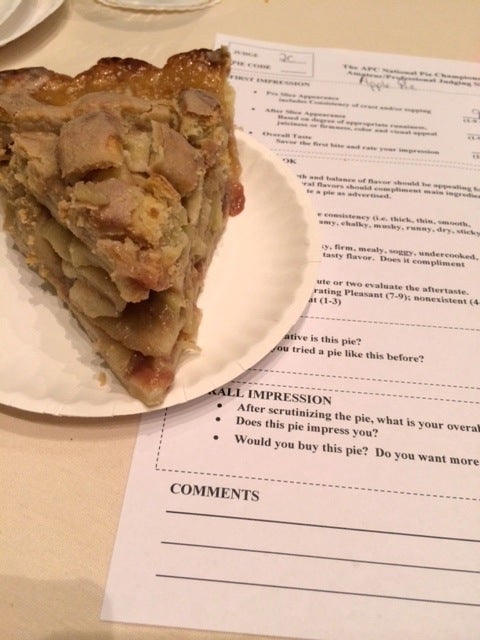 Since apple pie is one of the largest entered categories, it was actually broken into 2 different tasting tables. Each table was responsible for 1/2 of the entries, with both tables meeting at the end with the top 2 pies from each group, to decide the top 4 ranking results.
Having been trained in our sensory panel, I was confident that I would be able to judge the pies' flavor profiles with a discerning palate. 10 pies later with 3 more to go before the finals, my taste buds were feeling pretty fried.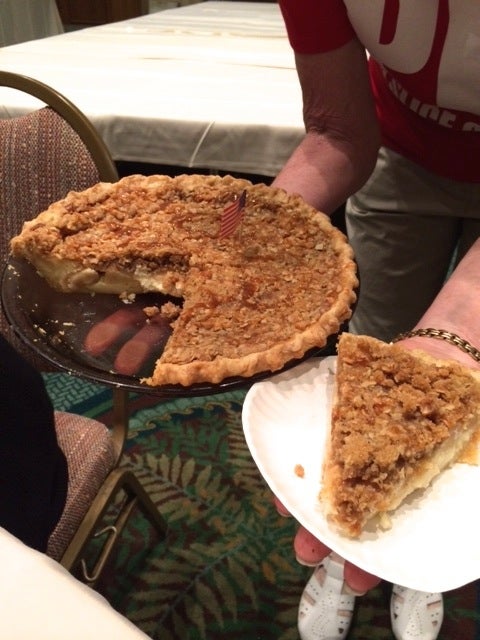 The pie that received the highest marks from ME was this ultra delicious refrigerator pie, that had pieces of vanilla cream cheese swirled throughout the spiced, sliced apples. Even without seeing any other scores, I could tell my fellow judges felt the same. It was the only pie of the bunch that had us scraping our plates clean!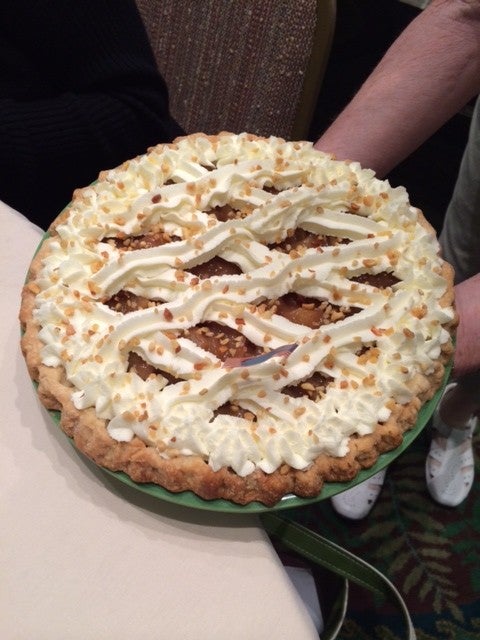 Susan again: Judging took about 3 1/2 hours (that was a LOT of pie!), then it was time to head over to Celebration (a Disney-planned town) where the festival was going on. Festival-goers had lots to see, from the pie wagon...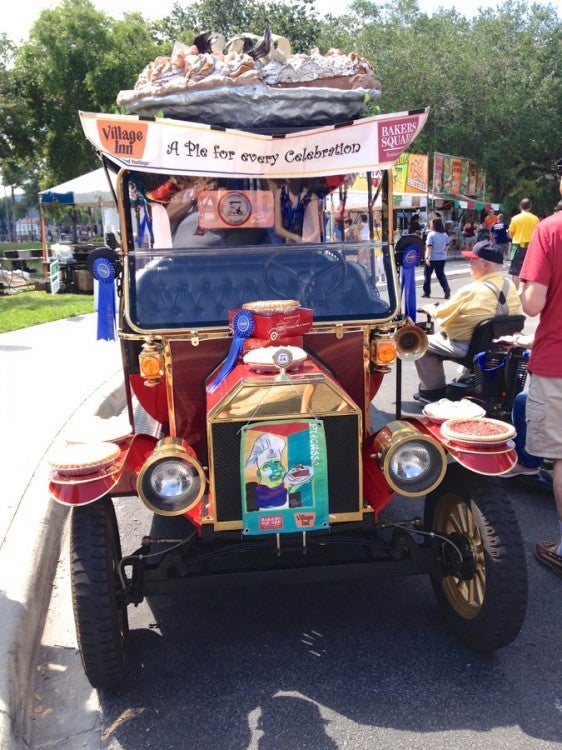 ...to Super Pie...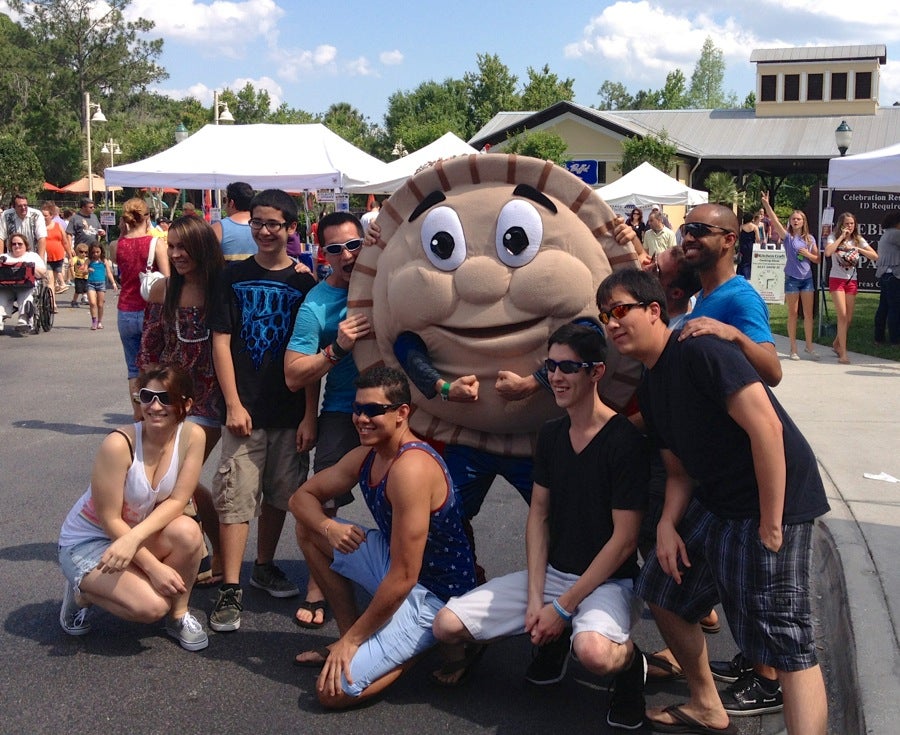 ...to the pie eating contest...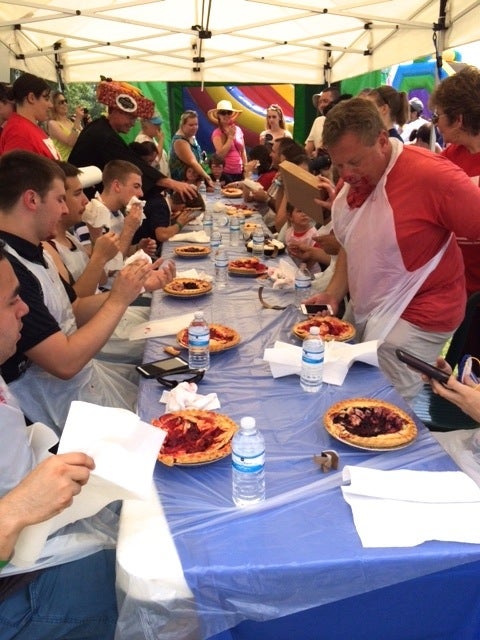 ...judged by this guy...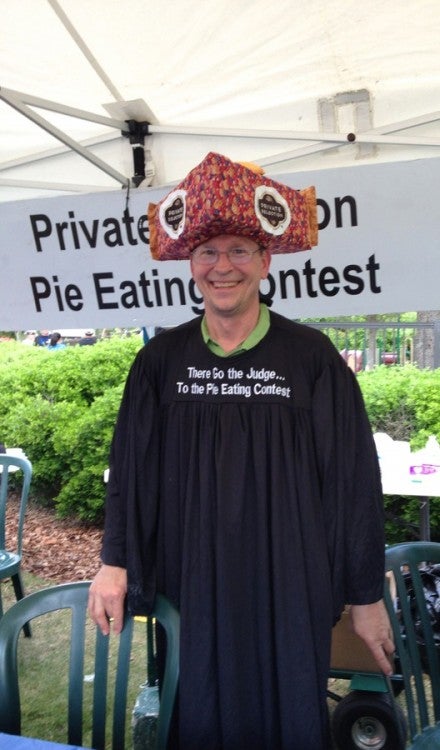 ...near the Pietopia stage, where a constant parade of demos, shows, and even Disney characters appeared.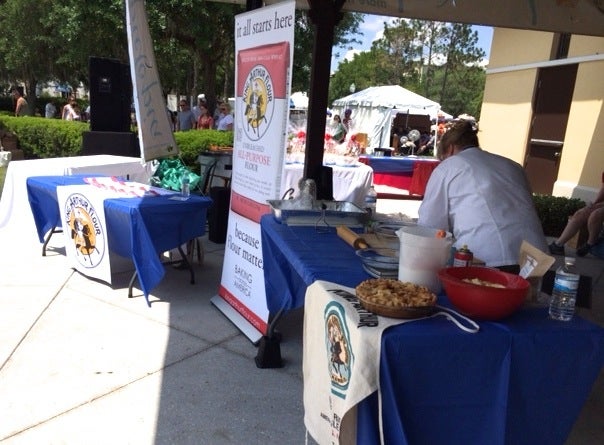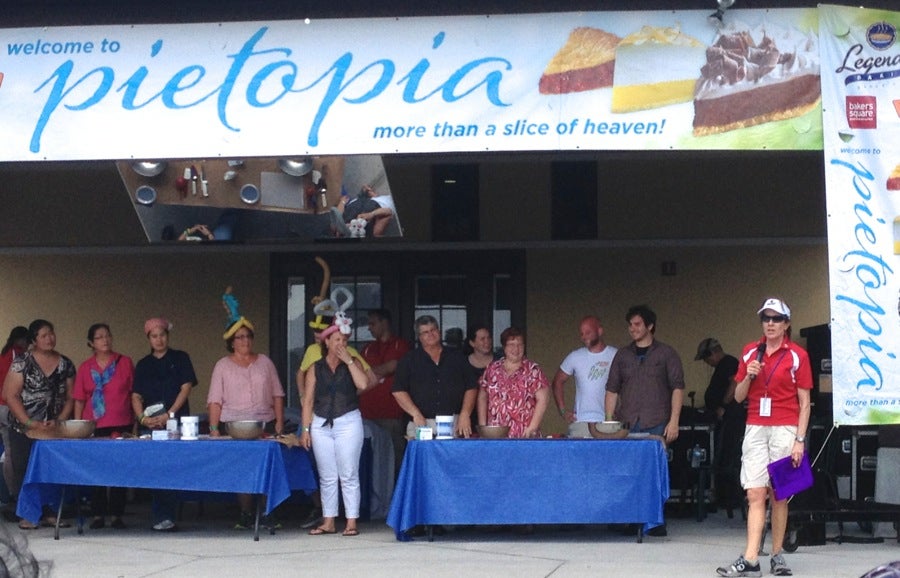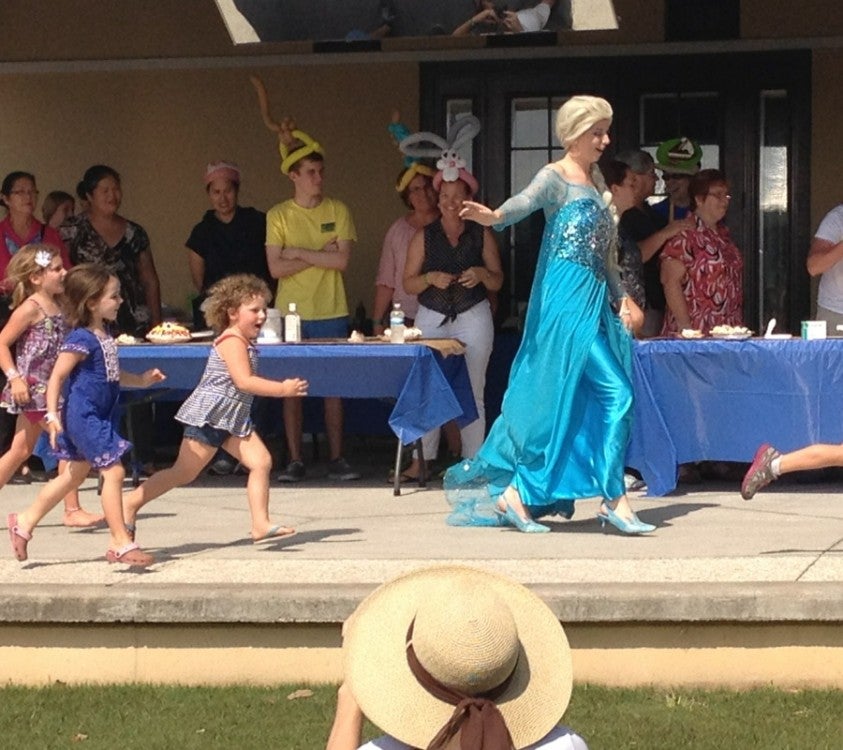 The festival included an apron contest (we judged that, too. The criteria? The looks of the apron, creativity, and quality of the strut across the stage); a pie buffet where you could eat as much pie as you could hold for the price of a ticket; juggling; a team pie-making competition; several vendors for interesting cooking items (including a bit of home: Cabot was there, as was someone selling VT wooden rolling pins), and a booth where kids could roll out pie crust (practice for their future pie adventures).
This was our first year as a sponsor at the National Pie Festival, and it was great to see such a big event devoted to all things pie. Everyone we met was fascinated by King Arthur Flour, and it was great to be in the middle of all the excitement.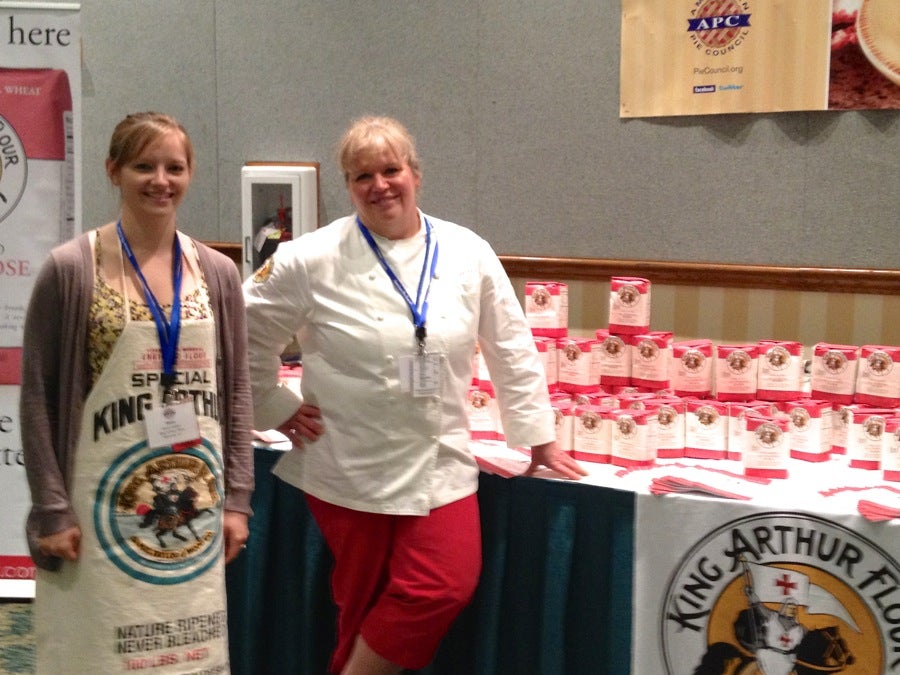 So if you're dreaming of pie glory, I encourage you to visit the American Pie Council's website; all the winners are there, as well as information on entering your masterpiece.
Pie for the people!