Thanks so much to all of you who submitted baking blunder photos for this blog post. We've shared a selection below; for more, check out #bakingblunder on Instagram. 
"Just as I reached the dining table where I was cooling other Christmas cookies, a half-sheet of hot Linzer Squares slipped out of the pan and onto the floor. I was so sad!" - Eileen T.
Well, Eileen, we can understand your sadness, and sympathize; the disaster pictured above must have been devastating – at the time.
But now, a few months after the fact – don't you find yourself chuckling, just a little bit?
After all, who doesn't like a pratfall, guilty fun though it may be?
The classic slip on a banana peel. The Three Stooges throwing pies.
Lucy and Ethel in the chocolate factory.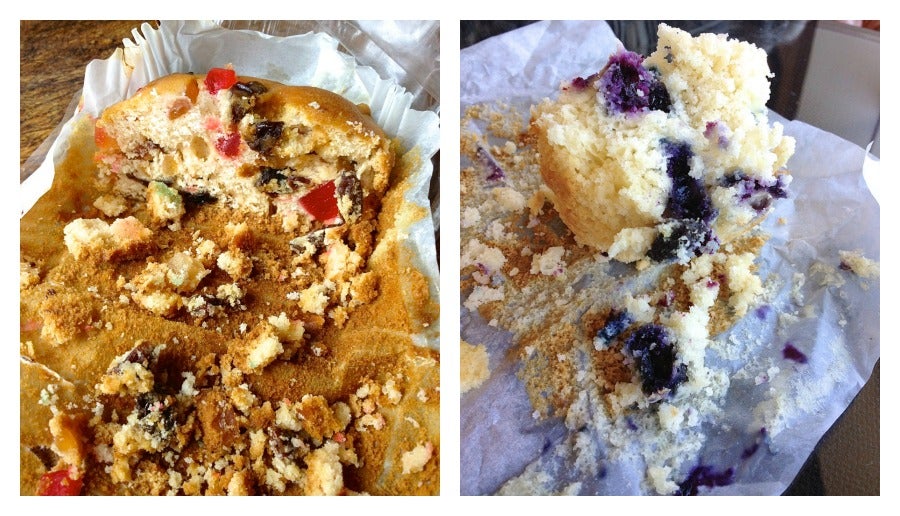 And me, with a couple of shaky attempts at super-tender fruitcake (left), and blueberry muffins (right). My results were... well, pretty crummy (sic).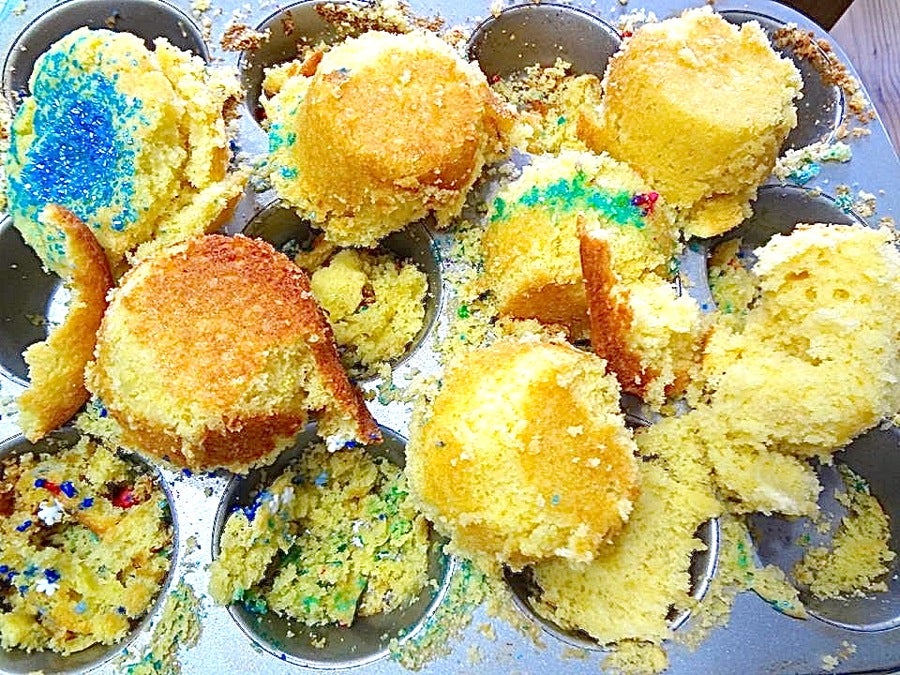 As for Patrease W., she knows where to point the finger: "Pam for Baking let me down with these yellow cupcakes. At least that's my story and I'm stickin' to it."
Just like the cupcakes, right, Patrease?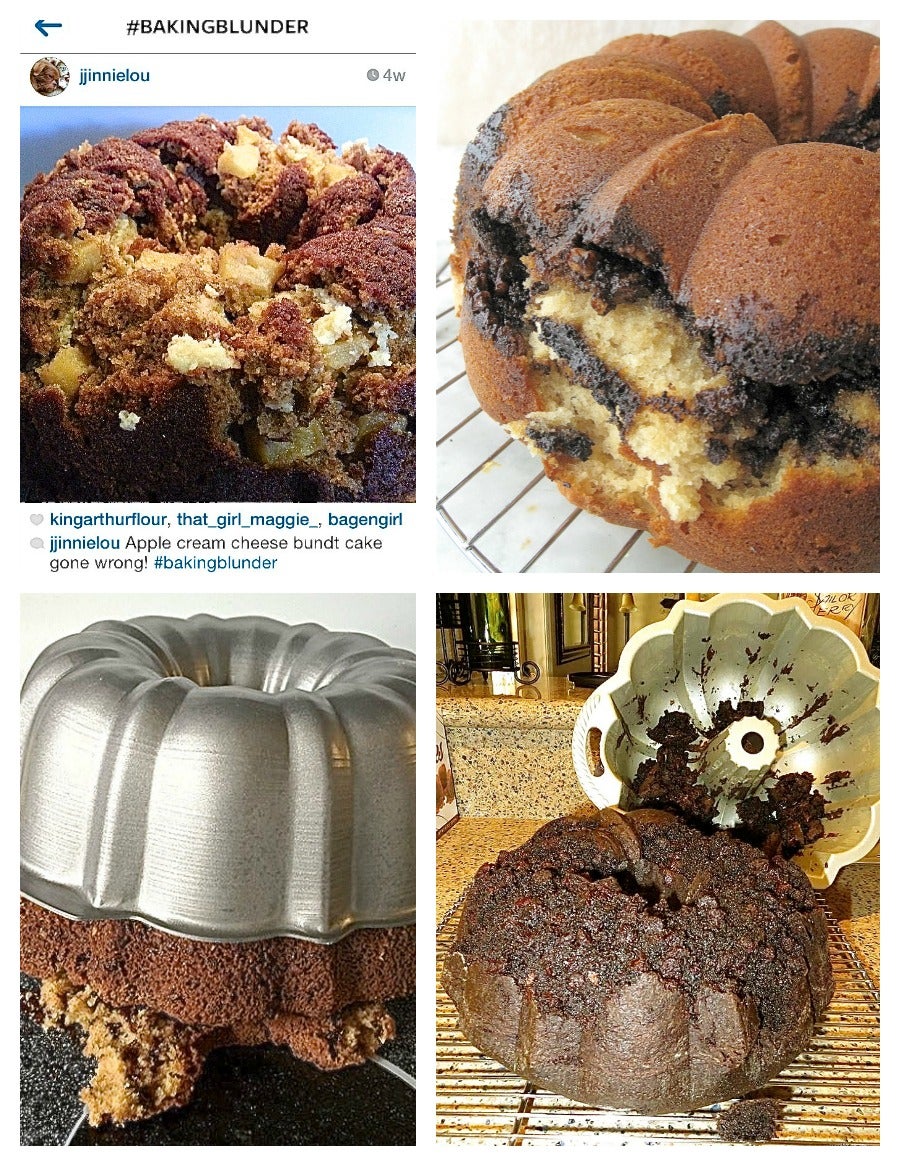 So, is it the voluptuous curves (read: opportunities for clinging cake) in bundt-style pans that prove so problematic? I know what happened with mine (upper right): I impatiently turned the hot cake out of the pan too soon.
Suzanne J.'s cake (lower left) "slid off the cooling rack while turning." Join the "user error" club, Suzanne!
As for Patty P., she did the cake version of making lemonade from lemons: "Double Chocolate Cherry Bundt. It because a Black Forest Trifle instead." Great recovery, Patty!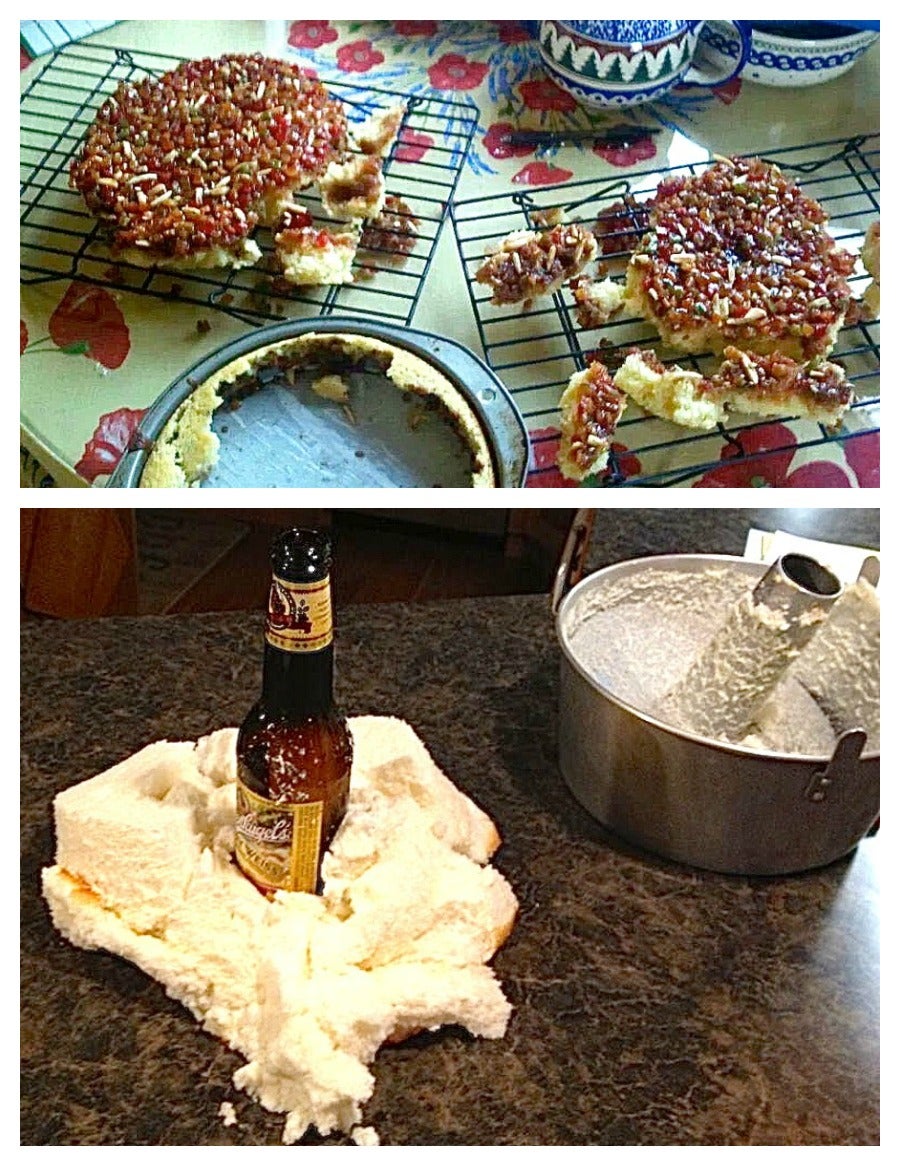 Sometimes even trifle isn't possible, though. "King Arthur Christmas Upside Down Cake from the 2012 catalogue. Epic fail, not one cake but 2 cakes," notes Cheryl L.
And from Bev N.: "Angel food cake from scratch. Looked perfect in the oven. Turned it over to cool on a bottle (like my mother taught me). Immediately fell out of the pan."
Bev, we trust you enjoyed the Leinie, at least!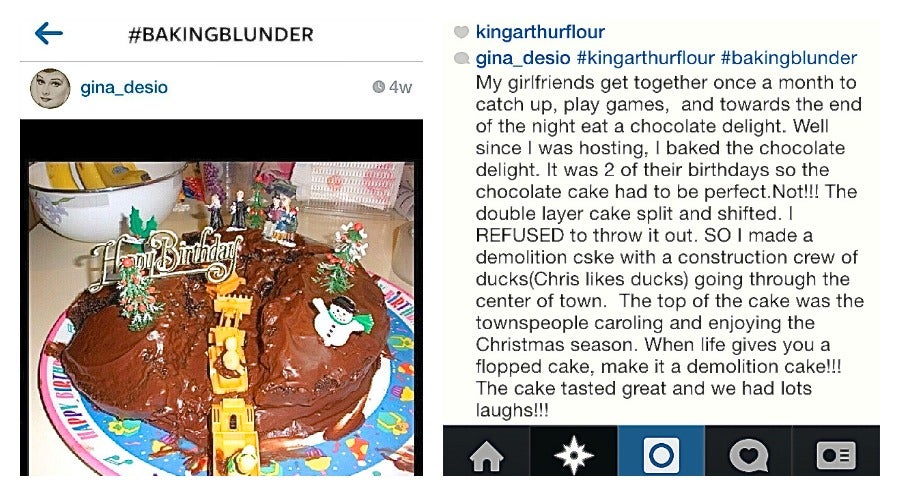 Been here, done this... but Gina, I love your style!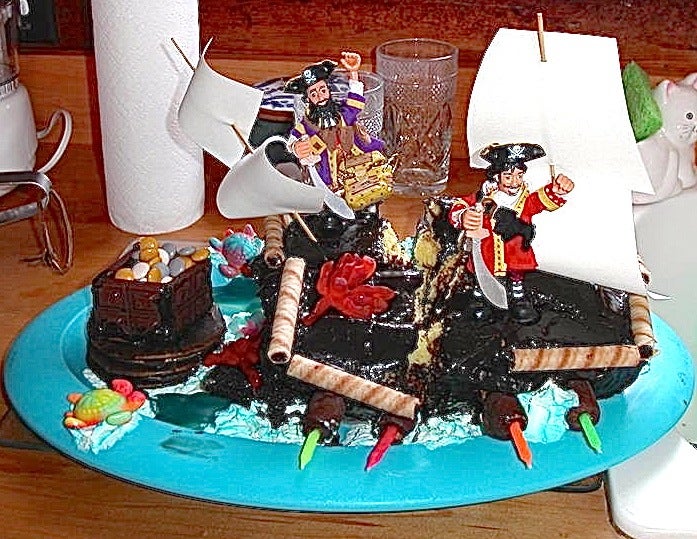 "Argh! It was several years ago, but the pirate ship that cracked became a shipwreck for a little boy's beach birthday," says Pam V.
Knowing little boys and their propensity for joyfully wrecking things, we're sure he loved it.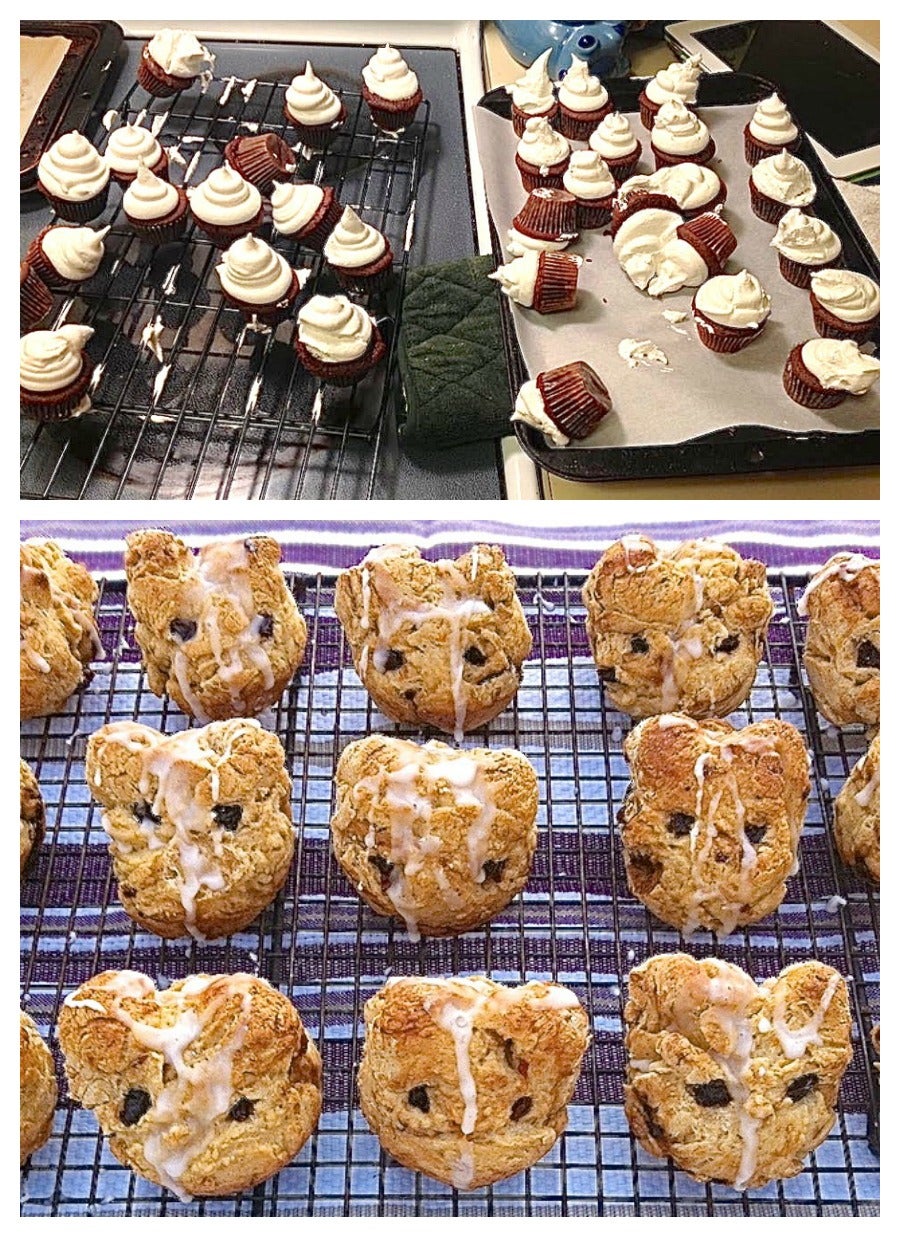 File under: the best laid plans...
Katrina K.: "The only disaster I photographed (and most heartbreaking). These labour-intensive Hi-Hat mini cupcakes (homemade meringue "hats") needed to be chilled before getting a final dip in chocolate... The top tray fell into the bottom tray and in a mere second destroyed hours of work. Lesson learned; empty out fridge!"
Deanne S-D.: "So last year before Easter, there was a cute photo circulating on Pinterest of little bunny dinner rolls. I thought I was being brilliant by coming up with a mash-up recipe of those rolls and hot cross buns. Let's just say my Hot Cross Bunny Buns turned out looking more like mutant Hello Kitties that are crying."
At least those tears are sweet rather than bitter, right?
Next up: self-styled messes.
Picture a hot biscuit topped with ice cream and caramel; warm strawberry shortcake; ice cream on a summer day...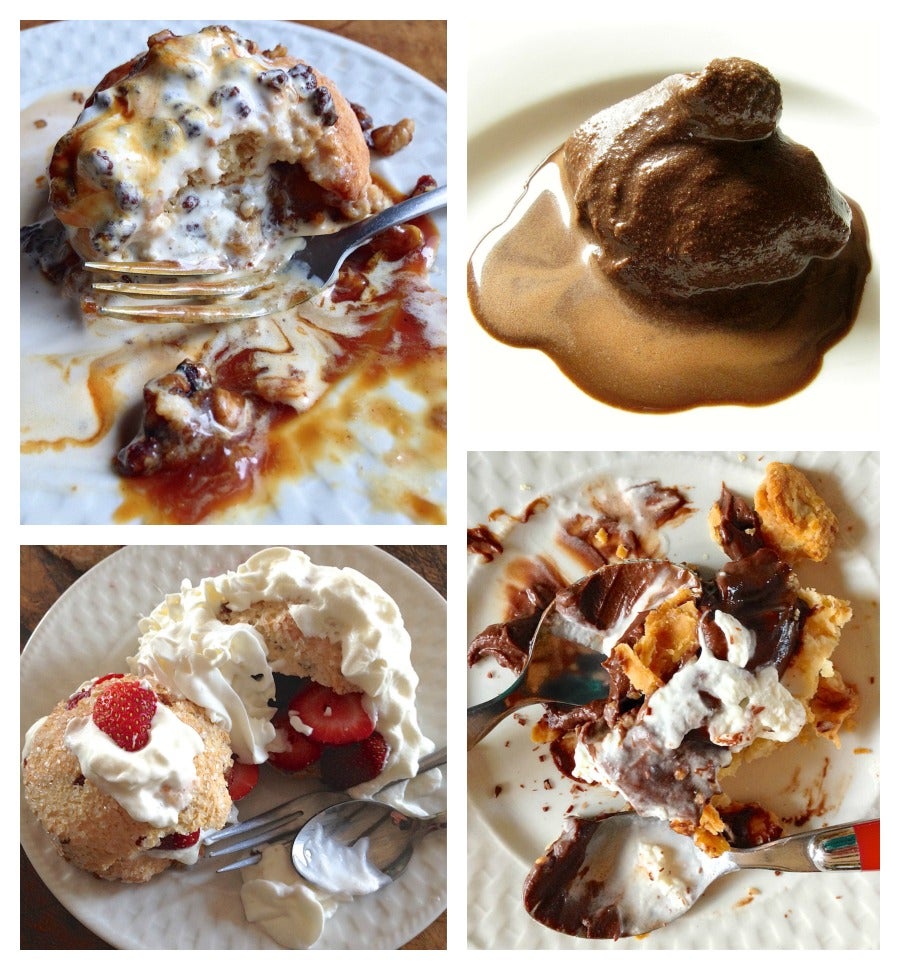 ...and chocolate cream pie that hasn't quite set.
Go ahead, picture them; I did, with my iPhone 5, which is what I use for all the pictures in my blog posts.
Unfortunately, between the heat of the treat and the fragility of its topping, plus sticky fingers, a skinny, slippery phone, and the need for three hands –  well, let's just say the moment quickly goes from marvelous to messy.
Note the eating implements, though – I can attest that looks have nothing to do with taste!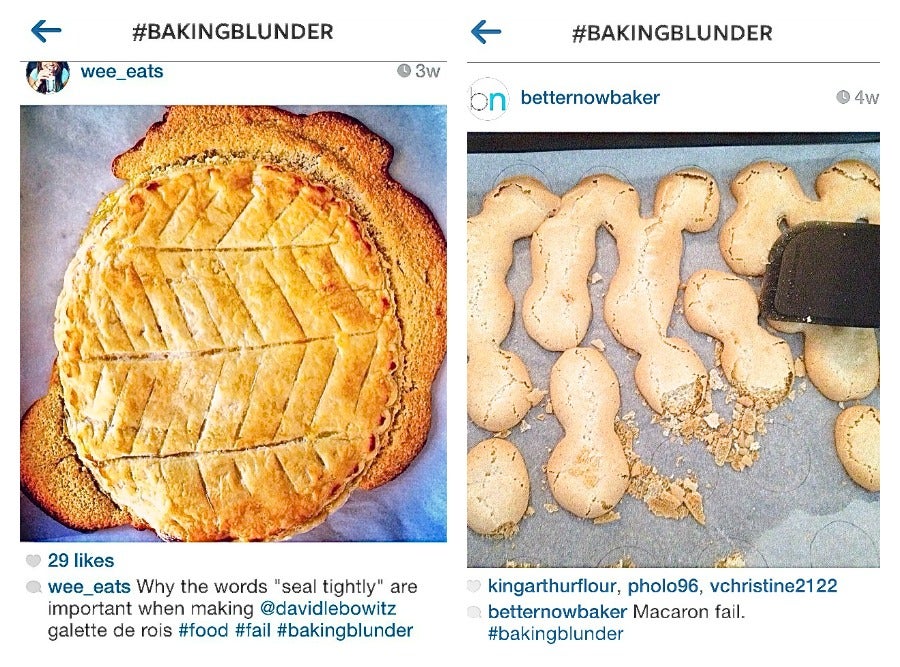 Don't you love that moment when you look into the oven, see what's happening, and realize there's not... a... single... thing you can do about it?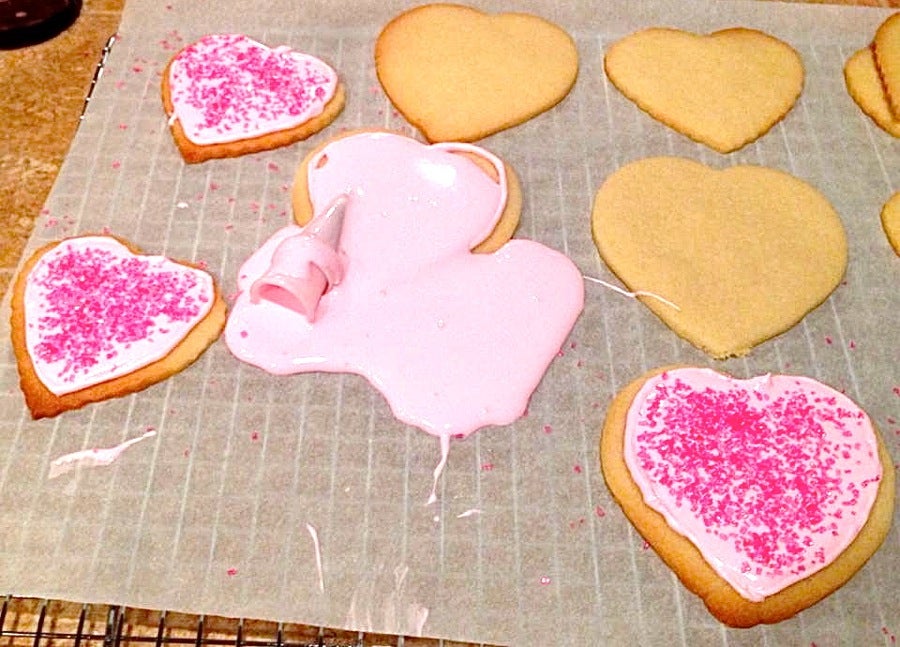 I laughed out loud at this one when I saw it. It's just SO clear what happened.
I feel your pain, Larry F. "Icing bag explosion," indeed!
And now, let's take a trip through the hazardous minefield of everyone's favorite baking challenge: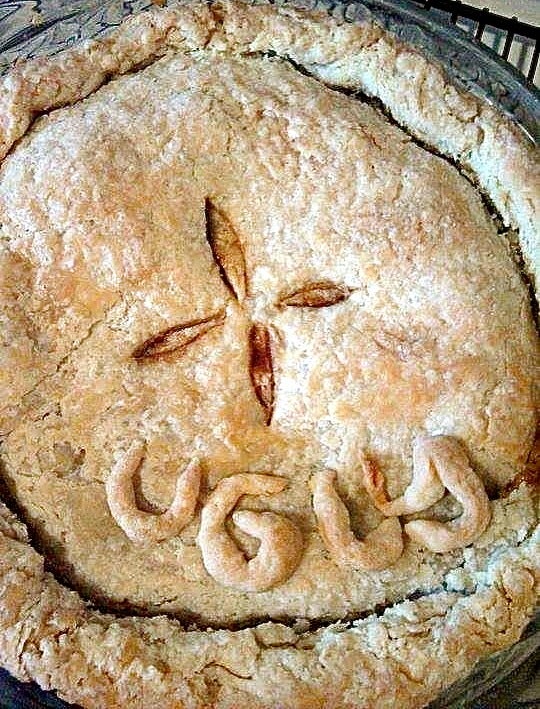 Pie.
Kristen G. notes, "When I first set out to learn the art of pie-making, I made a lot of terrible, disgusting pies. This apple is one of them. I named it Ugly Pie."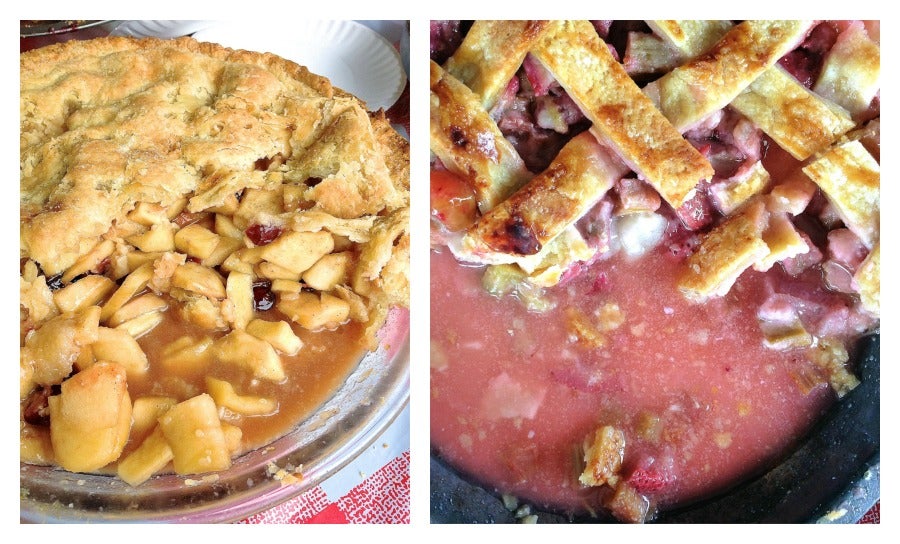 Kristen, you're not the only one with the recipe for Ugly Pie. These two entrants in our annual King Arthur Flour employee pie contest tasted good, for sure.
But appearance? As the old chant goes, "U-G-L-Y, you ain't got no alibi, you're UGLY!"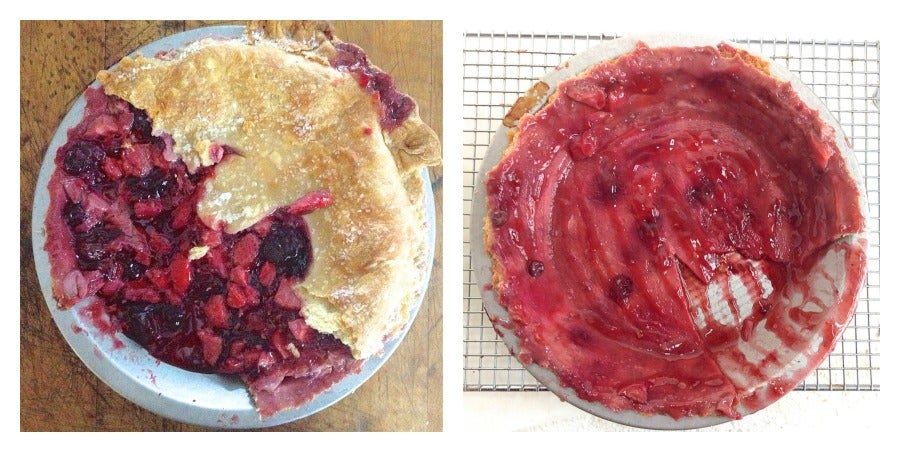 I've made my share of epic fail pies, it's true.
But I've also learned how to salvage them – at least partway.
Ditch the crust; re-purpose the filling.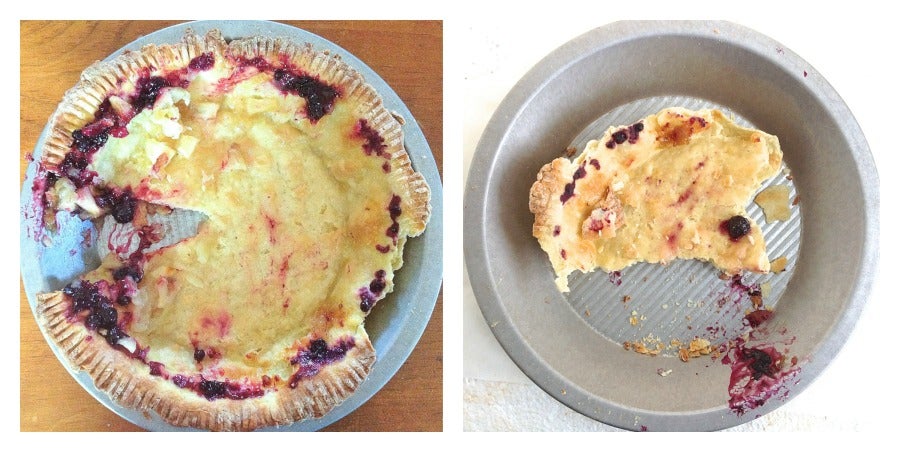 Or, TRY to ditch the crust.
Sometimes, usually right before lunch, even epic pie fails look good to the taste-testers here at King Arthur Flour!
One of the things I tested while writing a post on pie thickeners was to pre-cook berry filling in the microwave.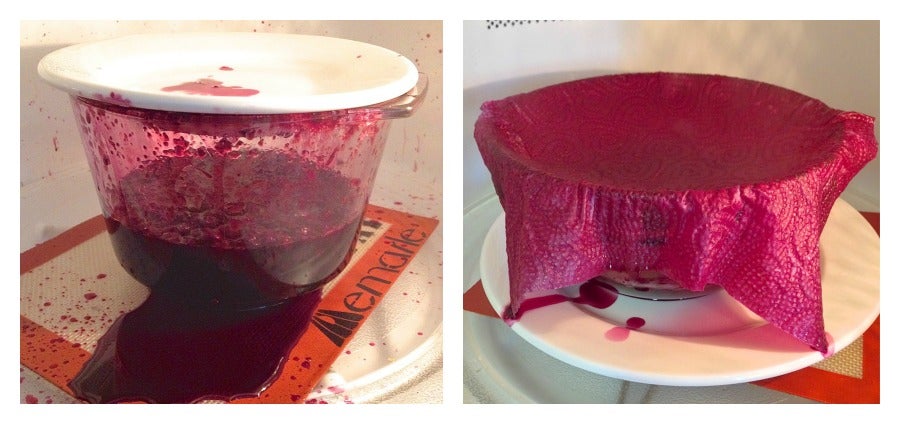 Surprise! A heavy saucer set atop the berry container does NOT stop their juice from bubbling up and finding its way down the side of the bowl, onto the protective silicone mat, AND from there onto the walls and ceiling of the microwave.
Solution: absorbent paper towel replaces saucer.
HA: gotcha!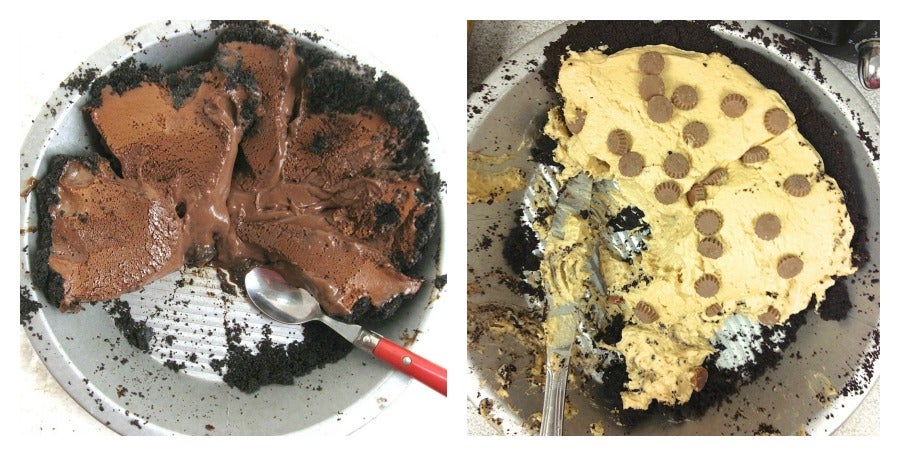 Two pies in progress that EVENTUALLY matched taste to appearance – though in this first go-around, both lacked that certain je ne sais quoi, as far as looks go.
Hey, taste trumps beauty any day, right? 
Now, we all know baking is full of choices. "I don't have that pan. I wonder if I can substitute this one instead?"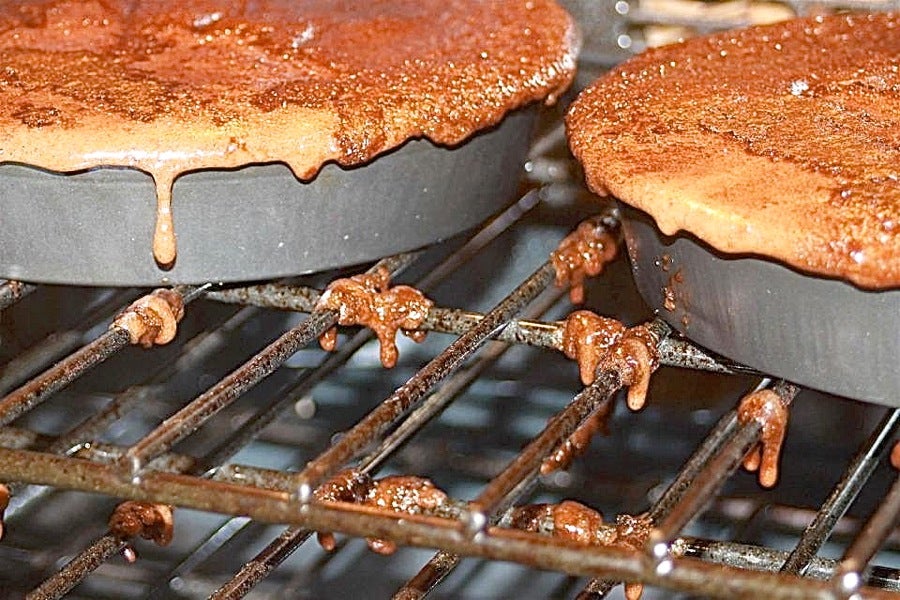 Hmmm, Heidi W., guess not. "Didn't read the directions carefully. Was supposed to use a 10" pan, not 9"!"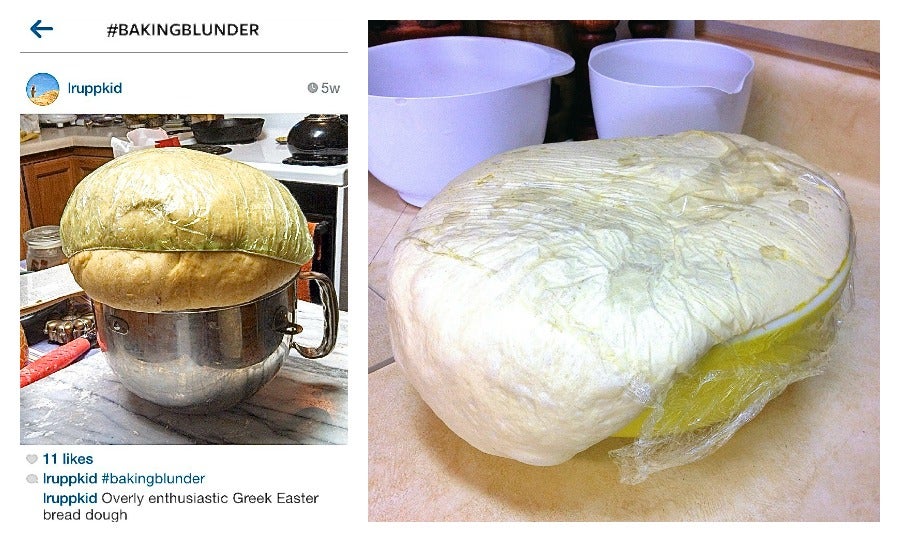 Overly enthusiastic Greek Easter Bread dough, meet wildly enthusiastic pizza crust dough.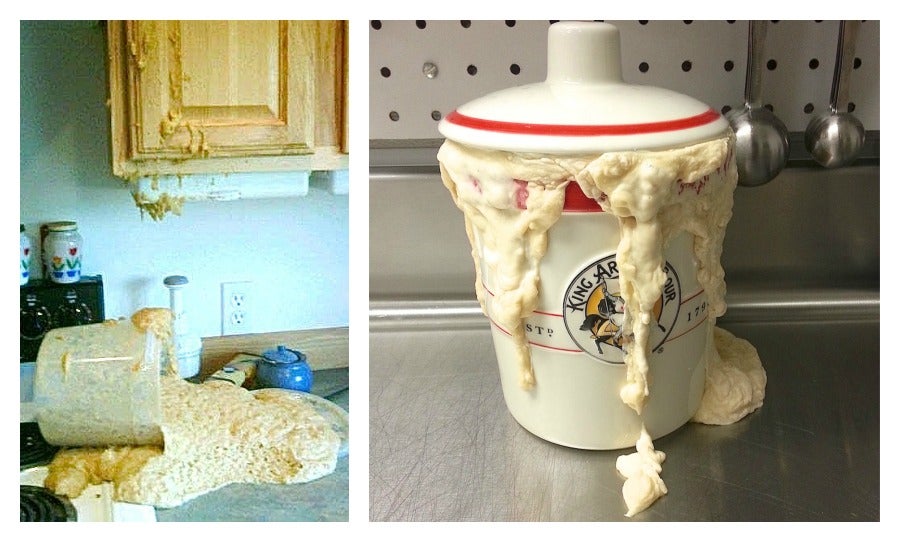 And explosively enthusiastic no-knead dough. And sourdough starter.
Karen B.: "Do not seal a Cambro container of bread dough and forget to put it in the fridge before going to bed. The picture does not show the dough all over the ceiling, cabinet tops, floor, and somehow on the pantry door 6 or 8 feet sideways..."
Bread dough can be rambunctious, it's true. Thankfully, we usually manage to turn it into a wonderfully tasty, golden loaf.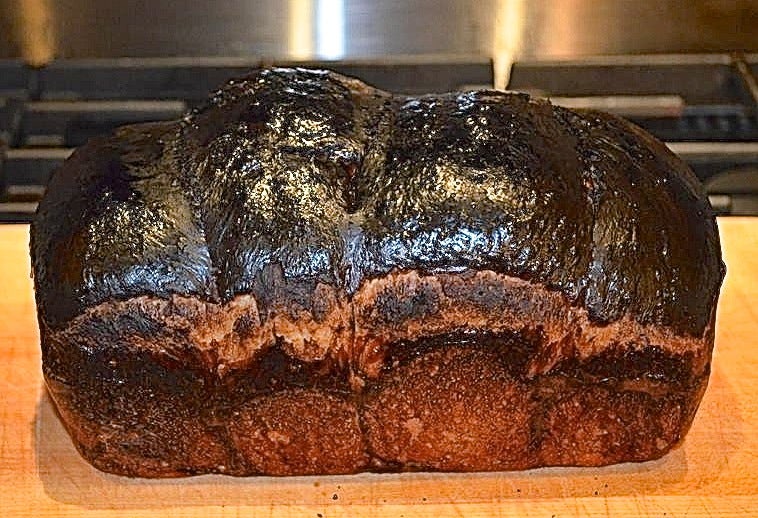 Or not.
"Oven electrical circuits went haywire when I was baking challah," says Elizabeth D. "Instead of baking and browning nicely, the broiler came on and voilà. Charred crust."
And a beautifully shiny charred crust it is, Elizabeth!
Ovens aren't the only culprits, though.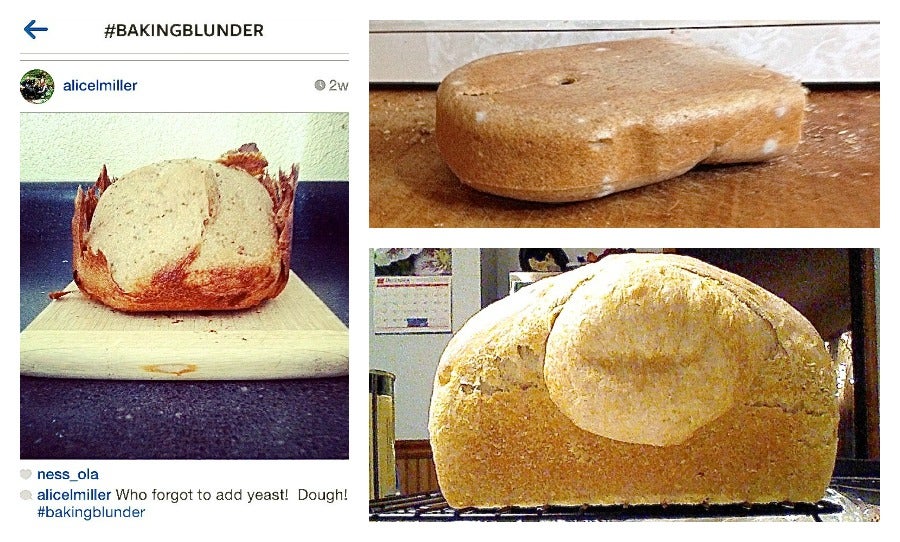 Says Debbie (loaf pictured at upper right), "Guess yeast bread REQUIRES yeast, eh?"
And, in a repeat appearance from Patrease W., she of the crumbled yellow cupcakes: "Sourdough went a little overboard in the oven!" She calls this "the loaf with a nose."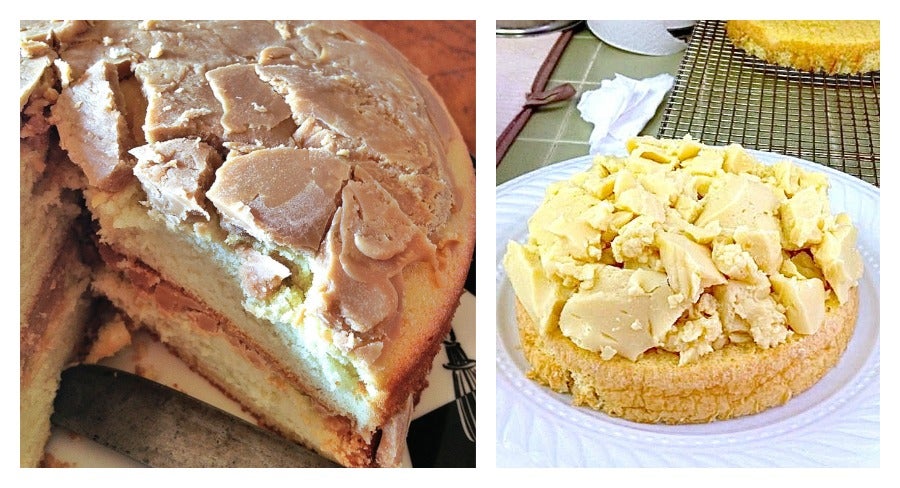 OK, these just crack me up...
On the left, my first attempt at caramel icing. The only "ice" in this icing was its brittle texture; it shattered at the lightest touch.
Katie W. writes, "My first Boston Cream Pie. With a toddler and 2-month-old baby, my foggy brain forgot that I'd already added the cornstarch, so it was doubled. I couldn't bring myself to chuck all my hard work and nice ingredients. Tasted great – texture was a bit hard to get past, though."
Well, Katie, this takes "cream filling" to a new level of viscosity – but toddlers love finger food, right?
Hey, in the end, (baking) hope springs eternal.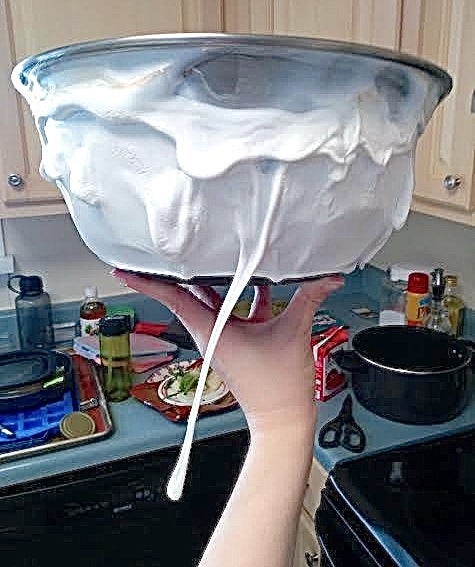 So let's raise a cup (or a melted plastic bowl) to triumphing over adversity – in all its delicious guises!
But wait – there's more! Over 100 readers submitted their own memorable blunders in story form, rather than pictures. For instance, check out Keith's story:
"I made a double batch of lavash when I was 12, just started baking. The recipe said let the dough rise for 4 hours. I had doubled everything else, so I went away for 8 hours. When we came home, the dough had flowed over the edge of the bread-bowl and sat there in the corner, looking like the Blob. A pirate-blob. The towel I'd put over the bowl, a jaunty red, looked like a bandanna on a sailor's head; it touched nothing but dough, even to the corners. My dad asked what the heck that was. I said it was time to punch it down. He slugged it in the center like he was going for the title. It collapsed around his hand, shrinking down and sucking him in. He screamed and flailed around, smashing dough off on the cupboards, the blender, the stove, the air conditioner…. Thank heavens he liked the lavash."
Share your baking blunders in the comments below; we can commiserate together!