There's a feast of baking mixes on the grocery shelves these days. You can purchase a mix for brownies, cake, or muffins, take it home, and have a warm-out-of-the-oven treat in no time.
The irony of it all is how LONG it actually takes to develop a mix from start to finish. It can take many weeks – months, even for our test kitchen to create and perfect a baking mix so that it comes out just right every time!
I had the opportunity to watch our test kitchen create one of our gluten-free mixes recently and the first questions I had to ask were, "What DOES go into making our gluten-free mixes? What brings them to the point where they can be confidently placed on store shelves for sale, knowing that any baker can throw them together and have things come out, well...  nothing less than GREAT??"
Did you know that we just released our new gluten-free banana bread mix? Bananas included, of course!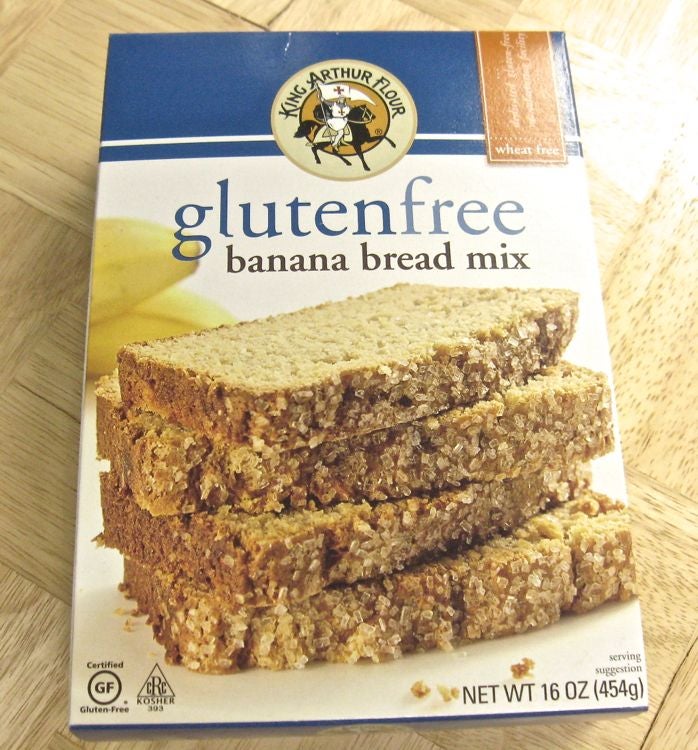 Most of you bakers out there can easily get from this box...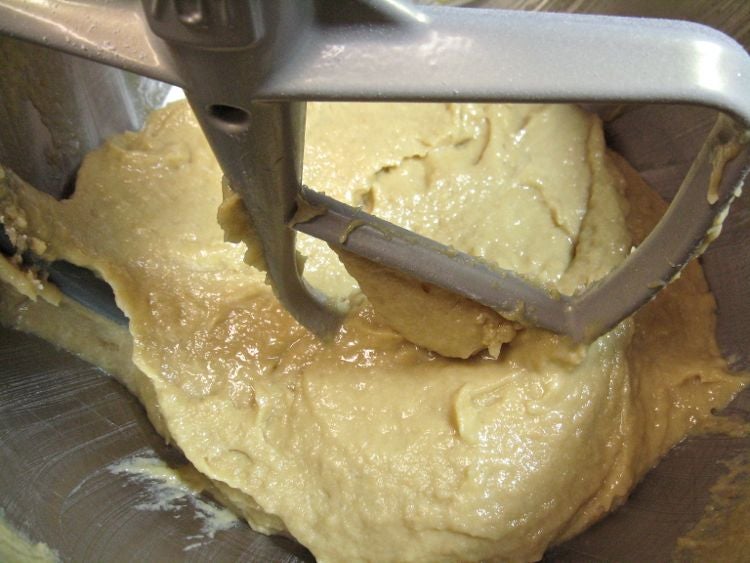 to this batter...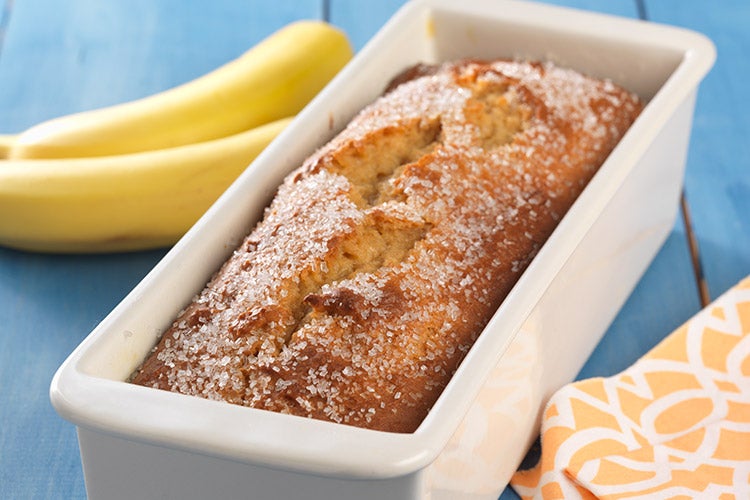 ...and finally to this beautiful loaf!
But have you ever stopped to wonder about the process of mix development and how it goes from  mere inspiration to working miracle?
We have some basic King Arthur Flour criteria that a mix product must meet in order to hit the shelves – NO EXCEPTIONS!
If it's going to wear our label:
It must be user-friendly. Let's face it, anyone who needs a mix is hoping for a little ease and time-saving and we are obliged to accommodate.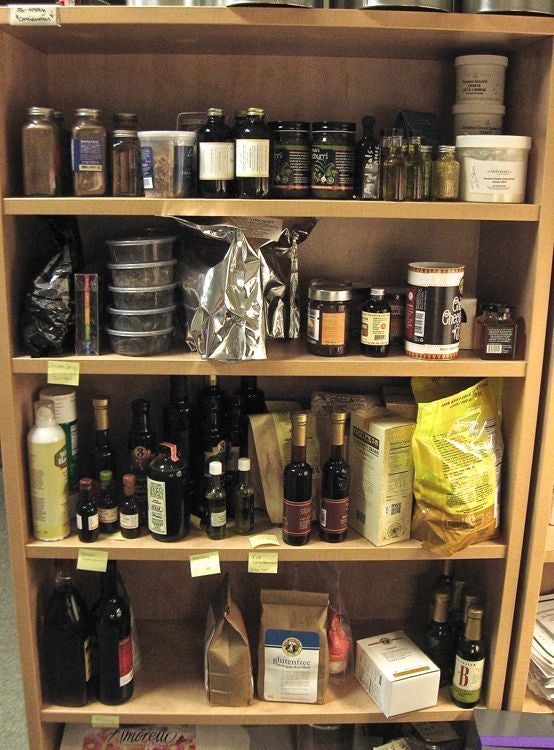 It must contain the highest quality ingredients. A fantastic team in our merchandising department sources these products so you'll end up with only the best on your table.
And, it must taste wonderful – anything less is unacceptable by our standards.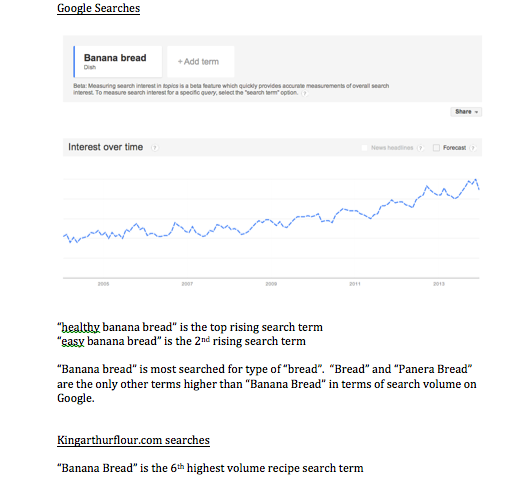 The product development team here at King Arthur Flour brings gluten-free mixes from first inspiration to life with guidance from a variety of sources. Our new business development and marketing teams keep us updated on trends so we're ahead of the curve, while our large participation in social media pulls us into current circles and reminds us what people are seeking exactly.
Google says banana bread is a top-searched item. So why WOULDN'T we make a mix, after all?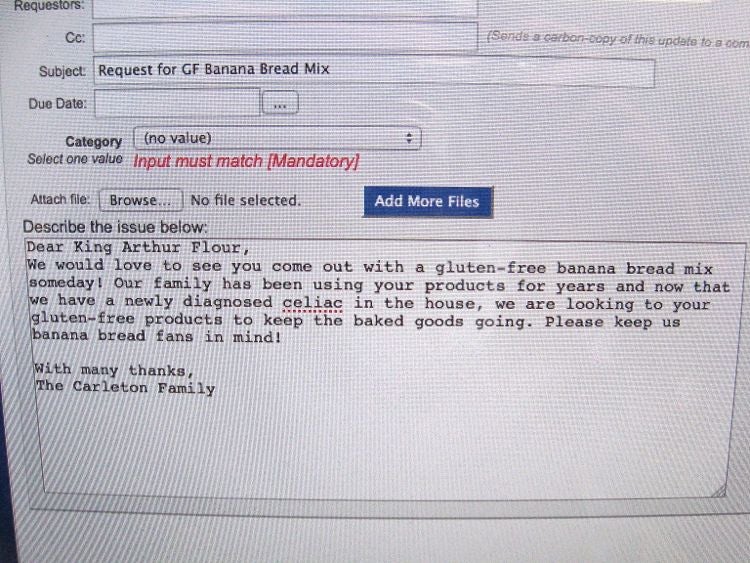 And then, a most important source: YOU the consumer. We hear from you each day in our customer support center. We receive countless calls and emails – often requests for new products. It's the best way to learn about what we need to work on next, so THANK YOU, we always need and appreciate the feedback!
Let's head into the King Arthur Flour test kitchen and get a glimpse behind that mysterious curtain!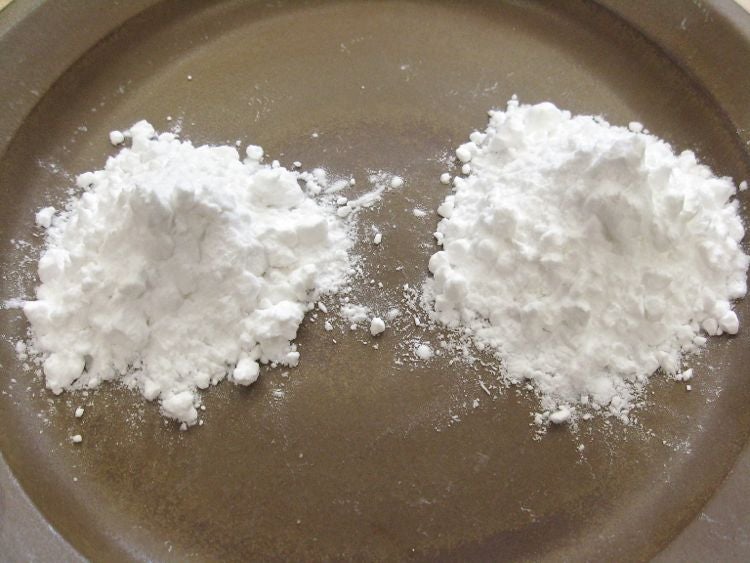 With the task of developing a specific mix in front of them, the product development team often begins with writing a desired flavor profile, which then leads to creating a formula with chosen ingredients.
How do we choose the ingredients used in a mix? We test them against one another to see which one performs the best in each situation.
For example, the two potato starches pictured above were tested for the banana bread mix. We found that the two (although identical in appearance) behaved quite differently, offering two vastly different eating experiences in the side-by-side test.
When testing the potato starches, the following criteria were evaluated:
mouth-feel
flavor
hydration (how much water the starch can hold)
gel strength (the temperature at which the starch gels)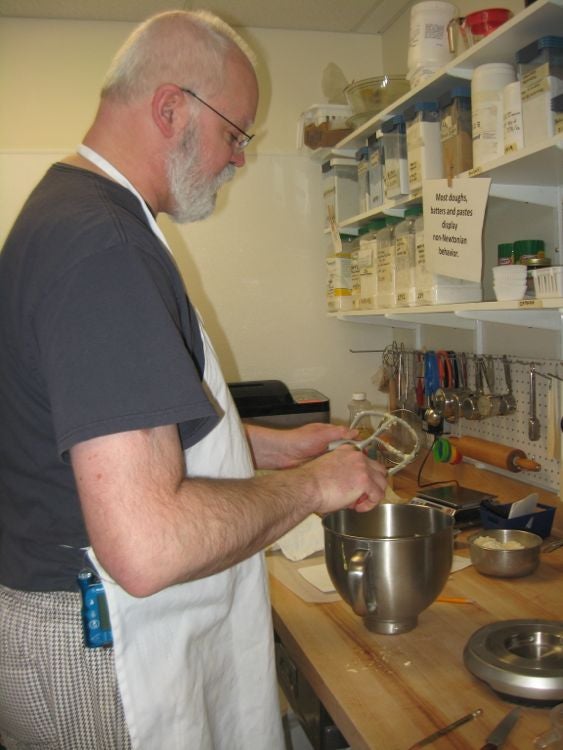 This is Frank, a valued member of our product development team, in motion with the ingredient testing process.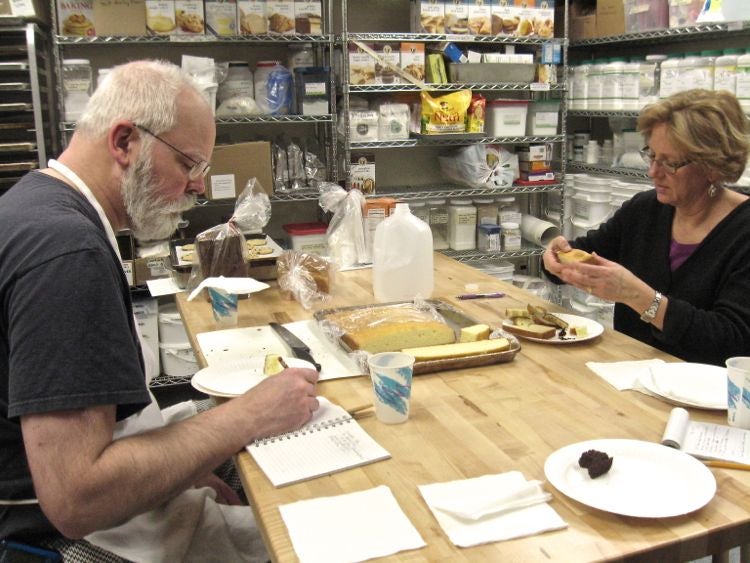 Sounds fun to play around with new recipes and such all day, doesn't it? Especially since you can eat the results!!!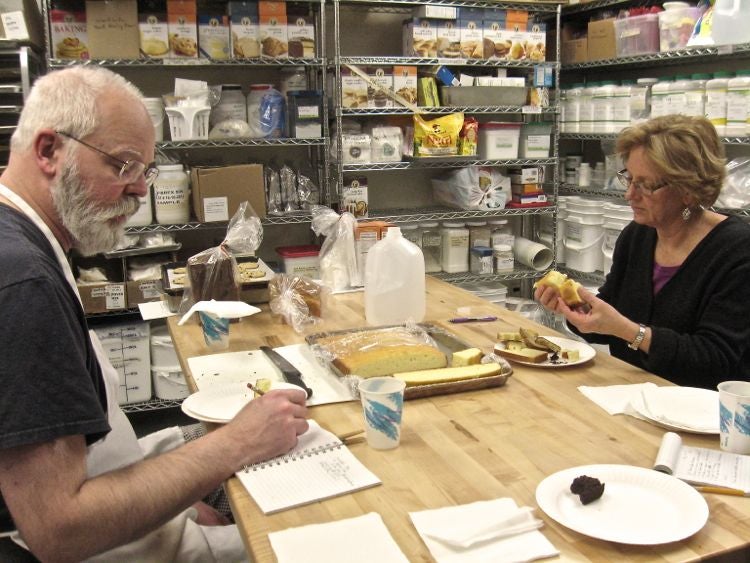 Frank, Sue, and Andrea spend a lot of time at the verdict table evaluating their finished and maybe not-so-finished products.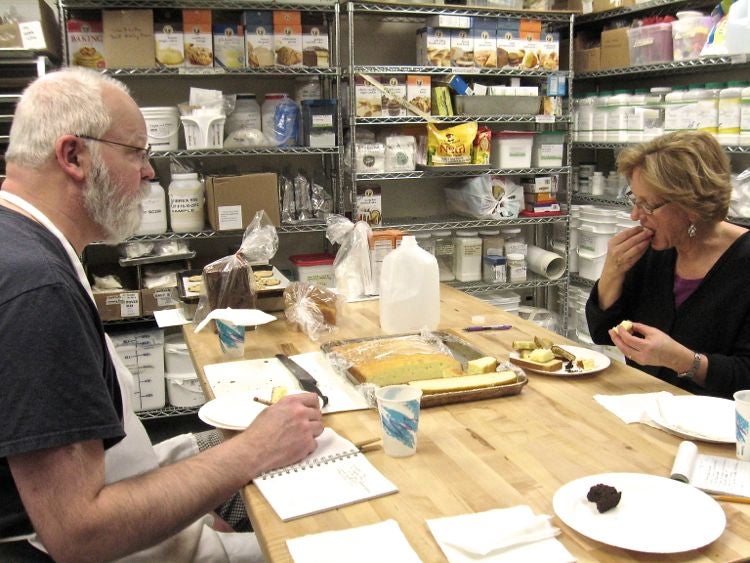 In the words of Frank, "Sometimes we have cake and sometimes, it's even edible!"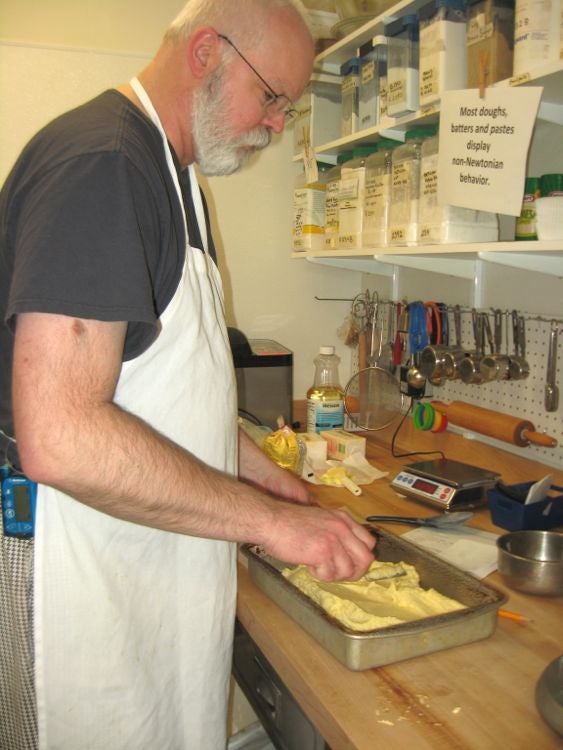 He'll tell you, though, it's not all fun, games, and melted chocolate. A grand amount of precision and patience is needed to be successful in product development.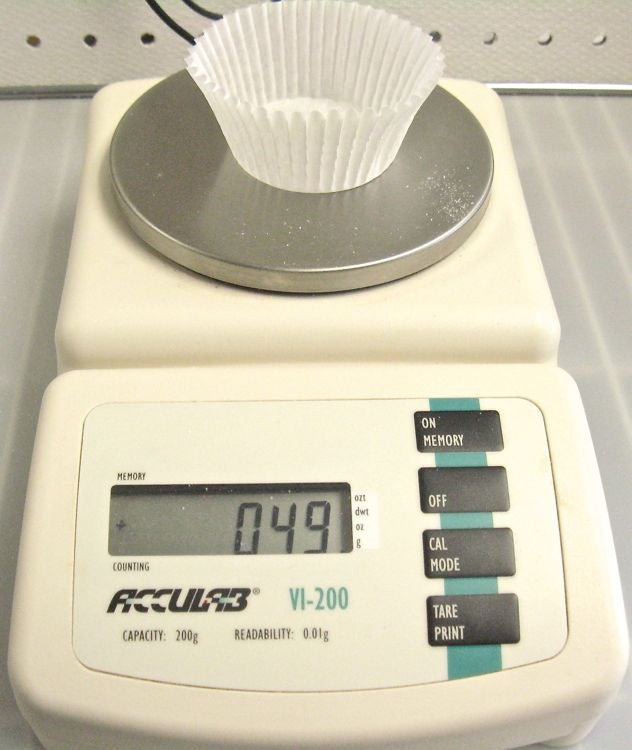 For instance, this decimal gram scale is used to weigh out small portions of leavening and flavors. Refinement of this nature often involves cutting by a fraction of a gram; and as you can see above, my attempt to achieve 1/2 gram of salt is just under the wire.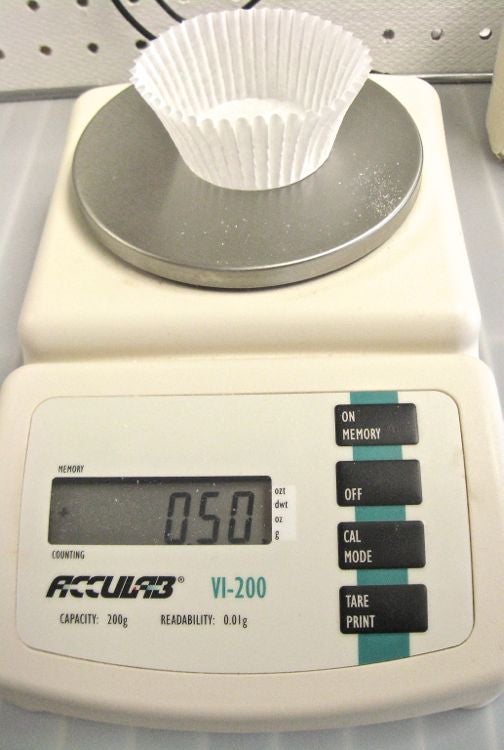 Even the slightest breeze can change the weight. Look what happens when I blow a gentle, steady stream of air toward the scale!
Creating a mix formula demands incredible detail orientation, meticulous planning, and perseverance. Perhaps even an occasional meditation???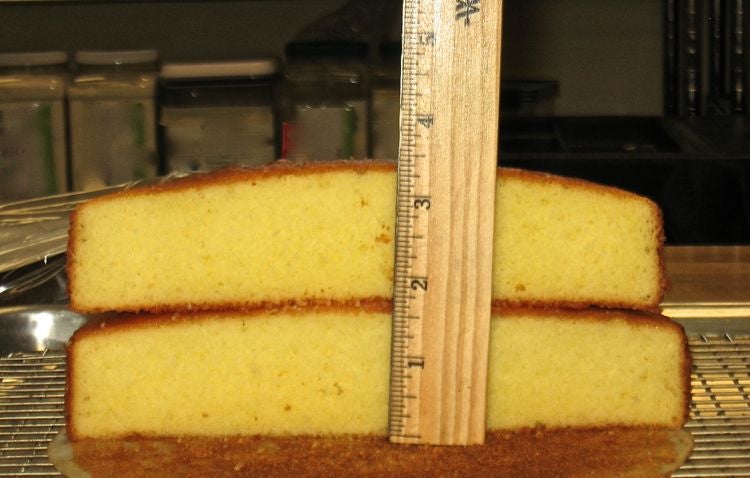 And then for the not-so-precise measuring; the old-school supplies really DO come in handy!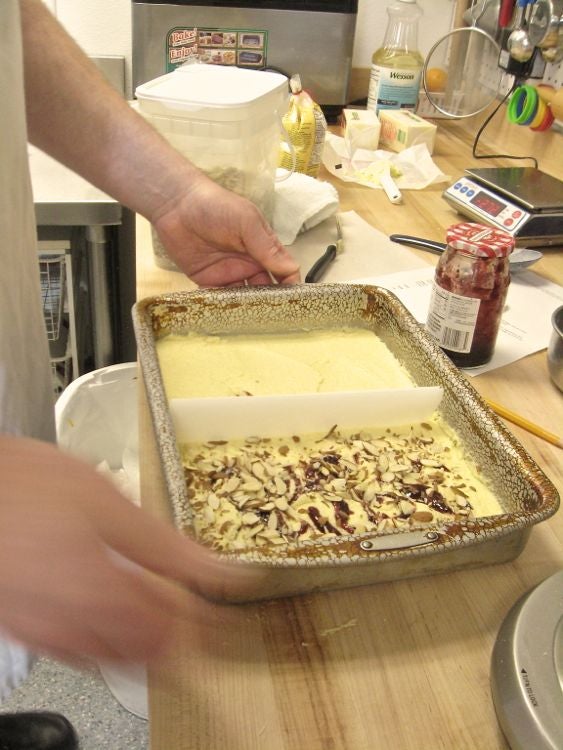 As we saw in Susan Reid's parchment blog, there are at least 50 ways to use your paper.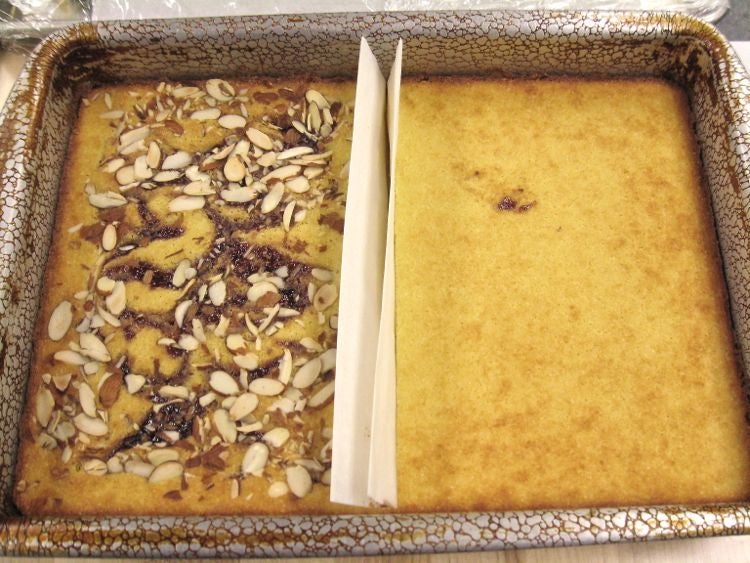 Here, in the "divide and conquer", Frank has used parchment for a side-by-side comparison with this cake. During the testing process, many samples are baked and put out in our employee kitchen each day for a feedback process we call "bite and write." The rule is, if you eat, you must offer feedback, please and thank you.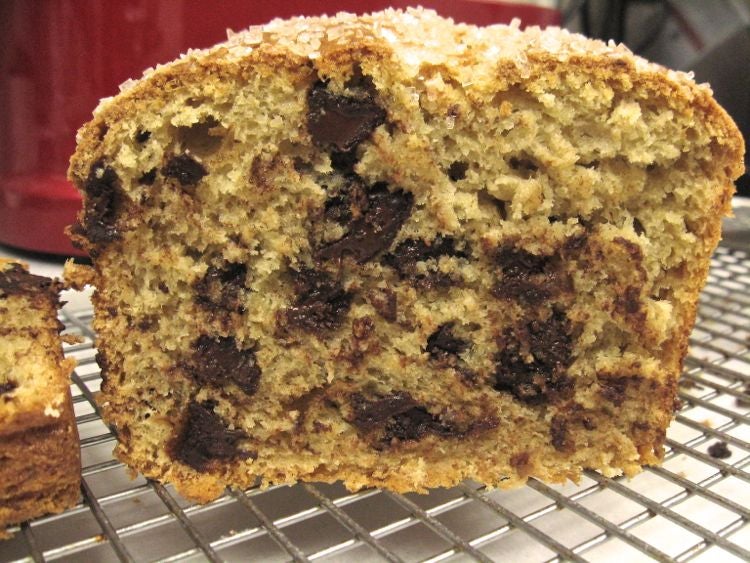 I added chocolate chips to the banana bread mix when I was testing and was given a ton of positive feedback.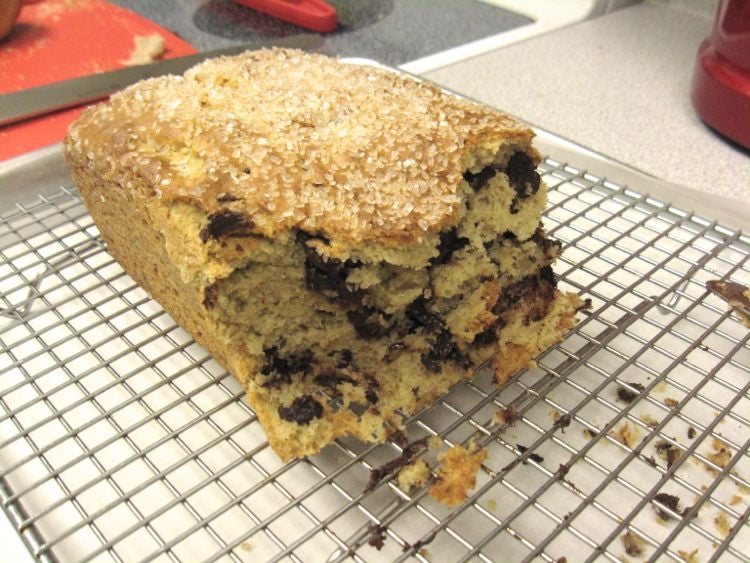 Sometimes the response is received more clearly in the appearance of the sample. Occasionally folks can't wait long enough to cut themselves a slice, so they just dig in by tearing and you end up with something similar to the above photo. I call it gouged bread. It's a sign things are going well. : )
Once a solid formula has been tested and re-tested, the directions are revised and handed to our customer support baker team for more evaluation. Having their own hands-on experience with the product is another way they can directly connect to you, our customers, when you have questions about using it.
With a proven formula and directions that work after consistent test performances, we need something to contain the mix!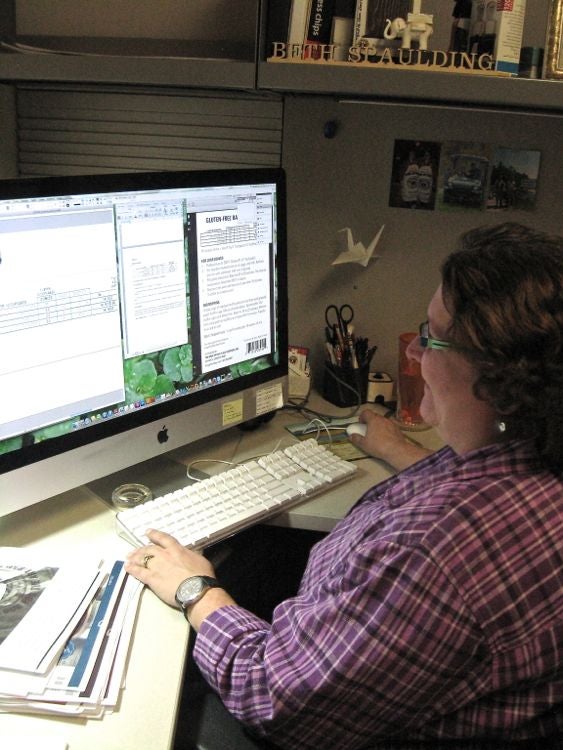 Meet Beth in our graphics department – the kind, happy face behind the designs on our packaging. Once photography for the product is done at our studio, Beth puts it together with the ingredient lists, directions, and nutritional information to create the box design. Above, she's editing baking instructions for the large box we sell to bakeries.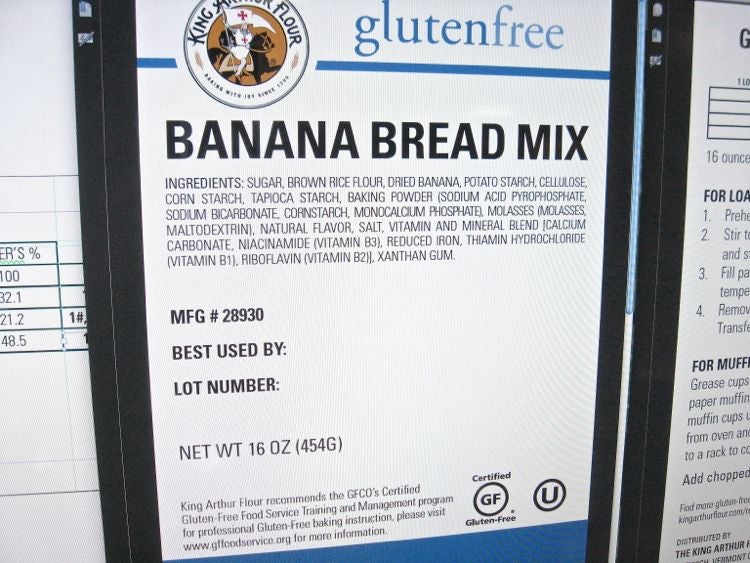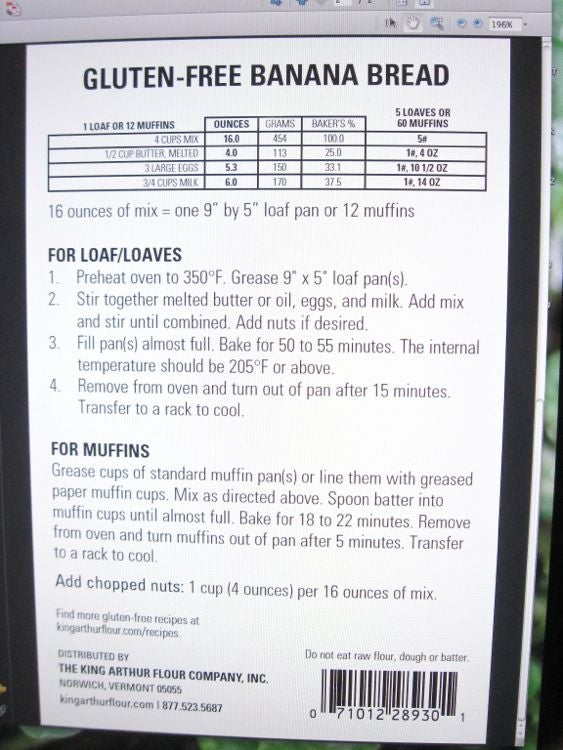 The ingredient list and bakery formula instructions for larger quantities demonstrate the importance of precision when creating the specific yields. Since we sell our mixes in different quantities, it's imperative that the amount in each package is exactly what's needed for the size(s) intended. Our domestic-sized mix makes one 9" loaf, but a bakery using the commercial-sized mix may need to make a different number of loaves from day to day. Having formulas available on the box to accommodate the varying needs is both convenient and time-efficient. Thank you, Beth!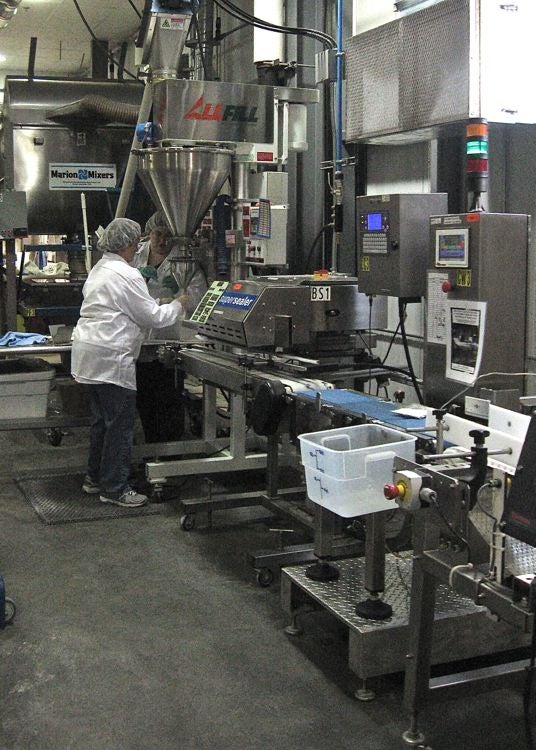 Finally, the mix meets its packaging! Here's a shot of the King Arthur Flour grain room. It's NOT where our gluten-free products are packaged, but it gives you the general idea, nevertheless.
Once the packaging is designed and ordered, a test batch is made and packaged by manufacturing, then put out for the final testing process. This batch will be tested again internally, and then sent out to a number of home bakers on our external evaluation panel.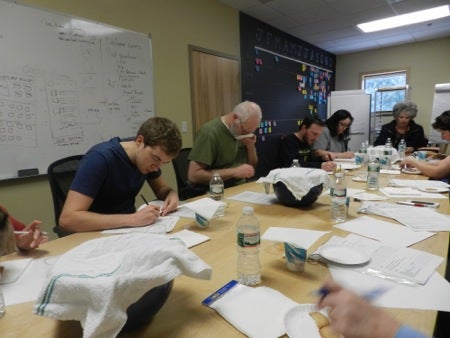 As if our products don't face enough judgment before being slotted an honorable space on your store shelves, there's yet another trained panel of palates to please.
Here at King Arthur Flour, we're fortunate to have a group of employee-owners trained to survey and analyze flavor and texture profiles. Sensory evaluation is an objective process where foods are tasted and observations on the dynamics of sweet, salty, sour, and bitter are recorded. The data from these meetings is kept on file and used for future reference.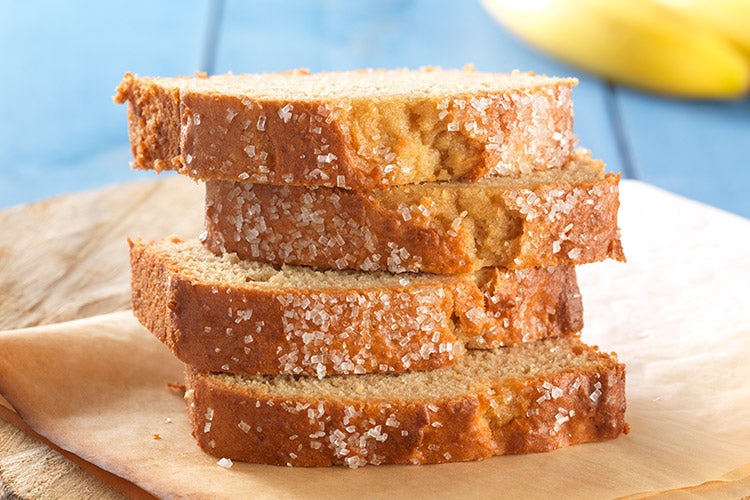 It's time to run out to your favorite King Arthur Flour gluten-free supplied store and grab this mix! And while you're throwing it all together with graceful ease, save a few grateful thoughts for the talented employee-owners who spent hours bringing it to life.
I'd like to send a shout-out to Jessica Saturley, Sue Gray, Frank Tegethoff, Andrea Brown, Susan Reid, Jay Rimmel, and Beth Spaudling for their expertise and for enduring my pestering inquiries and photo-taking. I'm thankful for you. : )
Jump to Comments