When your supervisor tells you she wants to plan a cookie event, you don't ask questions. Well, unless those questions are: Are you serious? When do we get started? Can I partake in the eating of cookies?? Anyway, my point is, you jump right in on the planning.
What is this cookie event you speak of? Crunch Time: The Great King Arthur Flour Cookie Challenge was a cookie competition, where the public was invited to taste five cookies and vote on their favorite. This event, held at our Baker's Store in Norwich, VT, was free to the public and open to all ages. During the day of the event 10% of retail sales were donated to David's House.
First steps included collecting volunteer bakers, gathering supplies, and crafting decorations.
Bakers for this delicious event were King Arthur Flour employee-owners from various departments in the company. We had representation from retail, bakery production, finance, test kitchen, marketing/PR and HR. The joy of baking is clearly widespread!
Here I am working hard, making paper bunting.
Seventeen different cookies, all incredible in their own way, were the main attraction on Sunday, January 19. Let's meet the contestants: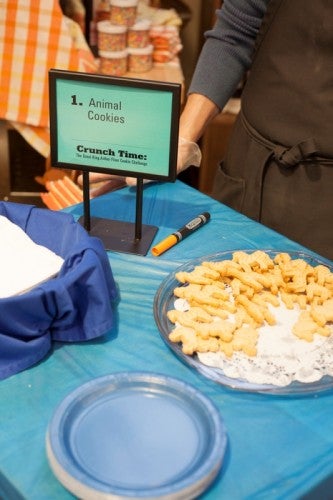 First up, the Animal Cookies, made by product and recipe developer Charlotte Bothe. She actually helped develop this recipe, which can be found on our website (Animal Cookies). Charlotte has worked at King Arthur Flour for 2 years, and can be often found in the test kitchen.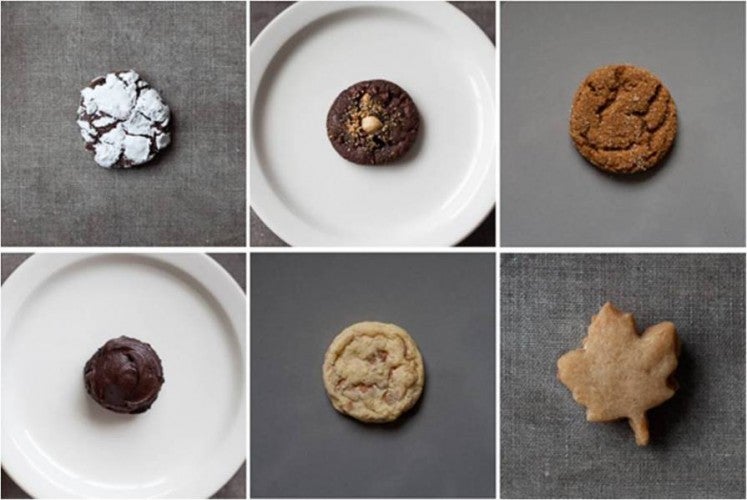 Next we have Cinnamon Maple Cookies by Chonga Brandt. Chonga joined The Baker's Store retail staff this past year. Chonga's cookie is bottom middle (above).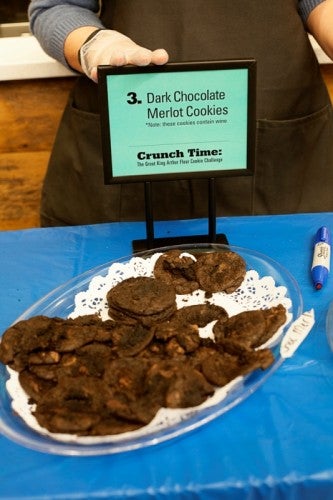 Look at these Dark Chocolate Merlot Cookies! These cookies were made by one of our pastry bakers, Kristen Fenn. Kristen has been with King Arthur Flour for 6 years. If you stop by The Baker's Store you can watch her work her magic in the bakery.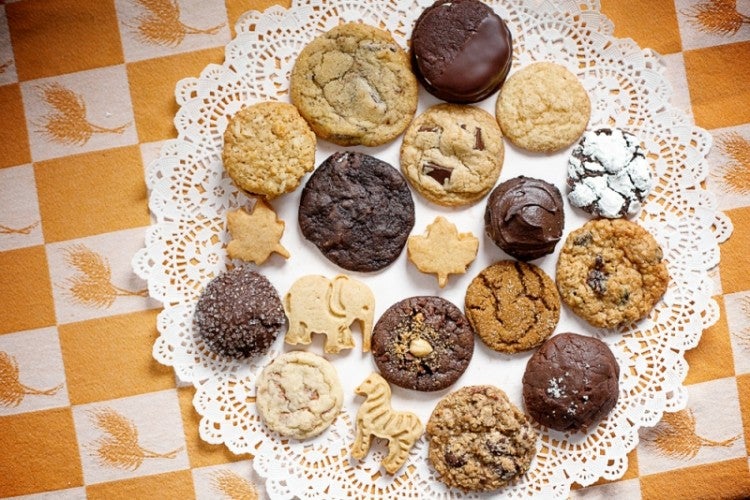 Moving along to Grandma Walker's Frosted Chocolate Cookies—made by Lindsay Issac, café supervisor at the Baker-Berry Café at Dartmouth Collete, across the river in Hanover, NH. Lindsay joined the hustle and bustle of Baker-Berry Café this past year. Can you find her cookie in the photo above? (Hint: it's a frosted cookie.)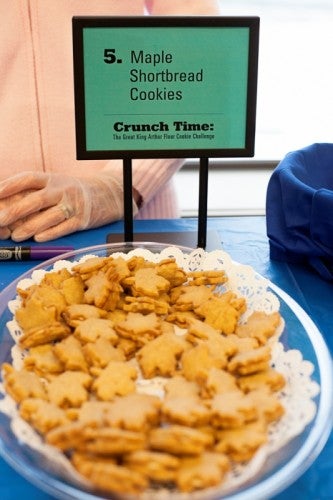 We'd be remiss to have a competition without Maple Shortbread Sandwich Cookies (we ARE located in Vermont, after all). Melanie Wanders made these cookies. Melanie works in the Baking Education Center and has been with King Arthur Flour for 2 years.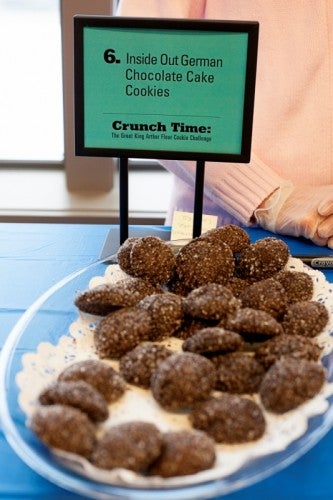 Next on the list: Inside-Out German Chocolate Cake Cookies, made by Lee Clark. Lee has worked in The Baker's Store for the past 4 years, and also assists in the Baking Education Center classes.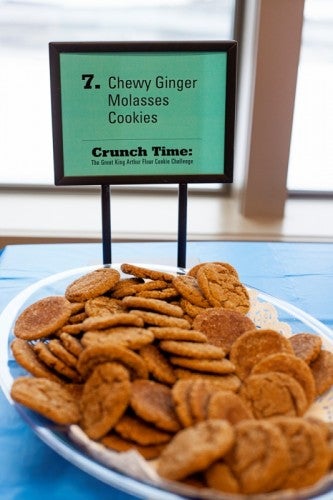 Chewy Ginger Molasses Cookies are up next, made by Laura Morgan. Laura is the lead accounting generalist. She has been with King Arthur Flour for 3 years.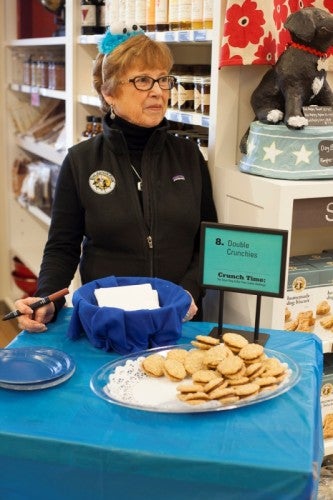 These Double Crunchies were made by Lisa Murphy. Lisa has been working in the production bakery on the pastry team for 7 years. Wave to her through the window during your visit to The Baker's Store.
Next up are Chocolate Pixies made by Mary Tinkham. Mary works in customer service (you may have spoken to her on the phone). She has been with King Arthur Flour for 13 years (time spent perfecting this recipe?).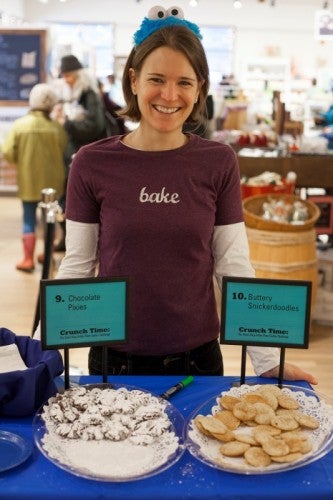 Buttery Snickerdoodles (here showed off by Charlotte Bothe) were made by Ceal GiConte. Ceal is the payroll manager at King Arthur Flour, and has been with the company for 7 years.
Moving on to Burgundy Chocolate Chunk Cookies (hungry yet?). These were made by Angela Smith. Angela joined King Arthur Flour this past year as the receptionist. She is always ready with a smile for visitors and employees alike. Angela's cookie is dead-center, in the picture below.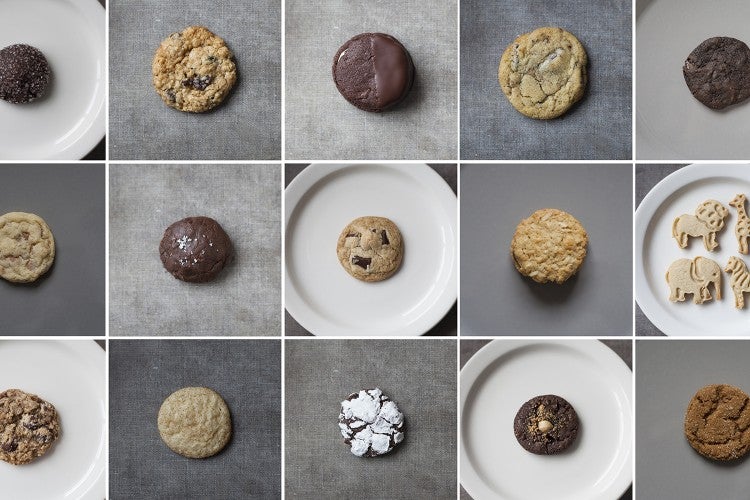 Next we have Italian Kiss Cookies, by Sonya Danford. Sonya is part of the retail staff at The Baker's Store. She has been with King Arthur Flour for 2 years. Can you find Sonya's cookie? It has a hazelnut in the middle.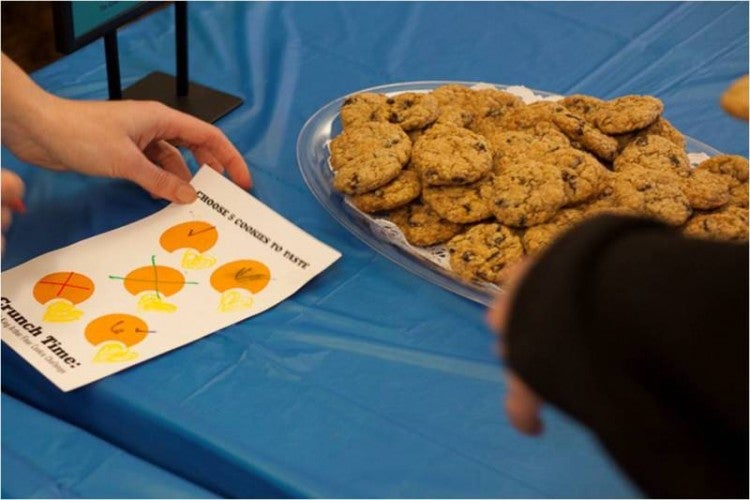 Oatmeal Raisin – a classic – made by Julie Christopher. Julie is the marketing program manager, and coordinates King Arthur's Traveling Baking Demos, among other things. She has also been known to submit cookie recipes to our print newsletter, The Baking Sheet. Julie has been with King Arthur Flour for 8 years.
Cookie Lover's Cookies – these have to be tasty, right? Tonya Gibbs made these cookies. Tonya has worked in The Baker's Store for the past 5 years. She can often be found whipping up goodies in the demo kitchen. Her cookie is at the very bottom, in the picture below.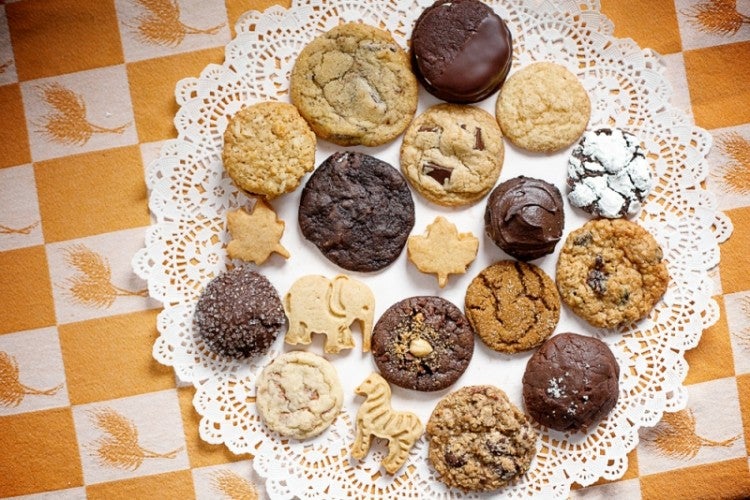 Dark Chocolate Peppermint Dips – reminiscent of peppermint patty candy (very top cookie in the picture above) were made by Maggie Perry. Maggie joined King Arthur Flour just over a year ago and works in bakery production.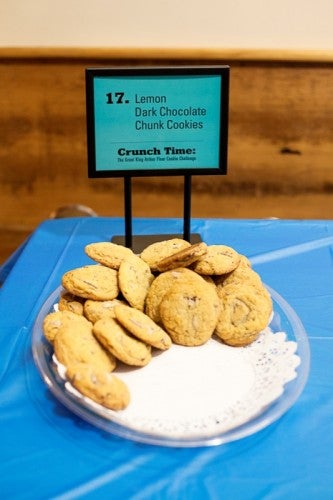 Last, but definitely not least, Lemon Dark Chocolate Chunk Cookies. Julia Reed made this chocolate chip cookie with a twist. Julia is the public relations coordinator at King Arthur Flour; she joined us this past year. Julia also took the amazing photos for this blog!
And of course there was a winner: Nutella Sea Salt Stuffies (you had me at Nutella), made by Christina Lorrey. Christina joined King Arthur Flour this year as the benefits manager in HR.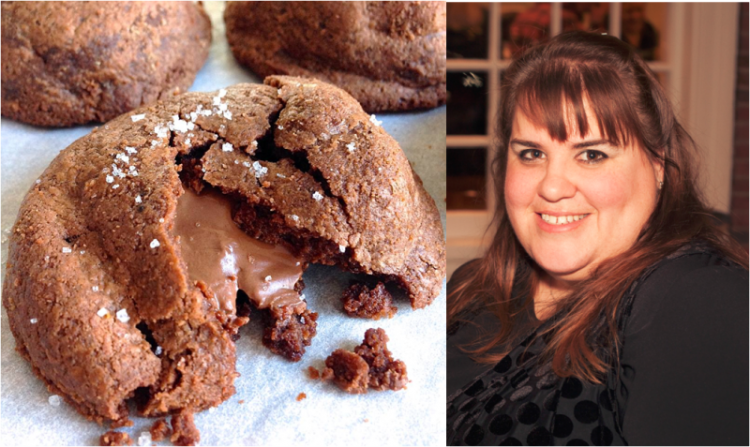 Gooey Nutella on the inside, with a delicious sea salt topping, Christina's cookies were the crowd favorite. With just five ingredients (Nutella, flour, egg, espresso powder, and sea salt), this is an easy recipe to make – and eat!
February is Bake for Family Fun Month – get in on the action by getting the whole family involved in making this winning recipe. Kids will love helping you roll the balls of dough, or sprinkle the sea salt on top.
You can find the winning Nutella Sea Salt Stuffies recipe on our website. When you bake these up yourself, you'll see why Christina took the blue ribbon – delish!
Crunch Time was a lot of fun – hope to see you there next year! The bakers are already dreaming of victory in 2015.