It's no secret that gluten-free bread doesn't love its life on the shelf. Even fresh out of the oven, it's still a mere hop, skip, and a jump away from staledom. And you know what I'm talking about – the hard, abrasive, crumbles-when-you-cut-it inevitable fate of all gluten-free loaves. Sure, you can freeze 'em, or add some cake enhancer, but truly, life is short for GF bread.
Is there a chance for an afterlife, perhaps? Can you think of anything better for aged and fragile bread than to become part of one of the greatest, warmest of comfort food desserts ever – bread pudding? I can't. I'm a fool for anything with custard, and then to utilize food that would otherwise be thrown out or to the birds is just a bonus.
In winter we seek coziness (especially here in Vermont during our recent sub-zero days), sustenance, and those soothing, warm dessert spices. It's a pattern we follow during the long months of hibernation and nesting.
Hazelnuts and white chocolate fit right into the smooth and subtle category along with being the perfect complements to cinnamon and nutmeg. Should we turn that dry old loaf into some white chocolate bread pudding? It may have been a flop for the potluck, but it's sure to be a hit all cradled in a spiced, sweet, nutty custard.
Let's hurry before the bread is too stale to cut!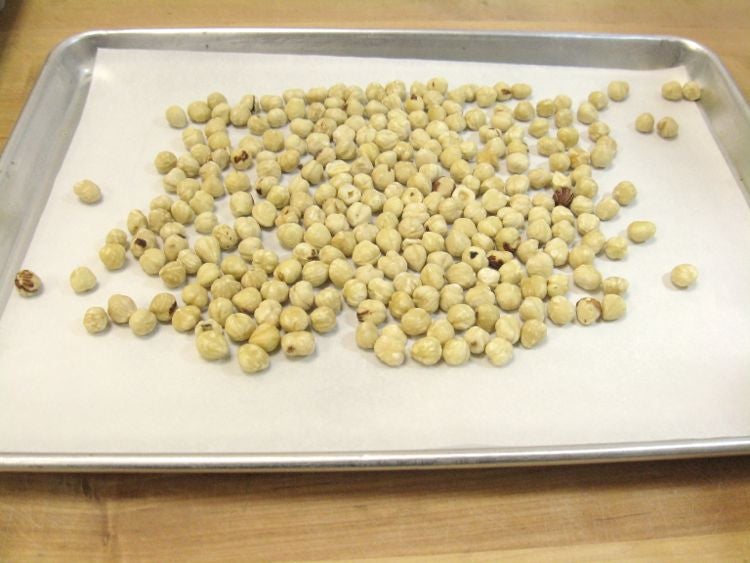 Start by toasting 1 cup of hazelnuts in a 350°F oven for about 10 to 12 minutes, or until golden. You'll smell a nutty aroma when they're done.
Leave the oven on; you'll need it to bake the pudding.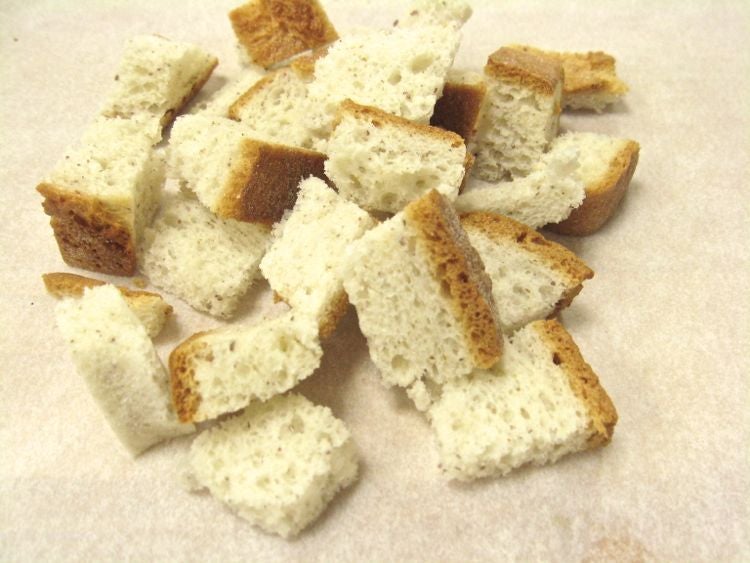 While the hazelnuts are cooling, you can work on cutting the bread. You'll need about 1/2 to 3/4 of a gluten-free loaf cut into about 1" cubes.
Give the cooled hazelnuts a rough chop, and set them aside.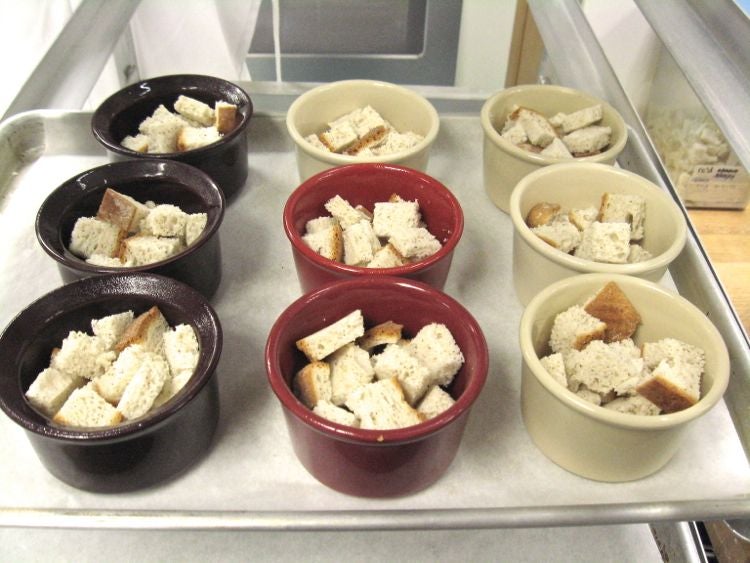 Divide the bread equally among nine lightly greased 1-cup ramekins, taking care not to pack the bread into the cups. The cubes should sit loosely and fill the ramekins about 3/4 of the way.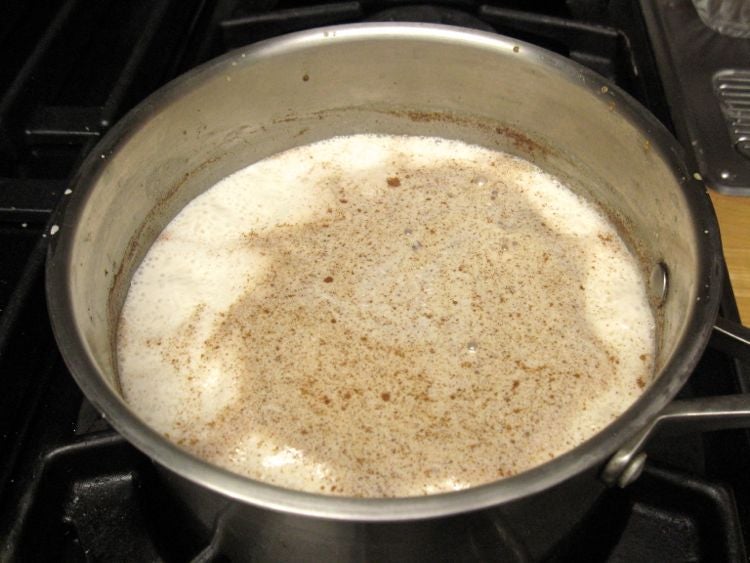 Whisk 1 1/2 teaspoons cinnamon and 1/4 teaspoon nutmeg into 2 cups heavy cream and 2 cups milk. Bring the mixture to a full simmer on the stove.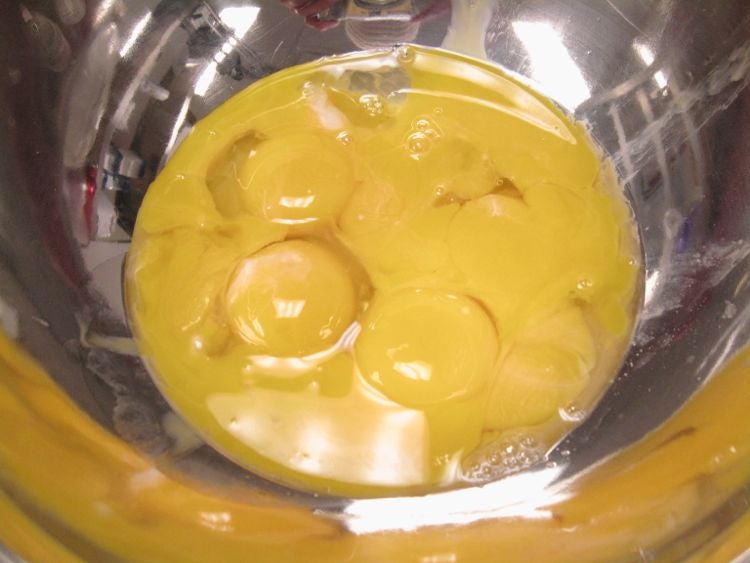 While you're waiting for the cream blend to simmer, separate the whites and yolks from 8 large eggs. You won't need the whites for this recipe, but save them to use for some glorious cinnamon-kissed chocolate soufflés on Valentine's Day!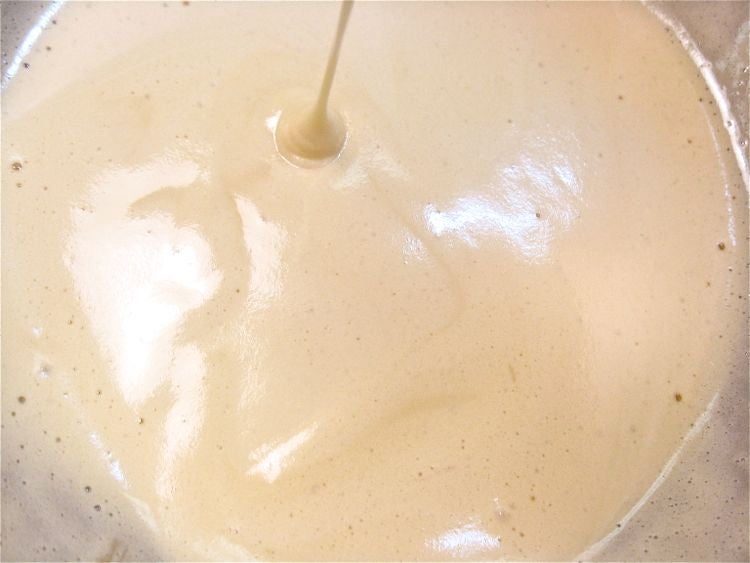 Whisk the egg yolks together with 1/4 cup granulated sugar until the yolks lighten significantly in color. Oh no! Don't forget about the milk and cream! Quick, run to the stove!
I am repeatedly guilty of leaving a heating pot of cream WAY unattended, but yet miraculously successfully keeping track of my three kids.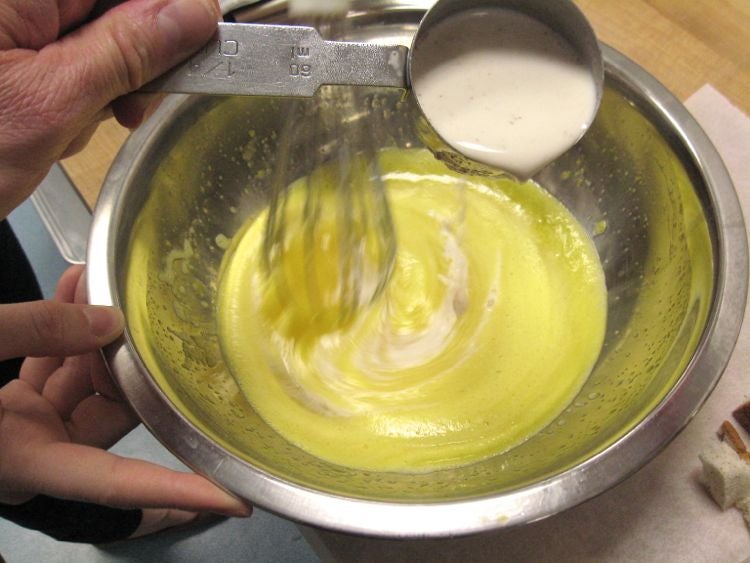 Take about 1 cup of the hot cream and drizzle it slowly while whisking vigorously (it's like patting your head while rubbing your stomach). Not-so-good for uncoordinated people like me. I was happy to have my friend, Gwen, our Baking Sheet staff writer, handy to pitch in with that.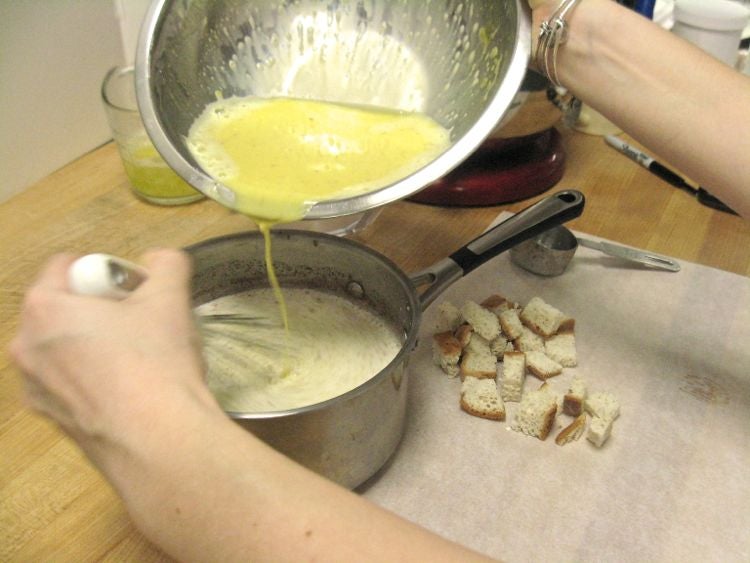 Take the tempered egg mixture from the bowl and, while stirring constantly, pour it into the rest of the spiced cream and immediately add 2 1/3 cups of chopped white chocolate (or chips). Allow it to stand before stirring for a minute, and then stir to combine.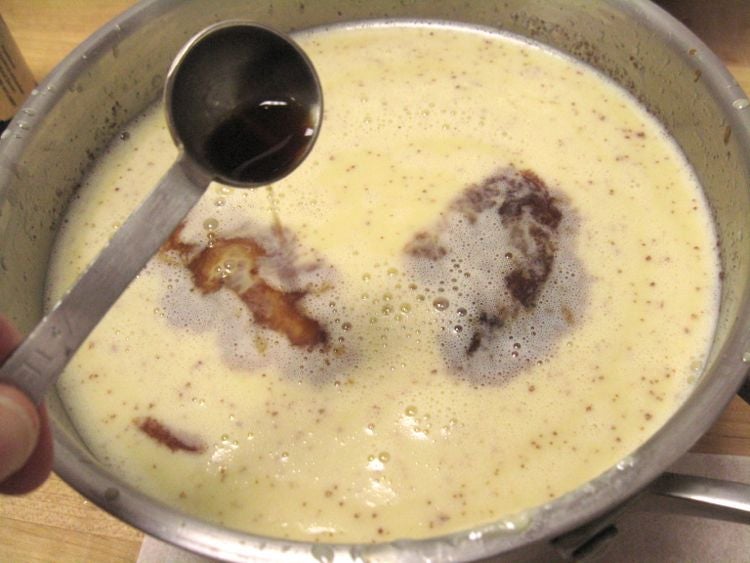 Stir in 3/4 teaspoon hazelnut flavor and 1/2 teaspoon vanilla.
Transfer the custard to a container suitable for pouring.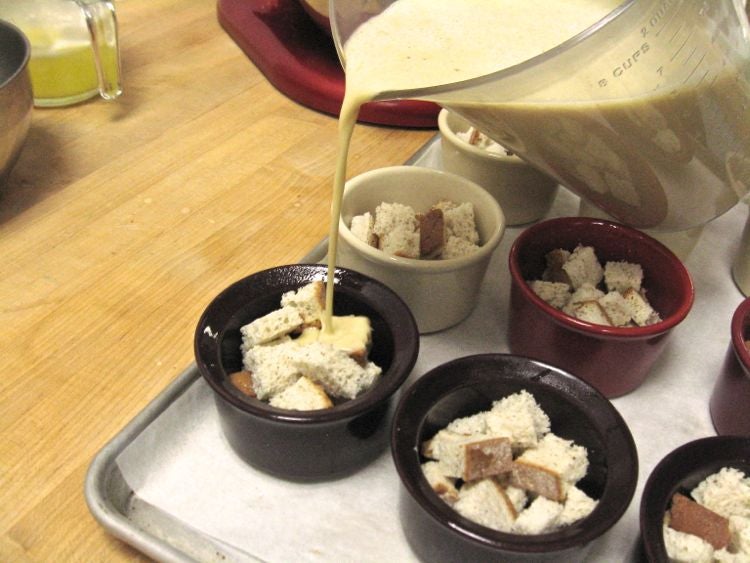 Fill the ramekins almost to the rim with the custard.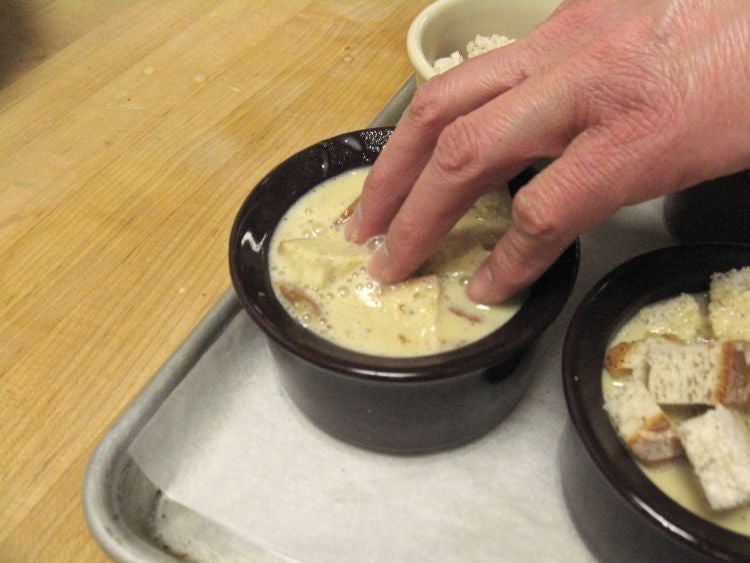 Push the bread down to allow it to soak the custard, and top the ramekins off as needed until the custard is all used.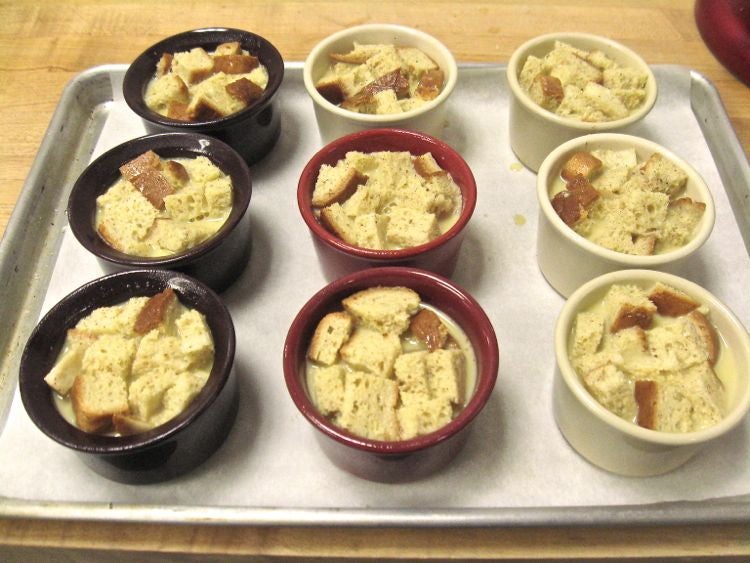 Allow the puddings to rest for about 15 minutes before baking, so that the bread has time to become fully saturated.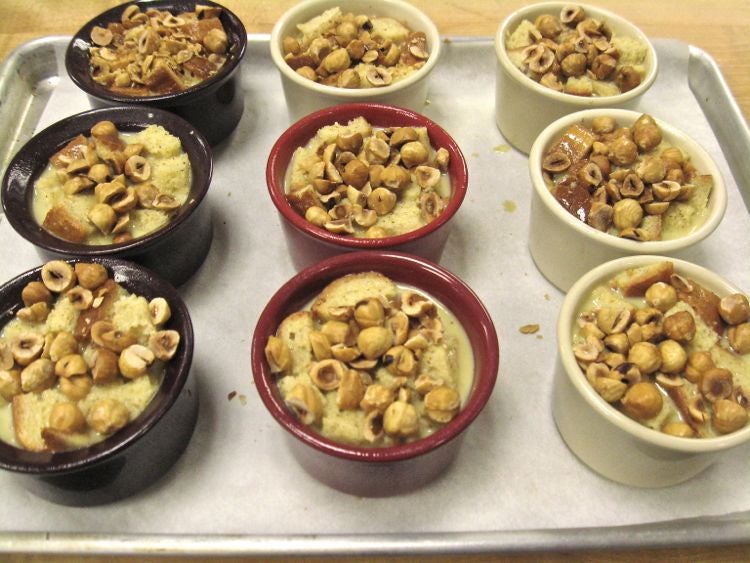 Top each dish off with a generous sprinkle of the chopped, toasted hazelnuts.
Bake for 30 to 35 minutes.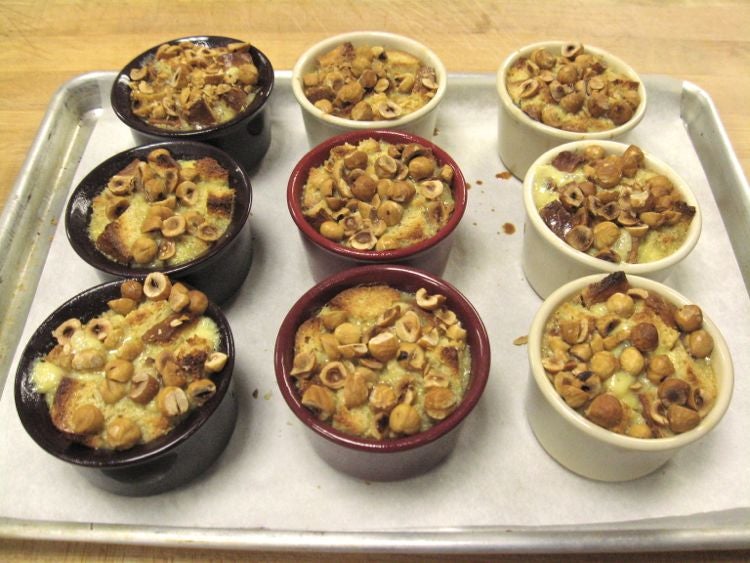 The custard around the bread cubes will be set when done. Cool 10 minutes before serving with a cold scoop of ice cream or soft whipped cream; or serve at room temperature if you prefer.
Leftovers can handle a gentle reheat in the microwave.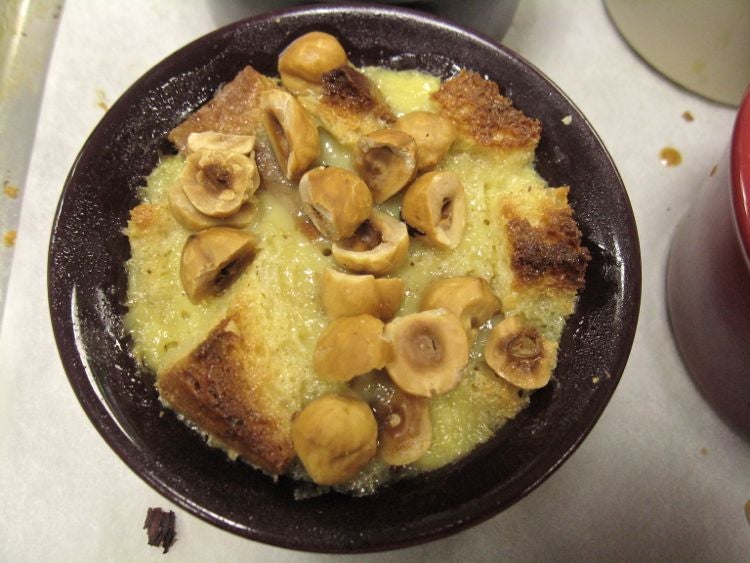 So when you have that dreaded brick of unused bread staring at you from the counter, throw it into this recipe so no one can call you a waster! Curl up with this dessert some bitterly cold night and know that you put bread in a rightful place.
Please read, bake and review our recipe for Gluten-free White Chocolate Bread Pudding.
Print just the recipe.
Jump to Comments