Millet porridge is the go-to meal fix in my home. It warms our tummies and can be mixed with veggies, nuts, and dried fruit; or my kids' favorite, cheddar and tamari. Paired with a salad, this nutritious grain can hit the table in no time and be reheated for lunchbox thermoses the next day.
I've also discovered that millet is a great asset to bread because it can add nutritional value, texture, and flavor. We're always trying to get our gluten-free breads to taste better, aren't we? To boot, millet also adds a pleasing crunch and texture to bread and gives the loaf an interesting speckled look.
Of all the folks I've talked to about joining the gluten-free baking world, I would say that 95% of them dread the idea of making homemade bread, and avoid it until their wallet can no longer handle the purchasing expense.
Well, I say don't wait until you've defied your budget! If you can make muffins or cake, you can make gluten-free bread. You can choose what you add to it; it will make your house smell delightful, and it will be the freshest gluten-free bread you've tasted yet! Try making it with me – before you know it, you'll be counting the many blessings of do-it-yourself GF.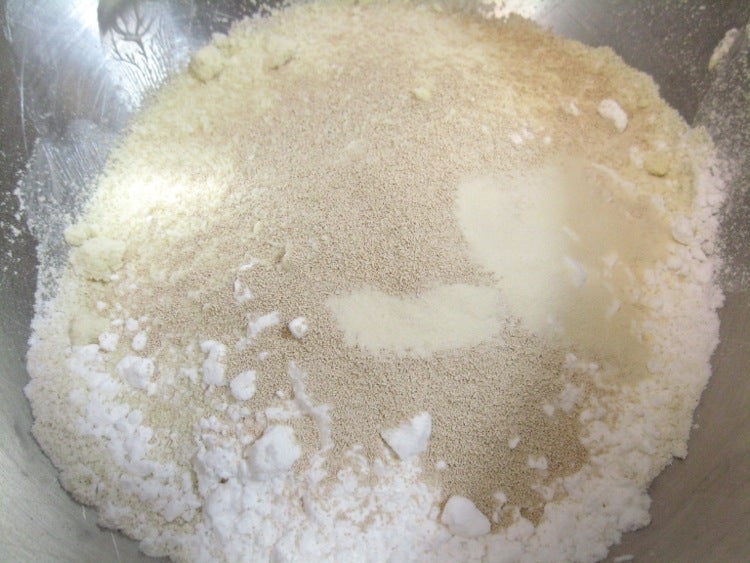 Start by blending the following ingredients in the bowl of your stand mixer: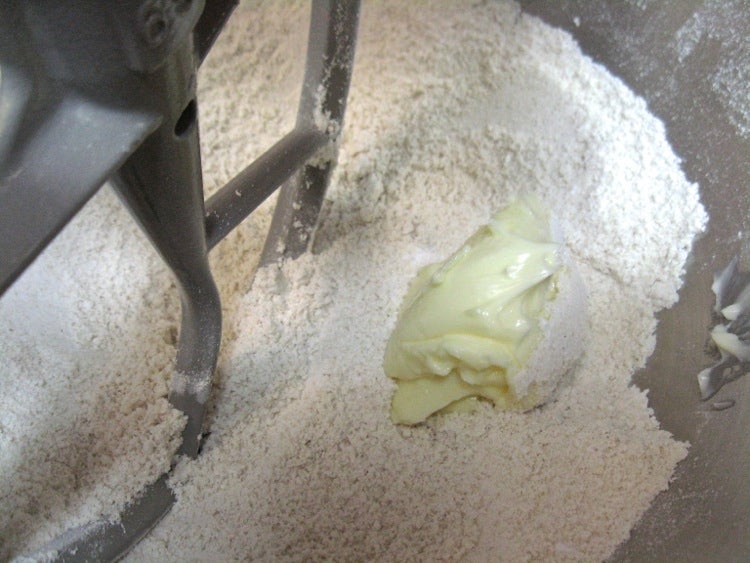 Mix in 4 tablespoons soft butter on low speed.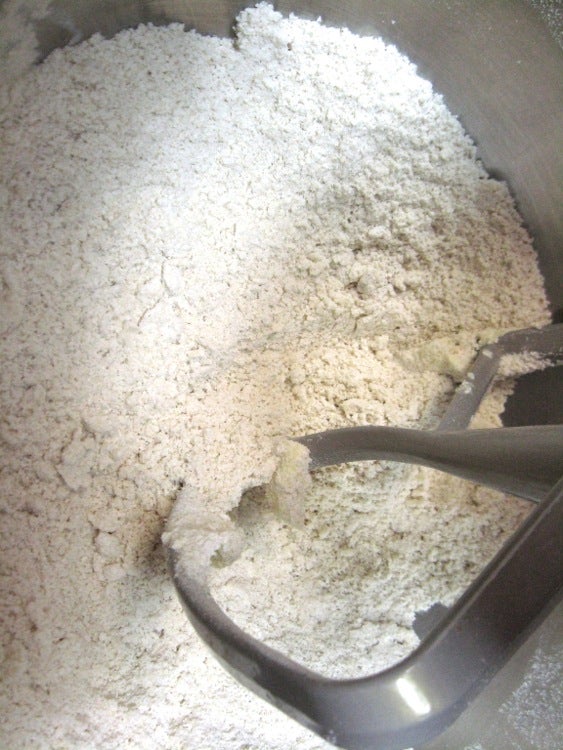 Eventually, the blend will become sandy and crumbly.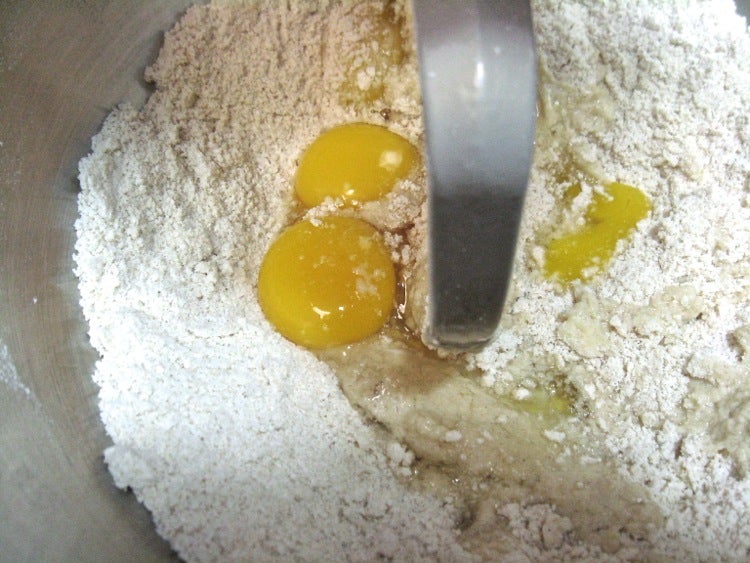 Mix in 3 large eggs.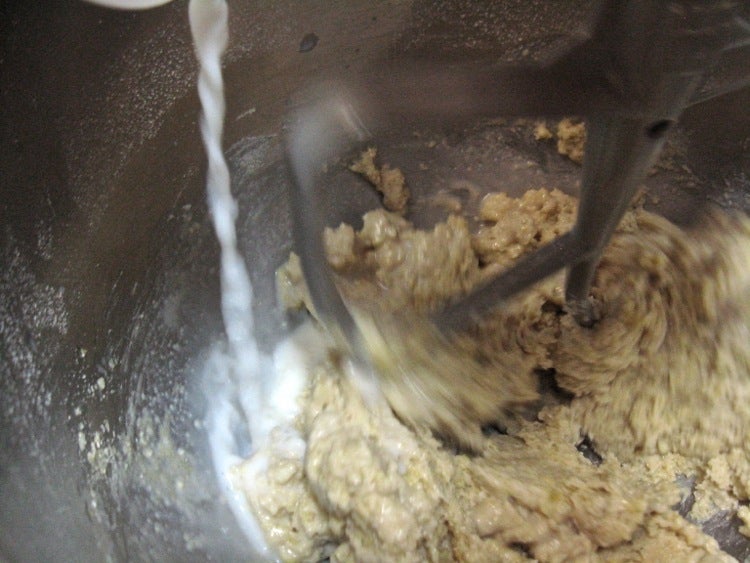 Then add 3/4 cup warm milk, and 2 tablespoons honey, beating to combine.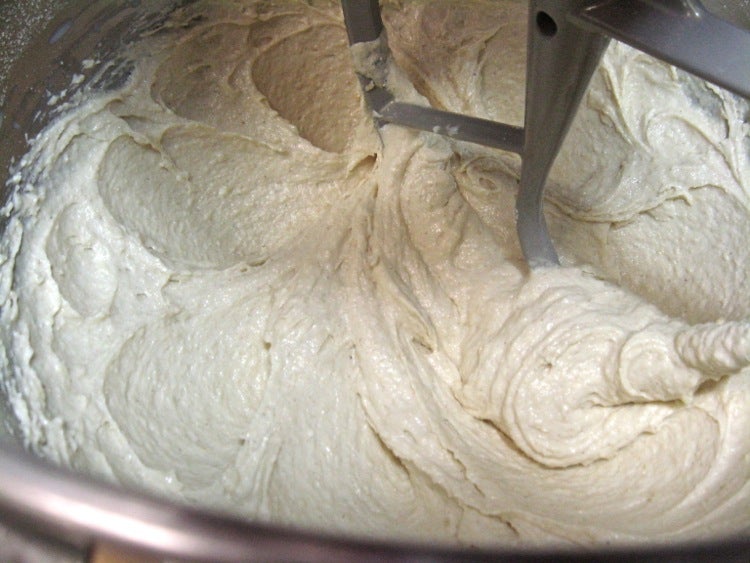 Beat this mixture well for 2 to 3 minutes, stopping once to scrape the sides of the bowl.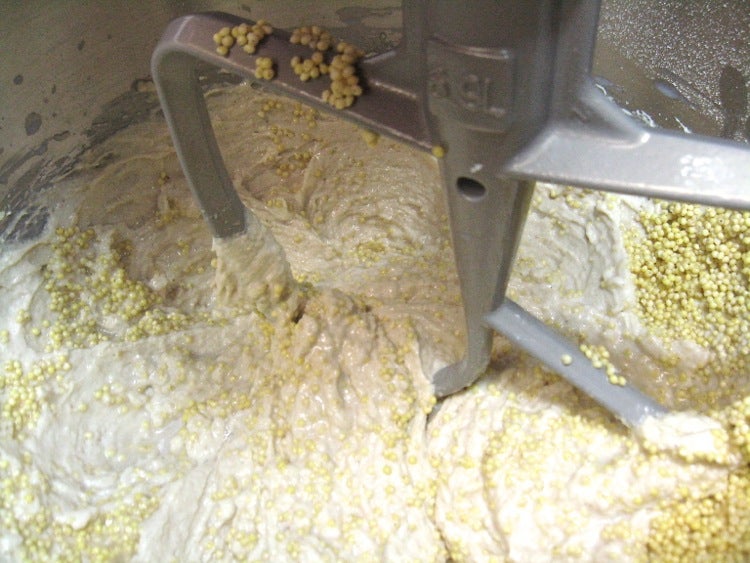 Finally, stir in 1/2 cup soaked millet. Since the grains have been pre-soaked, you won't have to worry about them stealing moisture from the batter. Unsoaked grains are selfish and will take whatever liquid is available, even if it means leaving you with a dry loaf of bread.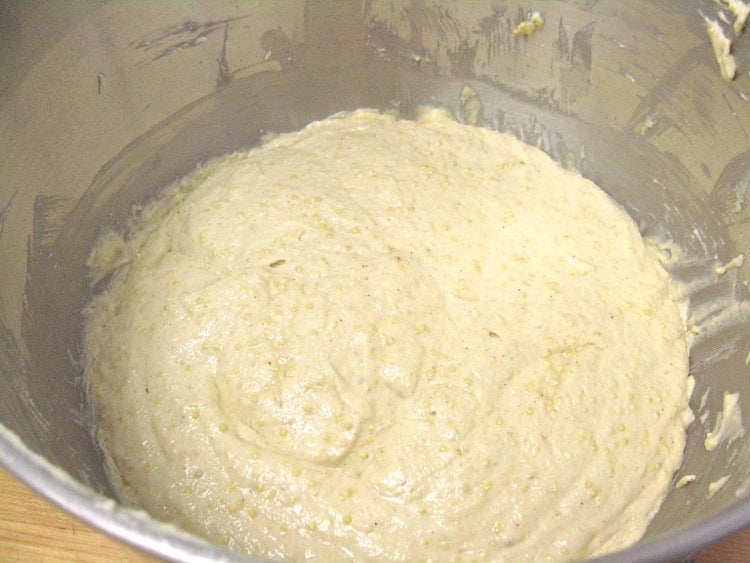 Cover the batter and allow it to rise at room temperature for about 1 hour.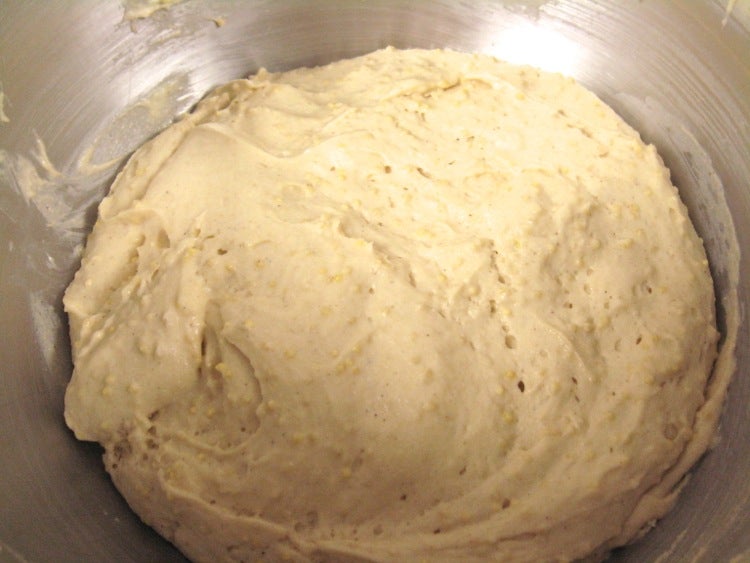 The dough won't double in volume, but will increase considerably and look inflated.
You can always tell when the yeast is doing its job by pulling at the surface of the dough with a spatula and peeling some back. Underneath the surface, you should see this texture of air bubbles, and puffy batter.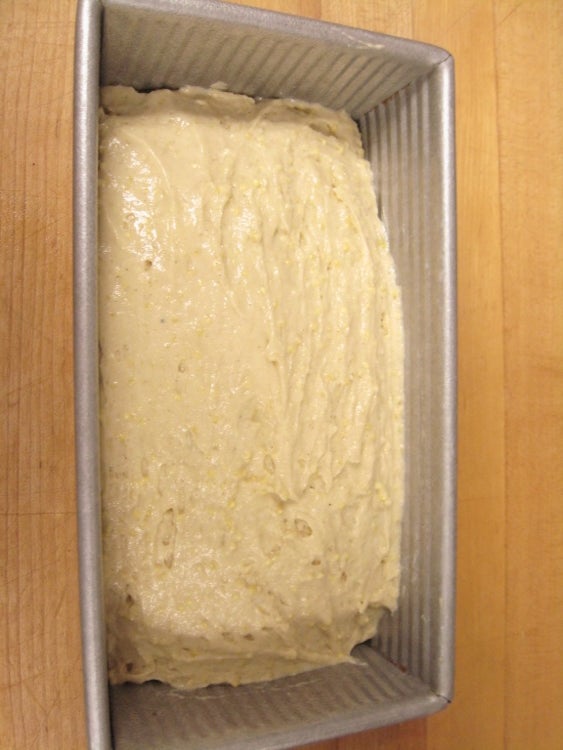 Preheat your oven to 350°F. Lightly grease an 8 1/2" x 4 1/2" loaf pan. Scrape the dough (which will be the consistency of a thick batter) into the prepared pan.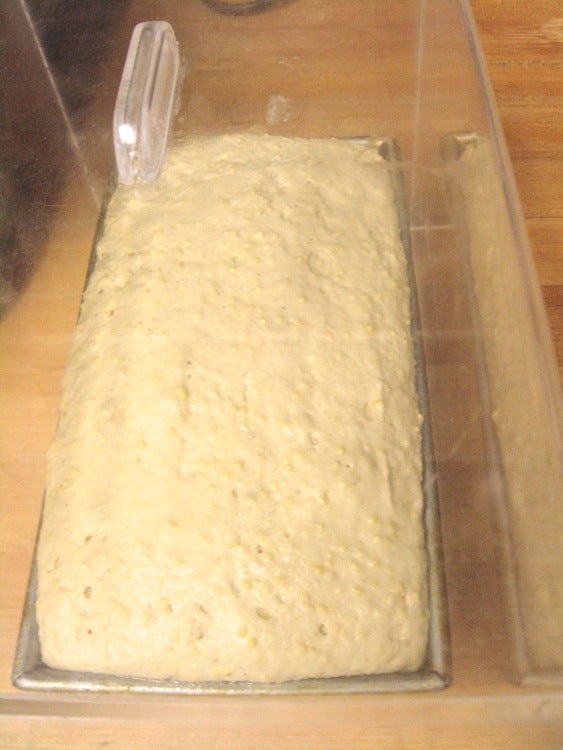 Cover, and allow to rise for about 30 to 40 minutes.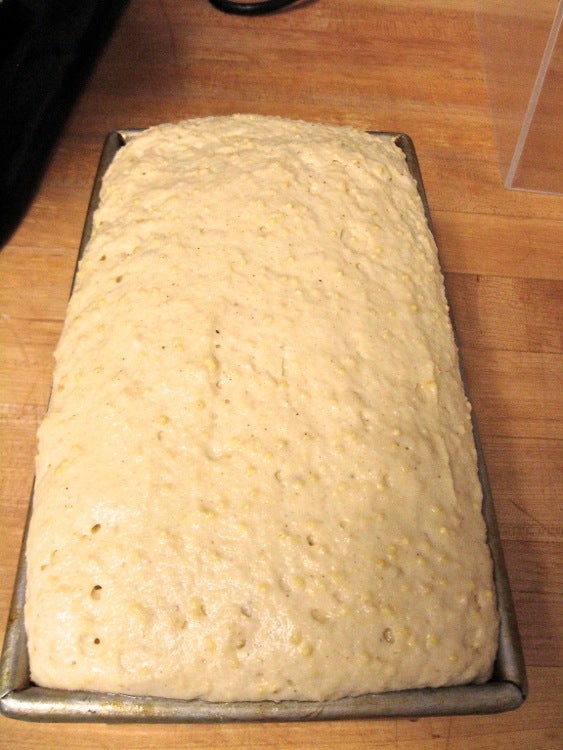 It should have risen just above the rim of the pan.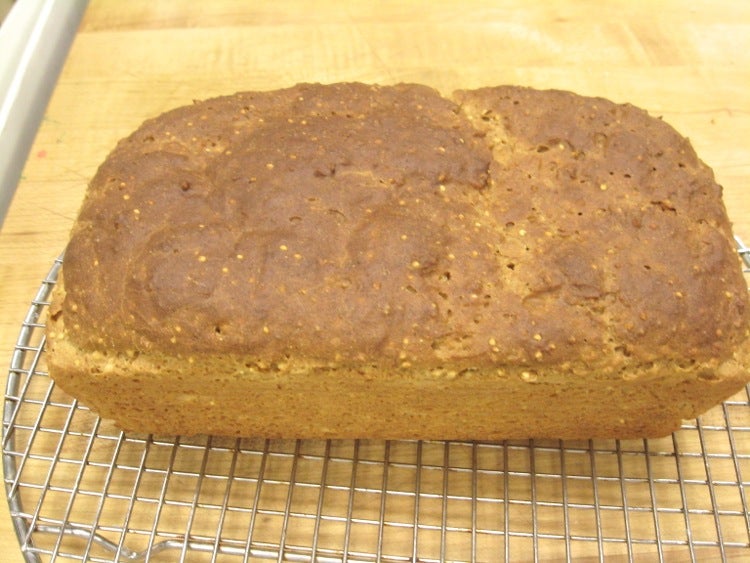 Bake the bread for 40 to 45 minutes, or until its internal temperature reaches 205°F to 210°F. The top should be a lovely golden brown.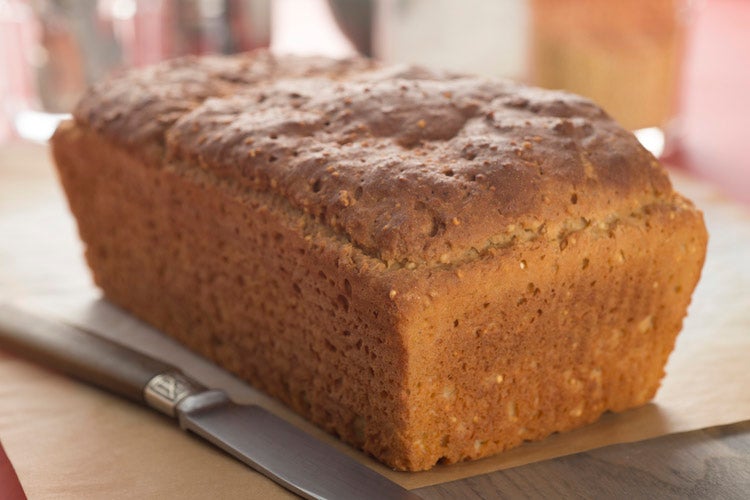 If the loaf begins to brown too much before it's finished baking, tent it with aluminum foil for the remainder of the bake.
Cool your loaf completely before cutting and serving.
Go ahead and throw your sandwich together, or use pieces of this bread to sop up your favorite soup. You may just want it toasted with butter so you can savor its soft crunch, but however you prefer your gluten-free bread, please try taking it with a grain of millet!
Please read, bake, and review our recipe for Gluten-Free Millet Bread.
Print just the recipe.