I've never seen a policeman eat a doughnut.
Where DID that stereotype come from anyway? Was it the criminal-chasing third shifts that led cops to the only food outlets open during the wee morning hours? Or the need for an accompaniment with their all-time favorite and most legal caffeine stimulant?
Either way, I've just never caught a uniformed cop in the act of doughnut consumption.
I've also never had a gluten-free doughnut from a café or bakery, but that doesn't mean they're not out there.
I hope every gluten-free sheriff, cop, state trooper, and doughnut-lover are able to stumble upon this recipe, as we're already well into the autumn start-of-school season. Apples, pumpkin, cinnamon, and maple are some of the celebrated fall flavors, but I feel that maple needs a greater endorsement in the doughnut world. Not to mention, it goes great with bourbon whiskey... which can go well with any season.
It's my understanding that gluten cannot survive the distillation process, but for those who must avoid grain alcohol, you may substitute rum or brandy; or be sure to use corn-based bourbon. And by all means, please omit the alcohol if you must.
I invite all law-makers, law breakers, those fighting for justice, and advocates of war to reach a common gluten-free ground with me today, as we make a fantastic, maple-y breakfast-treat-after-school-snack-spot-for-a-big-scoop-of-dessert-ice-cream kind of doughnut!
Hopefully it's cooled down enough in your world to turn your ovens on. Please preheat yours to 350°F, and lightly grease two doughnut pans.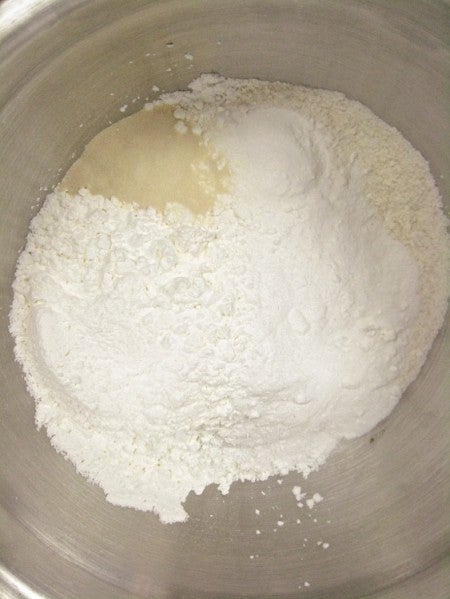 The dry ingredients can be mixed in a bowl and set aside. They are:
1/3 cup cornstarch
1 1/2 teaspoons baking powder
1/2 teaspoon baking soda
3/4 teaspoon salt
3/4 teaspoon xanthan gum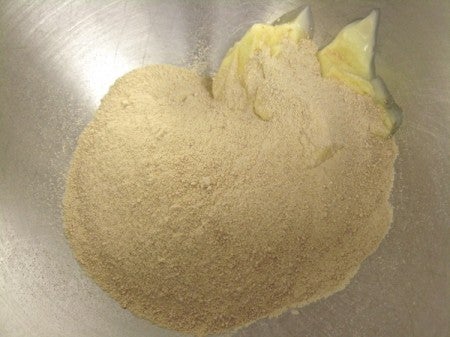 Here are two ingredients that don't get together often enough, in my opinion. Aside from creaming them together to make doughnut batter, maple sugar and butter can also be whipped together to spread on toast, pancakes, waffles... you read me? Total yums!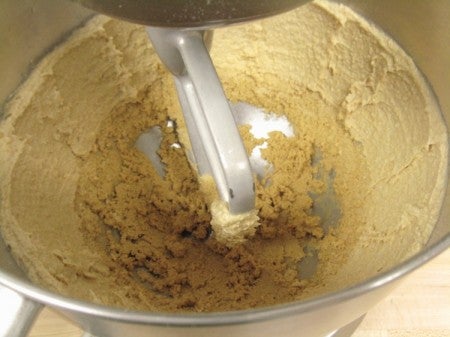 Don't snatch any of this for your toast, I worked unbearable hours to get the maple flavor perfectly balanced in this doughnut (don't you feel sorry for me?)
I put many a meal's worth of doughnuts out for sampling when I was testing this one and I heard a lotta, "You're making those doughnuts AGAIN!!??"
Yes, this may have so far won the made-most-times-before-actually-edible recipe award of all my trials and errors. But it was worth it.
Actually it's more fun when the first try is so disastrously horrible and you have to work toward just being able to get it in your mouth without spitting it out. Then when you accomplish, "Wow, these are really good! They're gluten-free?" you feel like you've finally crossed the finish line in a very long race.
OK, my subject matter wandered off the beaten path again. Back to business!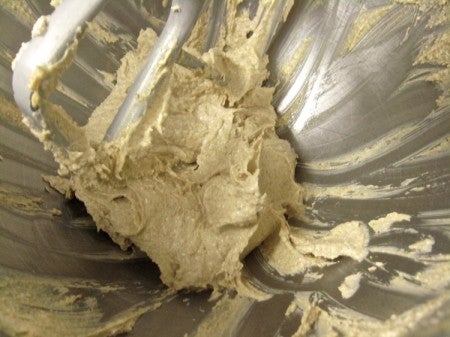 Make sure the 1/2 cup of butter and 3/4 cup maple sugar are beaten until fluffy and the sugar begins to dissolve (about 2 minutes). This will prevent pools of maple sugar from forming on the baked product.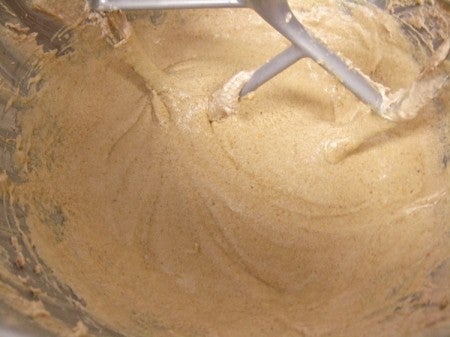 Add 2 large eggs to the creamed mixture, one at a time, and beat until incorporated. If you notice that the mixture looks slightly broken, carry on!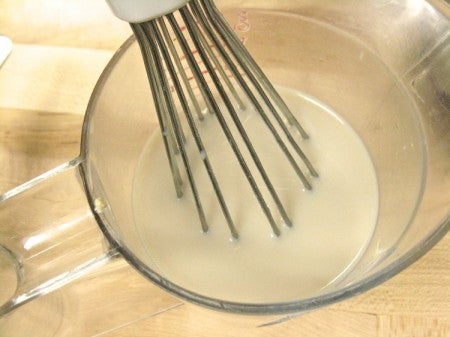 Stir 1/4 teaspoon maple flavoring into 1 3/4 cups milk. Add the milk to the butter/sugar mixture alternately with the blended dry mixture.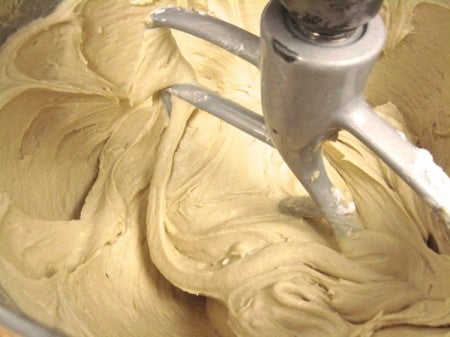 Beat the batter on medium speed for approximately 30 seconds, then scrape the sides and beat for an additional 30 seconds.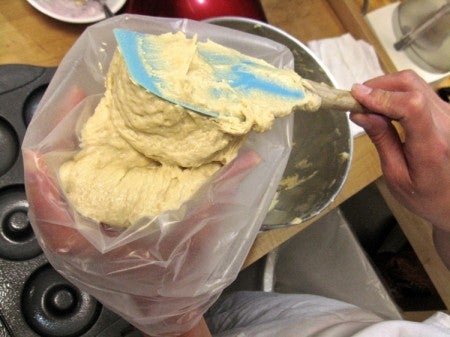 Fill a large piping bag (or zip-top bag) with the batter.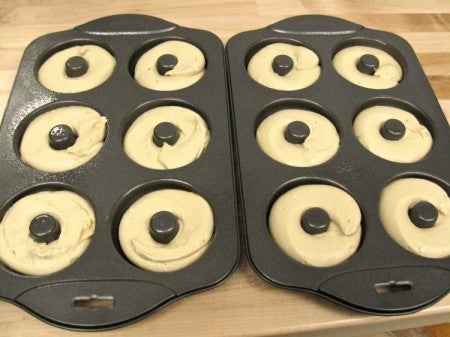 Pipe the batter into your prepared doughnut pans. The batter will make a perfect dozen (one of the few things about the recipe that remained consistent through EVERY test). Allow the batter to rest for 10-15 minutes before baking!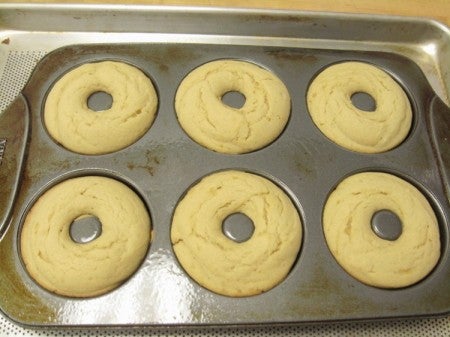 Bake the doughnuts for 15 minutes and allow them to cool for just a minute or two before turning them out onto a rack. Now it's time to stir up the glaze and brew some coffee!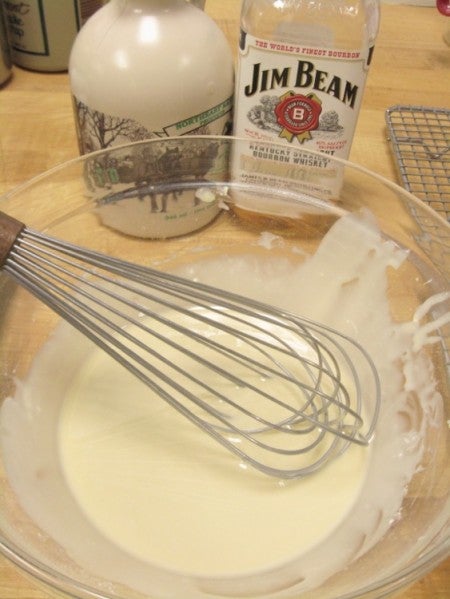 Mix 1 cup confectioners' sugar with 1/3 cup maple syrup and 1 teaspoon bourbon.
Now, I'll make you an offer. If you tend to prefer enrobed glazed doughnuts, you should double the glaze recipe and add a little milk or water to make it thinner. Then you can even immerse the entire doughnut instead of just glazing the top. This recipe is smack in the middle of a thin glaze and a frosting. It clings, but not so tightly that it clumps.
The short point? More liquid for glaze, more sugar for frosting.
Happy medium? Keep it where it is!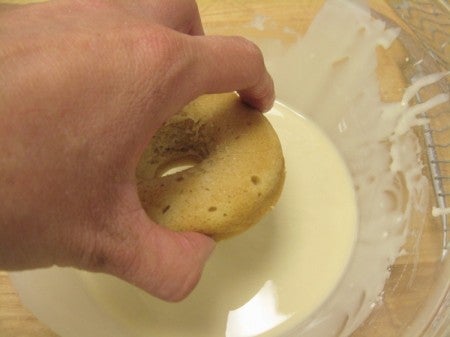 Dip the cooled doughnuts into the glaze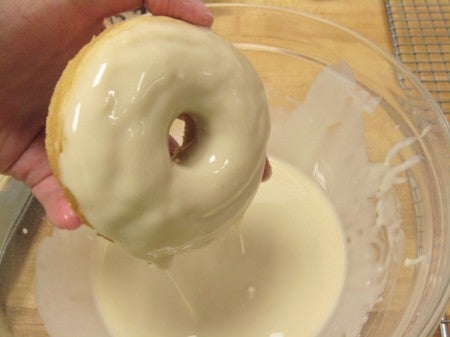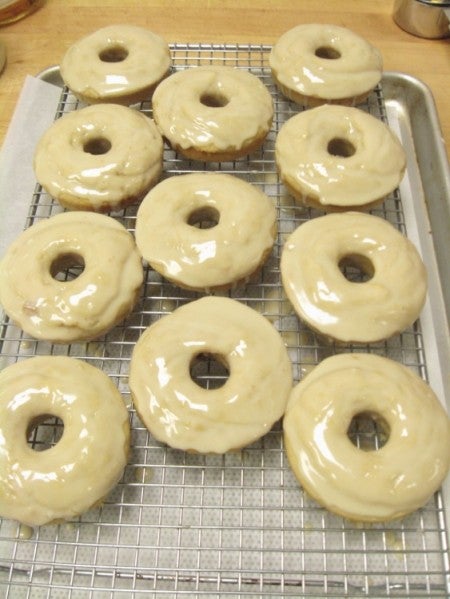 Turn them out onto the cooling rack, underlined with parchment paper to catch the excess glaze (fair game for finger-licking children).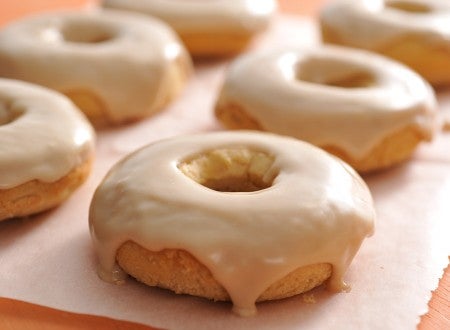 Is the coffee hot? The tea steeped?
Throw a box of these down on the table at work for your favorite gluten-free peeps and watch even the glutenivores make them disappear.
Don't think you'll finish ALL the doughnuts in one day? There's no shame in that, just save your extra glaze and keep a number of doughnuts unglazed in an airtight container for up to two days.
Heat the doughnuts in the microwave for about 10 to 15 seconds, and glaze just before serving.
Please read, bake, and review our recipe for Gluten-Free Maple Bourbon Glazed Doughnuts.
Print just the recipe.