Inside-Out Pumpkin Muffins
It's what's inside that counts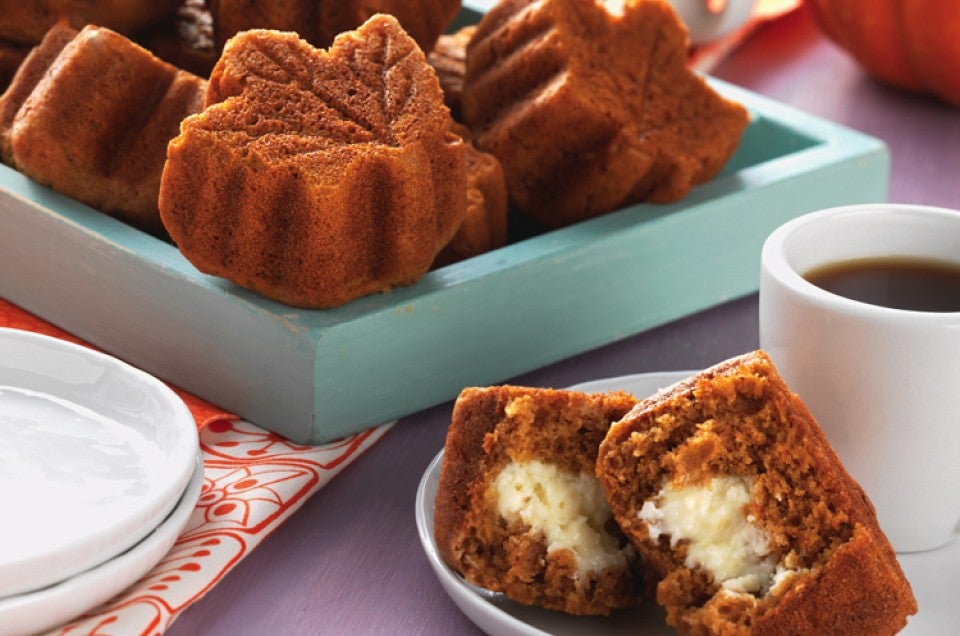 Is this a gorgeous picture, or what?
Golden-orange pumpkin muffins, complete with a sweet baked-in filling of cider and cinnamon-scented cream cheese.
They're every bit as good as they look; and not at all fussy to make.
Because, trust me, if these muffins involved a piping bag – in my personal parlance, "the dreaded piping bag" – they wouldn't be on my "must-do" list, no matter how tasty.
Call me unreasonable, but I have a thing against piping bags. Let's take 5, shall we? Five reasons I don't happily pipe:
1. You have to figure out a) what tip to use, and b) how to attach it. I know, I know, one piece goes INSIDE, one piece goes OUTSIDE…
2. There are many small pieces involved. And I inevitably lose the one key piece (coupler?) needed to make the whole thing work.
3. They're a pain to fill; never mind the tall glass, piping bags are always a pain to fill.
4. Everything I pipe, from writing atop a cake to a simple éclair, looks like a mess.
5. When you're done, you're faced with the cleanup: a bag that's greasy both inside and out. And not only that, greasy in little hard-to-reach places...
No thanks.
So, I absolutely LOVE a "fancy" recipe for a filled treat that doesn't get me anywhere near a piping set.
Like this one, perfect for fall (yes, it's on the doorstep): Inside-Out Pumpkin Muffins.
Shall we begin?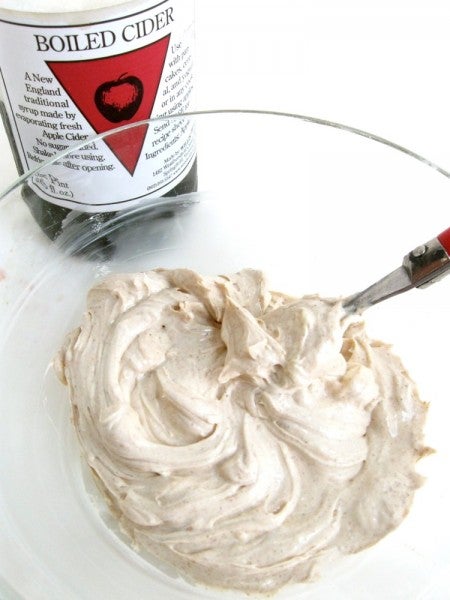 While the recipe on our site calls for a relatively plain sweetened cream cheese filling, I think our recipe for Cider-Cinnamon Spread is a wonderful fit, as well. You'll use only about half of this spread for the muffins; but I advise making the entire recipe, as it's delicious on toast and bagels.
Combine the following, stirring until smooth:
1 1/2 cups (12 ounces) cream cheese; low-fat is fine
1/4 cup sugar
1 1/2 teaspoons ground cinnamon
1/8 teaspoon salt
2 tablespoons boiled cider
Preheat the oven to 400°F. Line a standard 12-cup muffin pan with muffin papers, and grease the papers. Or lightly grease a maple leaf pan.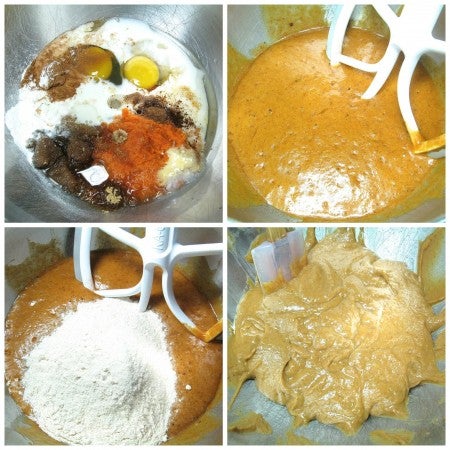 Put the following in a bowl:
1 cup pumpkin purée (about half a standard 15-ounce can)
2 large eggs
1/2 cup brown sugar
3 tablespoons vegetable oil
1/4 cup boiled cider* (for best flavor), or dark corn syrup
1/2 teaspoon salt
1 1/2 teaspoons pumpkin pie spice; or 1 teaspoon ground cinnamon + 1/4 teaspoon ground cloves + 1/4 teaspoon ground ginger
1 teaspoon baking powder
1/2 teaspoon baking soda
1/3 cup milk
*Boiled cider isn't something you can easily make yourself, simply by boiling cider. But it's so wonderful, in so many different fruit desserts (especially autumn-type treats, like these muffins), it's worth it to keep a bottle on hand. It'll last for months in the fridge.
Beat everything together. Scrape down the sides and bottom of the bowl.
Add 1 1/2 cups (6 1/4 ounces) King Arthur Unbleached All-Purpose Flour or King Arthur White Whole Wheat Flour (6 ounces). Stir just to combine. Don't beat; beating will toughen the muffins.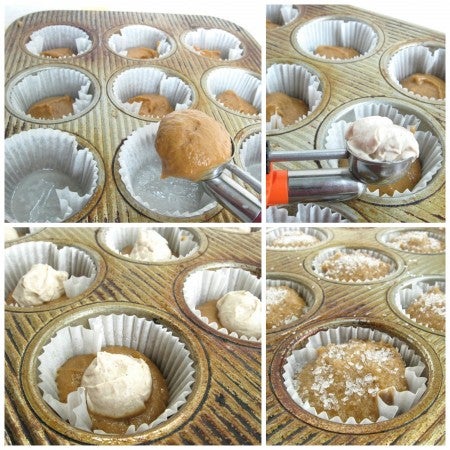 Drop about 2 tablespoons of the batter (a tablespoon cookie scoop works well here) into each muffin cup, spreading it to cover the bottom. Dollop on a heaping tablespoon of filling (a slightly heaped teaspoon cookie scoop); remember, if you've made a whole recipe of cinnamon-cider spread, you'll only use half. Cover the filling with another 2 tablespoons of batter.
If you're using maple leaf molds, drop about 1 1/2 tablespoons of batter into each of the 6 molds. Add a scant tablespoon of filling, and spread about 1 1/2 tablespoons batter on top. The recipe will make 16 maple leaves, so you'll need to bake in batches.
Sprinkle coarse white sparkling sugar on top, if desired.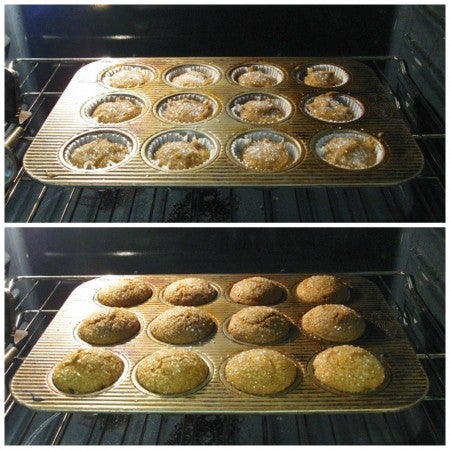 Bake the standard muffins for 18 to 20 minutes, until a cake tester inserted in the center comes out crumb-free.
Bake the leaf muffins for 16 to 18 minutes, testing them the same way.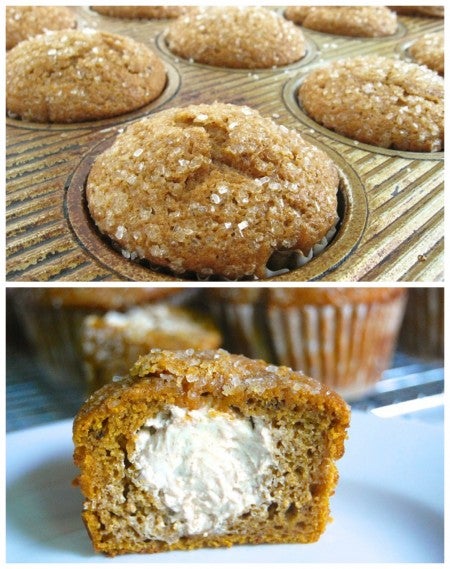 Remove the muffins from the oven. After 5 minutes, transfer them to a rack to cool.
If you've baked leaf muffins, after 5 minutes gently loosen their edges, and turn the pan over onto a cooling rack; the muffins should drop out.
And there you have it: moist, tender pumpkin muffins with a creamy center – no piping bag involved!
Read, bake, and review (please) our recipe for Inside-Out Pumpkin Muffins.
Want to try a similar treat with classic carrot cake flavor? Try our Cream Cheese Carrot Cake Muffins.