A tale of two tests
The quest for Baking Sheet recipes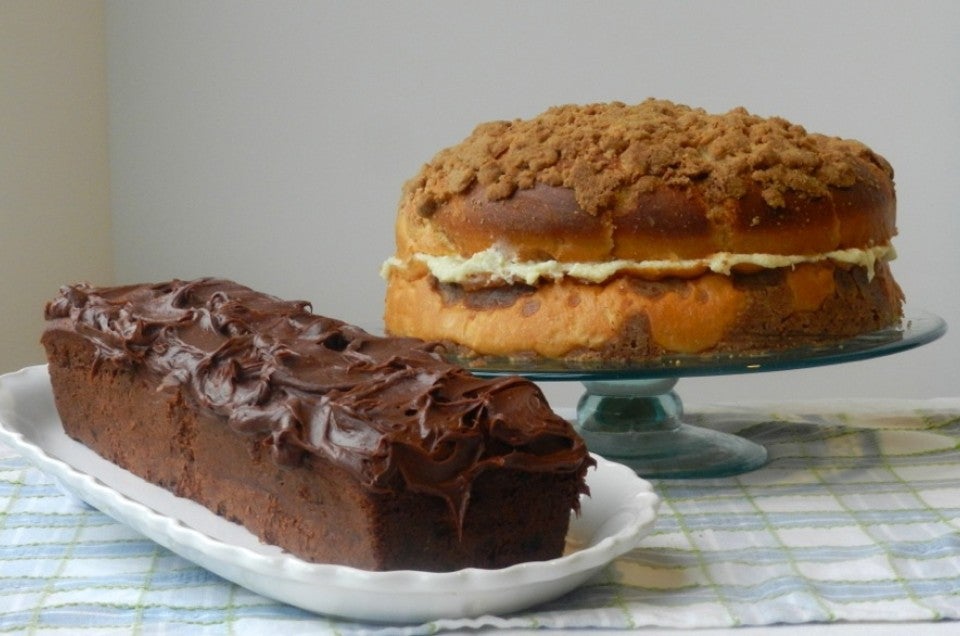 When someone writes you a letter that starts "Oh, Obiwan Kenobi of all things, baked, please help me!" there's really no way you can ignore them.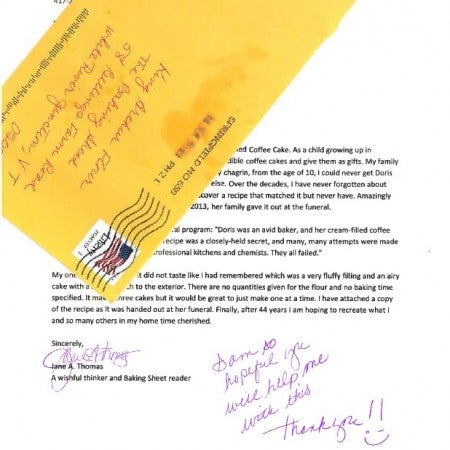 Thus began a fascinating letter from Jane A. Thomas, who signed herself "A wishful thinker and Baking Sheet reader."
Here's the letter she wrote:
"Attached is the recipe for Doris Knutson's Top Secret Filled Coffee Cake. As a child growing up in Burlington, Wisconsin, my family had been the lucky recipients of these incredible coffee cakes that Doris made and gave as gifts. Much to my chagrin, from the age of 10, I could never get Doris to give me the recipe and neither could anyone else. Over the decades, I have never forgotten about Doris' coffee cake and have often tried to discover a recipe that matched it but never have. Amazingly enough, when she passed away in March 2013, her family gave it out at the funeral.
Here's what was written in her funeral program: 'Doris was an avid baker, and her cream-filled coffee cake was a regional favorite. The recipe was a closely-held secret, and many, many attempts were made to crack the code - by several professional kitchens and chemists. They all failed.'
My one attempt to make it did not taste like I had remembered, which was a very fluffy filling and an airy cake with a slight crunch to the exterior. There are no quantities given for the flour and no baking time specified. It makes three cakes but it would be great to make just one at a time. Finally, after 44 years I am hoping to recreate what I and so many others in my home town cherished."
Here's the recipe Jane sent me: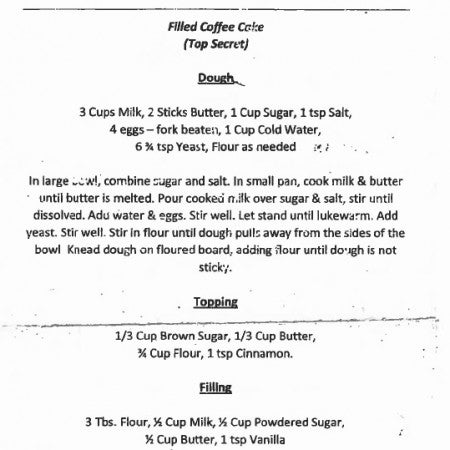 Now, with a story like that, you know the hunt was on. The same day, I was testing a recipe I found in an old cookbook called "The Best From Midwest Kitchens," originally published in 1946. Unfortunately for our ever-patient kitchen steward, Julie, the first attempt at both recipes yielded similar results.
First, I converted the coffeecake's amounts to what I thought was a reasonable starting point (roughly x 1/3). Since I had no idea how much flour it would take, I went through the steps and kept the finished dough on the sticky side. It still took almost 5 1/2 cups of flour, and despite putting it in a 10" layer cake pan, you can see I was not exactly in the ballpark.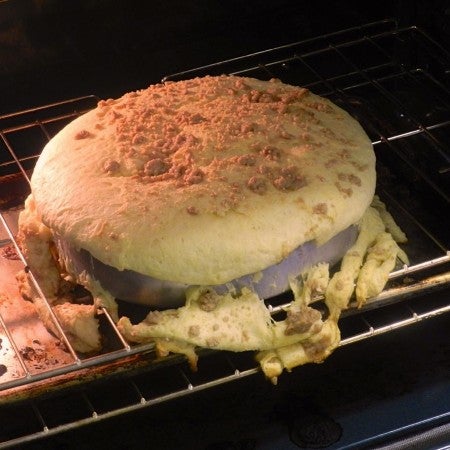 The 1946 recipe for "Spiced Nougat Cake" said "bake in one loaf for 1 1/2 hours at 300°F."  Adding the ingredient volumes at a quick glance came out to around 6 cups, which is the amount for a 9 x 5" loaf pan, or one of our tea loaf pans, which I thought might look elegant. Yeah.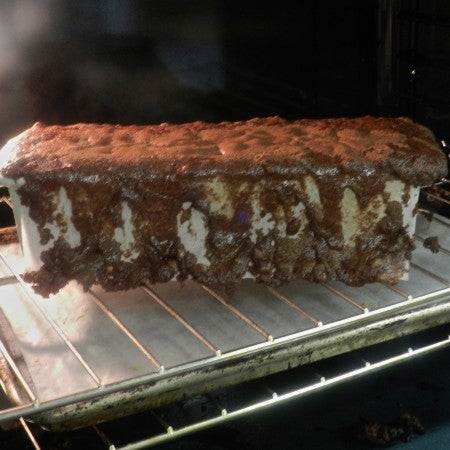 Not so much.
Back to the drawing board, calculator in hand. The nougat cake got an overhaul for amounts, including cutting the leavening in half. Into the oven it went, and this time things looked much more encouraging.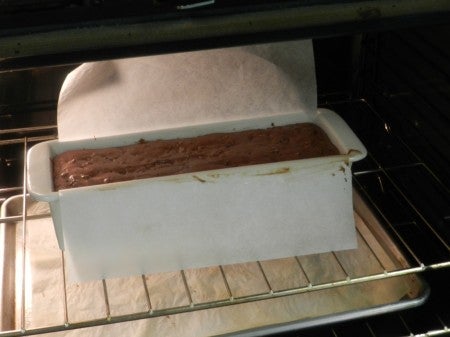 This shot is taken at the same time in the bake as the first one. Note the sheet pan underneath, just in case...
As for the coffeecake, I cut down the amounts again, and this time decided a springform pan was the better part of valor. Things looked pretty reasonable as I mixed and plopped the dough into said springform for its last rise. Note the greasy stack of recipes on the bench, complete with markups. The white stuff in the saucepan is the flour/milk mixture for the coffeecake's filling, and as you can see, the nougat cake behaved itself.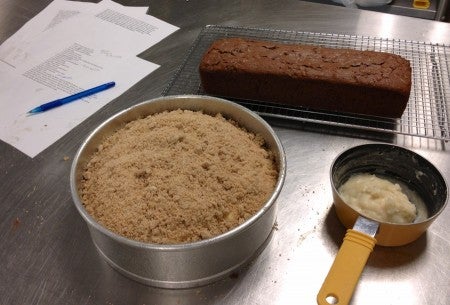 The Baking Sheet runs a regular feature called Recipe Makeover, and it's one of our most popular. Everyone has a story like Jane's, or a baking wish that they're not sure how to realize. That's where PJ and I come in. We're part mad scientist, part translator, part foot soldier, making the messes and screwing things up so you won't have to; she for the blog and I in the pages (and in the app) of the Baking Sheet.
"Results!" you say. What happened next?
Let's just day that Doris' famous coffeecake is one... exuberant recipe. It's pretty heavily yeasted, even when converted, and the only springform I could put my hands on was a 9" diameter. So... here's what happened to take 2 in the oven: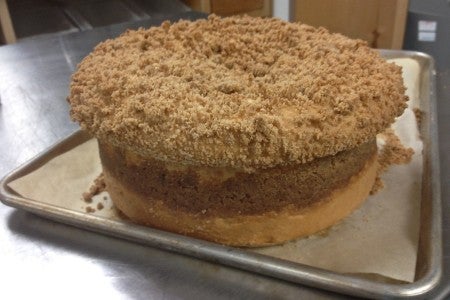 A lofty, light-textured cake, that resembles... a mushroom. But I figured I was further down the road, so it was time to finish the filling, split and fill the cake, and put it into the employee kitchen. That done, I went to check my email, and came back in 10 minutes. This is what was left.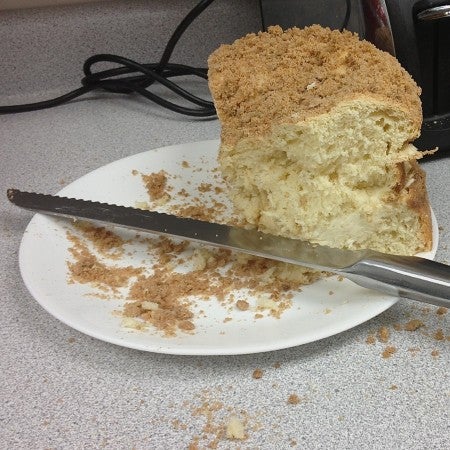 As you can see from the cross section, the cake itself is very light. One of my co-workers described it as being almost like an angel food cake.
And the taste? The filling is amazing. I've never had anything like it. I'd seen cooked roux frostings, but nothing like this filling's technique. The cooked milk/flour mixture gives it a flavor that reminds you of homemade pudding, but much lighter. It's a little tricky to make without lumps, but after tasting this cake I began to understand that Doris Knutson's legendary status as a baker was well deserved.
Time for take 3.
All amounts a bit smaller, a better understanding of how to make the filling, and still... it's clear to me that this recipe just plain HAS to be in a 10" pan. And a springform one, at that.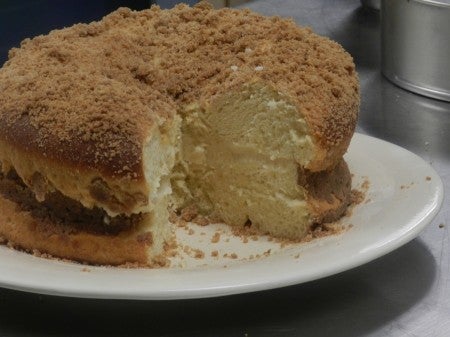 So I dug out my 10" springform from home, and went toe to toe one last time.
Before I show you what happened, I should report that the nougat cake, while vastly improved, was a little dry for mouthfeel after its last go-round. The first one was downright greasy, so I'd cut the butter quite a bit. The recipe also calls for sour cream, which I'd brought down in proportion, but I think it's worth bumping that up just a bit and taking the recipe around the block just once more.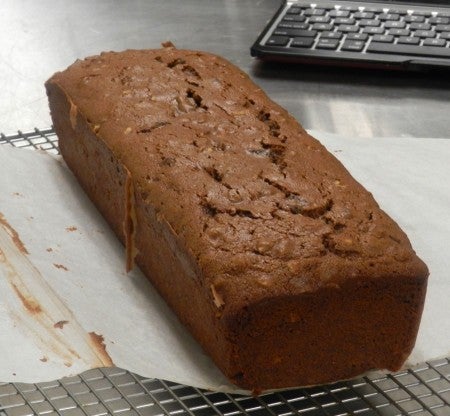 After putting the coffeecake in the 10" springform pan, here's what came out of the oven.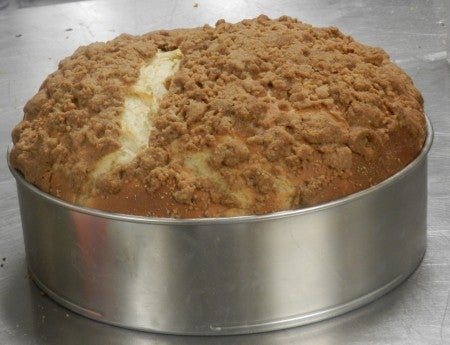 No mushroom, still tall and light. In the 10" pan you need to wait until the dough has been in there rising for about 20 to 25 minutes before putting the crumbs on top.  I think you could make two 8" cakes from this recipe, but you'd want to multiply the filling and topping amounts by 1.5 to have all the proportions line up. I can report that I froze one of the cakes over the weekend, and it disappeared just as quickly as its brothers after being thawed.
I think Doris' coffeecake (for the revised recipe, click here) is truly a masterpiece. Recreating it was a journey into all the unspoken areas where experienced bakers make instinctive adjustments that they may or may not ever put down on paper for others to read. I believe the difference between the formula I arrived at and Doris' working guideline are the tweaks and measuring and spelling out of at least some of the graceful moves Doris made when she was baking for other people.
I'm hoping that Jane will be as excited about having a working formula for it as we are. And I'm sincerely hoping that our efforts will create those taste memories for her and everyone who cherished Doris' wonderful baking expertise.
There's more to say about the nougat cake's adventures, (including its really, really yummy chocolate cream cheese frosting) but you'll have to sign up if you really, really want to know. :-)
Both of these recipes are going to be appearing in the Winter (coffeecake) and Early Spring (Spiced Nougat Cake) issues of The Baking Sheet. If you're interested in having a regular source of exclusive, original, seasonal, tested recipes, and the stories that go with them, I hope you'll consider subscribing, to our print, or digital versions (or both).
Subscribers to our app have access to every recipe ever published in The Baking Sheet since its beginnings in 1990. That's more than 3,500 of them. The first back issue on the app is a comprehensive, searchable index of all of them.
One of our Baking Circle Community members sums it up nicely, when sharing one of her own baking experiments. Mrs. Cindy says:
"I think I know why we all love this site so much. From the beginning KAF has supported our love of tinkering and tweaking recipes. Indeed, look at the Baking Sheet. Every issue begins with Susan telling about finding a recipe, or someone sending her a recipe, or an associate/friend asking for help with a recipe. No recipe is safe from Susan's tweaking. She encourages us to do the same. We are safe in these environs!"
A lovely thought, and we'd be more than happy to welcome you to our Baking Sheet group of friends.