Bagels.
I've always considered them a comfort food; but now I can't, if they aren't gluten-free. And it really doesn't matter what you do with them, they're so friendly in many different ways. They toast beautifully, top gracefully, travel with ease, and can even keep a teething baby occupied while at the grocery store. Sure beats having your kid bend over to gum the germ-infested shopping cart handle, now doesn't it?
Speaking of grocery shopping, the average grocery store bakery offers about 15 varieties of bagels these days – which is actually comparable to bagel bakeries themselves!
The modern bagel comes in chocolate chip, blueberry, cranberry-orange, Asiago, jalapeño and sun-dried tomato, just to name a few. And you may or may not be able to mix and match with the equally eclectic cream cheese offerings on the market – anything from cucumber-dill to honey-walnut and pumpkin.
But decisions about how you top your bagel don't matter if you end up with one that's merely the likes of bread with a hole in the middle. That's my biggest complaint about gluten-free bagels that I've tried in the past. They had no depth of flavor or texture, and you could hardly tell the difference between them and the slices of sandwich bread you toasted for breakfast.
A bagel isn't just about shape. An artisan bread should have a specific crust and interior crumb, and so should our favorite Polish food!
Can you imagine if you bought a baguette with a soft-as-sandwich-bread crust and a tight, highly absorbent crumb? It would be more of a Wonder Bread sponge bat!
Who wants a bagel with no crunch or chew? Chew plays hard-to-get in the world of gluten-free baking, and it was a long process of trial and error before I had something remotely edible, let alone a decent texture. Once I found my formula, I added oats and flax to boost nutritional value and flavor.
Ever been brave enough to make a gluten-free bagel? I double dare you!
Start with blending the following in your stand mixer's bowl:
1/2 cup cornmeal
1/3 cup tapioca starch
1/2 cup old-fashioned or quick oats
2 tablespoons flax meal
2 1/2 teaspoons instant yeast
1/2 teaspoon xanthan gum
1 teaspoon salt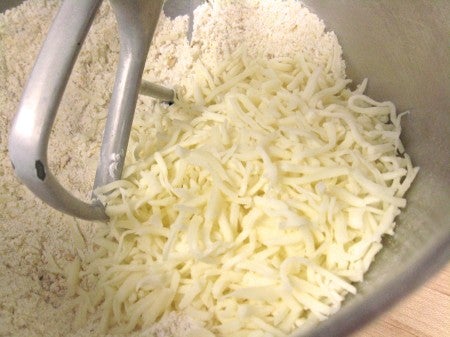 Stir in 1 cup shredded mozzarella cheese. This ingredient is key to the texture of the bagels. If you are intolerant of dairy, you can try a soy based-cheese, but it may not bind the dough as well.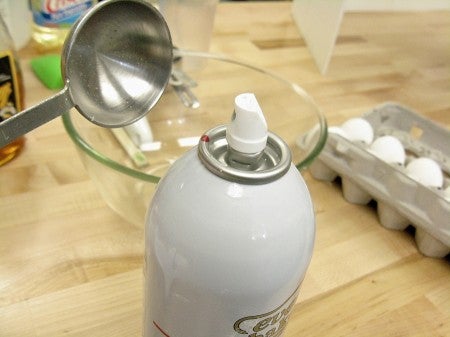 Whenever measuring honey or molasses, I always spray my measuring tool with oil. As you can see in the sequence of photos below, the oil makes for a clean slide and an accurate measurement!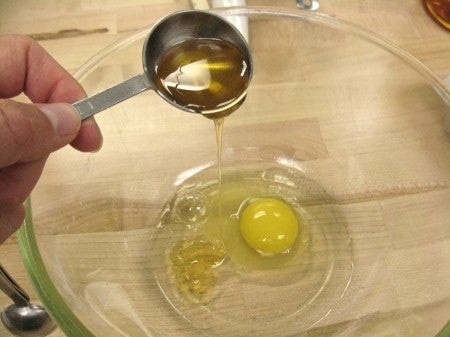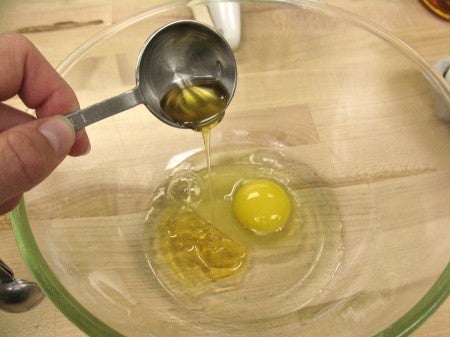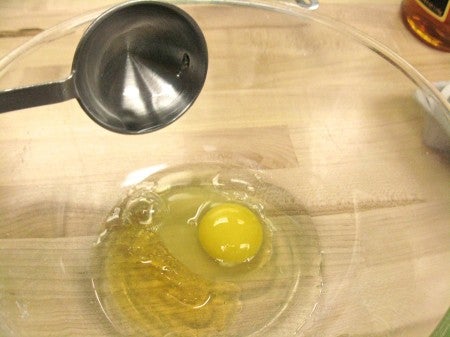 Whisk 2 tablespoons honey or molasses with 1 egg, 2 tablespoons vegetable oil, and 2 teaspoons vinegar.
I tried the recipe with both honey and molasses and preferred the outcome much more with the molasses. The flavor was rich; and the color darker.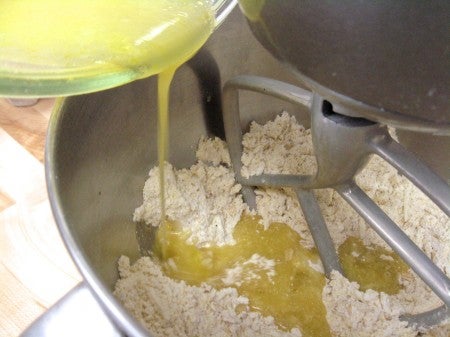 Add the wet ingredients to the dry and blend to achieve a crumbly mixture.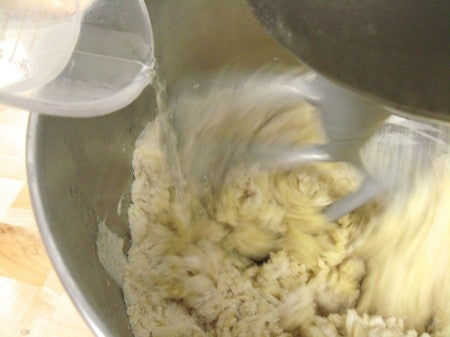 Add 1 cup lukewarm water.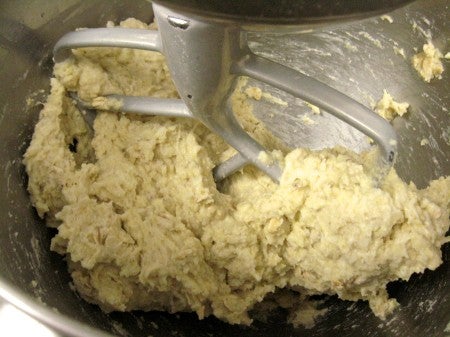 Once the water is added, beat the dough on medium-high speed for 2 to 3 minutes.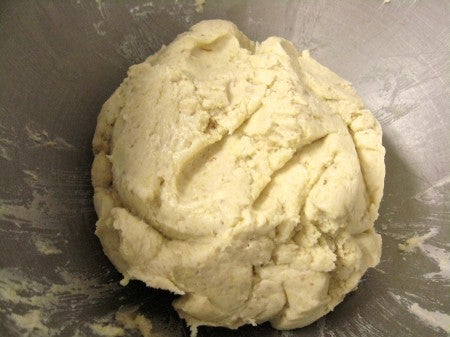 Scrape the dough into the center of the bowl.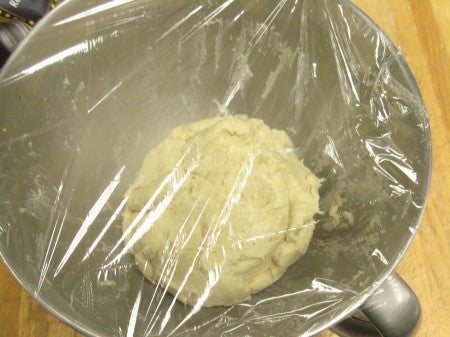 Cover the bowl and allow the dough to rise for 1 to 1 1/2 hours, until it's significantly increased in volume. It won't double in size.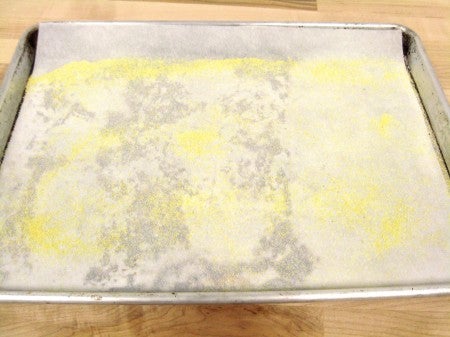 Prepare a baking sheet with parchment paper and dust it with coarse cornmeal.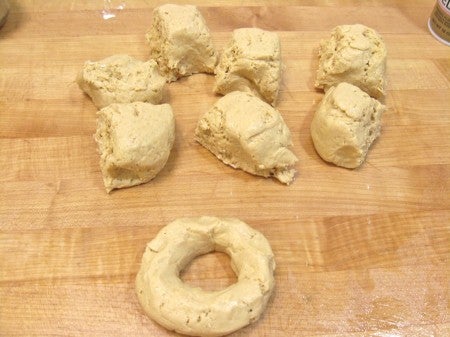 Divide the dough into 8 equal pieces.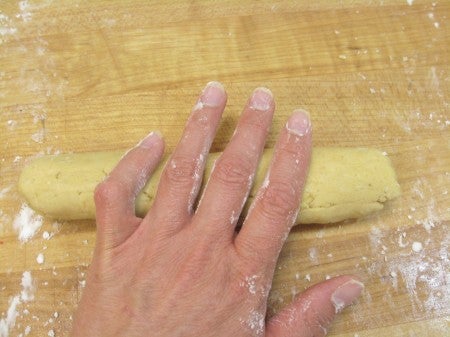 With floury or tapioca starchy hands, roll each piece into a 7" to 8" log.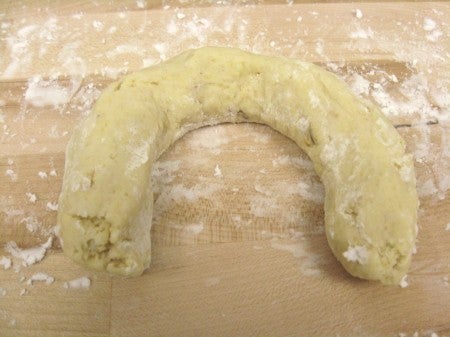 Form a circle with each log and place them on the tray. This half-circle will be complete when I join the two ends.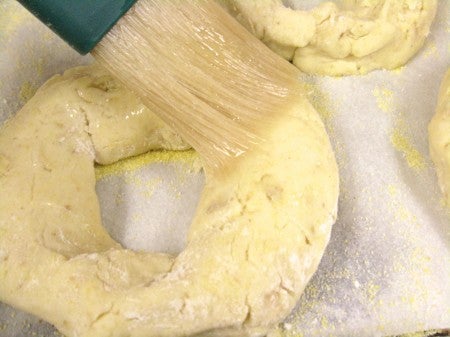 Brush or spray each bagel with a mixture of baking soda and water, using about 1/4 teaspoon baking soda to 1 cup water.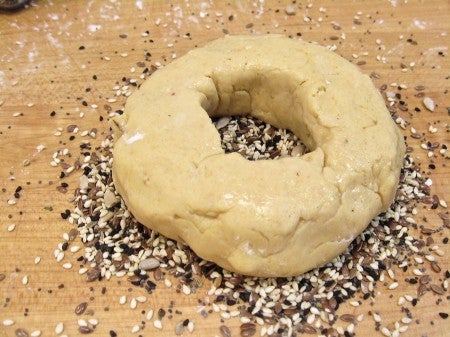 If you're so inclined, while the dough is wet turn the bagels over into a pile of seeds on your work surface. Press gently, so the seeds will stick to the dough.
Place the bagels back on the baking sheet, cover them, and allow them to rise for another hour.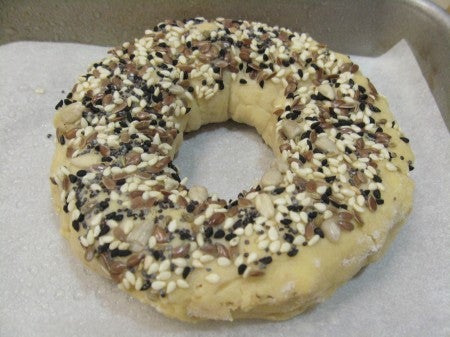 They'll become somewhat puffy.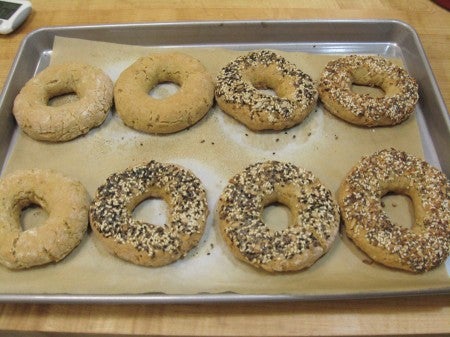 Bake the bagels in a preheated 400° oven for 25 to 30 minutes.
They'll be golden brown. With seeds...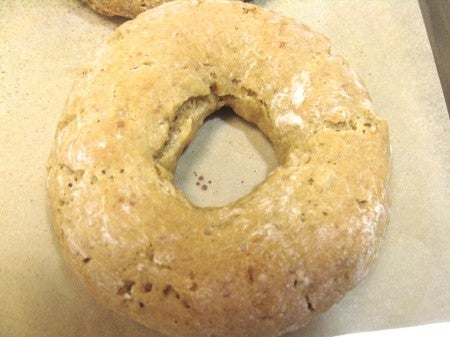 ...or without, you'll be impressed with your creation!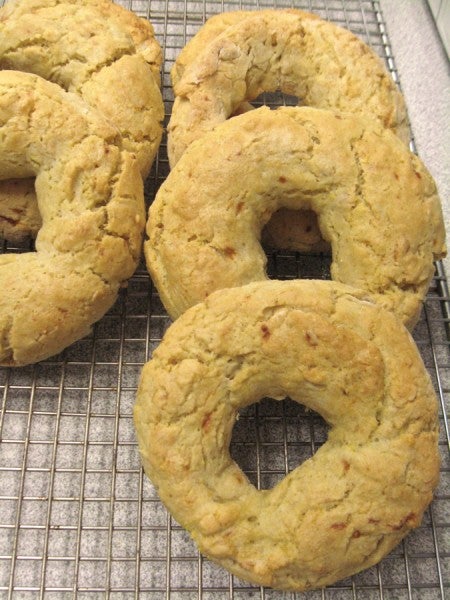 Now you'll need to decide whether this is breakfast, lunch, or dinner. And surely you'll want to have more than one.
Save one just to toast and slather with butter so you can enjoy the bare flavor alone; the rest is up to you. My style? Cream cheese with sliced green olives! And yours?