Did you know that Dr. Seuss wrote the book Green Eggs and Ham on a bet?
It's true. Dr. Seuss' editor bet him that he couldn't write a book using 50 words or less. The Cat in the Hat was pretty simple; it used 225 words. Not one to back down from a challenge, Seuss started writing and came up with Green Eggs and Ham – which uses exactly 50 words. (You can look them up online, but try to guess as many as you can first).
While I'm using more than 50 words in this blog, it is going to show you how to make the creamiest, most lemony Lemon Sherbet in just one photo.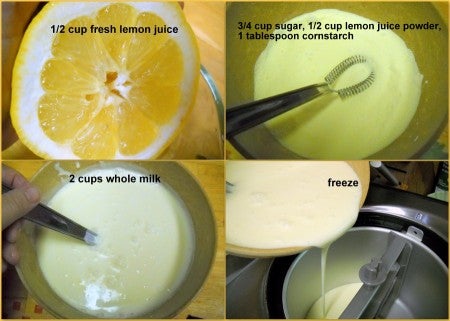 You can click anywhere on the photo to enlarge it
Yes, it's that easy. Cold fresh lemon juice and lemon juice powder are the keys to the tangy, puckery lemon flavor. If you don't have lemon juice powder, don't fear. In the recipe you'll find directions on how to use powdered lemonade drink mix.
Chilled whole milk and cornstarch are responsible for the creaminess. Those with corn allergies can leave out the starch, or replace it with 1/2 teaspoon xanthan gum.
So there you have it. A one-photo blog. Well, I guess technically it's a collage of four photos, but you get the idea.
Now, here's the challenge. In true Seussical form, can you write an ode to the lovely lemon using only 30 words?  You can use the same words over and over, but only 30 different words total.
Here's mine:
Nerbets dream of lemons, Nerbets dream of flowers
Nerbets dream of lemon sherbet showers.
Rain down on the Nerbets,
Nerbets love lemon sherbet!
Gelato or sorbet
Will not make their day,
Ice cream chases Nerbets away.
So save the Nerbets
Make lemon sherbet!
I can't wait to see your lemon poems and musings!
Please make, rate, and review our recipe for Lemon Sherbet.
Print just the recipe.