Chocolate Malt Pizzelle
My favorite movie candy gets a makeover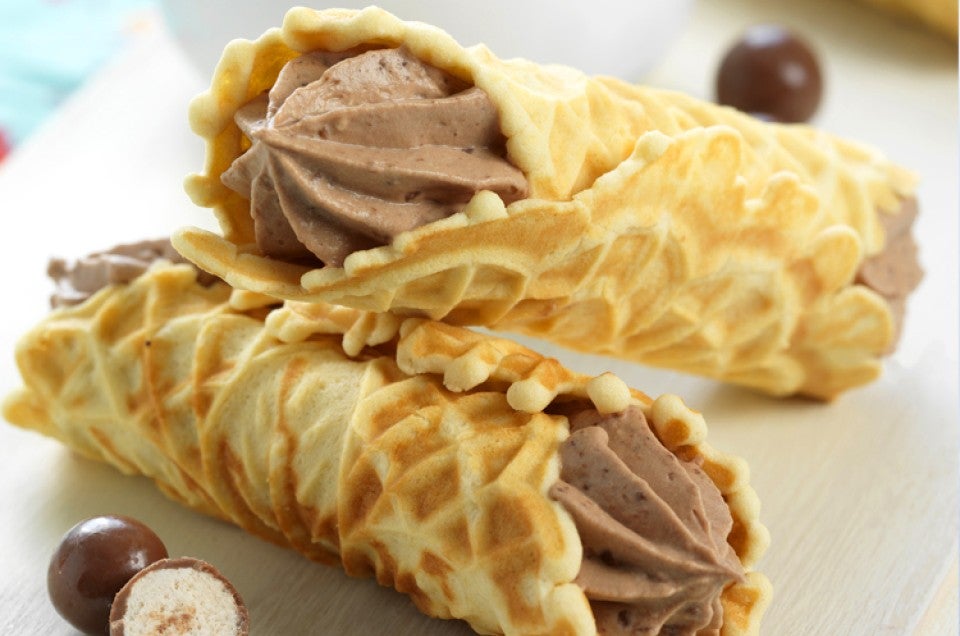 Hearken ye back to the days before movie theater megaplexes. Back to when each town had a movie theater, or better still, a drive-in. Yeah, the drive-in...
Where the kids piled into the back of the station wagon in their footie pajamas. Where the work-week weary dads stood in line for burgers, fries, and popcorn, while the mothers' movement kept a close eye on the mischievous minors.
And who can forget the intermission reel, cajoling us to visit the concession stand? From the dancing sodas to the trick-turning hot dog, just the lyrics of "Let's all go to the lobby" can have you scrambling through your purse for change to go buy a box of Junior Mints, Sugar Babies, JuJuBes, Snow Caps, Raisinettes, or Whoppers malted milk balls.
For most of America, the drive-in has gone the way of the dinosaur. But in small towns, like mine here in Vermont, the drive-in is alive and well. Each weekend cars line up early to get in, and everything I've described so far unfolds once again, just as it did decades ago.
While my husband and I do still go to the drive-in a few times each summer, most weekends we're happy to stay home. After all, the movies don't start until after my bedtime, and we've seen our fair share of robot/vampire/alien/cowboy films.
Instead, we each grab a good book and read the evening away. Usually one of us will look up and ask, "Is it dessert time yet?" We grab plates and forks and spend a few minutes in happy silence, rewarded for a week well won.
Still a fan of my movie candy, I wanted to make us a dessert that would use our favorites, but be just a little bit fancy and special. Enter the Chocolate Malt Pizzelle: a crisp malted-milk cookie wrapped around fluffy milk chocolate filling.  Like a cannoli, but with a candy theme.
So, go grab your pizzelle iron and some malted milk balls, pop in a favorite movie, and we'll make Chocolate Malt Pizzelle.
Here's the whole recipe:
3 large eggs
1/2 cup (99g) sugar
1/2 teaspoon salt
1/2 teaspoon vanilla extract
1/2 cup (71g) malted milk powder
1 1/4 cups (149g) King Arthur Unbleached All-Purpose Flour
1 teaspoon baking powder
8 tablespoons (113g) butter, softened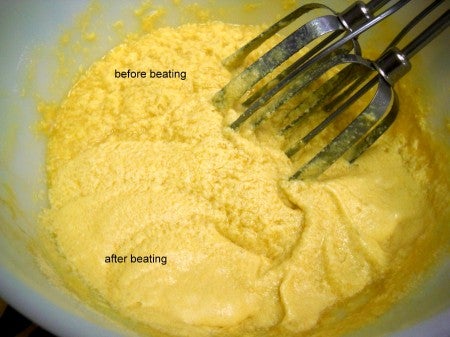 Beat everything together. It will take about a minute to incorporate the egg and butter, but you'll be able to see a noticeable change in the consistency of the batter, from curdled and lumpy looking to smooth and thick.
Be sure to scrape the bowl well about halfway through the blending.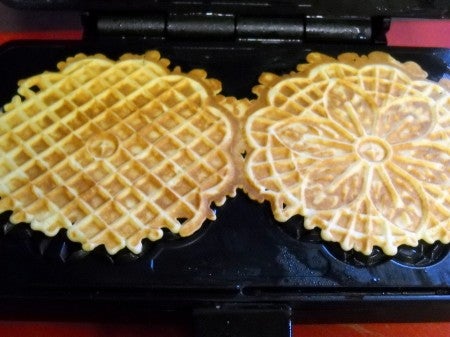 Scoop the batter onto your pre-heated pizzelle iron and bake for about 2 minutes. You're looking for pizzelle that are light golden brown in color.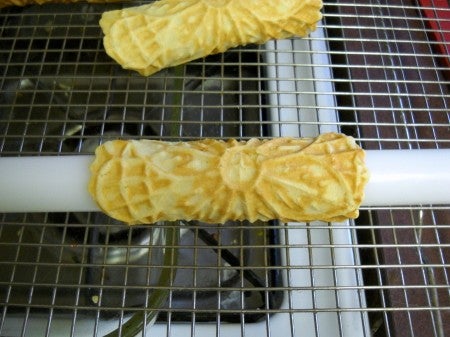 Quickly take one pizzelle off the iron and roll it around a tube, dowel, or pin that's about 1" in diameter. The rod shown here is a white plastic cylinder for rolling out fondant. Cannoli tubes work well, too.
And yes, be careful, the cookies are hot. Thankfully they cool quickly, and hold the tube shape. Repeat with the other pizzelle.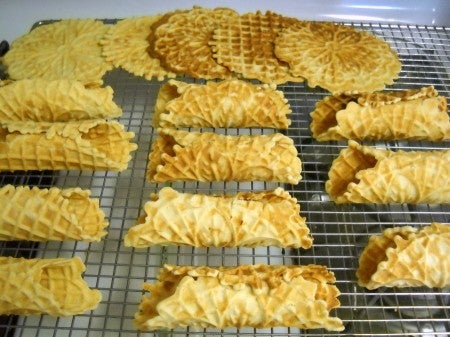 Set the shaped pizzelle on a rack to cool completely.
Once in awhile you'll overbake one, or it sets before you can curl it. No worries, just keep those flat ones too, for baker's treat, or to use like chips for dipping.
In fact, if you don't feel like making fancy tubes, you can just cut each warm pizzelle into four wedges, like pita chips.
While the pizzelle cool, make the ganache for the whipped filling.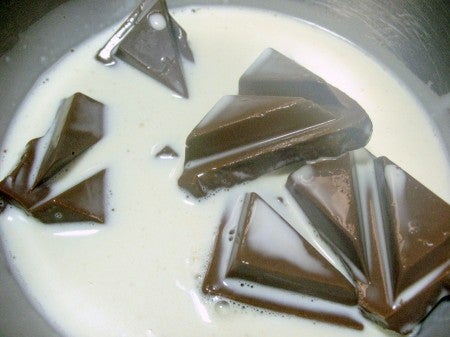 Place 6 ounces milk chocolate in a large heat-proof bowl. Boil 5 1/4 ounces (2/3 cup) heavy cream and pour it over the chocolate.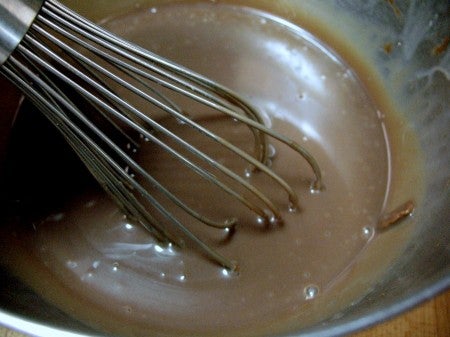 Stir the cream and chocolate together until smooth. If you chop up your chocolate into pieces about the size of a small grape (or a Milk Dud!), this goes very quickly.
Place the bowl in the fridge to chill until thick. In order to get a good whip on this ganache it needs to be the consistency of chocolate pudding.
You can always prepare the ganache to this point a day or two ahead of time; it keeps very well in the fridge.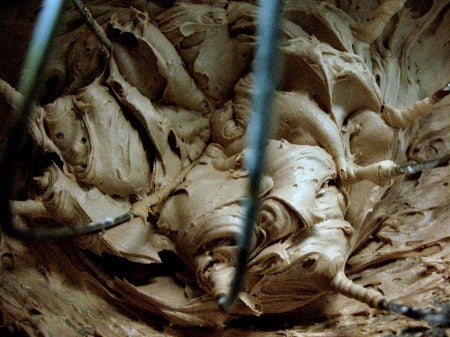 Whip the ganache to the consistency of cake icing or whipped cream.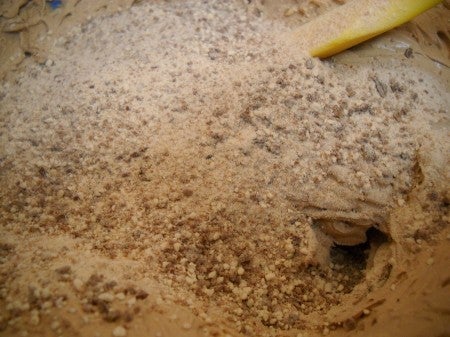 Gently fold in one (5-ounce) box of malted milk balls that have been crushed fine. To me, this is what really takes the filling over the top.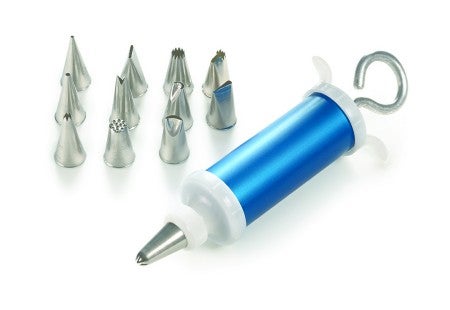 Scoop the filling into a large piping bag; or if you're still in retro mode, this decorating set.
Fill the pizzelle tubes from the center to each end, as follows: Place the tip of the piping bag down into the tube until you get to the center, and fill. Turn the tube around and repeat from the other end.
Because of the candy in the filling, you'll want to use an open-ended tip, such as a star tip or round tip. Clogging is no fun when you really, really want dessert now!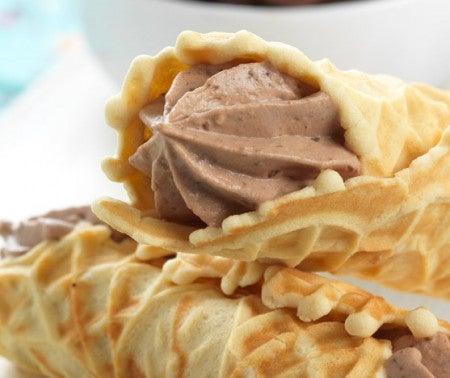 Enjoy these crunchy goodies while they're fresh. You can make the shells up to 3 days in advance, but wait to fill them until just before serving. You can store leftovers in the fridge; however the pizzelle will soften up. We didn't find this a problem at our house; we devoured them anyway!
Please make, rate, and review our recipe for Chocolate Malt Pizzelle.
It's nostalgia time! Share your stories of movies, candy, popcorn, and fun in our comment section below. See you at the drive-in!
Jump to Comments