Pink Peppermint Stick Ice Cream
Tickle your taste buds pink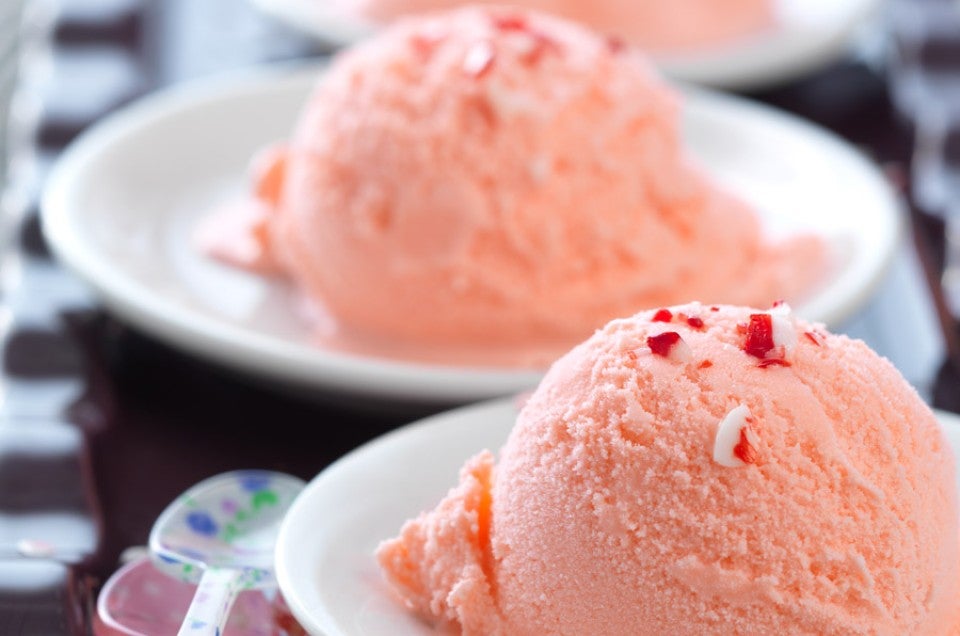 Picture, if you will, two grown women in the drugstore, giggling and giddy, shopping baskets piled high with just one thing.
No, not hair color or perfume, nor nail polish either. It was even better –
Candy canes!
Two weeks after Christmas my friend Cami called me and said candy canes were on sale for 27¢ a box. Wowza! How could I resist? We hopped in the car and headed over to the store.
Now, I'm sure the sales people thought we were something special. We bought 6 boxes of peppermint canes each, and cleaned them out of the funky flavors as well. Cherry, pear, cinnamon, apple, and rainbow were fun treats, but we were really after the peppermint canes to use in our baking.
Cami's canes were headed for several batches of chocolate peppermint biscotti, and mine were all headed for the crusher to be made into ice cream.
You see, peppermint stick ice cream is my husband David's favorite flavor. We're both old enough to remember getting it at Howard Johnson's, and at the Friendly's Restaurant in the Searstown Mall in Leominster, MA.  Back then the scoops were dotted with tiny red and green candies that melted and left minty sugar trails for tracing with your tongue. Ah, those were the days.
My family had been sweet enough to get me an ice cream maker for Christmas, and we celebrated in grand style with perfect pink puffs of peppermint.
Fast forward to summer, and we've still got one box of canes left. Move over vanilla, peppermint stick ice cream rocks in summer just as well as in winter, so we're headed into the kitchen once again.
Come join us, and Let's make Pink Peppermint Stick Ice Cream.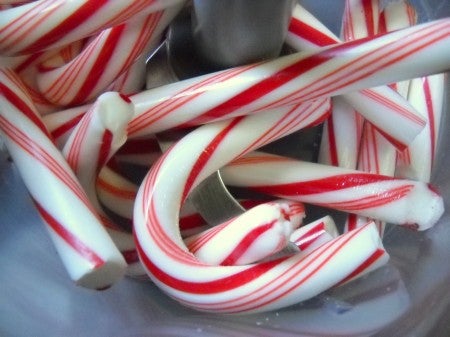 Place about 6 to 8 broken candy canes into a mini food processor. While you certainly can do this the old-fashioned way with a plastic bag and hammer, I like how quickly the processor gives you very fine powder, along with some larger chunks for crunch.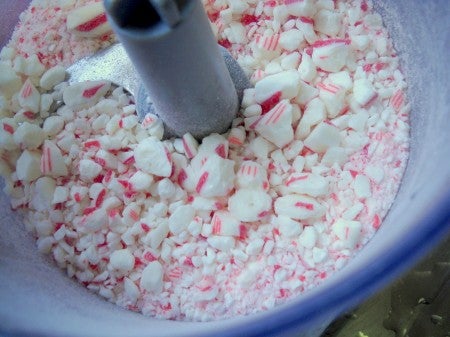 Already you can see the pink tone that will be in our ice cream, plus some big pieces of candy for texture.
Set the crushed candy aside for now.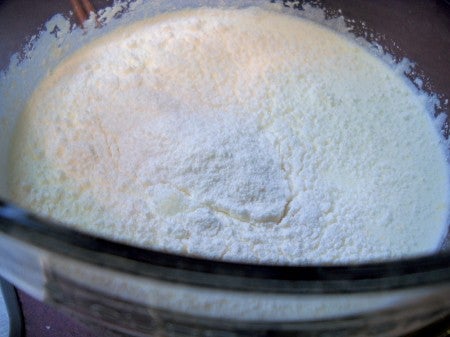 In a large bowl, whisk together 2 cups (454g) heavy cream, 1 cup (227g) whole milk, 2 large eggs, and 1/3 cup (78g) sugar until well blended.
Add 3 tablespoons (38g) dry instant vanilla pudding mix, or our pastry cream filling mix (my must-have for ice cream bases).
Whisk in the dry mix until completely dissolved.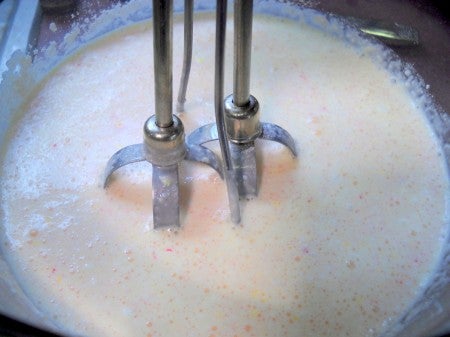 The mixture will start to thicken, which is just what we want.
Because I use farm-fresh eggs from my coop out back, the yolks are always bright yellow. This gives a slight orange tint to my base sometimes. Looking back, for pink peppermint I'll probably use store-bought eggs next time, to keep the base a little more neutral.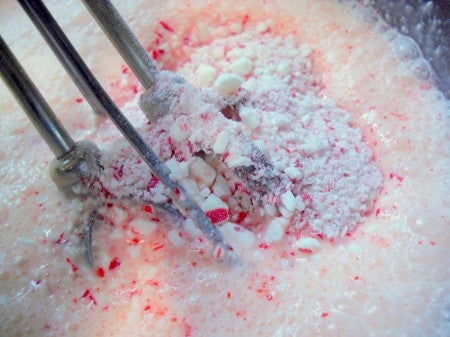 Add the reserved crushed candy canes and 1/8 teaspoon peppermint oil, and whisk your mix for about a minute. The peppermint "dust" will dissolve quickly, and you'll see the base turn pinker and pinker.
If you want to go bright pink, you can add a few drops of red or pink food coloring at this stage.
Cover the bowl and chill the base for at least 2 hours, or overnight. The colder the base, the faster it will freeze. Fast freezing means smaller ice crystals and a smoother ice cream.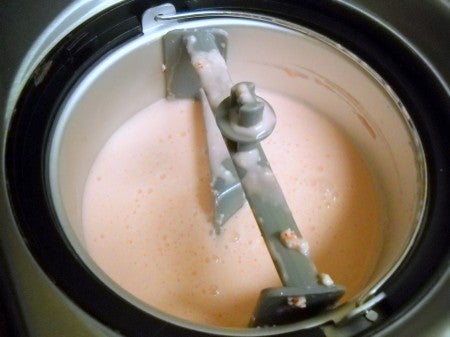 Pour the cold base into your ice cream maker and freeze according to the manufacturers' directions.
The aroma of this ice cream permeates the whole house with an invigorating peppermint scent, quite refreshing during the warm months of summer.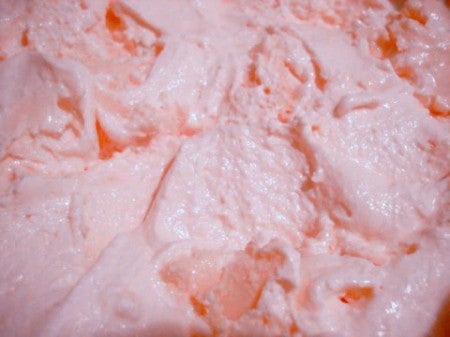 I must say, this is by far the most tempting ice cream to eat straight from the machine. Cold, but still soft, it goes down so easy and is so refreshing it's hard to stop.
If you want hard serve ice cream, though, scoop the soft ice cream into a container, seal tightly, and freeze for an additional 4 to 6 hours in your freezer.
Pink peppermint stick ice cream is wonderful by itself, but simply astounding on top of anything chocolate. A warm brownie with a scoop on top is heaven in a dish.
My husband's absolute favorite way to enjoy this ice cream, though, is in a peppermint stick milkshake. Three scoops and a dash of milk blended to creamy perfection will make his day, week, and month.
That makes me curious. Do you prefer hard ice cream? Soft? Milkshakes? Floats?  Fill up our comments section below with your favorites.
Please make, rate, and review our recipe for Pink Peppermint Stick Ice Cream.
Bake those brownies you know you want as a base for the ice cream!
Jump to Comments