Oh beautiful, for spacious skies...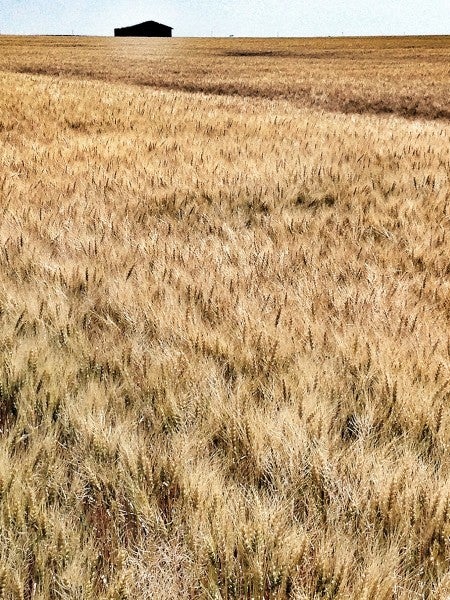 For amber waves of grain...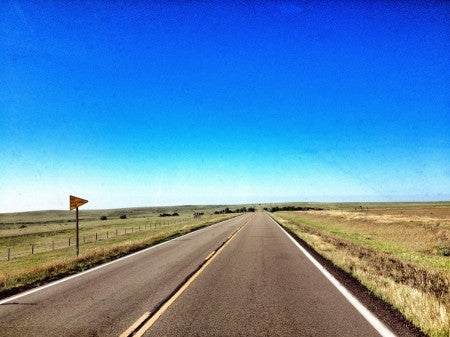 For purple mountain majesties...
Um... what happened to the mountains?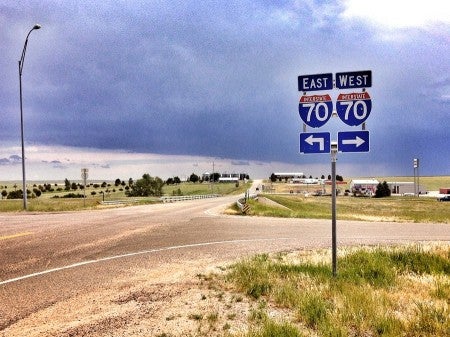 Well, if you head west on this road – which happens to be I-70 in Kansas – you'll eventually find the Rockies.
But east? You're talking miles and miles of flat land. Straight roads, intersecting at 90° angles.
And crops: wheat, corn, milo, sorghum... with some unexpected (to us Easterners) cattle ranching and oil drilling thrown in, for good measure.
I'd never been to Kansas before. But back in late June, a group of us from King Arthur visited some of the farmers who grow "our" wheat – the wheat that's milled into our flour.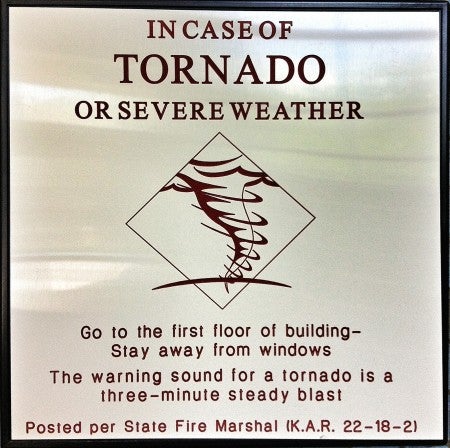 It was a whirlwind tour.
We flew west out of Vermont on a Monday morning. Upon arrival in Denver, we were met by our hosts, Kent Symns and Marcia Walters, the hard-driving duo behind the American White Wheat Producers Association.
Kent and Marcia had rented a van and stocked it with cold drinks, Oreos, cold drinks, fruit, chips... did I mention cold drinks? The weather map showed highs of 99°F the entire week we were there – which was actually cooler than the 113°F (with 60mph winds) reported a week earlier at one stop along our tour.
We drove over 1,000 miles, visiting seven farms, a mill, and Kansas State University.
And we witnessed two big truths about wheat farming.
First, our American wheat farmers have a passion for what they do, built on the generations who've farmed the land before them, and on creating the legacy they'll pass along to their own children.
And second, farming is hard, endless labor; the folks who pursue it work in uncertain circumstances, always one dry spell away from losing their entire crop.
That's what's happening in eastern Colorado and western Kansas this year. While America the Beautiful may be on most Americans' lips this week, our Great Plains farmers might very well be humming a Willie Nelson tune:
Blue skies, shinin' on me, nothin' but blue skies, do I see...
Living through the second year of a terrible drought, these farmers begin every phone conversation with, "Did you get any rain? How much?"
Sometimes the answer is "Two inches!" – cause for much rejoicing.
But too often it's "No, nothing." Or "Three hundredths of an inch."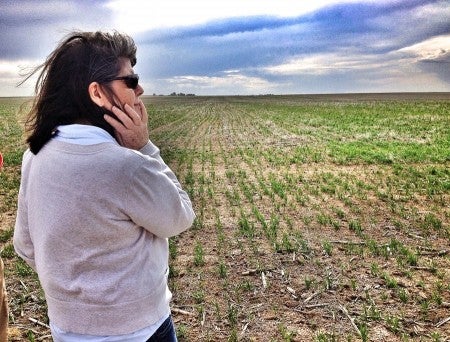 The drought-stricken fields look like this: sere. With wheat that's mere inches, rather than feet high.
The first stop on our tour was the Curt and Kerry Sue Sayles farm in Siebert, CO. Curt's acreage makes him one of our bigger producers: he farms 5,000 acres.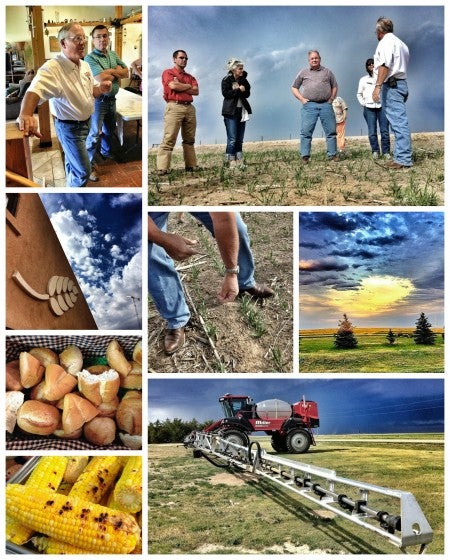 This year, Curt's wheat crop is practically non-existent, due to the drought. Still, there's hope; Curt and Kerry hope to salvage something out of this year's planting, and are already looking forward to a better wheat crop next year – if only some rain will fall.
Next day, the long, straight road brought us into Kansas, where our first stop was Sharon Springs – and the Mai farm.
Bill; his wife, Wilma, and an assortment of family members pursue dry-land farming, a type of farming that uses very little water. Dry land farming is the way to go in western Kansas, which is often drier than the eastern part of the state.
But this year, with just 7" of rain (compared to a normal 17"), even that water-conserving method didn't work; Bill has lost his entire wheat crop.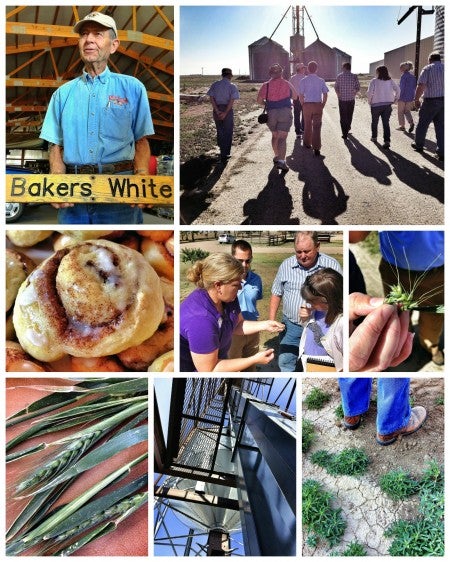 Still, the Mais remains upbeat – they're ready to plant white wheat again this fall, for a hopefully better harvest next summer.
Next stop: Leoti, KS, about 50 miles from Sharon Springs. Charlie Ayers; his wife, JoAn; and daughter Kara farm several thousand acres there.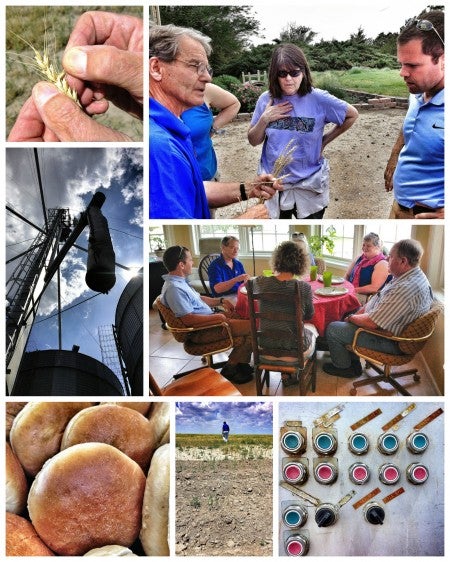 Like his neighbor, Bill Mai, Charlie has probably lost most of his wheat crop due to drought.
But he's philosophical about it. He's farming his family's land; daughter Kara, ready to take over, represents a third generation.
They won't give up.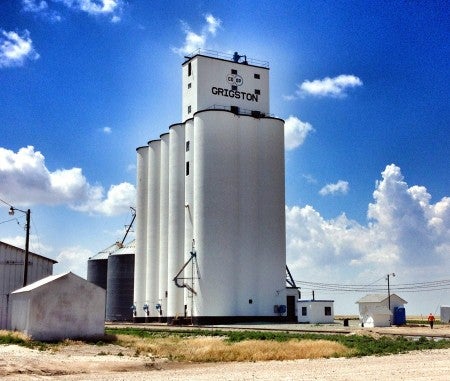 On the way from the Ayers farm to Dighton, our next destination, we passed through Grigston.
Population: 1,150. Size: 718 square miles, including 495,358 acres of farm land.
Kansas is dotted with "big/small" towns – not a lot of people, but LOTS of land. Grigston appears pretty typical – this grain elevator was by far the largest structure in town.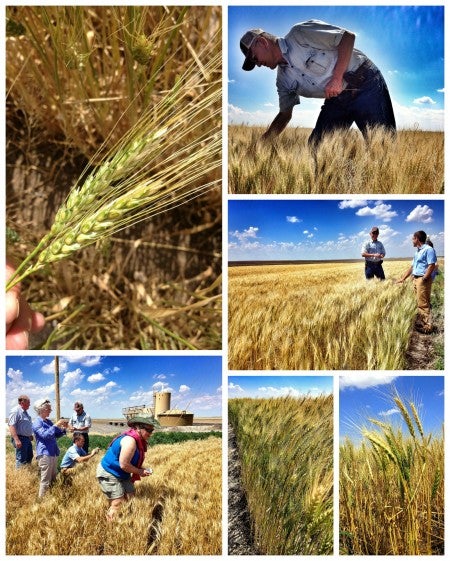 Ron Suppes, who farms a few thousand acres of white wheat, is also commissioner of the Kansas Wheat Commission – he's a busy man. Yet he took the time to leave his office/garage to proudly show us some of his white wheat, a couple of feet high and slated to be harvested in a few weeks.
After all the dry land and dying wheat, it was good to see the wind rippling across Ron's healthy fields.
OK, time for a break – after all, this IS a food blog.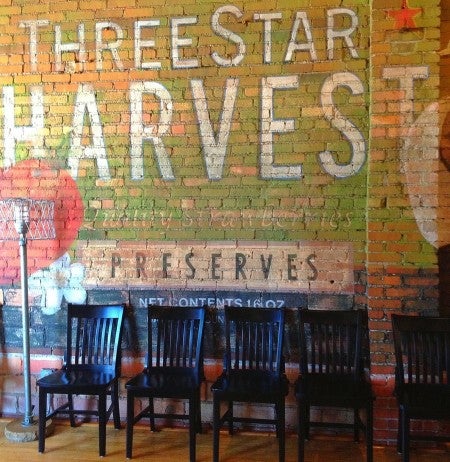 And in Kansas, even restaurants are all about the harvest. This beautiful wall art is in Gella's Diner, in Hays.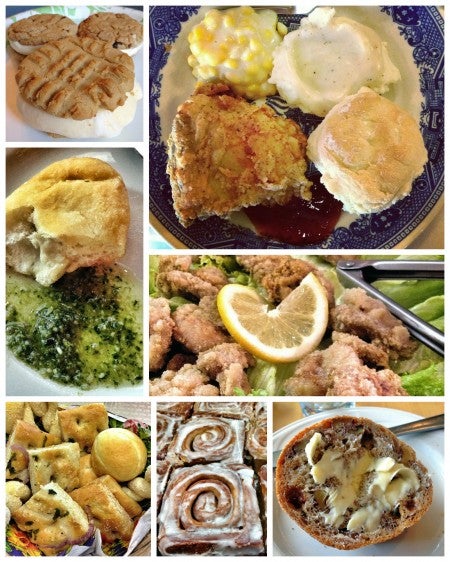 I can't resist sharing some of the food shots I grabbed along the way. And just a word about that chicken dinner, whose photo doesn't do it justice.
The Brookville Hotel in Abilene includes just one item on its menu: a family-style chicken dinner. Included in that dinner are "relishes" (cottage cheese and sliced peaches); creamy sweet-and-sour coleslaw; mashed potatoes with cream gravy; creamed corn; fried chicken; biscuits with "creamy butter" and strawberry preserves; and homemade vanilla ice cream – served with chocolate sauce, if you ask for it. We did.
Next day, it was back on the road again. We were looking for a farmer ready to harvest his wheat, one who'd be willing to take the time to talk to us about the process – and maybe, just maybe, give us a ride in his combine.
We found just what we were looking for in McPherson, at the Kaufman farm. Bob and his son, Stacy, were just starting on their first field of the season. The combine was revved up; the grain cart, which drives alongside the combine as a mobile storage bin for the harvested wheat, was ready.
And so was I. Stacy invited me to climb the ladder into the giant piece of machinery.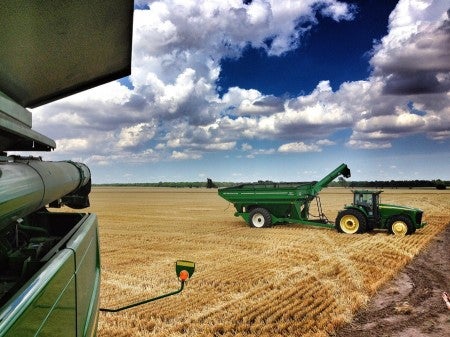 Here's the view from the cab, looking over at the grain cart.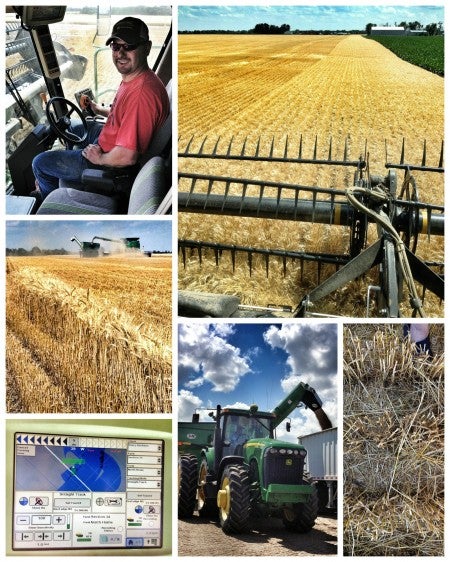 Want to join me? Take a ride in Stacy and Bob's combine:
After Stacy graciously took three of us on individual trips around the field, it was time to get back into the van and head to Kansas State University, in Manhattan – "the Little Apple."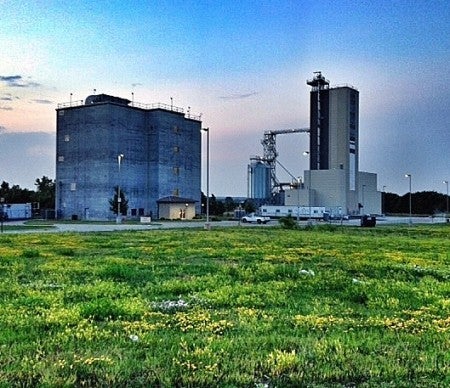 We were scheduled to take a course in wheat biochemistry and milling methods the next day, after a tour of K-State's massive new state-of-the-art "teaching" mill.
But that's a story for another day – and another blog.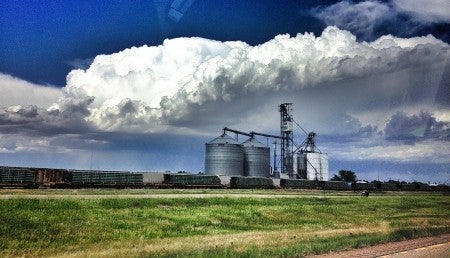 As we continued east, driving for hours past long, long trains; grain elevators, and endless fields of wheat, I pondered all I'd learned.
The farmers we visited are passionate about their wheat – just as we're passionate about our King Arthur Flour.
Our partnership is symbiotic; we need one another, and we share success and hardship in equal parts – with Mother Nature ultimately in control.
Seeing these agricultural heroes on their own land and hearing them speak eloquently about their love of wheat, farming, and family ensures I'll never take farming – or flour – for granted again.
Thanks, farmer friends. Together, we feed America – and the world.
For more stories featuring our farmers, read our post Where our white whole wheat flour starts by Martin Philip.