As the organizer of King Arthur Flour Blog & Bake™, one of the many pleasures of the event is how it reignites my passion about the amazing baking resource that is King Arthur Flour. Sure, as a PR person I tell people day in and day out about our great classes, recipes, products, baking hotline, and more. But there's just nothing like seeing – hearing, feeling – the excitement of a classroom full of newcomers so happy to be here and baking that they literally squeal with delight.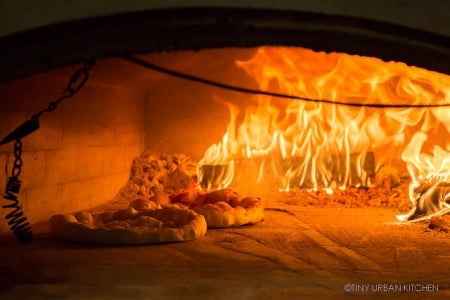 Even the pictures help me see our company from other perspectives, like the beautiful shots above from Jen at Tiny Urban Kitchen – how many times have I walked through that door and never noticed that view through it?! And the pizza bubbling in the wood-fired oven, oh my! It's not every day most of us get to bake with fire, and the pizza class is definitely one of the highlights of the program.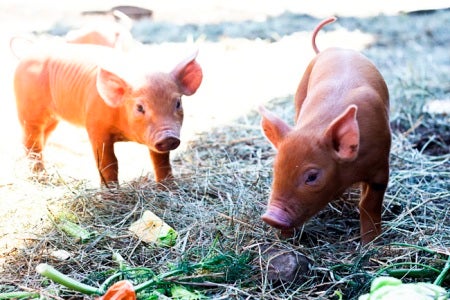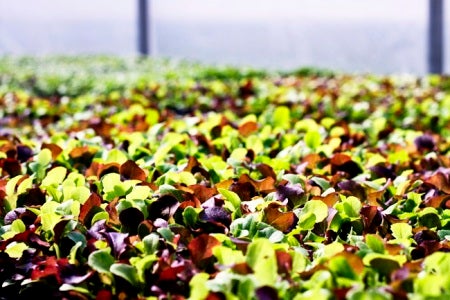 But let's step back to the beginning, because we had such a fun time together learning, baking, and eating that I can't resist sharing it all. I mean, just look at those little piggies! We started our time together with a farm tour featuring Hogwash Farm and Killdeer Farm, both right in Norwich. As it turns out, there's nothing like a bunch of adorable piglets to break the ice among a group of relative strangers!
After learning about some of the nuances of organic "dirt farming" at Killdeer Farm, we finally made our way to Camelot, where everyone had some snacks and browsed the Baker's Store for a few minutes before heading to the classroom to get their hands into some dough. Remember that beautiful pizza we saw baking away in the wood-fired oven? The dough was started a full day before the bake – and the bloggers will attest to the amazing flavor generated by the long resting time.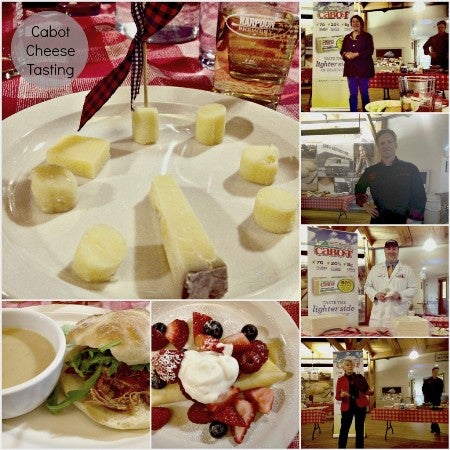 Once the pizza preferment (starter) was ready to rest, we headed into the café for a very informative and delicious reception with our friends from Cabot Creamery Cooperative. After learning a little bit about dairy farming in Vermont and watching Chef Jimmy Kennedy make sweet and savory crêpes using Cabot butter and Greek-style yogurt, we enjoyed a wonderful meal of cheddar-ale soup, pulled pork, and berry crêpes for dessert. And, if you can believe it, then we made room to sample an assortment of eight Cabot cheeses along with cheese grader Craig Gile as we learned about Cabot flavor profiles! (We also managed to taste a few Harpoon brews with our meal – an excellent accompaniment!)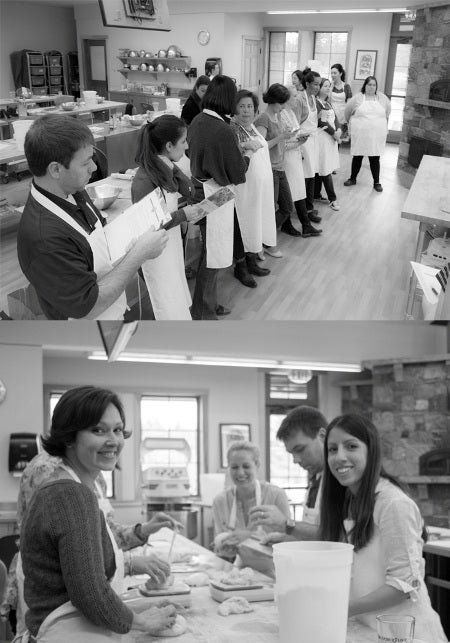 That night, everyone went back to the Norwich Inn and went to bed full, exhausted, and early. We had another long and exciting day ahead! Since it was their first real class in the Baking Education Center, we started off with some basics: white bread and whole-grain scones. One of the most important tips we learned was about measuring flour: A cup of all-purpose flour should weigh 4 1/4 ounces. If you're not using a scale, we advocate the "fluff, sprinkle, sweep" method – first fluff the flour to aerate it, then sprinkle it into your dry measuring cup, then level it off without packing it down. Easy, accurate, and your baked goods will be lighter and moister. We've converted at least one of our blogger guests!
After bread, scones, and a lunchtime discussion about food blogging and social media, we headed to the test kitchen to learn all about different types of flour from Baking Sheet Editor Susan Reid. See all those muffins above? Same recipe, different flour. It's a really neat way to show how different flours behave in terms of everything from rise and color to texture.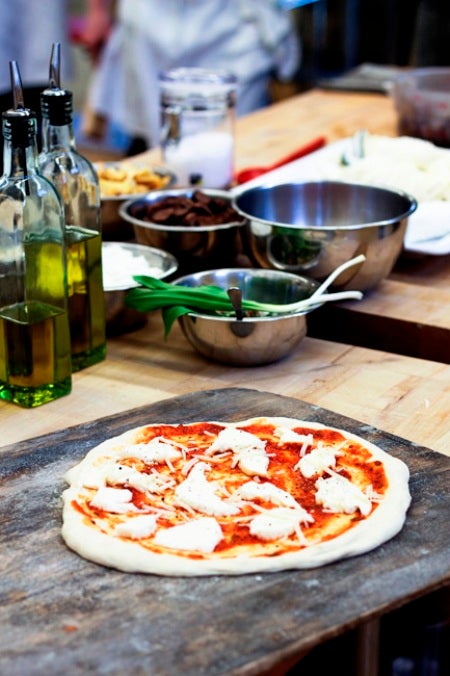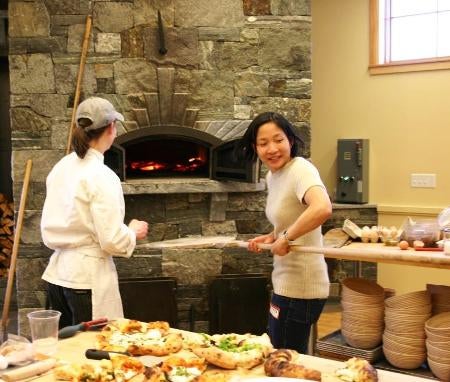 And then, on to our pizza party! See that peel Jen's wielding? It's long. Really long, because it has to reach all the way to the back of the wood-fired oven. Fortunately, we were able to safely load all of these amazing pizzas thanks to strict adherence to a simple rule: The peel has the right of way. (Or, as I like to say, stand back so you don't get whacked!)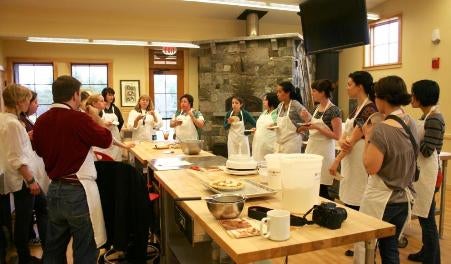 I'll admit, the last day was my personal favorite. We started the morning with a "Chopped"-type pie class. The group was broken into three teams, each of which had a basket of Vermont ingredients to use in developing a pie recipe on the spot. After writing and baking their recipes, the teams swapped and each had to bake another's recipe and offer feedback on how well the recipe was written. Everyone had a fun time working together and getting creative, but, as you can see above, the discussion and voting were serious business.
After lunch, one of my favorite sessions: blitz puff pastry. These spicy cheese straws were so buttery, flaky, cheesy, and crisp. Beyond being delicious and relatively fast to make, blitz puff pastry is wonderful in both sweet and savory applications – it's one of those things you can really get creative with, letting your taste buds lead the way. Audra The Baker Chick shared a sweet version with detailed directions, in case you're feeling inspired right now!
Last but far from least, we were treated to a very engaging demonstration from Chef Jerod Rockwell of Simon Pearce Restaurant in Quechee, Vermont. After cleaning up from the day of baking, we all went to the restaurant to enjoy a most amazing menu of Parmesan Gnocchi and Poached Shrimp with Maitake and Oyster Mushrooms and Tarragon Shellfish Nage; Misty Knoll Chicken Breast with Herb Spaetzle, Asparagus, Sour Cabbage, and Mustard Sauce; and Valrhona Bittersweet Chocolate Terrine with Crème Anglaise, Candied Pecans and Orange Poached Cherries. Are you drooling yet?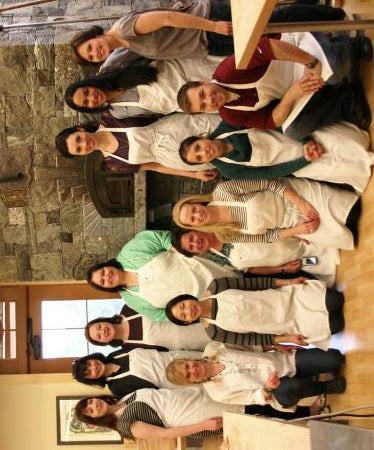 Part of King Arthur Flour's mission is to build community through baking. This power of baking to bring people together is evident through Blog & Bake, where more than a dozen people come together strangers and leave a few days later friends, bonded through the courageous and creative act of baking together.
We're so grateful to have had the opportunity to bake, learn, and play with this year's group of bloggers. We encourage you to get to know them, too - we think you'll like them as much as we do!
Eva – Adventures in Cooking
Audra – The Baker Chick
David – Spiced
Rebecca – Foodie with Family
Erika – In Erika's Kitchen
Brandy – Nutmeg Nanny
Carole – Heirloom Meals
Jennifer – Bake or Break
Marnely – Cooking with Books
Kate – Food Babbles
Jen – Tiny Urban Kitchen
Katie – Healthy Seasonal Recipes
Tara Bench – Food & Entertaining Director at Ladies' Home Journal