Yes, that's confectioners' sugar dusted atop a grilled ham and cheese sandwich.
With jelly on the side.
What's gives?
Just one of America's most popular sandwiches (ham and cheese) turned into one of Disneyland's most popular sandwiches – the Monte Cristo: ham, cheese, and turkey, dipped in egg batter, fried, dusted with sugar, and served with currant jelly.
The Monte Cristo is, in turn, a variation of one of France's most popular sandwiches, their upscale version of ham & cheese: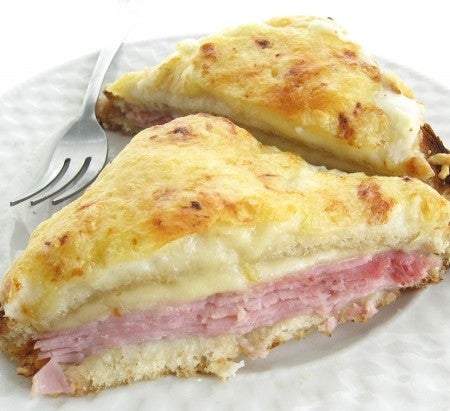 The Croque Monsieur: Jambon de Paris and Gruyère, with a creamy béchamel sauce on top.
And the perfect bread to hold those gourmet fillings? France's signature sandwich bread:
Pain de mie.
There's nothing like pain de mie – the standard white-flour version, or 100% whole wheat – for a soft-bread sandwich. With its fine grain, razor-thin crust, and super sliceability, pain de mie is perfect for everything from PB & J to tuna salad to grilled cheese.
Another version, honey-oat pain de mie, is a perfect fit for both the Monte and the Croque. The slight sweetness of the honey and oats is a delicious foil for both the salty ham, and the mellow nuttiness of the cheese.
Now, neither of these sandwiches is something you'd want to enjoy on a regular basis; low-cal, they're not. But for a dose of pure American indulgence – plus a soupçon of absolutely eye-rolling French culinary bliss – try the Monte Cristo and Croque Monsieur.
Let's make the Croque Monsieur first. There are all kinds of recipes out there; after all, this sandwich has been a denizen of restaurant menus all over Europe and America since the early 1900s.
After much enjoyable browsing online, I chose to riff on one from Daniel Boulud, whose Michelin 3-star restaurant, Daniel, is a New York City landmark.
Why? Because Chef Boulud bakes (rather than fries) his sandwiches, which seemed a good option to me – no standing over a hot stove.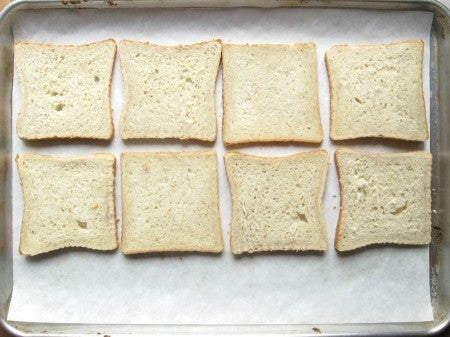 Let's make four sandwiches. Chef Boulud advises drying the bread out a bit first, so I laid eight slices of pain de mie on a baking sheet, and baked them for 10 minutes in a 350°F oven.
Next: the béchamel sauce topping, which has to cool before you use it.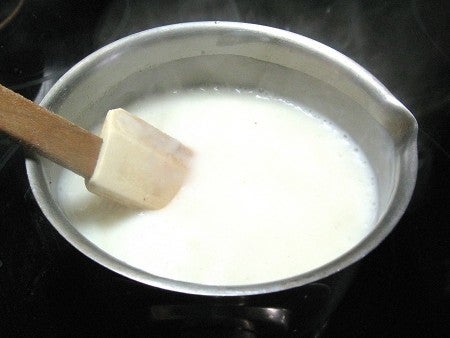 Béchamel is a simple white sauce of flour, butter, and milk.
Melt 1 tablespoon butter, and stir in 2 tablespoons flour (King Arthur, of course). Whisk in 1 cup milk, 1/4 teaspoon salt, and a small pinch of grated nutmeg. Fellow test kitchen baker Susan Reid suggests adding a bay leaf, too.
Cook, stirring, until the sauce simmers and thickens. Remove the bay leaf, transfer the sauce to a bowl, and let it cool to room temperature. Speed the process by placing the sauce in the fridge, if you like.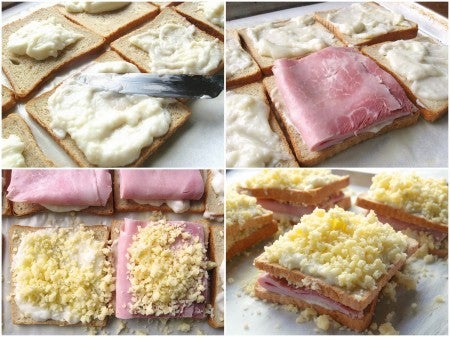 When the béchamel has thickened, spread it atop the bread – all eight slices. You'll now have eight slices of sauce-topped bread.
Tip: Make sure to cover all of the bread with sauce, including the corners. Do what I say, not what I did!
Place ham atop four of the slices; use 2 ounces ham on each.
Grate 8 ounces cheese: Gruyère (traditional) or Jarlsberg (less expensive).
Sprinkle grated cheese atop all eight slices of bread: the four with the ham, and the four without.
Top the sauce/ham/cheese slices with the sauce/cheese slices. So, starting from the bottom up, you have bread, sauce, ham, cheese, bread, sauce, cheese.
Do you see why this sandwich is an occasional indulgence?
Place the sandwiches on a baking sheet.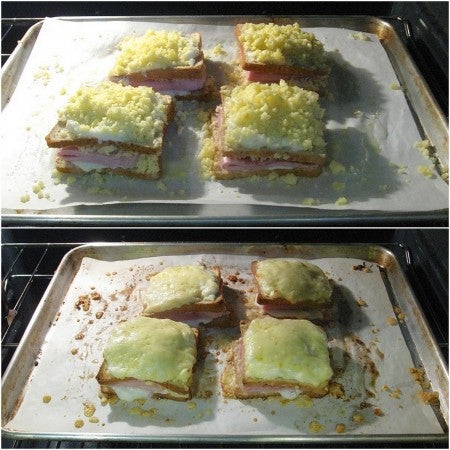 Bake the Croques in a preheated 350°F oven for 15 to 20 minutes, until the cheese on top is melted and beginning to brown.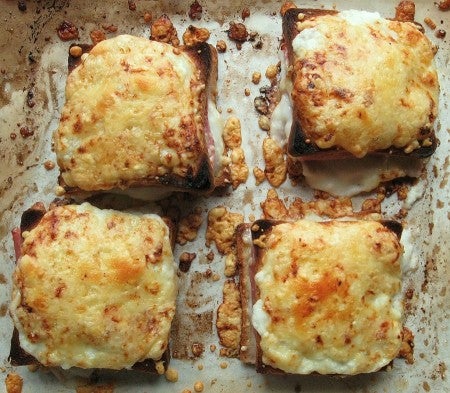 For best browning, run them under the broiler briefly.
See those burned corners? That's why you need to spread the sauce all the way to the edges – lesson learned.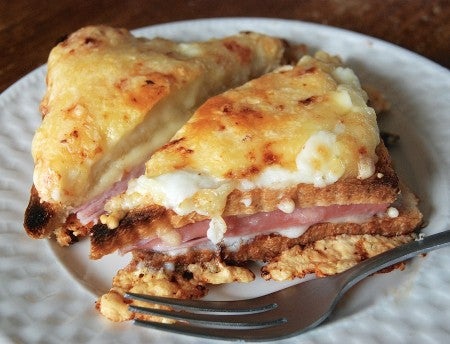 Yes, it's messy; a definite knife-and-fork hot sandwich.
But the layers of ham, melted cheese, creamy sauce, and bread are the definition of comfort food, French-style.
Want to see Chef Boulud making these sandwiches? Let's go to the video.
And comfort food, American style?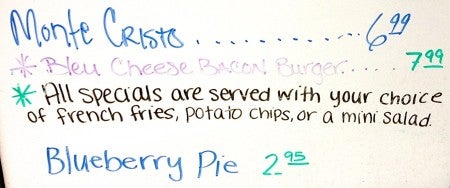 The Monte Cristo, found not just in Disneyland, but on the menu at neighborhood eateries across America.
Los Angeles' Brown Derby restaurant introduced this sandwich to southern California in 1949. But it was Anaheim's Disneyland that popularized it, back in the '60s; to this day it remains a favorite in the theme park's Café Orleans and Blue Bayou restaurants.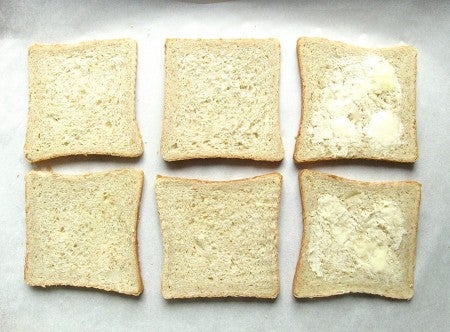 This is a triple decker sandwich, so for two sandwiches, start with six slices of bread. Butter two of them, on both sides; these will be the middle layer of bread.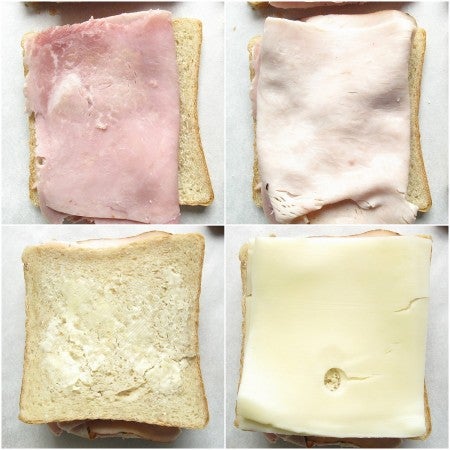 OK, pay attention, class: Here's how to construct a Monte Cristo, from the bottom up:
Bread; 1 or 2 of slices of deli ham; 1 or 2 slices of deli turkey; buttered sliced of bread; 1 or 2 slices of Swiss cheese.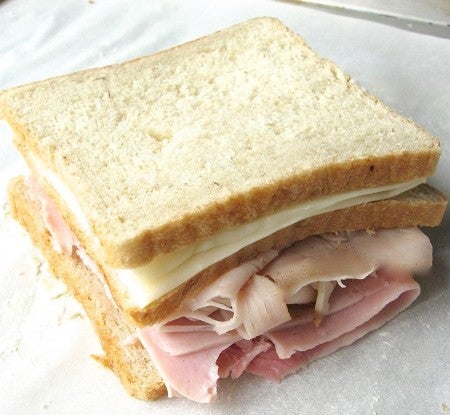 And another slice of bread on top.
Next: the egg bath.
Whisk together 3 tablespoons milk or half & half, and 1 large egg. Does this remind you of French toast? Yup, same thing, minus the sugar/vanilla/nutmeg.
Dip each sandwich in the bath – first one side, then the other.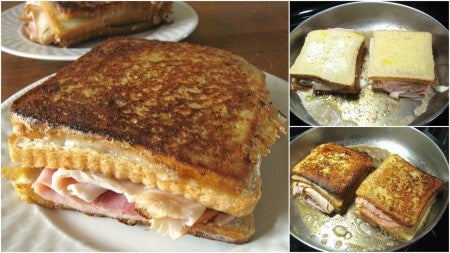 Melt 1 tablespoon butter over medium-low heat in a skillet or on a griddle.
When the butter foams, place the sandwiches in the pan. Cook until their bottoms are browned. Turn them over; if they've absorbed all the butter, add another tablespoon to the pan, letting it melt and foam before frying the other side of the sandwiches, until golden brown.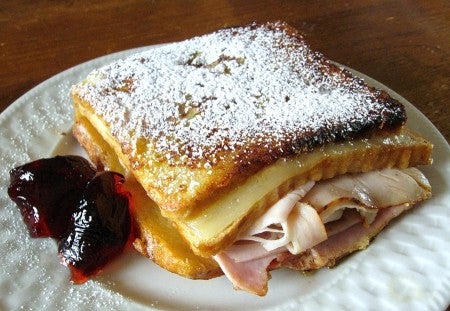 Remove from the pan, and place on a plate. Dust with confectioners' sugar (yes, really); and serve with currant jelly (traditional), strawberry jam, or your favorite jelly, jam, or preserve.
You may be tempted to skip the sugar and jam – don't do it. They're the hallmark of a real Monte Cristo, and the salty/sweet/fruity/meaty melange of flavors is, surprisingly, just right.
Besides, by my calculations, the chefs at Disney have sold nearly 3 million of these creations. Surely that many ham-and-cheese sandwich fans can't be wrong!
Usually there's a recipe link here, huh? Not this time. Just follow along with the photos above; you'll be fine.