High-Fiber Pretzel Rolls
Health with stealth
Does this look like a high-fiber sandwich roll?
Not from the outside, it doesn't. But how about inside? Is it dark and dense and grainy, like so many whole-grain breads?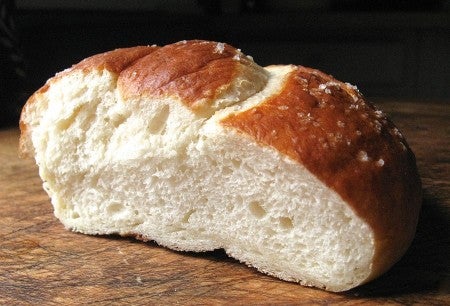 Nope.
And that's because it's not whole-grain – but it IS high-fiber.
Excuse me?
Although I've never been a whole-grain bread aficionado, I've found myself liking a darker, denser alternative to white bread more and more lately. Maybe it's simply that I'm using our white whole wheat flour, which creates a light-colored, pleasant-textured 100% whole wheat bread.
But, much as I enjoy whole wheat bread some of the time, I still find myself turning to the white breads that fueled my childhood: soft dinner rolls, sandwich loaves, pizza crust.
Still, the "eat healthy" drumbeat always resonates softly in my head: less sugar, less fat, fewer calories, more fiber...
Ah, fiber. Think bran cereal. Whole-grain pasta. Lentils. Brown, browner, brownest.
Sometimes getting more fiber into your diet feels like a penance, doesn't it? Sure, there's fiber in some fun stuff, too – berries, for instance. A bowl of oatmeal. An apple. But for the most part, fiber is... well, boring.
That's why I keep Hi-maize Fiber close at hand while baking my favorite non-fiber white breads. Adding 1/3 to 1/2 cup of this special cornstarch-like ingredient to a typical white bread recipe adds significant insoluble fiber to the loaf – without sacrificing a single bit of flavor, texture, or rise.
I call Hi-maize my stealth weapon – I use it to increase the fiber content of all kinds of bread and rolls, plus pizza crust, and no one is ever the wiser.
No sulking pleas of "This isn't whole wheat, is it?"
Or, "What's wrong with this bread?"
(You've been there, right?)
I fell in love with the following roll recipe while Charlotte, the woman who creates our Baker's Catalogue recipes, was testing a version recently for our fall catalogues. She kindly shared her recipe with me, and by adding Hi-maize, plus a couple of twists and turns (literally), I turned the dough into pretzel rolls – high-fiber pretzel rolls, each one checking in with 4g of fiber.
Not a huge amount, admittedly; but better than 0g fiber – which is what you get in your typical white bread.
Fiber aside, though, these rolls simply taste fantastic. Think Philly or NYC soft-pretzel vendor: that familiar aroma wafting from the pushcart; the chewy/soft pretzels, deep golden brown flecked with coarse salt. The flavor – salty crust and bland interior complementing each other beautifully.
These rolls have all of those classic pretzel attributes, and more: fiber.
Yes, you can have your white rolls – and fiber, too. Give these a try; you'll soon find yourself keeping the Hi-maize close by, for whenever the inevitable white bread urge hits.
High-Fiber Pretzel Rolls, here we come!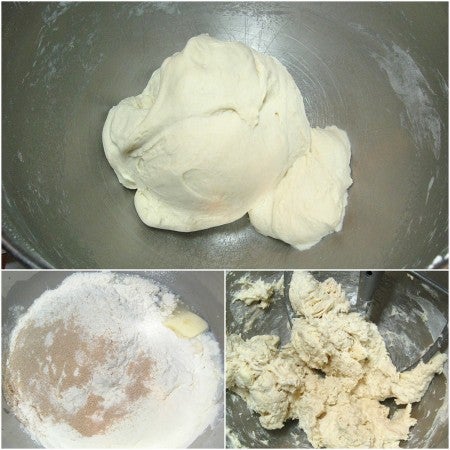 Combine the following in a mixing bowl, or the bucket of your bread machine (set on the dough cycle):
1 1/2 cups (340g) lukewarm water
2 tablespoons (28g) butter
1 teaspoon salt
4 cups (482g) King Arthur Unbleached All-Purpose Flour
1/4 cup (28g) Baker's Special Dry Milk or nonfat dry milk
1/2 cup (64g) Hi-maize Fiber
2 teaspoons instant yeast
Want to make these rolls without the Hi-maize? Substitute all-purpose flour, increasing the water in the dough to 1 3/4 cups.
Mix and knead — by hand, stand mixer, or bread machine set on the dough cycle — to make a smooth, fairly soft dough. It'll probably stick to the bottom of the bowl just slightly, if you're kneading in a stand mixer.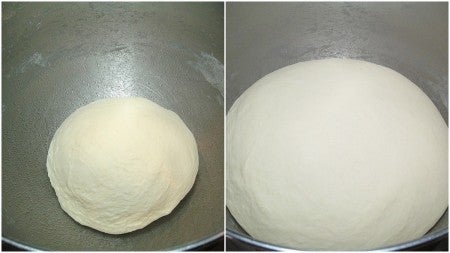 Place the dough in a lightly greased bowl, and let it rise for 60 to 90 minutes, until it's very puffy.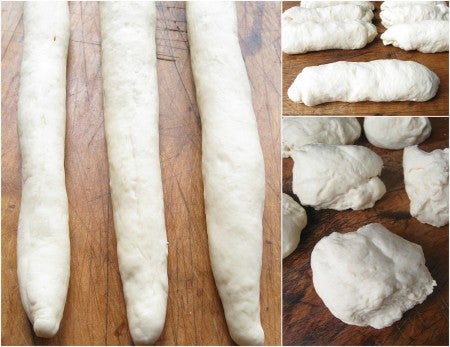 Gently deflate the dough, and divide it into 8 pieces. Pat each piece into a rough log, cover, and let rest for 10 minutes, to relax the dough's gluten and make it easier to shape the rolls.
Roll each piece of dough into a 16" rope.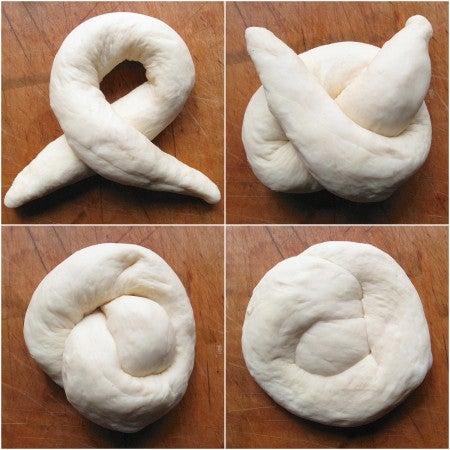 Shape the ropes into tight pretzels, tucking the two ends through the center and squeezing them together underneath. Press the rolls down gently, to flatten.
Lightly grease a baking sheet, or line it with parchment. Place the rolls on the baking sheet, cover them, and let them rest for 15 minutes.
While the rolls are resting, preheat the oven to 400°F. Prepare a water bath by combining 1 1/2 to 2 quarts (1361g to 1814g) water (enough to fill the pan about 1 1/4" deep), 1 tablespoon salt, and 1/4 cup (64g) baking soda in a 10" to 12" shallow saucepan or deep skillet. Bring the mixture to a boil.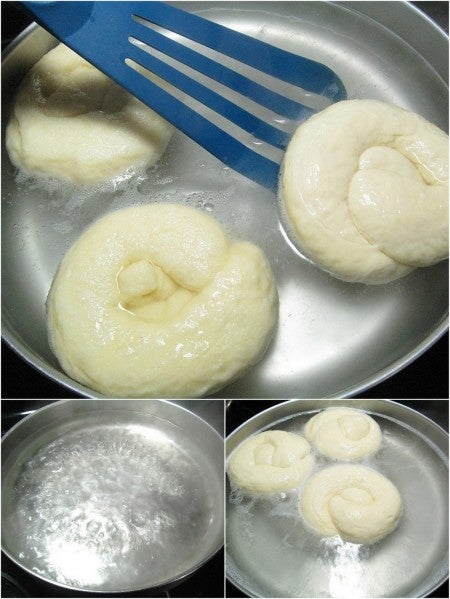 Drop the rolls, 3 or 4 at a time, into the water bath. Cook for 30 seconds; turn over, and cook for an additional 30 seconds.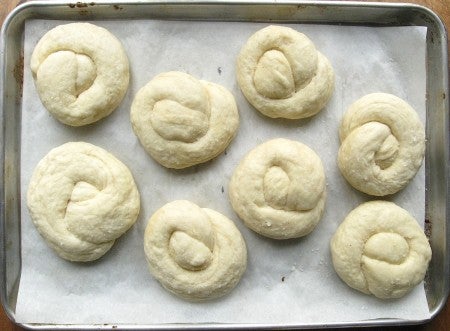 Place the rolls back on the baking sheet.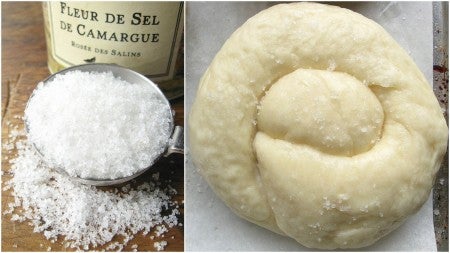 Sprinkle with coarse sea salt.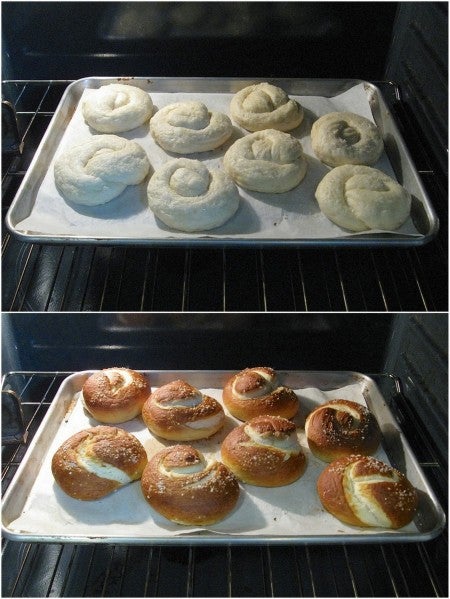 Bake the rolls for 20 to 24 minutes, until they're a deep golden brown.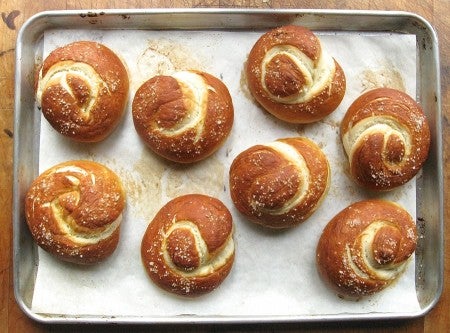 Remove them from the oven, and cool right on the pan...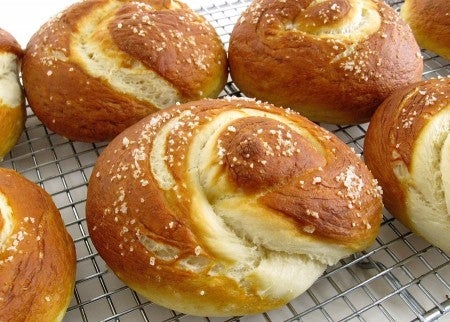 ...or transfer to a rack.
Go ahead, enjoy one while it's still warm. If you're a fan of yellow mustard, slather it on.
Or even better, slice and stuff with salami and provolone, or your favorite deli sandwich filling.
Close your eyes; you just might believe you're on 7th Avenue, queuing up with a can of Dr. Brown's Cel-Ray...
Read, bake, and review (please) our recipe for High-Fiber Pretzel Rolls.
Jump to Comments