Good morning, everyone! It's blog day today, so I'm going to get ready to go to work and spend my day in the test kitchen with Frank, Andrea, Susan, and the gang getting ready for another great blog post. Woot, woot!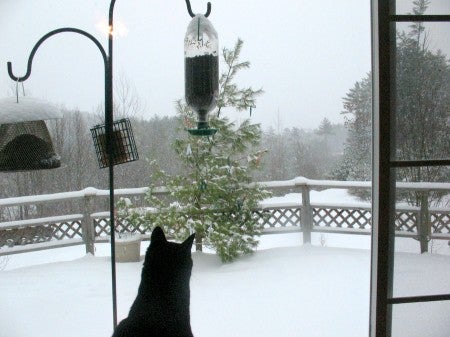 Well, doesn't that put a bit of kink in my plans? Tessabelle the cat agrees with my assessment that given the amount of snow falling, and the tick-tick of ice pellets on the window, driving to work is not the best of ideas today. Even the birds are staying home, much to her chagrin.
Well, just because I can't make it to the test kitchen doesn't mean that I can't be productive. I can get a recipe or two going, and then hop online to write blogs, check emails, edit photos, and play do research on Pinterest.
So, check out the upstairs cupboards to see what we can be whipping up today.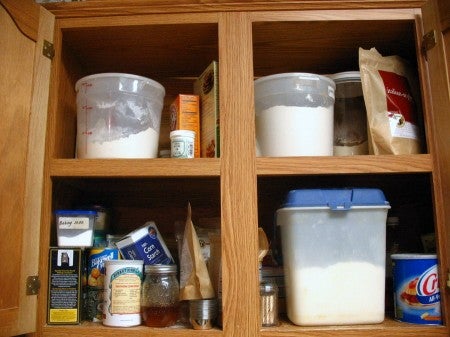 Let's see, what flours do we have on hand? All-purpose flour in the tall tote on the bottom shelf. Bread flour on the upper left, Sir Lancelot high-gluten flour in the upper center bucket, and even some Italian-style in a handy zip-top bag.
I know there's some hamburg in the freezer and avocados were on sale yesterday, so maybe I'll make tortillas?
Then again, if I'm going to be stuck here all day, maybe I should make the most of it and get some pizza crusts put in the freezer for my stash. This day might just turn out fine after all.
With the hamburg, some refried beans, salsa, cheese, and my avocados, a taco pizza will make a great snowy day dinner, too!
We're pizza lovers at our house. And with varied schedules, not everyone gets to eat at the same time these days. Plus, extra pizza crusts in the freezer are totally portable and can be brought to work for potluck day, topped and baked at our convenience. My teenager and her friends can take a couple off to movie night or their RPG group, and be well-fed. Honestly, I can't think of a single drawback to having a nice stack of tasty crusts ready to go.
In this chilly weather having the oven on will keep the house warm most of the day.  Preheat the oven to 400°F.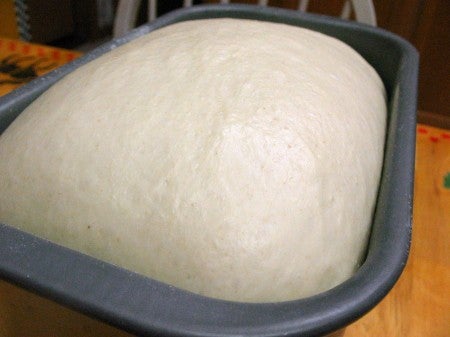 I started with my favorite pizza crust recipe and the dough cycle of my bread machine. I made a double batch of dough; if you use your bread machine, make sure to check the capacity if you're doubling your recipe. In our experience, a 6-cup-flour yeast dough can be kneaded in many machines, but is usually too large to rise in the machine. Best it should be taken out after kneading and placed in a bowl to rise.
If you don't have a favorite yet, we have dozens of crust recipes for you to try out.
After the dough cycle is complete, you'll be ready to roll out your crusts for baking.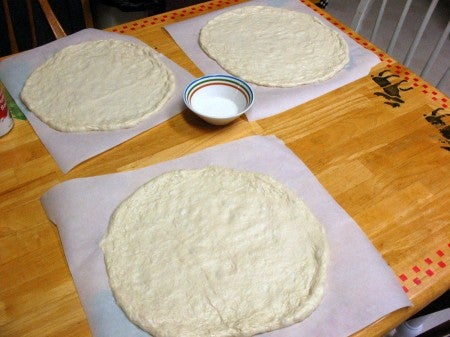 Now, I happen to have three different pizza peels, but I truly don't like stretching my dough out on a peel. Parchment paper is the perfect vehicle for both building your pizza, and for transporting it to the pizza stone.
A quick spritz of cooking spray will make the parchment just slippery enough for the dough to stretch nicely, and a little bowl of olive oil is handy to keep nearby for dipping sticky fingers in. Take your time when stretching the dough; give it time to rest if it starts to spring back at you. Relaxed gluten is happy gluten. Or is it vice-versa?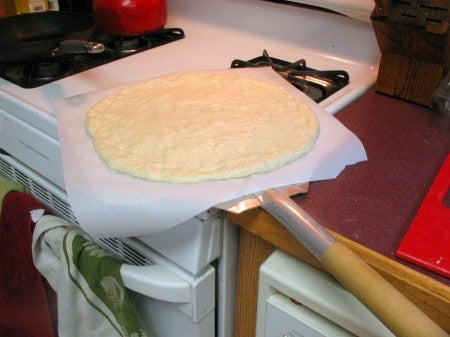 When you're happy with the crust, simply slide a peel under the parchment and off you go to the oven.
Par-baking crusts for freezing means you'll want to cook the crust until it no longer looks doughy, but the top of the crust isn't very brown. In my oven with a thin crust pizza on a preheated stone, this takes about 8 to 10 minutes.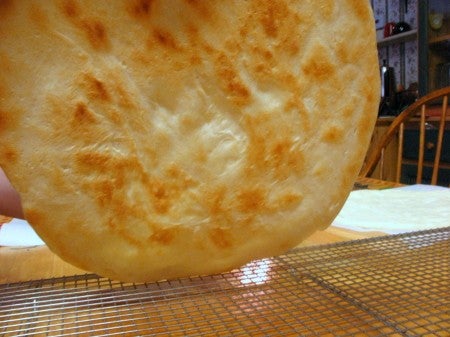 The bottom of the crust will be just beginning to brown. Set on a cooling rack to cool completely before wrapping in plastic wrap, freezer wrap, or a double layer of plastic bread bags.
The crusts will keep frozen for up to 3 months, but I'm guessing you'll use them long before that.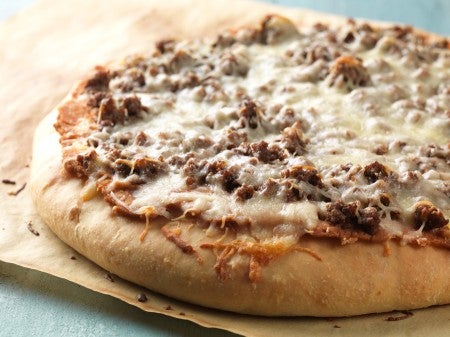 Now with two par-baked crusts in the freezer, my work-from-home day completed and the family home safe and sound from the storm, it's time to put together a Taco Pizza.
**There is NO POSTED/PRINTABLE RECIPE** for this. It's very simple and straightforward, and completely customizable. Here's what you'll do:
Spread crust with warm refried beans. Top with seasoned taco meat (hamburg, turkey, veggie crumbles) and your preferred taco cheese. Bake for 10 to 15 minutes, until hot and bubbly.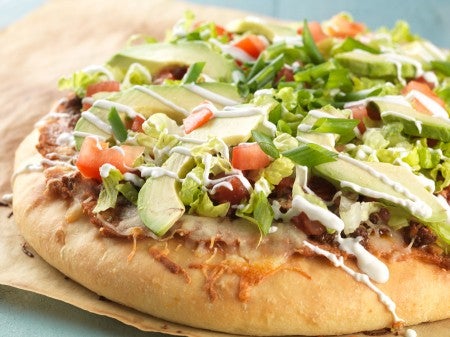 Remove from the oven and quickly top with your favorite taco toppings. Shredded lettuce, diced fresh tomato, green onion, salsa, avocado, and a drizzle of sour cream always hits the spot for me. My husband likes a few diced jalapeños on top, too, and a few heavy dashes of hot sauce. What can I say, he's a spicy guy!
Serve at once, usually with a knife and fork, unless you're all alone and have a heap o' napkins. If you prefer, you can make smaller, personal-sized pizzas. These are very filling, and full of fresh, crisp flavor. A meal in every slice!