Pork and Shrimp Asian Dumplings
Stock your freezer with flavor
She winds up, she sends out her pitch and... SCORE!
No, I  haven't taken up pitching for the Red Sox; I'm trying to say that I got a new-to-me freezer for my downstairs pantry. Here's how the play went:
During King Arthur's recent test kitchen remodel, the old standing freezer was headed to the metal dump unless a good home could be found – and soon. Susan sent me in search of James, and soon he and two others showed up at my desk.
It felt a bit like a late-night meeting of the Sopranos. Plans were made, meeting times arranged, and the guys melted back from whence they had come. Next day, my husband and I whisked the big white box home to our house and I began to fill and fill and fill it.
Two after-Thanksgiving sale turkeys? Check. Big batch of chocolate chip cookie dough? Check.
Mystery author Joanna Fluke has her character label frozen cookie dough "herring" or "lutefisk" to keep prying eyes out. I think I may try that next time.
As soon as a snowy Saturday afternoon hit, I knew it was time to make a batch of Pork and Shrimp Dumplings to add to my freezer stash. Having a stash of dumplings in the freezer is like having gold in the bank. Toss a few into a simple broth, add a few slivers of leftover veggies, and you have an amazing and fulfilling lunch in minutes.
Steam several different flavors and serve with a selection of dipping sauces from mild to palate-numbing, and you have a Friday night movie fest appetizer hit.
Dough for homemade dumplings could not be easier. Just flour and water, and a little time. Fillings are endlessly variable, and once you have the folding method down, you'll sling out dozens of these little beauties in no time.
Let's make Pork and Shrimp Asian Dumplings:
Prepare the filling first so the flavors have a chance to blend and marry.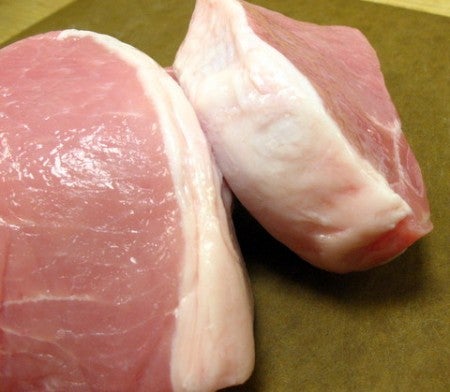 When you choose your pork, look for a little extra fat around the edges. Pork fat in your filling will give it moisture and succulence.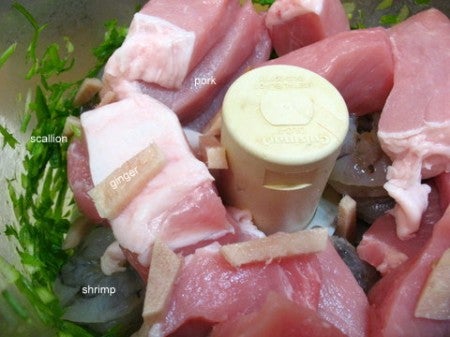 The main flavors of this dumpling filling: pork, shrimp, scallion, garlic, and ginger.
Susan Reid was kind enough to share some of her homemade jarred ginger with me. What a time saver. You can also use our diced or sliced ginger with excellent results. Just avoid powdered ginger, it won't give you the same depth of flavor.
Here we have:
½ pound boneless pork chops
6 large shrimp, uncooked
2 cloves garlic
1 tablespoon minced fresh ginger
3 large scallions (aka green onion)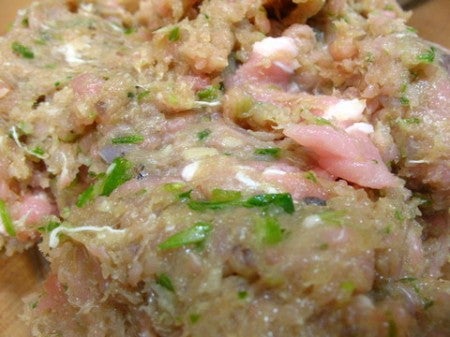 Pulse in the food processor until you have a thick paste, with some visible chunks of meat. Add 1 tablespoon soy sauce, white pepper, and salt, and pulse to combine.
Cover well with plastic wrap and refrigerate for at least 30 minutes, or overnight. Be sure to bring to room temperature before filling your wrappers.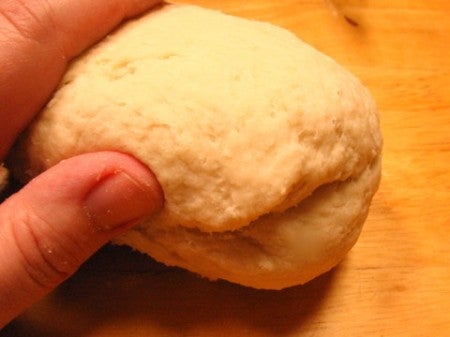 In a medium-sized bowl, combine 9 ounces (2 cps + 2 tablespoons) King Arthur Unbleached All-Purpose Flour and 6 ounces just-boiling water. Stir well with a wooden spoon or spatula. As soon as you can handle the heat, knead the dough until smooth and pliable, adding very little extra flour to keep from sticking.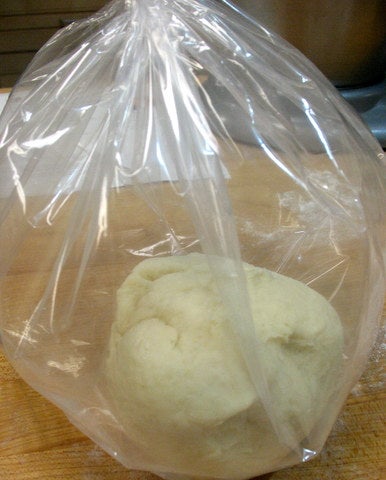 Place the warm, soft dough into a plastic bag. Seal well and let stand for 20 to 30 minutes.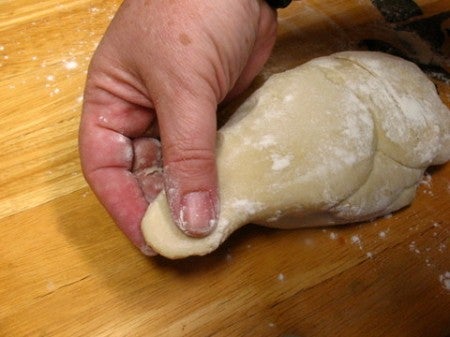 When you remove the dough from the bag, it will be smooth, barely warm, soft, and pliable. The best descriptor I've seen calls it "earlobe soft." (Go ahead, squeeze your lobe, no one will look).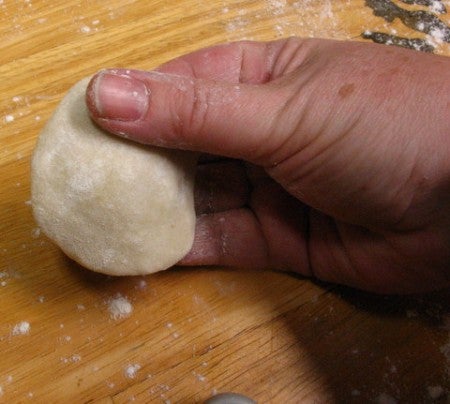 Divide the dough into 1" balls and flatten them with your fingers into little circles. Keep the dough you're not using under plastic wrap or a towel to keep it from drying out.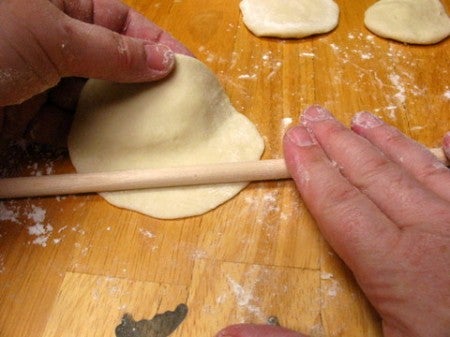 Using a short, thin dowel, roll the balls into thin wrappers. Keep the very center of the circle a little thicker, as this will be the bottom of your dumpling and it needs to be a bit stronger. Turn, roll, turn, roll, until the wrapper is about 3" across.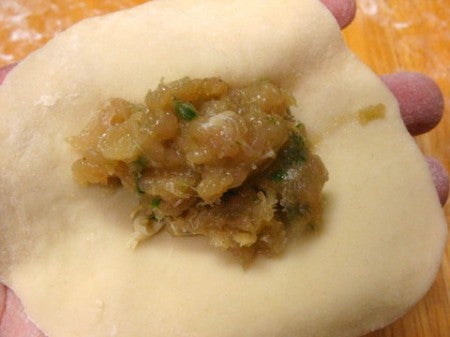 Once all your wrappers are rolled, fill each with about 2 teaspoons filling. Play with the amount of filling until you have plump dumplings, but not over-stuffed, ripped ones. You'll get the hang of it after just a few.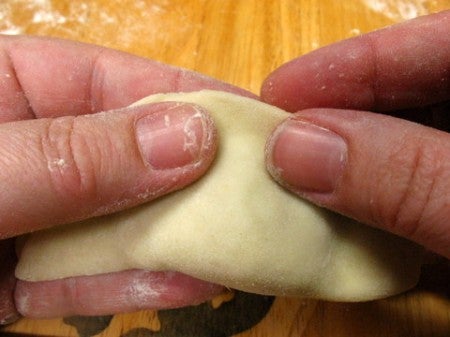 Bring the dumpling edges up over the filling. Pinch together well. You can stop here, and the dumplings will hold together during cooking, but not be very pretty. Adding folds to the dumpling edges will keep them sealed very well, and add to the finished look of your pouches of goodness.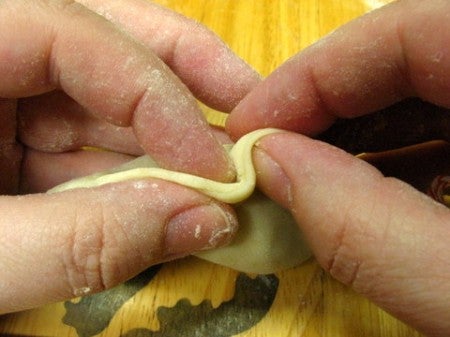 Folding a dumpling is like folding a pleat in your hem when you're nervous. Pinch the dough with the thumb and first finger of both hands. Move one hand up slightly and the other down slightly, almost like tearing a piece of paper in half.
Use your pointer finger (my left finger in the photo) to push a little beak of dough towards your opposite thumb. Pull your finger out and press the fold of dough together.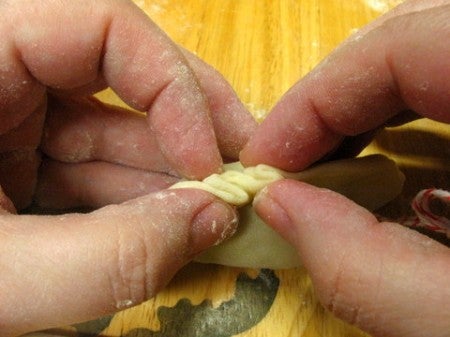 Repeat the fold and press across from the center to the edge. Turn the dumpling around and repeat from the center to the edge again. Sure, the first few you do will look a little wonky and lopsided, but keep practicing and you'll get it.
To freeze the dumplings, line a baking sheet with parchment paper and place the dumplings in rows. They can be close together, but shouldn't touch. Freeze until quite solid, then remove from the trays and store in zip-top bags or airtight containers for up to 2 months.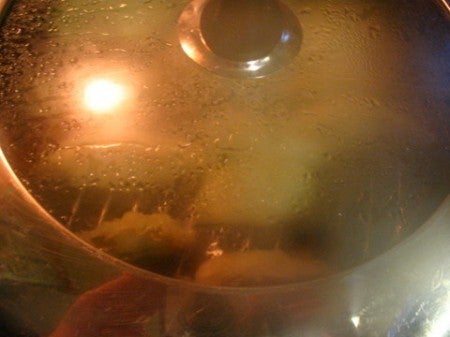 To cook the dumplings either fresh or frozen, you can use a veggie steamer, or rig one up in a wide-bottom pan with a good fitting lid. Here I used a 3" deep pan with a round cake cooling rack in the bottom.
Add 1/2" water to the bottom of the pot. It shouldn't touch the bottom of the rack. Add your dumplings and bring the water to a quick boil. Reduce the heat so the water just simmers, and cook your dumplings for 8 to 10 minutes if fresh, up to 13 minutes if frozen. Sacrifice one during the cooking time to ensure the filling is completely cooked and very hot.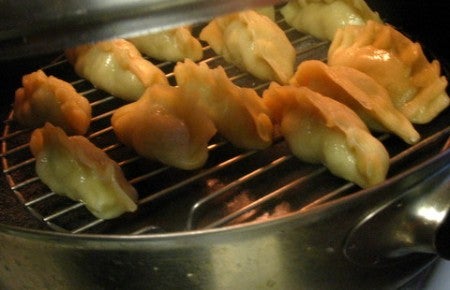 Come to Mama!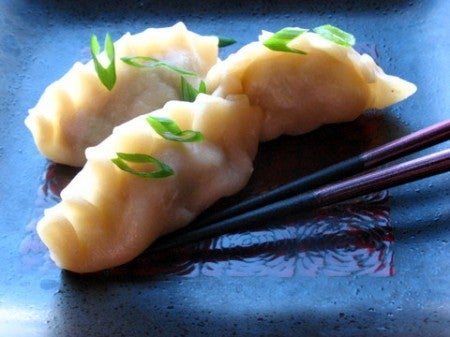 Serve the dumplings hot with your choice of dipping sauces, or just solo. My friend Ben said he loved the fact that you could bite these dumplings and the filling didn't fall out like take-out dumplings. The wrapper and the filling stay together, so you can get bite after bite of both.
A dozen dumplings will serve 3 people as appetizers, or two as a main dish, with stir-fried veggies on the side. Store any leftovers (leftovers?) in the fridge for up to 3 days.
Please make, rate, and review our recipe for Pork and Shrimp Asian Dumplings.
Print just the recipe.
Share your filling and dipping ideas in the comments below. Seriously, my freezer needs a refill, and I need ideas!