A quintessential sign of the holidays, resplendent of sugar and spice and everything nice: gingerbread houses.
As bakers, we've been in love with gingerbread houses for years. We've written blogs, sponsored a local gingerbread house show, and of course taught gingerbread house classes to generations. What would our next step be?
This year we decided to host a gingerbread house contest and frankly, my dear, we were stunned by the beauty, creativity, humor, and sheer talent of the entries. We ooohed, we aaaahed, we aaawwed, and we sat silent, just trying to take it all in. Thank you, sincerely thank you to everyone who entered; this was an incredible event of which to be a part.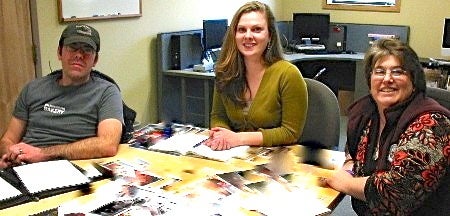 Contest judges included King Arthur employee-owners Wilhelm Wanders, a member of our King Arthur Flour Bakery team (and 9th generation German pastry chef); Brook Stewart (center), visual merchandiser on our product development team and designer of many of our cookie cutters; and MaryJane Robbins (right), blogger and cookie decorator extraordinaire.
And what a job we all had! But finally, after much deliberation, we identified the following contest winners, pictured below. Each category winner will receive a $50 gift card; a King Arthur Flour Cookie Companion cookbook; and a personalized cookie from the King Arthur Flour Bakery. Honorable mention winners receive a $20 King Arthur Flour gift card.
For each of our five categories, we chose one overall winner and three other entries for honorable mention. In this case, honorable mention really meant to us that we were honoring the incredible hard work, dedication, and talent of the artist, and we are honored to share their work with others.
Without further ado, we are pleased to present our winners.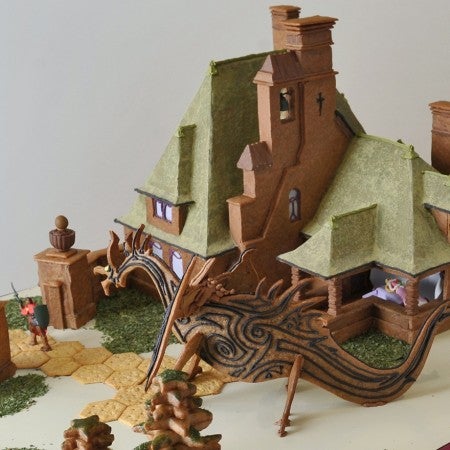 STANDOUT EXECUTION – FIRST PLACE:
Bayside Cemetery Gatehouse as Sleeping Beauty's Castle.  Artist: Rebecca W.
Rebecca's architectural background is evident in this edible work of art. The free-standing dragon with piping details kept us coming back for more as we discovered new details each time we looked.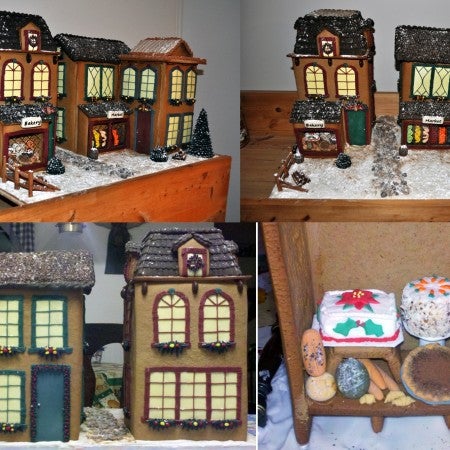 HONORABLE MENTION: Gingerbread Village.  Artist: Carrie T.
We were enchanted with the detail of the houses, and who could resist the teeny tiny cakes and breads? A "pecan" coated carrot cake? Swoon!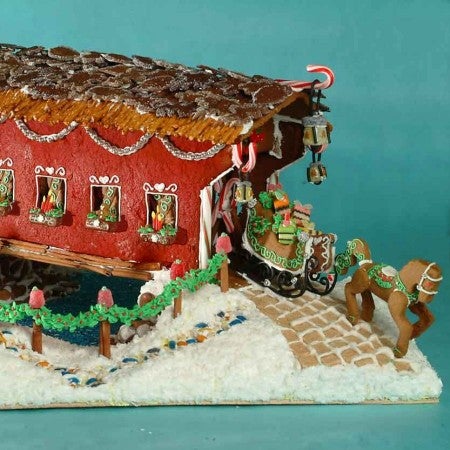 HONORABLE MENTION: Christmas Covered Bridge. Artist: Katrina M.
A winter wonderland with a  touch of New England charm. Just lovely.
HONORABLE MENTION:  Cuckoo for Christmas.  Artist: Barb A.
Barb's submissions were truly incredible. We felt this timeless gingerbread structure was just delightful!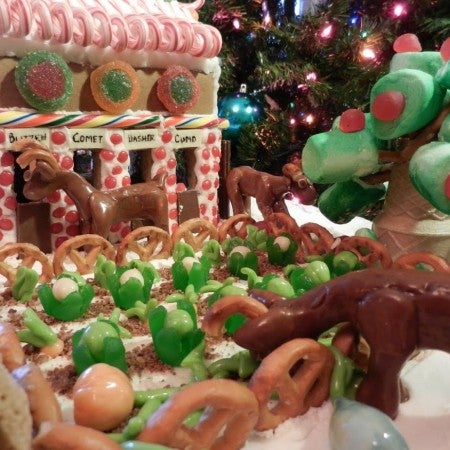 MOST CREATIVE – WINNER:
The Great Gluten-Free Gingerbread Barn Breakout!  Artist: Cathy R.
Yes, gluten-free fans, this whole gingerbread scene from structure to reindeer to trees is gluten free.  Those naughty GF reindeer were in the gardens, popping out of haystacks, and even swimming in an edible pond. Bravo, Cathy, for your humorous details; you had us in stitches.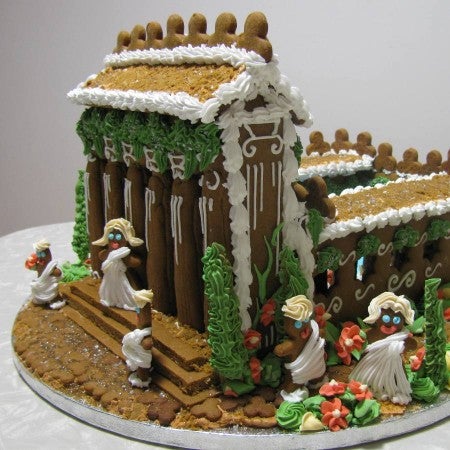 HONORABLE MENTION:  A Roman Villa: A gingerbread toga party.  Artist: Jill A.
These wacky toga-clad gingerbread folks really know how to throw a bash in their gingerbread villa, complete with pool. Party on, little dudes!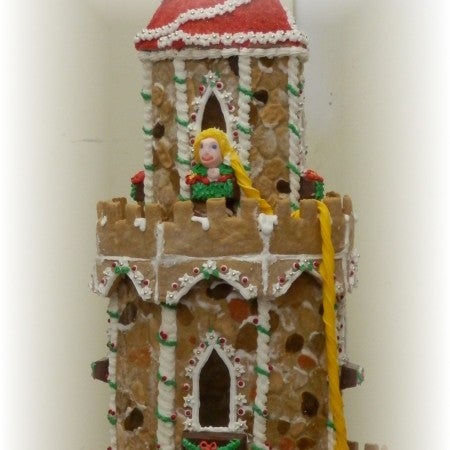 HONORABLE MENTION: Rapunzel's Christmas Tower. Artist: Noreen K.
When a princess' hair can flow down three stories of a handmade gingerbread tower, call us impressed.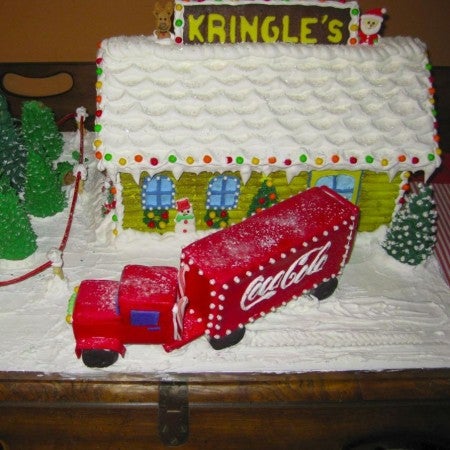 HONORABLE MENTION: Kringle's Christmas Store.  Artist: Susan L.
Our German-born judge, Chef Wilhelm, really loved the truck in this entry. In Germany, the Coca Cola trucks really do get decorated with colored lights for the holiday season, and are quite a sight to behold.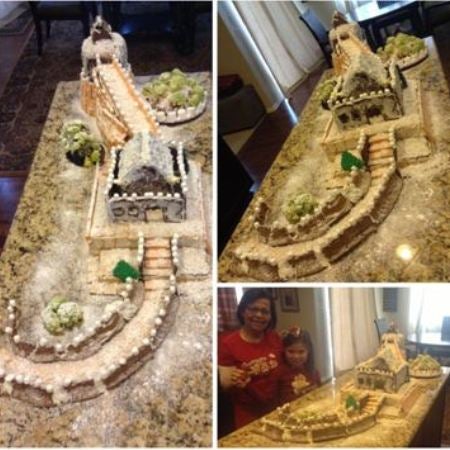 KIDS 10 AND UNDER – WINNER:  The Great Wall of China; my dream of the place I most want to visit. Artist Emi H.
What can we say, Emi? The pictures of you creating this masterpiece (including your bag of KAF flour) and your ambition really made our day. Now, are those trees made of broccoli? Great idea!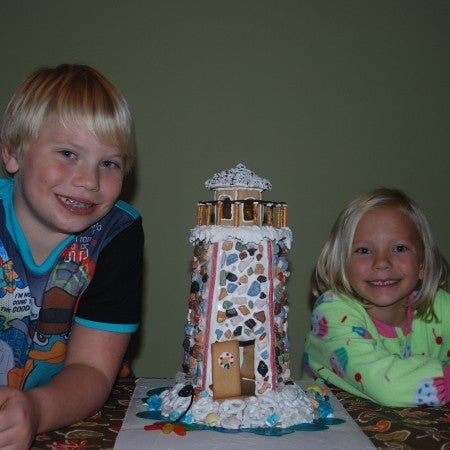 HONORABLE MENTION: Lighthouse. Artists: Anna and Jacob B.
Keep smiling, guys, we think you've got a great future in the kitchen!
HONORABLE MENTION:  The Christmas Cottage. Artist: Maggie Colleen C.
The bright border and fun patterned roof really caught our attention. Well done, Maggie!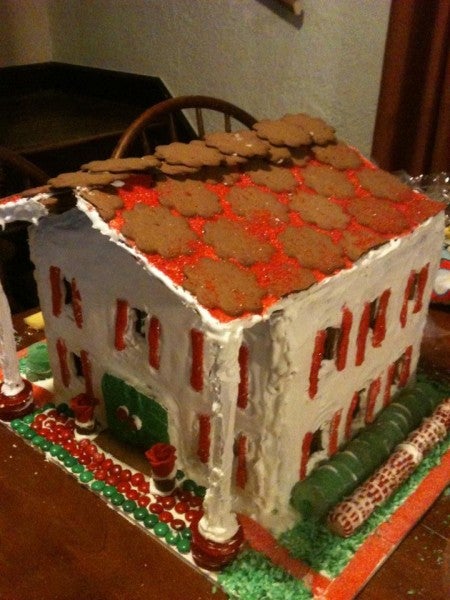 HONORABLE MENTION: Colonial Conservation. Artist: Nicholas K.
How do you update a Colonial-style gingerbread house? If you're our earth-friendly fan Nick, you add insulation and cookie solar panels to your house. Sweeet!
LANDMARK WINNER: St. Albans (VT) City Hall. Artist: Yvonne E.
Each time we looked, the brickwork and details just popped on this historic hall. MJ and Brook were especially impressed with the turrets and recessed doorway.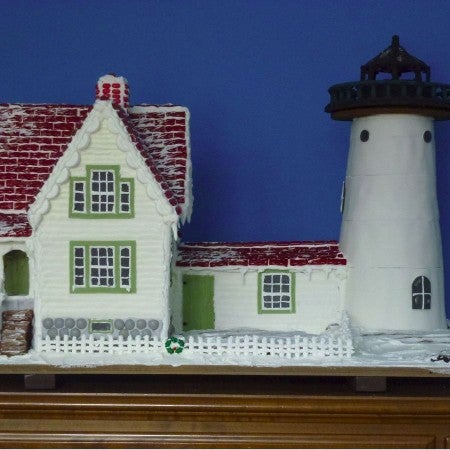 HONORABLE MENTION: The Nubble Lighthouse.  Artist: Cheryl B.
Contest judge and fan of York, ME, MaryJane recognized this lighthouse right off the bat from childhood vacations by the sea. We were also impressed with the attention to scale; it's spot on.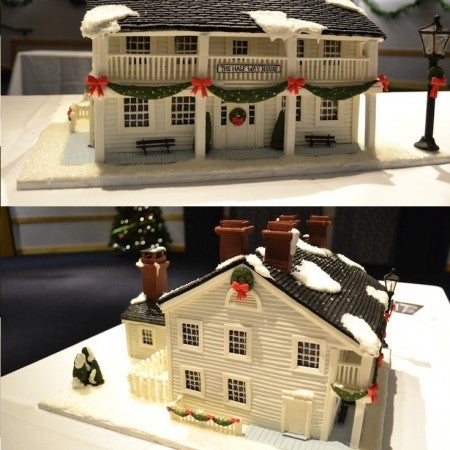 HONORABLE MENTION: The Halfway House. Artist: Sydney H.
Mullioned windows and five chimney pots, plus razor-straight siding make for one outstanding structure. Kudos, Sydney, we were enchanted.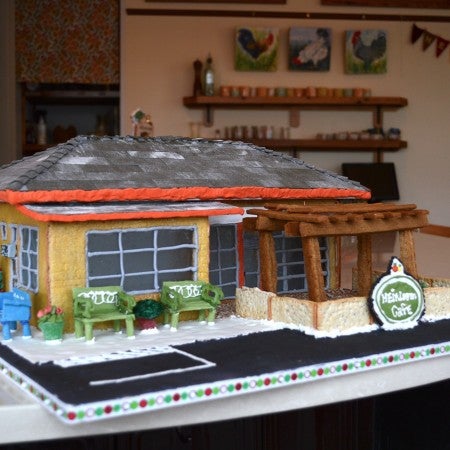 HONORABLE MENTION: Heirloom Café and Fresh Market in Athens, GA.  Artists: Teri M-T and Caroline K.
What do the pastry chef and her assistant from this café do in their spare time? Why, they create an edible version of their workplace!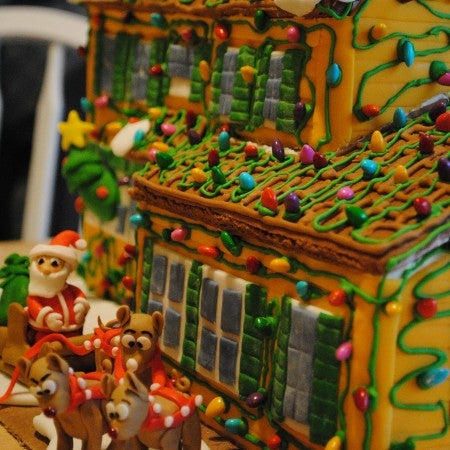 FUN/HUMOROUS – WINNER: The Griswolds. Artist: Diane F.
It was hard to choose winners in this category, we were laughing so much. We were amazed at the humor the entrants conveyed with simple foodstuffs.
Diane's lightbulb-covered house and other details from the famous movie got us right in the funny bone.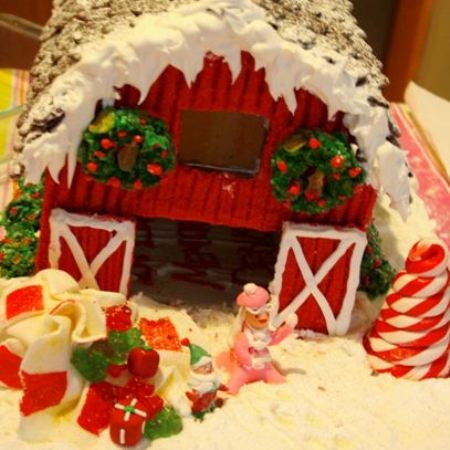 HONORABLE MENTION: Santa Forgot His Toys. Artist: Jennifer H.
Poor Mrs. Claus and her elf try to catch Santa before it's too late! Ah, haven't we all been there?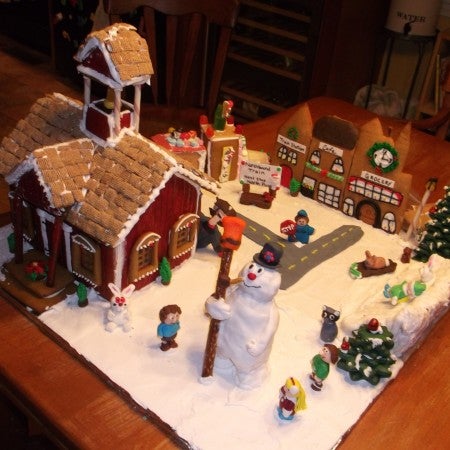 HONORABLE MENTION: Frosty the Snowman Village. Artist: Lorrie B.
Lorrie, how'd you like to make a life-sized version? We want to play, too!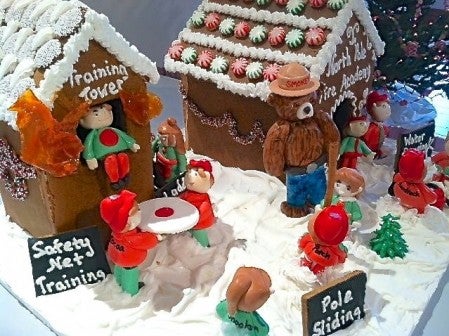 HONORABLE MENTION: North Pole Fire Academy. Artist: Kathleen C.
Is it safety first, or funny first? Either way, we were in love from the start. Pole-sliding practice at the North Pole? Har, har, har!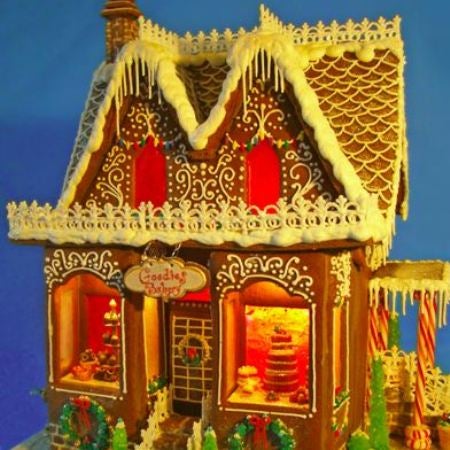 JUDGE'S PICK: Chef Wilhelm
Gingerbread "Goodies Bakery." Artist: Anna S.
"Warm" and "comforting" were words Wilhelm used to describe this entry. It made us all think of the classic gingerbread house; we're so pleased Anna honored us with this entry.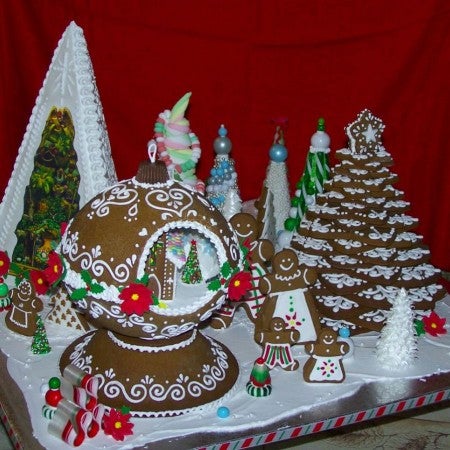 JUDGE'S PICK: KA blogger MaryJane.
Festival of Trees. Artist Kathy B.
Crisp piping, tiny details, and a flock of festive trees caught MJ's attention from the start. "Thanks for making me smile over and over again, Kathy!" says MJ.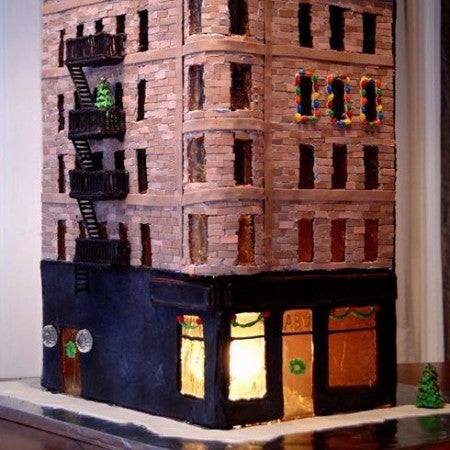 JUDGE'S PICK: Creative guru Brook.
97th and Lex Gingerbread 2012. Artist: Laurie G.
World-traveler Brook was enchanted with this slice of urban greatness in the midst of country cottages. Great brickwork and the glow in the windows really sang out.
MOST PINNED ON PINTEREST: The Gingerbread Snowglobe. Artist: Michelle M.
Amazing detail and dramatic presentation, this proved to be a true crowd pleaser. Wonderful work, Michelle!
Thank you, one and all, for participating in this enjoyable contest. We hope you all had as much fun making these houses as we did seeing the photos!