Gingerbread Redwork
Cookies to keep you in stitches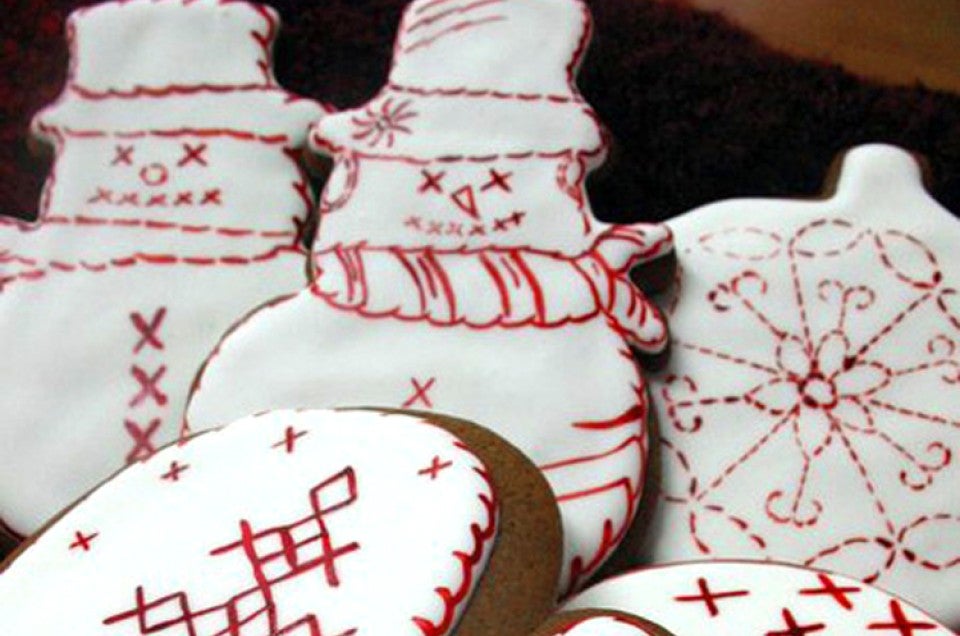 Raindrops on roses and whiskers on kittens, bright copper kettles and warm woolen mittens... ah, mittens! Such a delightful part of winter. The snowiest days can seem a little bonnier and brighter if you have a warm, soft pair of mittens. Why, just the other day at my knitting circle...
I was showing a pair of black baby alpaca fingerless mitts that I had knitted up. My goodness, those mitts are soft! Just thinking about sliding my cold little digits into them on a frosty morning makes me smile.
I've only been knitting since July, so these mitts were one of my first big projects. I don't know if I'll ever get to the skill levels of the lovely ladies that I knit with, though. Tiny little baby sweaters, full-length cabled socks, and a coat of many colors that is spectacular – these are just a few of the projects I've seen go by in the last few weeks.
Taking inspiration from my fellow fiber artists, my gingerbread cookies this year feature hand "stitching" instead of lots of piped icing. The beautiful thing about this project is that you need very few tools, zero specialty ingredients, and ANY cookie cutter will work.
To get started, gather a couple of fine-tipped paintbrushes (no plastic bristles, though); a paint palette or plate; gel paste food coloring, and a wee nip of vodka.  Oh, and your favorite cutout cookies.
Let's make some Gingerbread Cookies right now, as they will need to chill a bit before baking, and sit overnight once iced. Spreading the work out over 2 days makes it seem like more of a fun project and less of a day-long forced cookie march.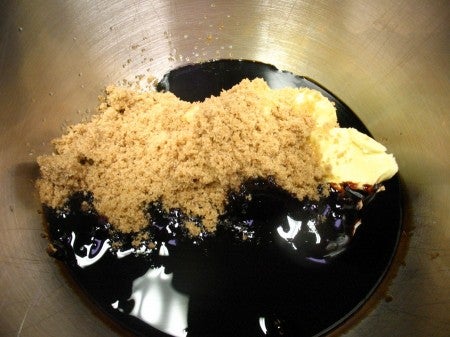 In the bowl of your mixer combine:
3/4 cup unsalted butter (melted, or very, very soft)
3/4 cup brown sugar, packed
3/4 cup molasses
1 teaspoon salt
2 teaspoons ground cinnamon
2 teaspoons ground ginger
1/4 teaspoon ground allspice or cloves
Mix until well combined. You can see that I went with the very, very soft butter instead of the melted this time. Melted butter combines better with the syrupy molasses, but cold butter will just lump up and spin around the bowl.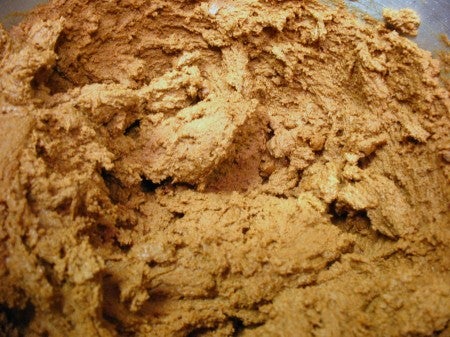 Beat in:
Then add:
This makes a soft, slightly sticky dough that will stiffen up beautifully in the fridge as it rests.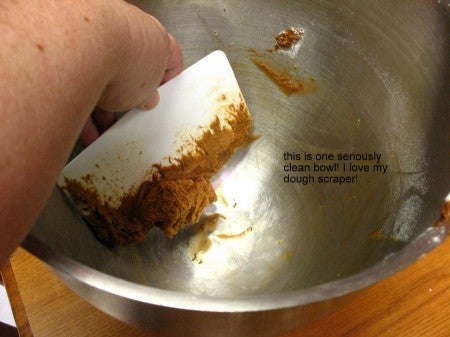 For thick dough like this, a bowl scraper is the way to go. Flexible but strong, it lets you get into every curve of the bowl, like an extension of your hand. It really only took me three good swipes to get all the dough out of the bowl and onto plastic wrap. After that it was straight to the fridge for a couple of hours to chill and firm up. (For the dough I mean, not me).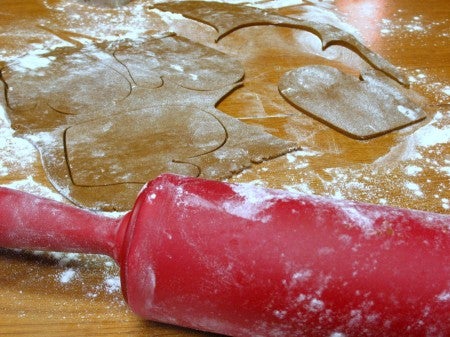 A generous dusting of flour, a h andy rolling pin and some cookies cutters from your stash, and you're nearly there.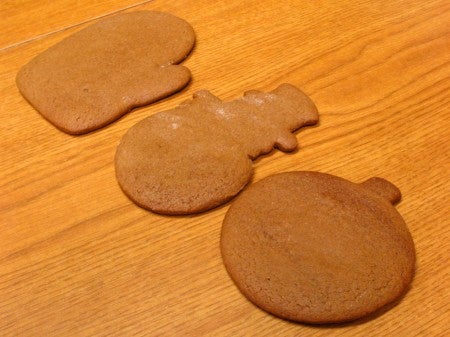 There. Fragrant and sturdy cookies cooled and ready for their coat of white icing.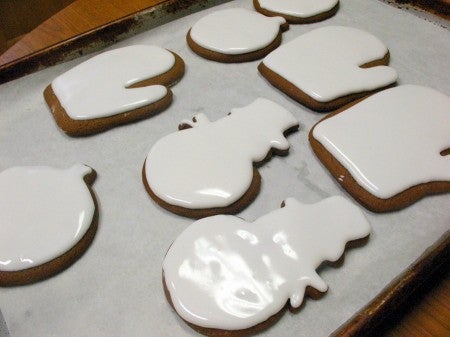 Royal icing thinned to a spreadable consistency makes the perfect canvas for your stitches. Check out this blog on decorated cookies for how-to's.  See you here when you get back.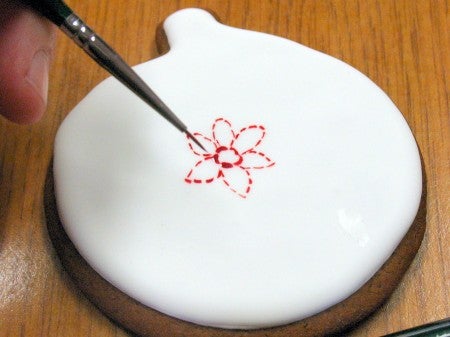 Our cookies are dried and ready to go, so let's get stitching.
To create your paint, place a few drops of gel food coloring on your plate or palette, and add about 1/2 teaspoon vodka or other clear alcohol. Stir together and practice a few brushstrokes until you're happy with the color and consistency. Think back to first grade when you worked with watercolors and you'll be fine.
Why alcohol? It evaporates so quickly at room temperature, the paint will dry in no time. You can also use a clear extract, like lemon.
Painted stitches are quite easy when you break it down. They're just little dashed lines with even spaces between.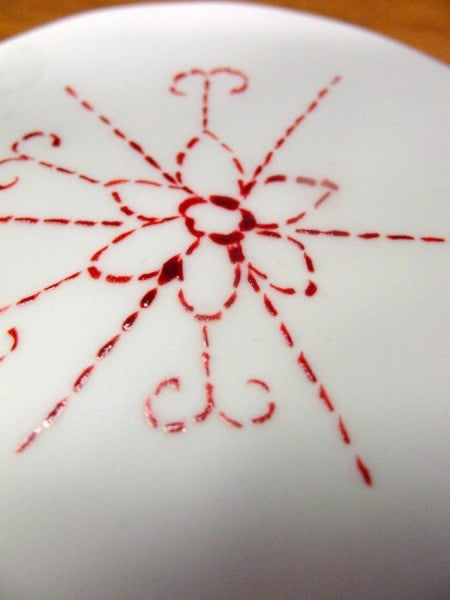 See those little blobs of paint? Be sure to blot off the tip of your brush to avoid those. Patience will be rewarded with smooth and even lines.
Keep adding stitched details until you're happy with your design. Try a Web search for needlepoint, redwork, and cross-stitch designs if you need inspiration.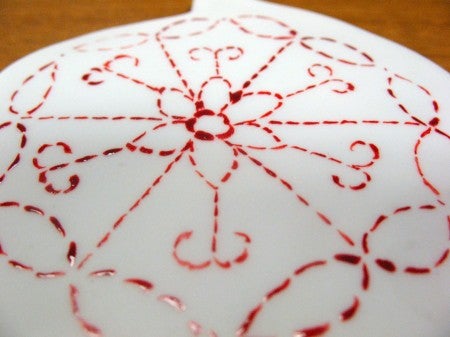 Let the paint dry for at least an hour before serving. If you're packing up the cookies to share with friends, let dry for a few hours, to be on the safe side.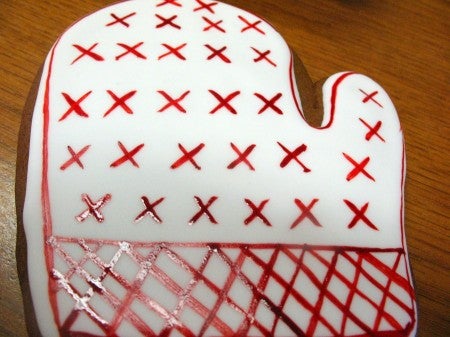 Hey, it's my mittens!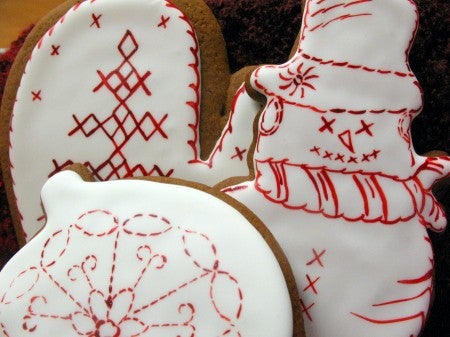 For a blanket stitch-edging, like the snowman's scarf or the edge of the mitten, think letter U. Basically, you want to paint little letter u's all along the edge, joining them as you go. uuuuu.
Remember, play and have fun. The joy of hand-stitched mittens is that they're not perfect, they have little flaws that separate them from the machine-churned store-bought ones. You can see where Gram's may have slipped a stitch, or where Mom forgot to purl.
The joy of hand-made cookies is that someone took the time to cut, bake, ice, and decorate something for someone special. And that warms the heart more than any skein of wool.
Happy stitching!