Did you know there are still Pilgrims celebrating Thanksgiving today, nearly four centuries after America's original Thanksgiving dinner?
Have you ever been to "America's Hometown" – Plymouth, Massachusetts?
You've heard of it, right? Plymouth is supposedly the spot where the Pilgrims disembarked from the Mayflower and established a lasting presence in North America.
Which is true, up to a point; they actually got off the boat in Provincetown, 20 miles across Massachusetts Bay. But finding the tip of Cape Cod rather inhospitable, they continued to a more sheltered shore, and established a settlement that, 392 year later, is now Plymouth – home to Plimoth Plantation, a historic re-creation of that original settlement, where I recently met and chatted with Myles Standish (above), the colony's military advisor.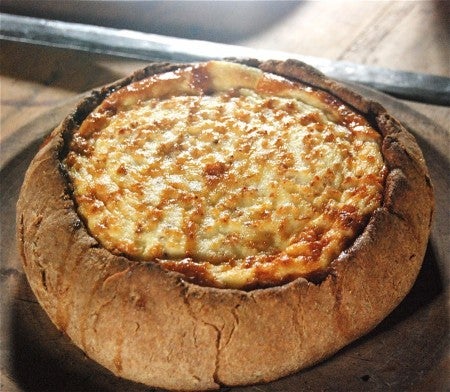 I also  enjoyed seeing a custard pie created, right before my eyes – using only the ingredients, tools, and oven available to America's first European bakers.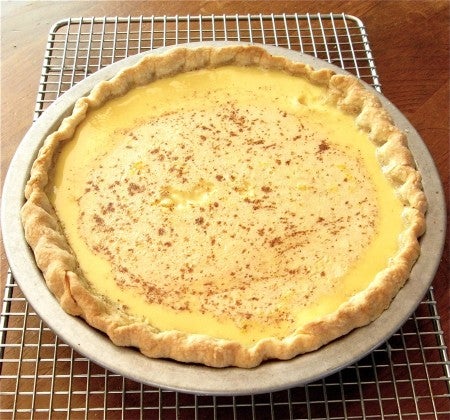 After which I went home and made my own custard pie – 21st-century style.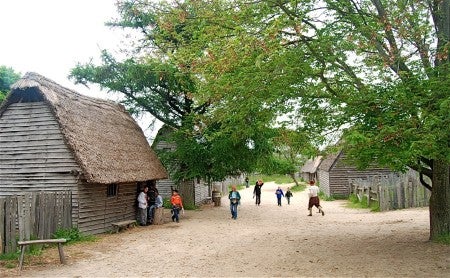 Plimoth Plantation's colonial foodways culinarian, Kathleen Wall, was kind enough to spend many hours with me chatting about the Pilgrims: what and how they fed themselves, and how the Plantation replicates those efforts for the benefit of visitors today.
This trip back in time to the very origins of our American civilization was both fascinating – and daunting. Watching the "goodwives" build and tend a wood fire while simultaneously mixing and shaping pie crust, grating spices for the filling, and lifting their skirts to avoid scurrying chickens gave new meaning to the term multi-tasking.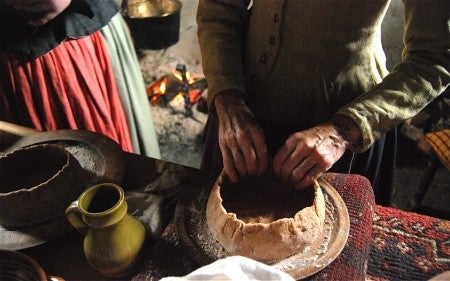 Let's start with the crust. A Pilgrim pie crust (called a "coffin") was made from coarsely ground wheat, moistened with eggs and water to form a shapeable dough. With butter in short supply, it wasn't wasted on "the coffin." A sturdy vehicle, it was simply a holder for the filling within, rather than offering any taste benefits of its own.
As a result, "flaky" and "tender" definitely aren't words you'd use to describe a Colonial American pie crust.
But they're definitely terms a 21st century pie-baker aspires to. In fact, most pies today are judged by their crust, rather than what's inside.
Let's mirror the Pilgrims' efforts here, with some big-time updates – namely, all-purpose (white) flour, and an abundance of fat: both butter and shortening.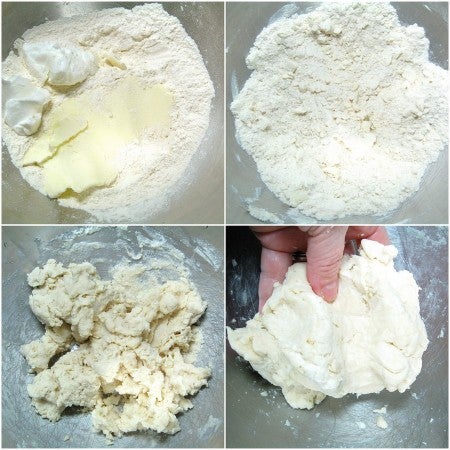 Whisk together the following:
1 1/2 cups (6 1/4 ounces) King Arthur Unbleached All-Purpose Flour
1/4 teaspoon salt
1/4 teaspoon baking powder, optional; for added flakiness
Add 1/4 cup vegetable shortening and 4 tablespoons cold butter, working the fat in until the mixture is unevenly crumbly, with some larger chunks of butter remaining.
Can you use all butter, instead of butter and shortening? Sure; your crust will lose a bit of flakiness, but will be wonderfully tasty.
Sprinkle 1 teaspoon white or cider vinegar, and 3 tablespoons ice water over the dough while tossing with a fork. Add more water if the dough isn't coming together. Just as soon as the dough becomes cohesive (i.e., you can squeeze it into a ball easily), stop mixing; there should still be visible pieces of fat in the dough.
Flatten the dough into a disk and wrap it in plastic wrap or waxed paper. Refrigerate for 30 minutes or longer; this resting period allows the flour to absorb the water, making the dough easier to roll out.
Now, you can simply roll the dough into a 13" circle. But for an extra-flaky crust, try this: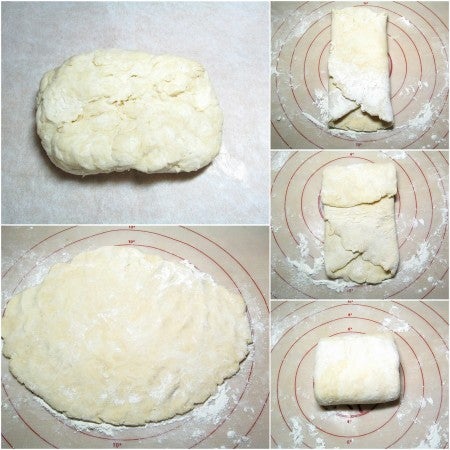 Flour your work surface and roll the dough into a 12" x 9" (approximately) oval. If it isn't holding together well, sprinkle it lightly with a couple of teaspoons of water. Fold the dough into thirds (like a letter), then fold it into thirds the opposite way, to form a rough square. Wrap it well and refrigerate again.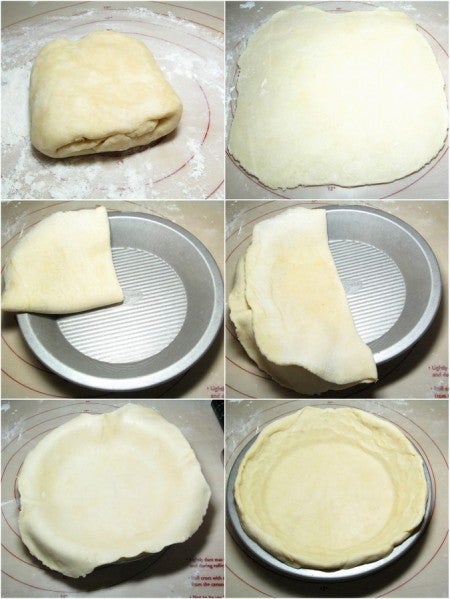 When you're "ready to roll," remove the dough from the fridge. Dough made with a combination of butter and shortening should rest for about 5 minutes at room temperature before rolling. Dough made with all butter will need to warm slightly (10 to 15 minutes) before rolling, as butter becomes brittle when it's refrigerated.
Roll the dough into a 13" circle. Transfer it to a lightly greased 9" pie pan; folding it in quarters first helps with transportation, as well as centering the crust in the pan.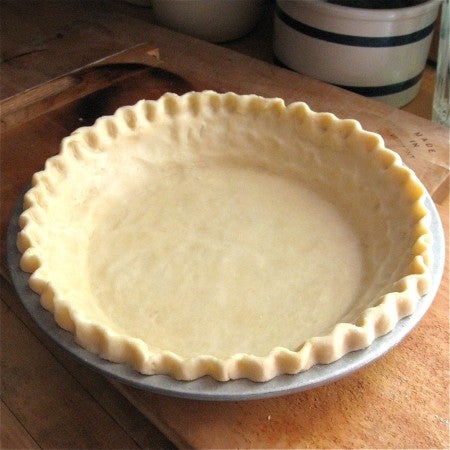 Make an upright (rather than flat) crimp around the edge, as pictured above; this will help keep the filling from sloshing out as you move the pie from counter to oven. Chill the crust in the refrigerator for 30 minutes.
Blind-baking (pre-baking) the pie crust is an added step, but will ensure crust that's golden brown and crisp, not pale and pasty.
First, preheat the oven to 375°F. Line the chilled crust with foil or parchment paper, and fill it with pie weights or dried beans. Bake the crust for 20 minutes. Remove it from the oven, and gently remove the foil or parchment with the weights or beans. Return the crust to the oven for 10 to 15 more minutes, until it's golden brown all over. If the edges of the crust start to become too brown, cover them with a pie shield or strips of aluminum foil.
Remove the crust from the oven and cool completely while you make the filling.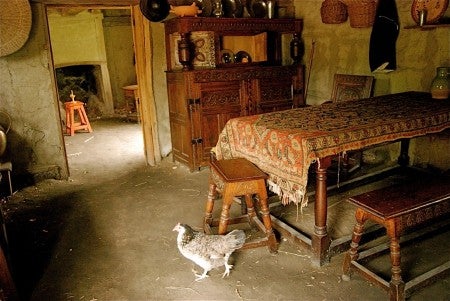 One thing the Pilgrims did have, in fairly steady supply, was eggs. Chickens roamed the Plantation freely – as they do today – pecking at the houses' dirt floors for insects and food scraps.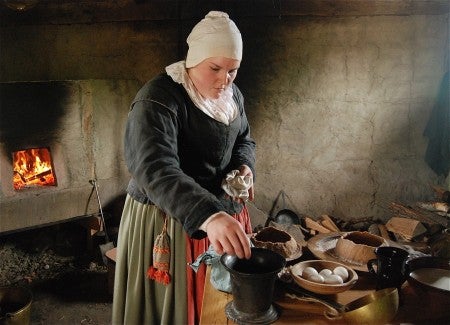 This Pilgrim custard pie filling is very similar to one we'd make today, with one exception: spices.
Eggs and milk play a major role in both old and new custard pies, but the Pilgrims' pie is enlivened with a wide range of spices; while our modern custard pie has, at most, a conservative sprinkle of nutmeg on top – one spice the Pilgrims DIDN'T use.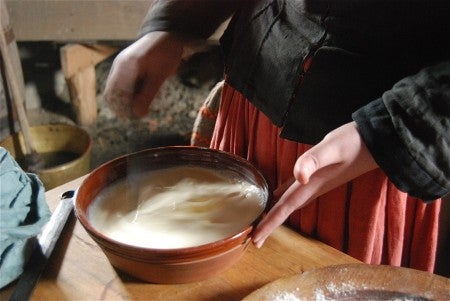 Here eggs, milk, sugar, and spices are stirred together with a spoon, prior to being poured into the crust.
Sugar was in very short supply; a cone of dark sugar – to me, it looked considerably smaller than a 5-pound bag – was expected to last a family a year. Pilgrim pies couldn't rely on a lot of sugar for their sweetness, which is why fruit pies – gooseberry, strawberry, raspberry, and beach plum – were quite popular.
Let's jump back to 2012, and whisk together what goes into our crust.
First, preheat the oven to 325°F. It won't take long to make the filling, so you might as well get the oven ready.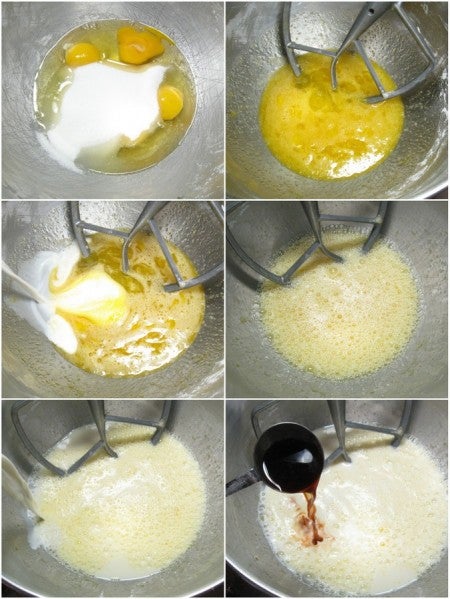 Pace the following in a microwave-safe bowl, or saucepan:
1 1/2 cups milk (anything from skim to whole, your choice)
1 cup cream (heavy, whipping, light, or half & half, your choice)
1/4 teaspoon salt
Can you use skim milk, and fat-free half & half? Sure; your pie simply won't taste as rich.
Heat the mixture until small bubbles form around the edges, and steam starts to wisp from the surface; this is how you "scald" milk, if you've ever seen that technique mentioned.
In a separate bowl, whisk together 4 large eggs and 2/3 cup sugar.
Pour 1/4 of the hot milk/cream over the egg mixture, stirring well. Combine the egg mixture and the remaining hot milk/cream, stirring well. Pour the custard through a sieve, to strain out any possible bits of cooked egg.
Stir in 1 tablespoon vanilla extract.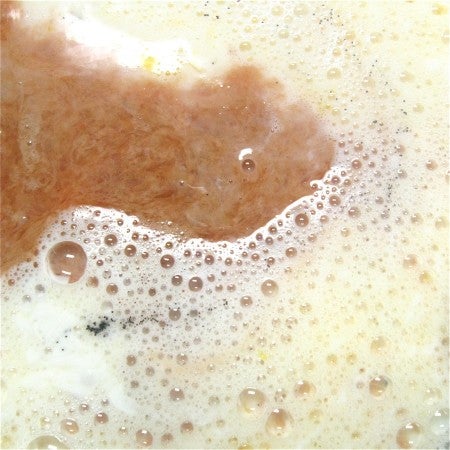 If you use Vanilla Bean Crush, you get the visual benefit of seeds and crushed bean.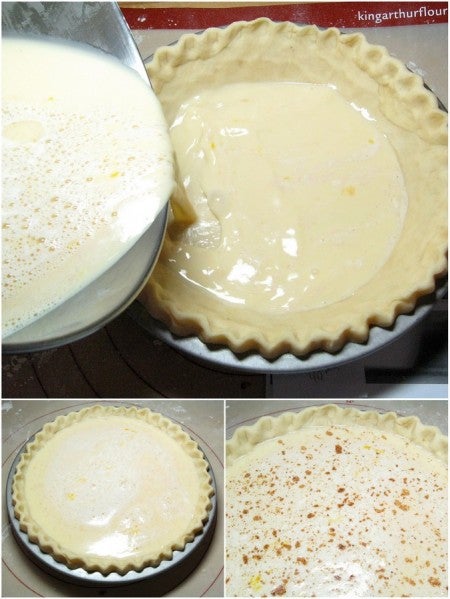 Pour the hot filling into the crust. Sprinkle 1/4 teaspoon ground or freshly grated nutmeg evenly over the top.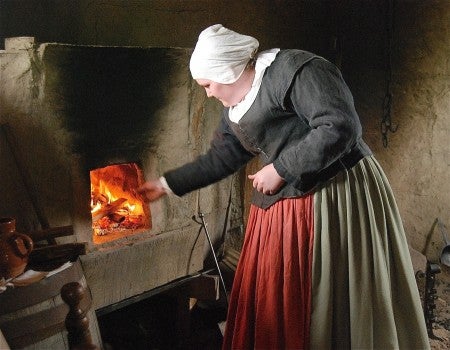 Our Pilgrim goodwives have to preheat their oven, too. Which means building a wood fire in their stone oven.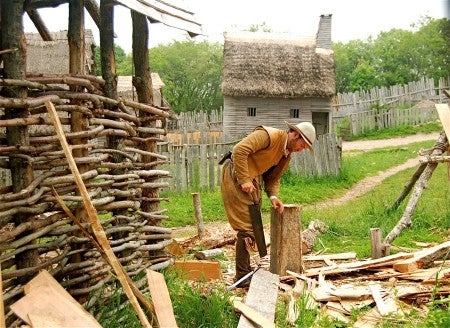 This fellow is sawing boards for construction, but the scraps are put to good use as firewood.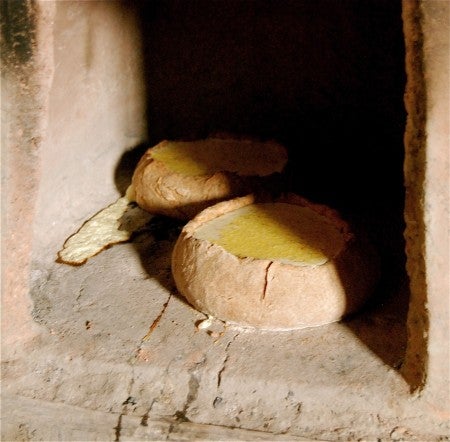 Once the stone is very hot, the fire is extinguished, the ashes swabbed out, and the pies put inside – sans plate or pan.
It's hoped the heat of the stone will quickly seal any potential leaks in the crust; sometimes it does, sometimes it doesn't. Looks like we're one for two here.
(Give thanks for your modern oven!)
Reduce your oven's temperature to 300°F.
Cover the edges of the pie with a pie shield or strips of aluminum foil to prevent over-browning. Place the pie onto your oven's middle rack and bake it for 35 to 40 minutes, or until the custard is set at the edges but still a bit wobbly in the center. The temperature of the pie at the center should be between 170°F and 180°F.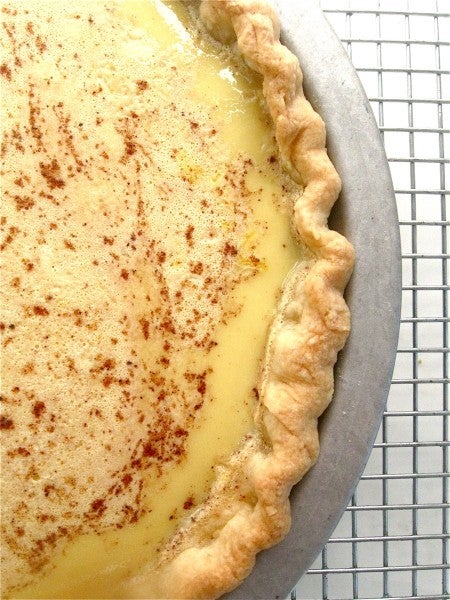 Remove the pie from the oven, and place it on a rack to cool. When it's completely cool, refrigerate until you're ready to serve.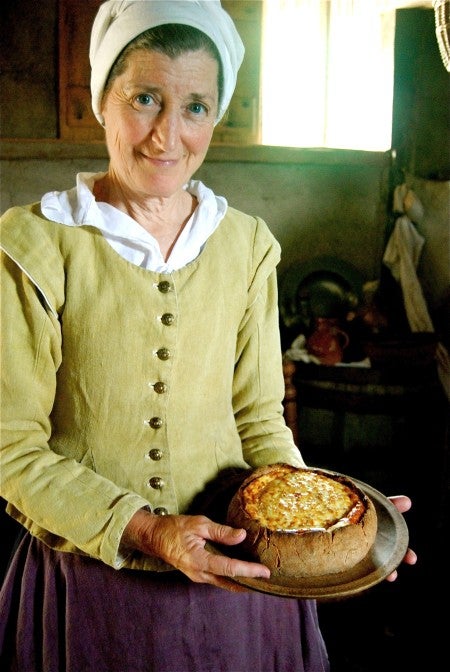 And here's our Pilgrim custard pie, cooled and ready to serve.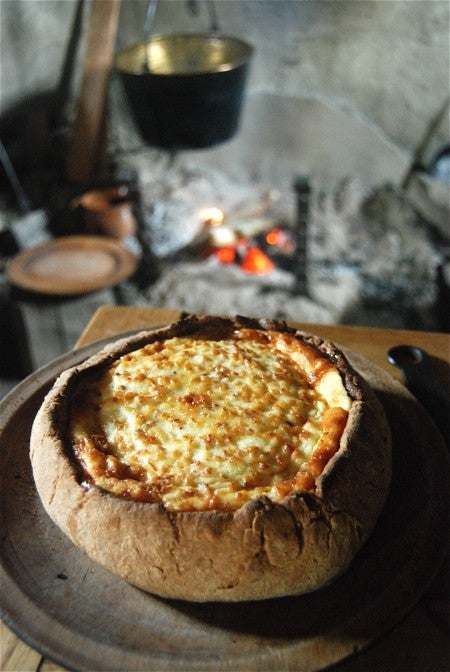 Is it baked all the way through? Let's see...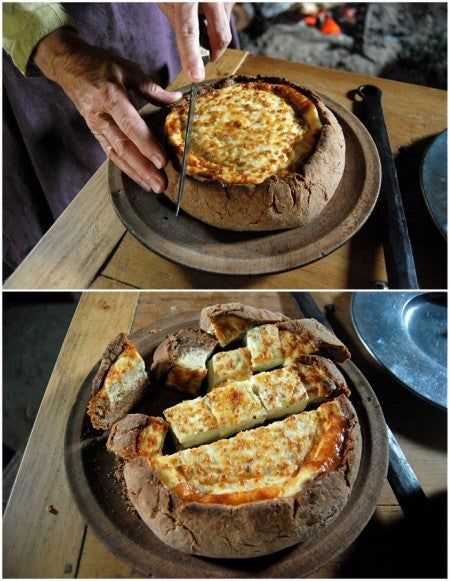 Success!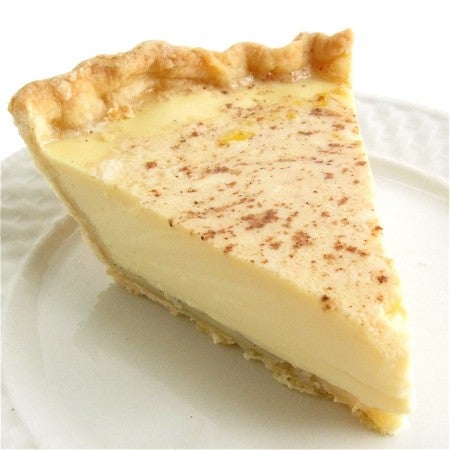 And success!
Where's the fork, you ask?
Pilgrims didn't have forks. They were strictly a spoon-and-knife crowd.
Oh, and one more small detail. According to Kathleen, custard pie was often served at Pilgrim weddings, where young men would take a bite, then spit it out onto young women's feet, so they'd be forced to raise their skirts – quite entertainingly, one would imagine.
We don't recommend using our Custard Pie as a dating tool. But we do invite you to read the recipe, bake it, and let us know what you think!
Or print just the recipe.
Happy Thanksgiving!