Tired of handing out candy bars at Halloween? Super-buttery caramel corn can be yours – in just a few easy steps.
And I mean SUPER buttery. Remember Screaming Yellow Zonkers? THAT kind of buttery.
No joke. Check it out –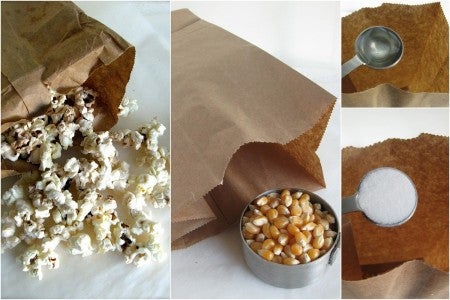 Let's start with a fast, easy, and nearly cleanup-free way to make popcorn.
1/4 cup unpopped kernels. 1/2 teaspoon salt. 1 teaspoon vegetable oil.
Put them all in a brown paper lunch sack. Fold the top over to close.
Microwave for about 2 minutes, or until the popping nearly stops.
Remove from the microwave, and carefully open the top of the bag to reveal 8 cups of beautifully popped corn.
Repeat. You now have 16 cups of popcorn in under 5 minutes.
Next, check out MaryJane's caramel corn blog post – step-by-step directions and photos for turning the Easiest Popcorn Ever into the Best Caramel Corn Ever.
If you're just after the recipe, here it is: Carol's Caramel Corn.
And for you folks (like me) who still like to read your recipes off a piece of paper, here's the print version.
Happy Halloween!