A guest post from Life Skills Bread Baking Program manager/senior instructor Paula Gray.
Don't you love happy endings? I do. This story begins at the end. And, it's the story that is 20 years old.
THIS is what happens at the end of the story that is repeated week after week in schools all over the country – lots and lots of bread. How did all this beautiful bread get here? And where is it going?
Students in grades 4-7 made these gorgeous, love-filled loaves to donate to hungry people in their community.
More than 200,000 students have happily baked and given with help from King Arthur Flour since 1992. And now we're asking for their help – maybe your help – to gather and share stories from the Life Skills Bread Baking Program's first 20 years. If you've hosted or attended a Life Skills program, we hope you'll send us your memories of the experience! You can email us at LifeSkillsStories@kingarthurflour.com. But back to the story...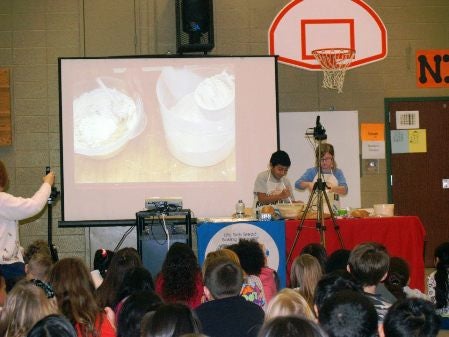 Yes, kids ages 9-13 years old learn how to make real yeast bread from scratch at a Life Skills Bread Baking Program® presentation at their school. The recipe makes enough for two loaves; one to SHARE, and the other for the kids to eat themselves.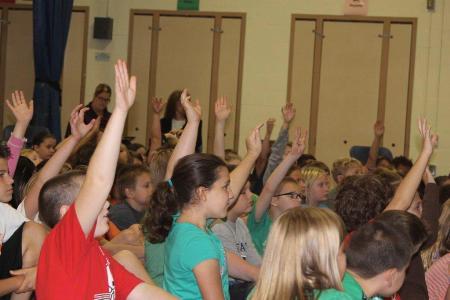 If you turn back a few chapters to the beginning of the story, you'll find 200 or so kids in a gym, eyes glued to a presentation.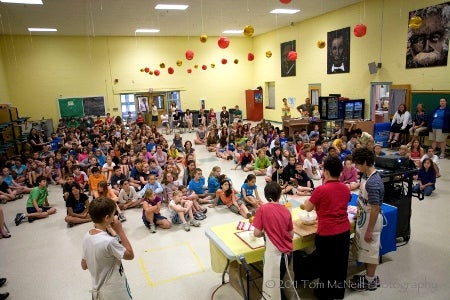 Here you see an instructor from King Arthur Flour and two helpful assistants assembling bread dough, demonstrating tips and techniques, and explaining the steps. Everyone in the room can see what's happening on a screen, so it's kind of like a cooking show at school! Exciting stuff!
So exciting that sometimes, a TV crew comes to the school and films. Here's a quick clip from a recent presentation in Frederick, Maryland: Students Learn to Bake Up Some Warm Generosity.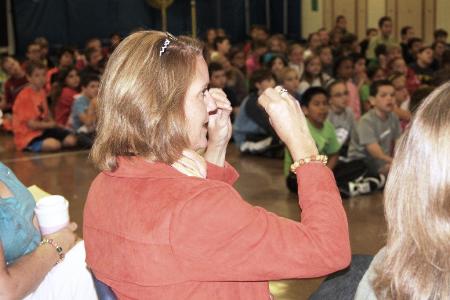 Teachers and administrators are happy, because baking uses lots of skills all across the curriculum: reading, following directions, sequencing, measuring, estimating, (a recipe is really a math equation, right?) critical thinking and problem solving, scientific observation, hypothesizing… And it incorporates artistic skills, nutrition information, food safety, properties of matter, and more. You can read testimonials from teachers here.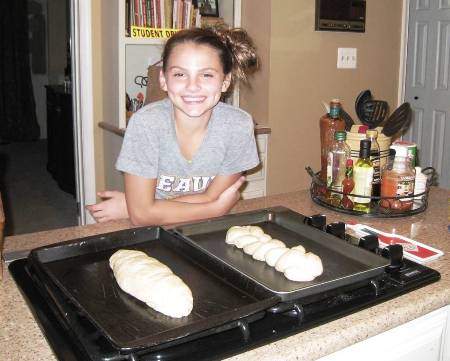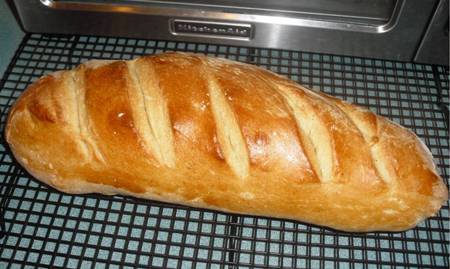 We teach how to make three basic loaf shapes – a baguette, a sandwich loaf, and a beautiful braid. Students decide which of the three shapes to make for their donation.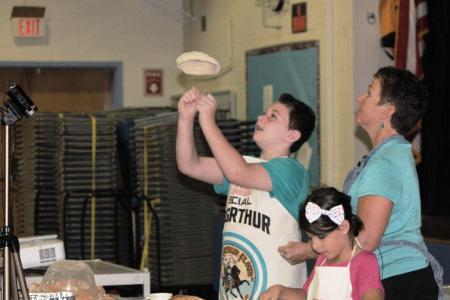 But students also learn how to make bread sticks, pretzels, cinnamon rolls, and even how to toss pizza dough! They'll get to eat these delicious things themselves.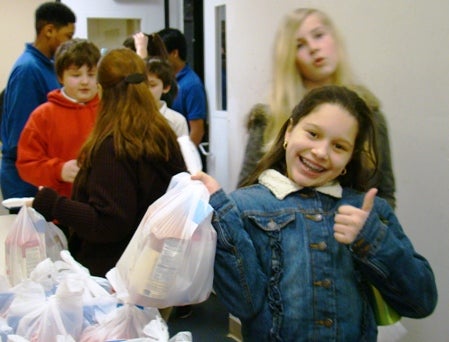 Kids take materials home to bake their bread. Let's see what happens there...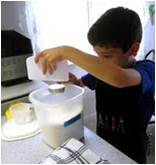 Measuring flour properly is one of the secrets of bread success. Even though this photo is a bit blurry, the concentration and skill still come through! Note the dough scraper – every child receives this essential bread baking tool.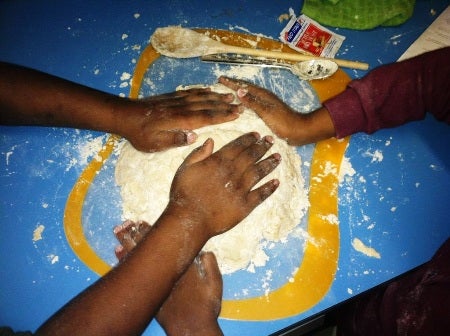 Bread baking can be a little messy once the gluten starts to form.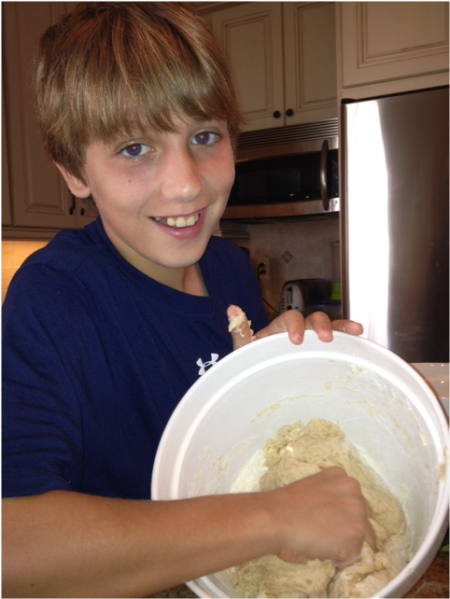 Sometimes dough is sticky, but the kids know how to handle that by using a whisper of flour.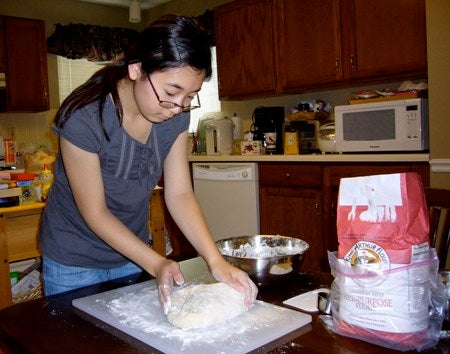 Then comes the fun of kneading: fold, push, turn…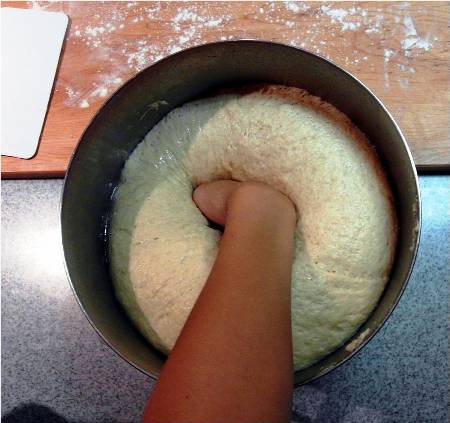 Kids know that yeast gives off carbon dioxide. This dough is filled with it and is being deflated gently, ready to turn into something gorgeous and yummy.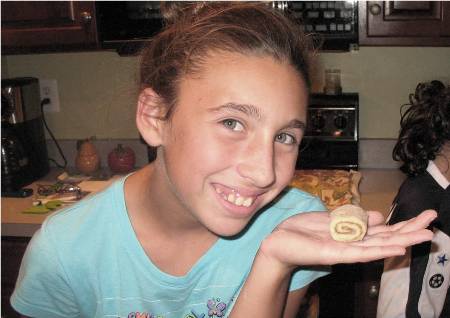 Cinnamon rolls are really popular. They're especially pretty when you use the secret cutting method that the kids learn at the demo.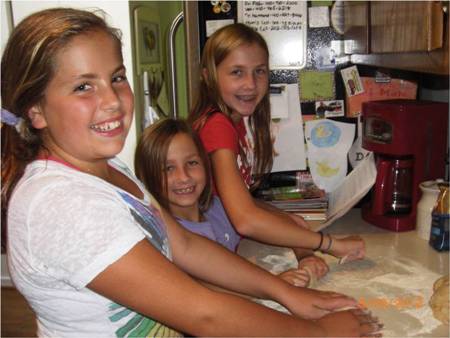 When friends get together to bake, that means a fun project over the weekend.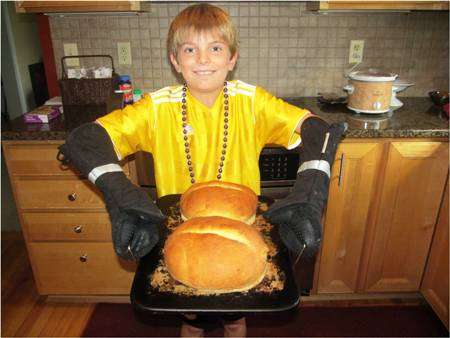 After 3½ hours of effort, TA DA!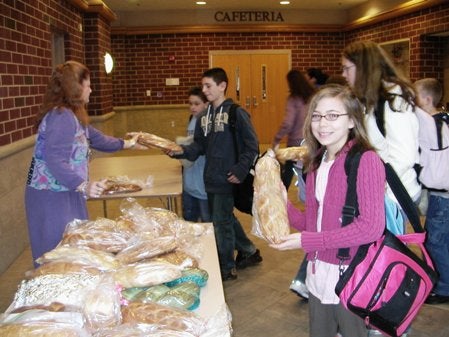 Bread comes back to school and is delivered to a food pantry.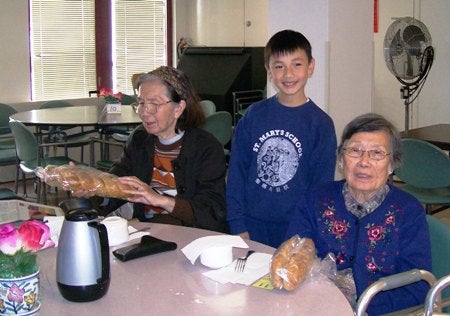 Sometimes, kids share their bread with someone who's particularly special to them – a neighbor, a friend, a grandparent.
THE END. But is it really the end of the story?
Because bread baking is a skill you use for years and years to come. And we still have lots of schools to visit… maybe yours! It's easy to apply to host the Life Skills Program. And the program is FREE.
The Life Skills Bread Baking Program is celebrating its 20th year! Over 200,000 kids (many of them now are grownups!) across the country have learned how to make bread from scratch, and helped to feed thousands of people in need.
We would love to hear YOUR Life Skills story. If you've ever attended or hosted a Life Skills presentation, please drop us a line at LifeSkillsStories@kingarthurflour.com and tell us what you remember about your experience.
Happy baking!