King Arthur Flour, Norwich Vermont.
May 2011, ready to break ground on our expanded Baker's Store, Bakery, and Baking Education Center.
Fast forward 16 months – September, 2012.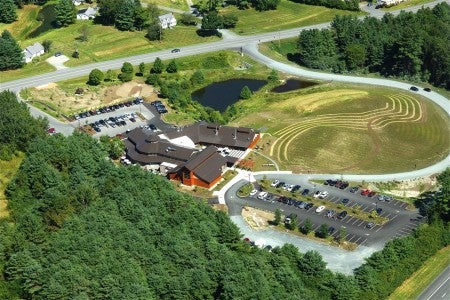 See how we've grown?
Come with us now as we celebrate, in pictures, our grand opening party this weekend, an event that drew bakers from all over the country – ready to enjoy good food, good fun, and good friends.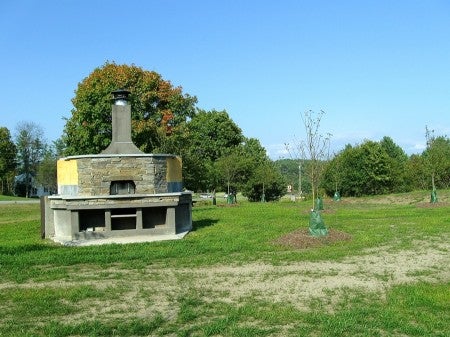 If you've visited us in the past, but haven't been up to Vermont in awhile, our wonderful wood-burning stone oven is all that remains of the original King Arthur Flour store (1992), and more recently, our bakery and education center.
We intend to build a pavilion over the oven, so we can continue to bake the crusty, wood-fired breads and pizzas so many of you have enjoyed in the past.
But enough of the past – let's check out the new King Arthur campus.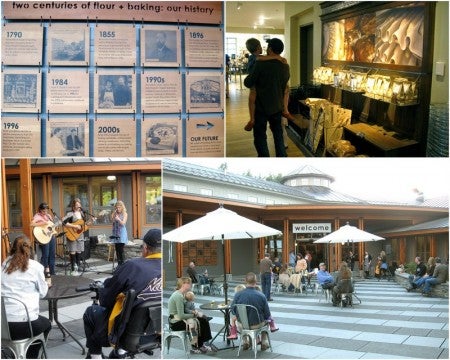 OK, before we get too far into this – to view any of these and the following pictures full size, simply click anywhere on the grid - they'll become much larger.
Thursday evening marked the beginning of our grand opening celebration (which continues through Sunday). Visitors enjoyed music in the courtyard, our new timeline, and lots of bread.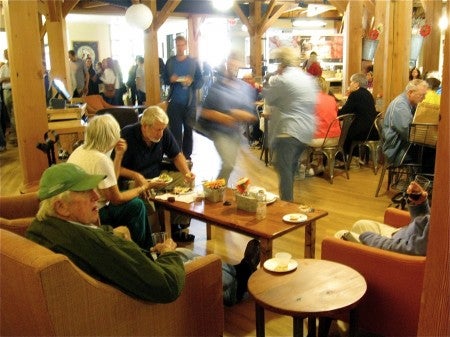 Inside, folks chowed down on soups, salads, hand-crafted beer from our local Norwich Inn, and Farnum Hill cider from Poverty Lane Orchards, right next door in Lebanon, NH.
But that wasn't all we offered.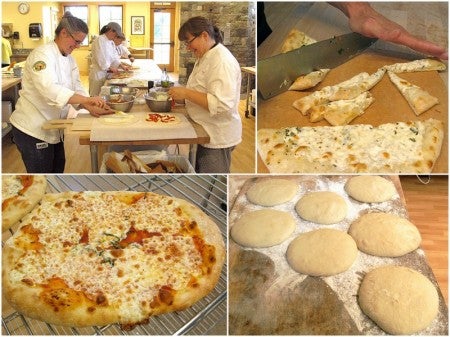 Pizza! Our education center staff worked hard and fast to keep the pizzas coming – over 100, before we lost count.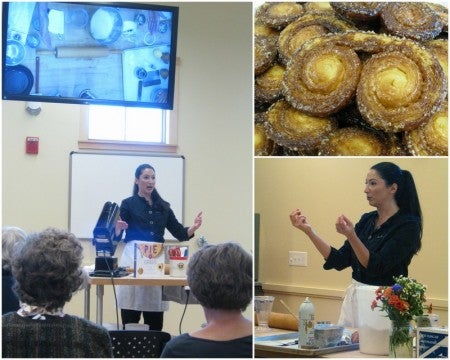 Friday evening, author/blogger/pastry chef Gesine Bullock-Prado kicked off the series of celebrity baking demos held throughout the weekend.
Her subject: the most delightfully buttery, crunchy, delicious elephant ears, made from an easy blitz puff pastry dough.
(And yes, in case you movie fans are wondering, she IS Sandra Bullock's sister!)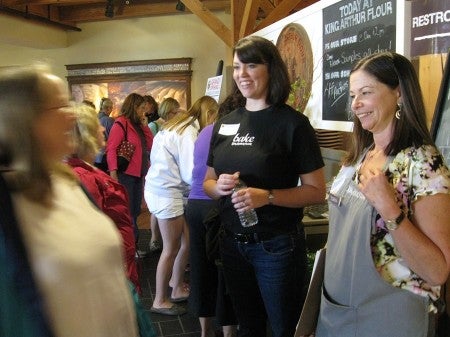 On Saturday, it was all hands on deck as King Arthur's employee-owners were out in force, meeting and greeting the thousands of visitors who arrived early – and stayed late!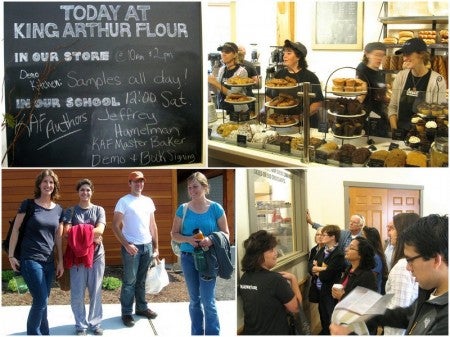 There truly wasn't a dull moment. The folks behind the bakery counter were straight out filling bags with sticky buns, baguettes, brownies, and napoleons.
Other KAFers led what turned out to be popular tours of the new facility.
And who's the crew at lower left? Those are some of our King Arthur Flour Bakery bakers, leaving for home mid-afternoon; they'd been at work since 3:30 a.m. turning out all the yummy treats mentioned above.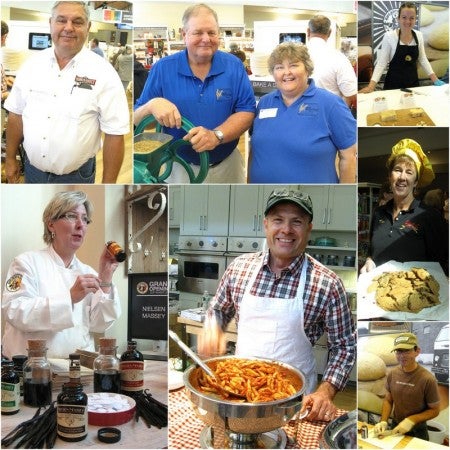 Lots of our vendors, the folks who fill our store shelves with their quality products, were on hand to offer samples.
We were especially pleased to welcome Bob Kaufman, and Kent and Marcia Symns (upper left), all representing Farmer Direct Foods of Atchison, Kansas – the folks who grow and mill our white whole wheat flour. Bob is one of the farmers who grows the wheat; Kent is the company's CEO.
A sampling of other companies represented Saturday included (clockwise from top right) Vermont Farmstead Cheese; Callebaut (chocolates); Vermont Smoke and Cure; Mimmo's Marinara; and Nielsen-Massey extracts.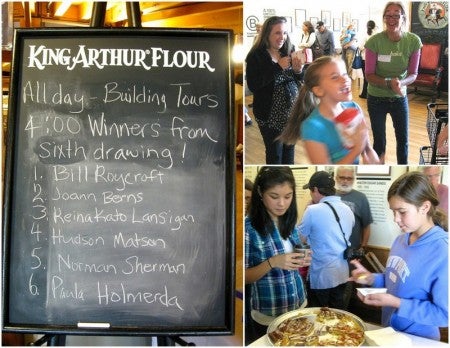 Aside from the many, many, MANY free samples from vendors, visitors were also treated to lots of door prizes; free King Arthur products of all kinds, including bags of flour; and baked treats from the various demos going in the the education center.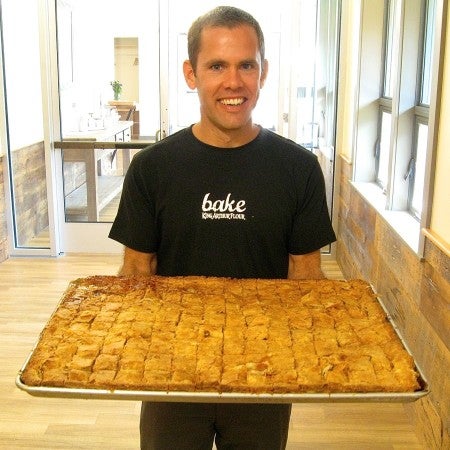 Did we mention the treats coming out of the education center? How about a mammoth slab of apple pie?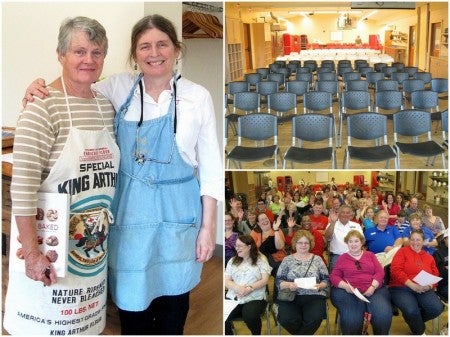 I was thrilled to get back together with Brinna Sands for a baking demo; we started working together in 1990, with the first editions of The Baker's Catalogue and The Baking Sheet newsletter.
Brinna is an author (The King Arthur Flour 200th Anniversary Cookbook), and the original heart and soul of baking at King Arthur.
Saturday, we were tapped to do a baking demo: my favorite recipe from The King Arthur Flour Baker's Companion, Almond Puff Loaf.
Looking at all the empty seats in the education center, we wondered if anyone would come.
Yup, guess so!
And how about that almond puff?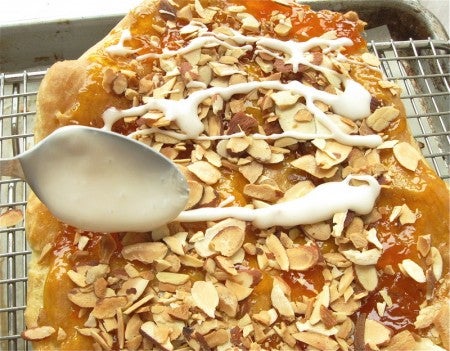 SO easy – SO tasty!
Next up: our head baker and Certified Master Baker, Jeffrey Hamelman, with one of his favorites: German-style soft pretzels.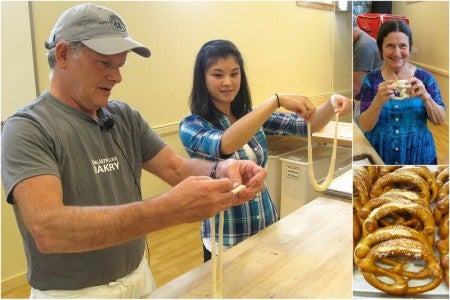 Jeff teaches the professional classes at our education center, and he's all about hands-on; he invited the whole crowd to try shaping their own pretzels, and quite a few folks took him up on it.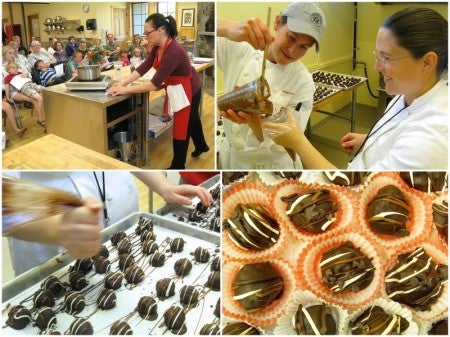 The last demo of the day – well, it just had to be chocolate, didn't it?
Author/blogger Dédé Wilson showed the crowd how to make chocolate cake balls – chocolate mixed with chocolate coated with chocolate drizzled with chocolate sprinkled with chocolate chips... WOW.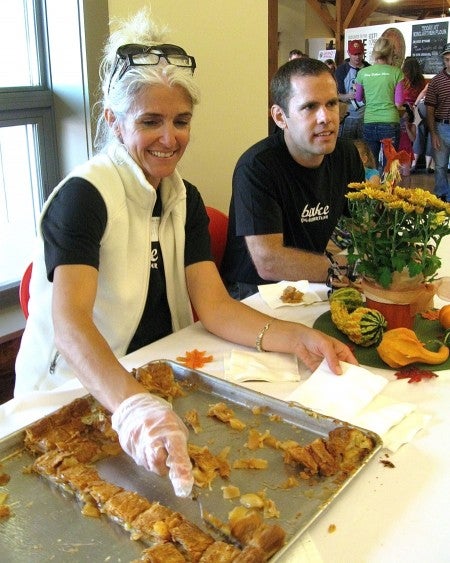 Unfortunately, one of our scheduled celebrity bakers, Joy Wilson (Joy the Baker), was unable to make it Saturday – her Friday flight from Los Angeles was delayed, delayed, and finally cancelled.
But the apple pie she was planning to demonstrate was very well-received!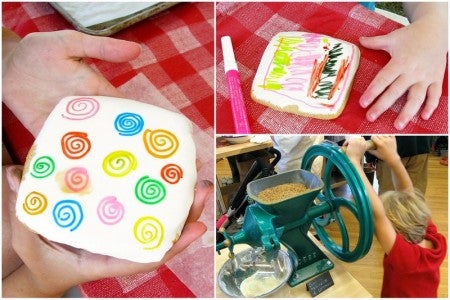 Speaking of well-received – it wasn't only the grownups having fun. We had a special tent just for the kids, with cookie decorating, face painting, and Marko the Magician.
Of course, kids being kids, they also found other ways to amuse themselves – as this little guy did, turning the flywheel on our grind-your-own flour mill.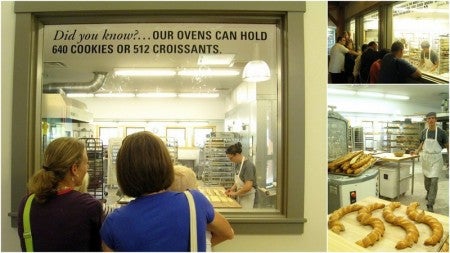 Our decision to put large viewing windows all around our bakery was obviously a good one, if the weekend was any indication. Visitors throughly enjoyed watching the bakery crew at work.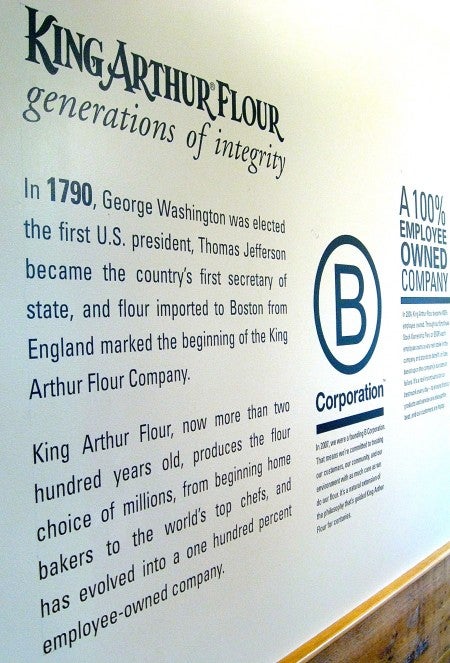 Finally, here's what it's all about: flour.
And baking.
And the wonderful people who've taken King Arthur from a small New England flour importer, to America's premier baking resource, and the largest educator of home bakers in the world.
That would be you, all the people out there who love to bake.
You want the best for your friends and family. You enjoy using your hands, mind, and heart to create something wonderful.
Thank you for inviting us into your kitchen; we appreciate your trust and loyalty.
And we promise to provide you, always, with top-quality flour, ingredients, tools, recipes, education, AND inspiration, so that every baking experience is a happy one.
Bake on!