Picture yourself in front of an old-fashioned 1950s style console television.
You twist and turn the dial past the static and squeals until you hear the opening words of your favorite show...
"Welcome, ladies, to "Losing Your Fear of Fondant." I'm your hostess, Candy Bee Easy. Today's lesson is inspired by the lovely season of autumn..."
And there would be Candy in all her black and white glory. Bouffant hairdo, pearls, and ruffled apron at the ready, she would guide her gentle listeners through the making and shaping of little pumpkins, leaves, and vines to present with your favorite homemade fall cake.
Well gang, I'm no Candy Bee Easy. I don't have enough hair to bouffant, and I can't wear heels, but I'm here to help you get over any fear of fondant, and show you how to produce some truly lovely fall decorations that any baker can be proud of.
And bonus, I'm in full, glorious Technicolor!
Let's get started on our fondant pumpkins.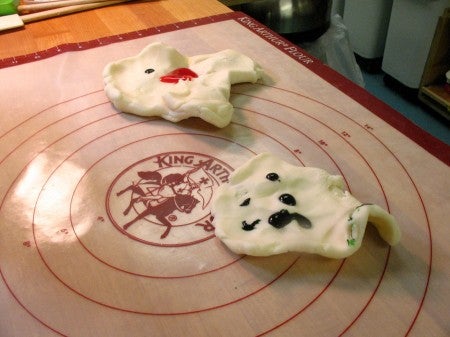 Plain fondant is easy to tint with food coloring. For the green I used leaf green and just a touch of brown to deepen the color. For the pumpkins, a blend of orange, yellow, and another touch of brown, for that fall feeling.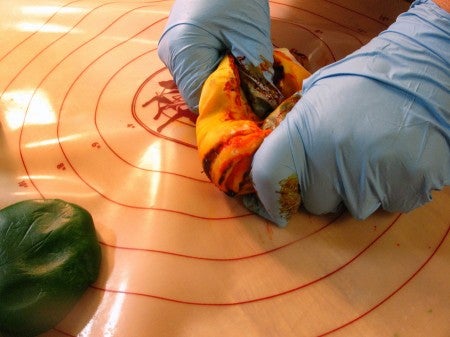 Gloves are essential when kneading in color. Unless, of course, you enjoy the looks you get from passersby over your fancy fresco fingers.
Ditto a rolling mat or piece of parchment paper to protect your work surface. Believe you me, it's no fun trying to get food dyes off your wooden work surface.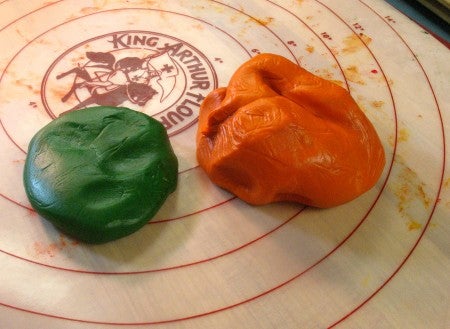 Remember, you can keep adjusting the color with dabs of food coloring until you're happy with it. These two will suit me just fine.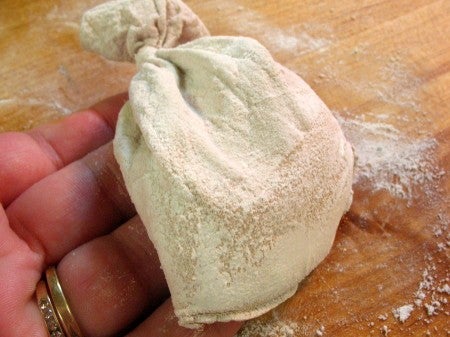 To keep the fondant from sticking to you and your work surface, you'll need a little cornstarch. To make a little powder bag like the pros use, just fill the toe of a new clean stocking with cornstarch, snip off the extra hose, and tie a loose knot. A perfect little refillable pouch. I keep a couple of these in a zip-top bag in my fondant supply box. Handy and cheap!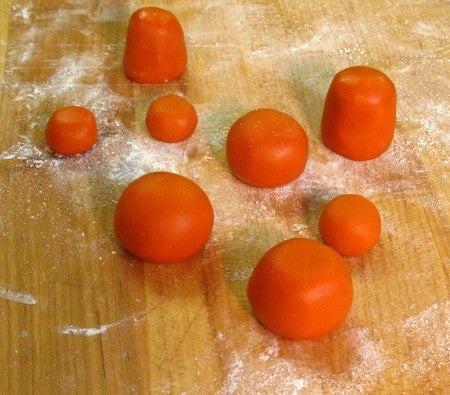 Lightly dust your work surface and break off several pieces of pumpkin fondant. You're looking for pieces about the size of a walnut, some larger and some smaller.
Roll the pieces into imperfect spheres and ovals. Pumpkins aren't perfectly round like basketballs. They have flat bottoms and somewhat flat tops. Some stand tall while others are rather squat. Keep playing with the shapes until you're happy with them.
When you have a group of pumpkins that you like, set them aside to firm up for about 15 to 30 minutes before you work with them further.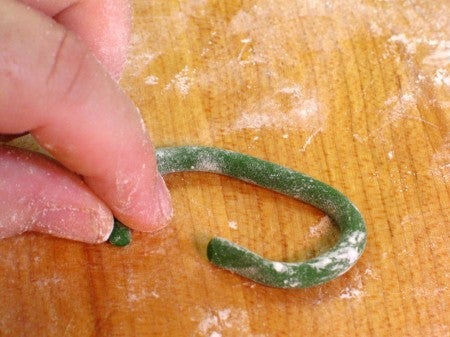 For the leaves and vines, roll a skinny snake of green fondant. It should be thicker than spaghetti, but slightly thinner than a drinking straw to start.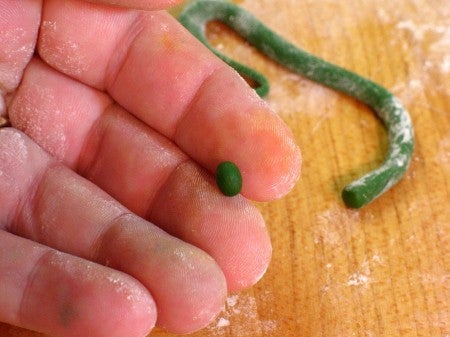 For leaves, pinch off tiny balls of fondant. Flatten between your fingers and pinch both ends to points. You'll see a better picture of the finished leaves in a minute.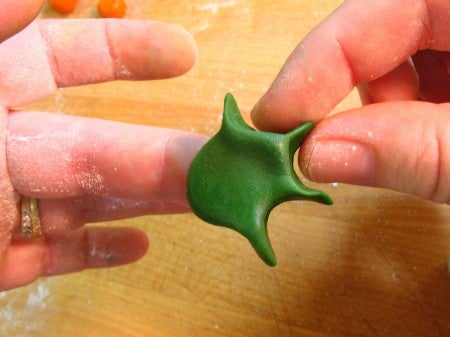 For larger detailed leaves, pinch off pieces of fondant slightly smaller than an M&M. Here I'm using a huge piece, so you can see the details on how to make the pinches. Your actual leaves will be much smaller.
Take your M&M piece and flatten it between your fingers. Use a little cornstarch so it doesn't stick. Using your fingertips, pinch and pull four or five "fingers" to form the leaf.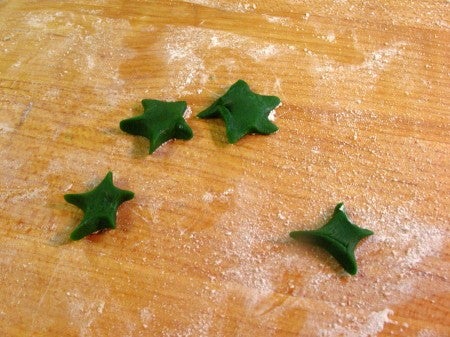 Vary the shape and size of the leaves to make them more realistic. Pinch one "finger" a little more than the others. This will be where the leaf attaches to the vine. Again, set them aside to firm up for 15 minutes or so before proceeding.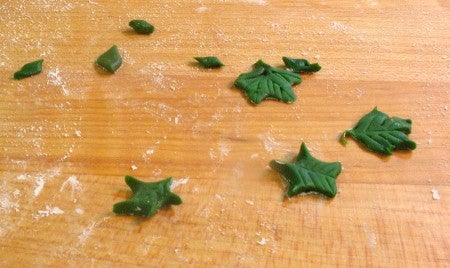 Using the tip of a sharp knife, craft blade, or even a toothpick, add veins and details to your leaves. In the back left of the photo, you can see the tiny leaves made with just pinches.
Allow the leaves to dry once more while you work on some vines.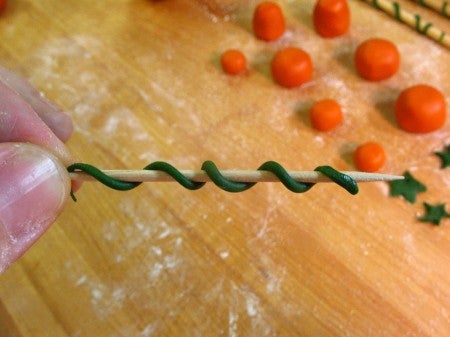 To make the vines, gather up some round dowels, toothpicks, and straws of various sizes. Roll your snake of green to a few different thicknesses and twine around the dowels. Set aside to firm up for a couple of hours. This will ensure that the vines won't collapse when you take them off the dowels.
Using different sizes of vines, leaves, and pumpkins will keep your presentation from looking flat and dull. It's much more interesting to see variety, and to keep your eyes looking for the little differences.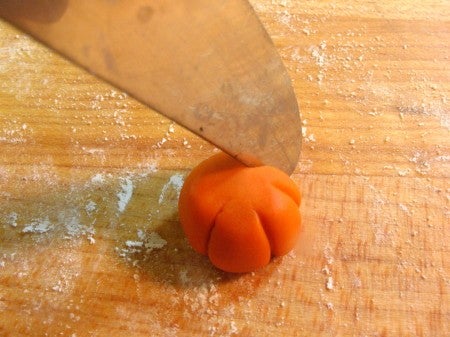 Time to head back to our pumpkins. Using your sharp blade again, press divisions into the sides of the pumpkins. Cornstarch again is going to be your good friend, to keep things from sticking.
Repeat on all of your pumpkin shapes. If you aren't happy with the way one comes out, you can simply squash it (pun intended!) and start again. Fondant is very forgiving, so don't worry about perfection the first time around.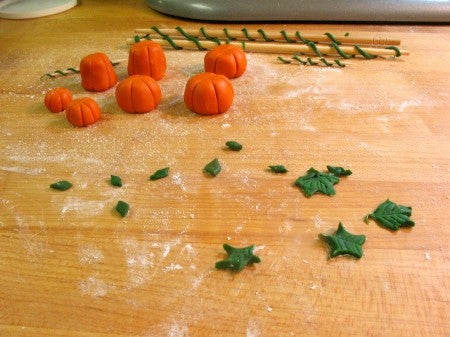 There now. A tidy little collection of leaves, pumpkins, and vines that will be ready when you are for fancying up a festive fall feast.
Hold on, though. Do you notice anything missing from our pretty pumpkins?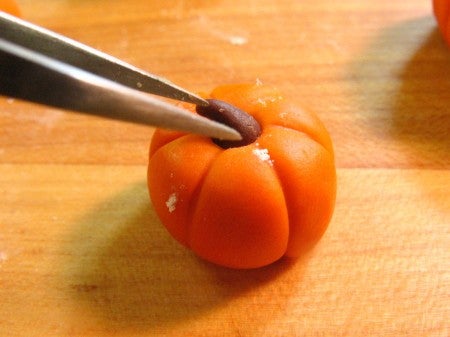 That's right. No pumpkin is complete without a little stem, and a mini chocolate chip suits the bill just fine. Tweezers are a huge help here, too.
Now, let's put it all together for a knock 'em dead presentation.
Whip up your favorite pumpkin roll, pumpkin cake, or pumpkin cupcakes. I love pumpkin and ginger together, so I made a pumpkin swirl cake. After filling and frosting, place a few pumpkins here and there, add some vines peaking out from behind, and a leaf or two dramatically dropped on the ground.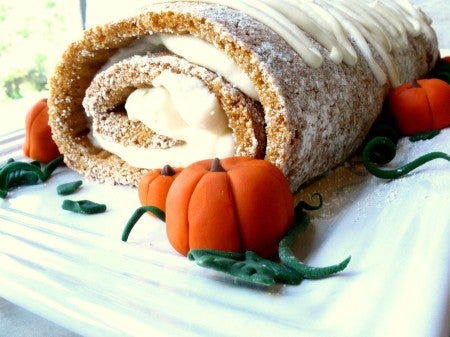 Cue the ooohs and aaahs. Candy Bee Easy can eat her heart out, this is where it's at.
We'd love to have you share your pumpkin photos with us. Just hop on over to our Facebook page and post them there. Happy baking!