Apple Spice Whoopie Pies
Apple pie à la mobile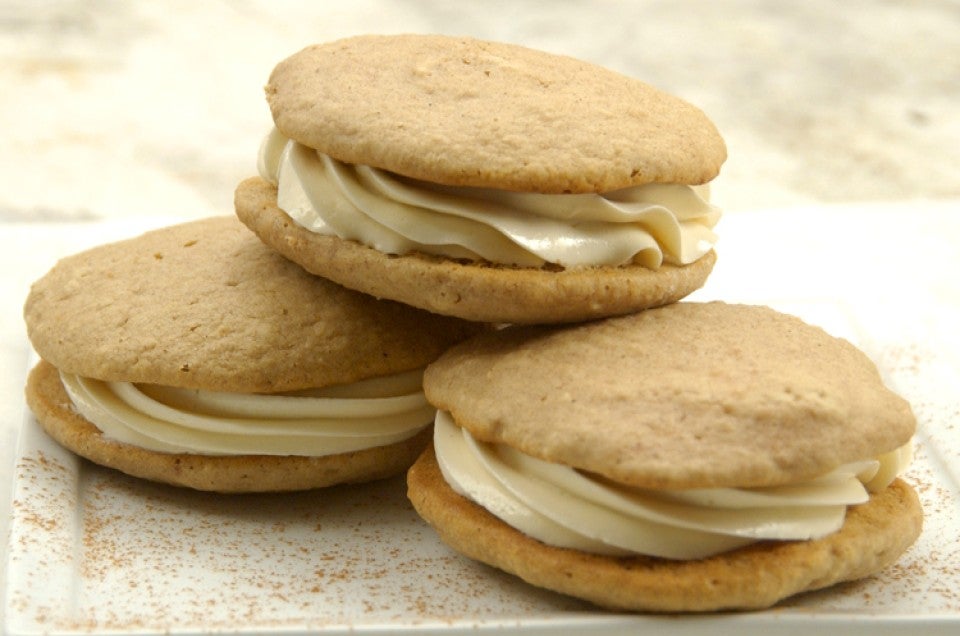 While I do so love a good apple pie, it isn't really my favorite thing to bake.
I'm much more of a cake gal myself, especially if said cake involves lots of creamy buttercream filling and icing.
Bring on the fusion as we combine our favorite fall flavor with cake, glorious cake.
Cinnamon and apple makes one of the most comforting combinations out there, so why not bring them along when we make fun-tastic whoopie pies?
These fluffy little portable "pies" are really little cakes sandwiched with sweet filling. Think of it as reversing your apple pie à la mode, with the apple-y spicy goodness on the outside and the ice cream on the inside. Then imagine picking it up and running away to your secret place in the house, to enjoy all by yourself. A totally mobile version of a totally noble dessert, ready to go when and where you choose.
Don't run away just yet, let's make Apple Spice Whoopie Pies.
In a small bowl or measuring cup, whisk together:
2 large eggs, at room temperature
1/2 cup buttermilk
1 teaspoon vanilla extract
1 cup unsweetened applesauce, homemade or purchased
2 teaspoons Apple Pie Spice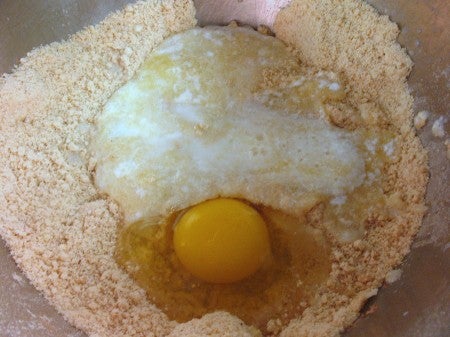 In the bowl of your mixer, combine:
2 1/2 cups (10 1/2 ounces) King Arthur Unbleached All-Purpose Flour
1/2 cup sugar
1 1/2 teaspoons baking powder
1/2 teaspoon salt
1 teaspoon baking soda
4 tablespoons butter, softened
4 tablespoons shortening
Add half the buttermilk/egg mixture.
Notice anything amiss in the picture? I realized just before blending that I had only put in one egg, so I just plopped the second one in the bowl. You, of course, are much smarter than that, and won't make the same mistake.
Beat on medium speed for 2 minutes. Add the remaining buttermilk/egg mixture, and beat for another minute.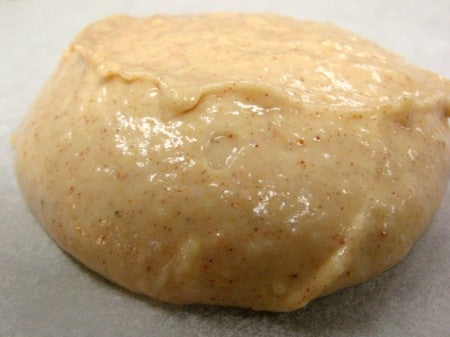 You'll be rewarded with a medium-thick batter that scoops out onto parchment-lined baking sheets beautifully.
I wanted large, fist-sized whoopies, so I used our jumbo cookie scoop. Be sure to leave room for spreading between your pies, or you'll have one big pie in the end.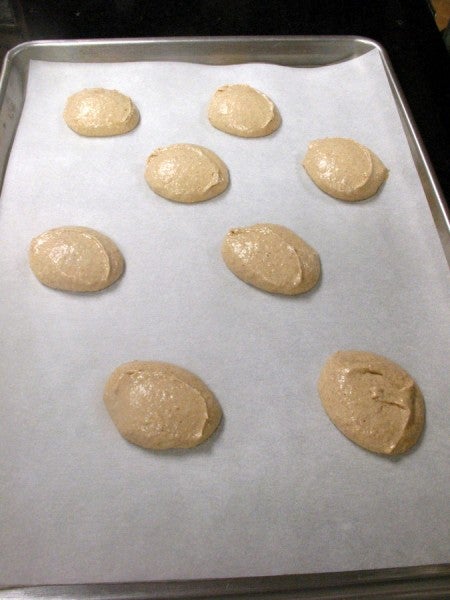 Offsetting is a handy way to get several scoops on the tray without overcrowding.
Bake the whoopies in a 375°F oven for 14 to 16 minutes, or until the edges begin to brown and the tops spring back when lightly touched.
Remove the baked cakes from the oven and cool completely on the trays before peeling up from the parchment. This prevents the cakes from splitting when they're still warm and tender.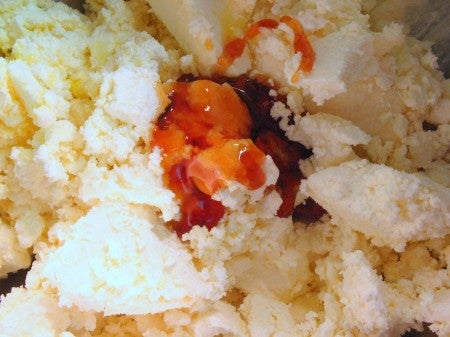 To make the filling, blend:
Do try to get your hands on cinnamon oil for this filling. If you want to try and find it locally, look in your local craft and hobby store (Michael's, AC Moore, Jo-Ann, etc.). They usually have a nice big cake decorating section, and most sell a selection of oils for baking.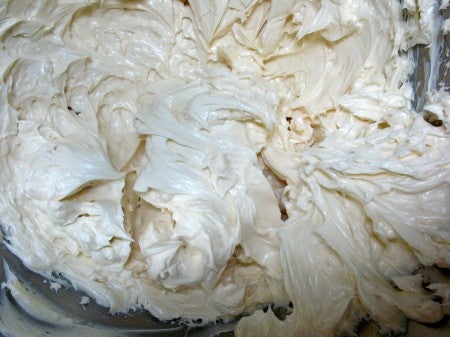 The filling will fluff right up and be ever so creamy.  If desired, you can add up to 1/2 cup softened cream cheese to give the filling a little tang, but I like the sweeter filling better, personally.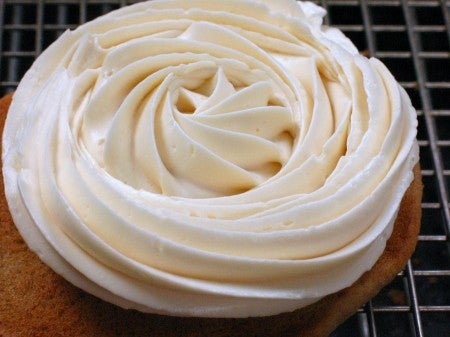 Use an offset spatula or knife to spread a generous amount of filling on one cake. If you want to be really fancy, you can pipe the filling with a star or flower tip on a piping bag. This would really make your treats stand out at the bake sale or picnic table.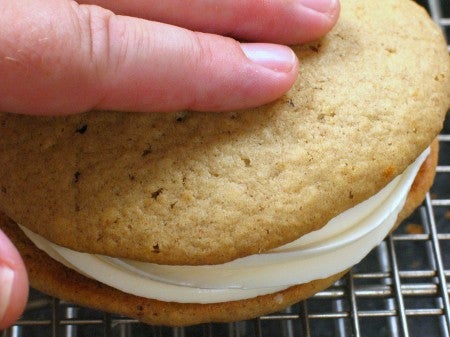 Top with a second cake and press down gently to seal the two halves together.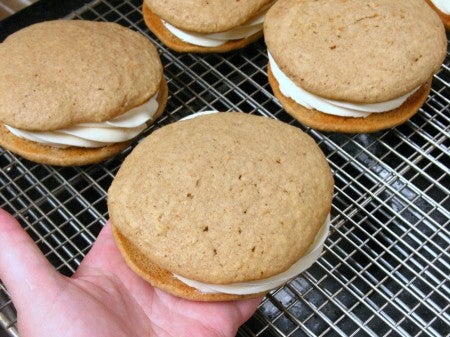 Check out these buxom, palm-sized beauties. The whole kitchen will be scented of apple pie and cinnamon. The cinnamon oil especially brings a tangy high note of spice. Think of red hot candies, atomic fireballs and the like.
To store, wrap each whoopie pie in plastic wrap and store in the fridge for up to 4 days, or in the freezer for up to 4 weeks. These whoopies are amazing right out of the freezer, especially if you like to nibble on frozen buttercream like we do at our house. If you prefer your icing creamy and soft, let them rest at room temperature for about 20 minutes before serving.
Please make, rate, and review our recipe for Apple Spice Whoopie Pies.