WHAT to do with ALL THOSE TOMATOES??
It seems a shame to turn all of your gloriously fresh, just-harvested tomatoes into sauce, doesn't it?
But then again, there are just so many dinner salads you can eat.
So many tomatoes, so little time to enjoy them...
Here's an easy way to use at least some of those delicious tomatoes: fresh, homemade salsa. If you've got a food processor, it'll take you about 5 minutes to make a couple of quarts of this.
Without a processor - well, hone your knife and get ready for lots of chopping!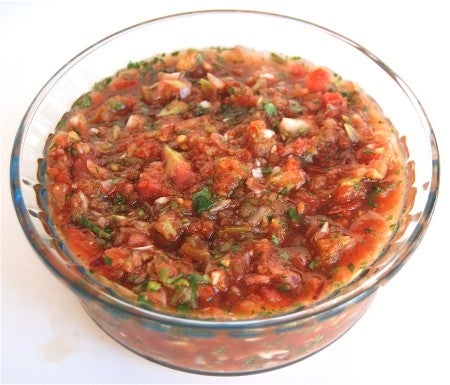 I've had this recipe forever, and have no clue where it came from beyond a magazine (because it's on glossy paper). I've made a few changes over the years, but it's basically intact – so, whatever long-ago test kitchen cook came up with it, thanks!
1 can (about 15 ounces) stewed tomatoes
1 small red onion, or half a large one, peeled and cut into chunks
3 large garlic cloves, peeled
1 or 2 jalapeño peppers, cut in a few pieces (seeds removed for a milder salsa)
1 small to medium bunch cilantro, stems removed
1 bunch scallions, trimmed and cut into 3" pieces
4-ounce can diced green chilies
2 to 3 teaspoons ground cumin
1 tablespoon fresh lemon or lime juice
3/4 teaspoon salt
2 teaspoons sugar
2 large tomatoes, or 4 to 6 smaller ones; about 2 pounds tomatoes
Place everything except the fresh tomatoes into the work bowl of a food processor. Process until the mixture is as smooth/chunky as you like. Transfer to a large bowl.
Cut the fresh tomatoes into chunks, and process until they're as finely chopped as you like. Don't over-process; you don't want tomato purée.
Stir the tomatoes into the remaining ingredients in the bowl.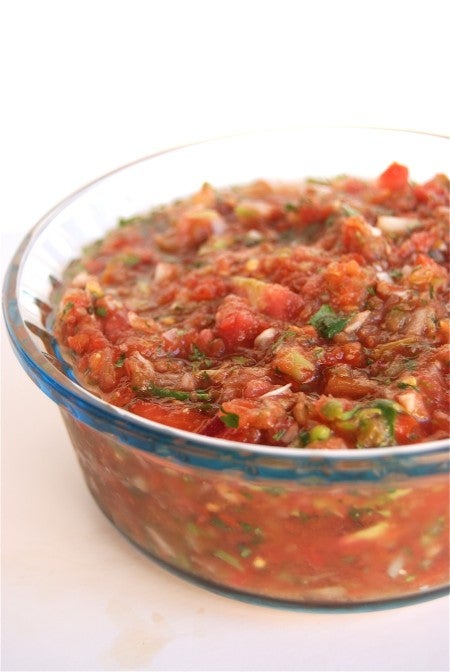 Chill until ready to serve.
Homemade chips? We can do that.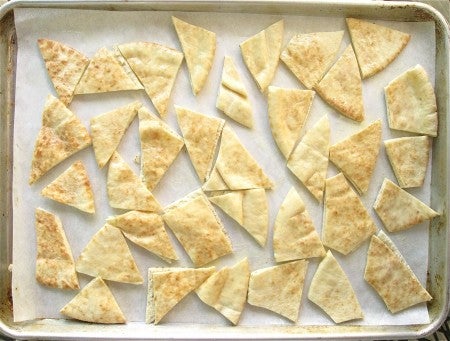 Use a pair of scissors or a knife to cut pita (homemade or store-bought) into wedges. Lay them close together on a baking sheet, and brush or spray with olive oil.
Bake in a preheated 350°F oven for about 20 minutes.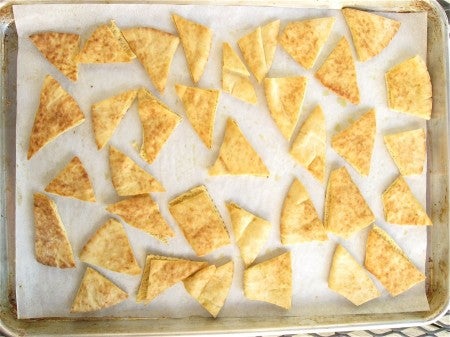 If they're not completely dry and crisp, turn off the oven, crack the door open, and let them cool right in the cooling oven.
OK, back to the salsa. Let me try to answer some of your questions ahead of time.
"How long will this last in the fridge?"
I don't know, we always eat it so quickly I've never seen it get old.
"Is it OK to can this?"
Uhhh... Don't know. If you know how to can stuff and make jam, then you probably already know how to do it, right?
Me, I wouldn't hazard a guess. Any reader who's had success canning salsa, chime in here, OK?
"How about freezing it?"
Well... possible, though I think the texture of the crunchier vegetables would suffer.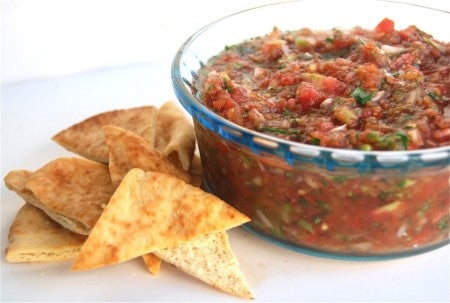 I'm telling you – fresh is the way to go.
Talk about a delicious way to up your daily vegetable consumption...
Serve with pita chips or tortilla chips. And if you've made your chips out of whole wheat pita – so much the better!