In these hazy days of summer, early morning and late evening seems to be the only times we can get outside to sit on our deck. Our house faces east and as soon as the sun is up, we're enveloped for the rest of the day. I ADORE the pure, bright sunshine, but...
I have to make quick use of the space before it gets surface-of-the-sun hot out there. I like to grab a cup of coffee and a sweet treat and head out to watch the day begin. Oh, did I mention that we have animals at our house? Plenty of animals?
Let me paint you a picture. I wander outside to sit down with my breakfast. I sit in a deck chair and pick up my fork. Before I can take a bite, I'm covered in dog. Always one, but usually two miniature poodles vying for lap space, with a very large golden/lab cross breathing over my arm and sniffing as close as he can get to my plate.
Sure, it's nice to be loved, but in the morning I'm not up to sharing my brekkies with anyone. (I know, I could make them stay inside, but I'm a pushover for a furry face.)
Cue the portable breakfast. A hot, fresh hand pie held aloft while leaning over the railing lets me enjoy the first bites of the day while watching the puppy antics on the lawn. I can lick my fingers while the cat licks his chops and slinks across the lawn towards the berry bushes, feeling his inner lion roaring.  A few crumbs on my shirt? Brush 'em off onto the ground, no vacuum needed here.
Not a morning person? Fast forward to evening, after dinner and the sun has gone down. Cool breezes waft by, carrying dragonflies home to the pond. Another hand pie topped with just a touch of whipped cream makes a lovely dessert as my family and I rehash our day and start to unwind.
Once I'm settled, I head over to the blueberry bushes to pick more plump, juicy fruit for my next batch. And just for you, I'll share this once.
Let's make some Blueberry Hand Pies.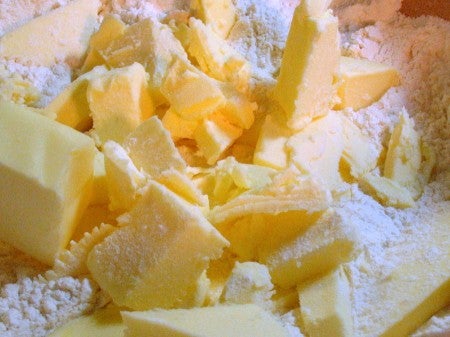 To make the dough, whisk together:
Add 1 cup (16 tablespoons) cold unsalted butter, working it in to make a coarse/crumbly mixture.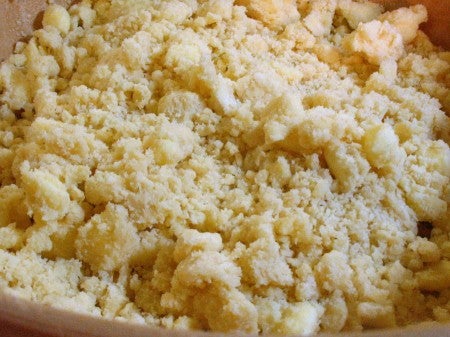 Like this. It reminds me of nice, chunky granola.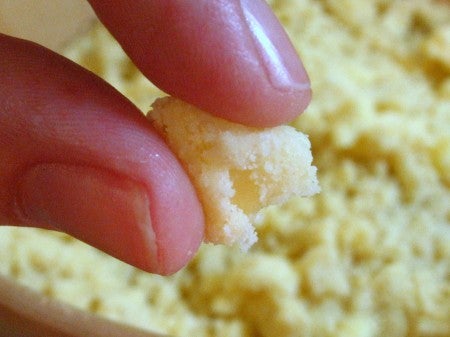 Leave most of the butter in large, pea-sized pieces.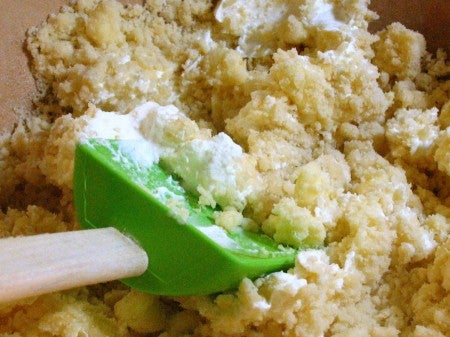 Stir in 1/2 cup cold  sour cream. It's OK if there are a few little unmixed bits at the bottom of the bowl. Those will get incorporated as you fold and roll the dough.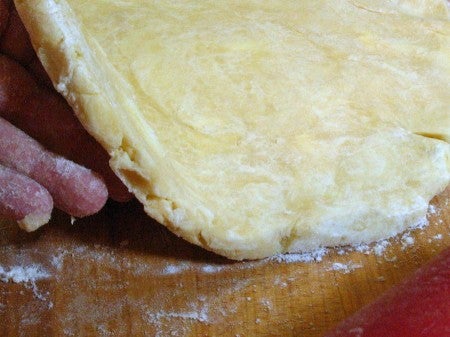 Turn the dough out onto a lightly floured surface and slide it around a bit to make sure it's not sticking to your work surface. Lift the dough, and toss a little more flour underneath, if needed.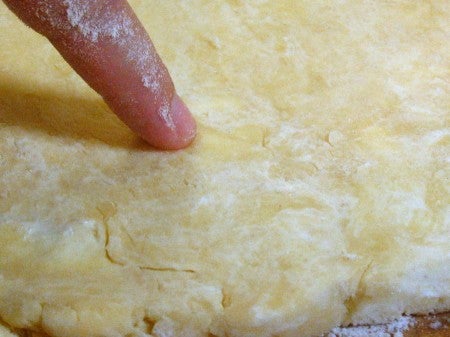 Roll the dough into an 8" x 10" rectangle.
And look! Nice big pieces of butter are still visible. Score!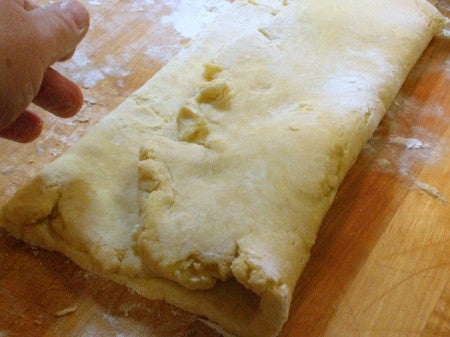 Fold the dough into thirds, as you'd fold a business letter. Turn the dough so that it's taller, rather than wider. Re-roll the dough into an 8" x 10" rectangle, and fold again.
Why fold, anyway? The folded layers of dough will become the flaky layers in your crust. As the butter melts and releases steam, it will puff up those layers. Layers rule!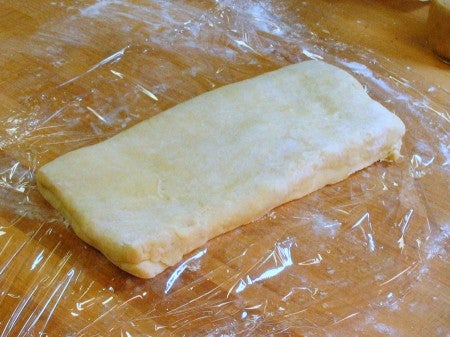 Wrap the folded bundle of dough in plastic wrap and refrigerate for at least 30 minutes. Longer is fine, too – up to overnight.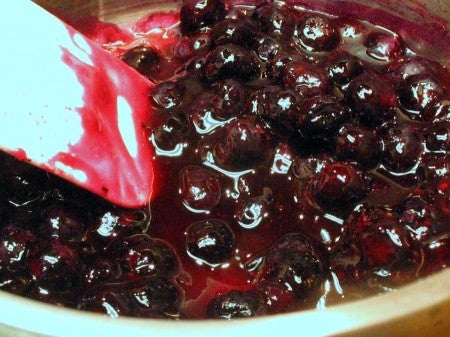 For the filling, combine 2 cups fresh or frozen blueberries, 1/4 cup sugar, 1 tablespoon Instant ClearJel and 2 teaspoons lemon juice in a small saucepan. Cook over medium heat until the sauce thickens and the berries just begin to break down, about 5 minutes. Set aside to cool.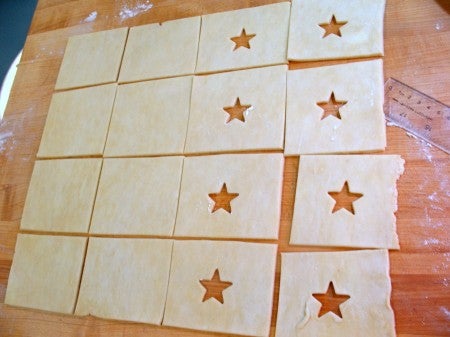 When you're ready to bake the hand pies, preheat the oven to 425°F.
Roll the chilled dough into a 14" x 14" square, and cut it into 16 squares, about 3 1/2" each. Cut the centers out of eight of the pieces. I used a tiny star, but check out these adorable cutters.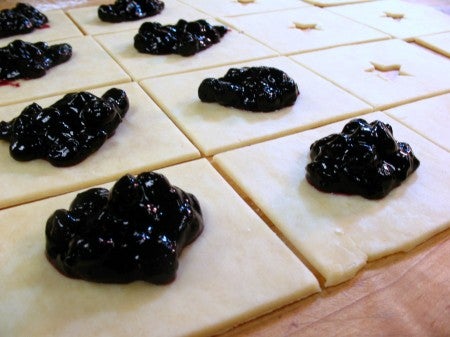 Place generous tablespoons of filling on the remaining 8 squares. Spread the filling out a bit, but leave a good 1/2" border for sealing the pies.
Place the tops with cut-outs over the filling and crimp the edges with a fork.
Using a little egg wash around the border can help seal the pies better. In a pinch, you can even use a finger dipped in cold water to help with the "gluing."
For a crunchy finish, you can brush the tops of the pies with egg wash, and sprinkle with coarse sparkling sugar. I wanted to make a light icing for this batch, so left the tops plain for now.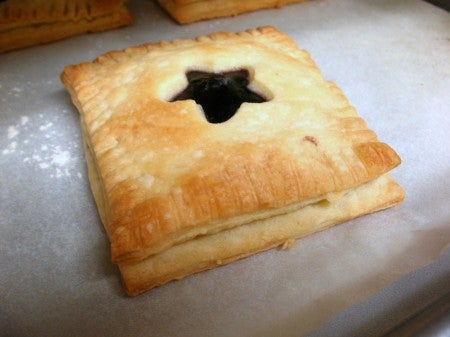 Bake the pies in the preheated 425°F oven for 18 to 20 minutes.
The pies are small, so it doesn't hurt to check early, either. When they're lovely and golden brown, remove the pies from the oven, and allow to cool for about 10 minutes.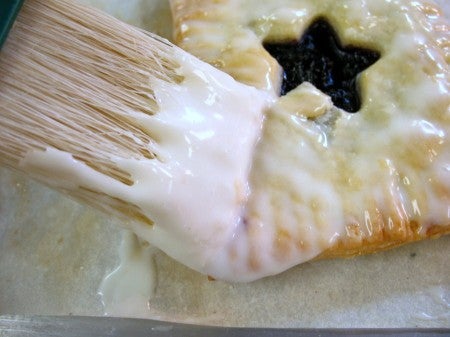 For an iced hand pie, combine 1 cup confectioners' sugar with 1/4 teaspoon Instant ClearJel and enough milk or cream to make a spreadable icing. Paint the icing on with a pastry brush or a nylon spreader.
Why add that touch of Instant ClearJel? It helps the icing set up neatly, like the icings you see on doughnuts at you-dunkin-know-where. You'll still get nice little drips, but they'll set up and not melt as they would with straight confectioners' sugar glaze.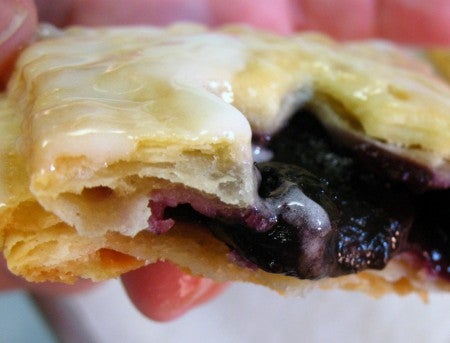 Serve the hand pies warm, or at room temperature. You'll delight in the flakiness of the pastry and the juiciness of the filling. And unlike those so-called blueberry pies at the convenience store, these are 100% blueberry, not apple or pear pieces sneaking in.
My next plan is to make one batch of apple, one of cherry, and one more blueberry. A basic pie filling recipe should yield two to three batches of hand-pie filling.
I'll leave the toppings off and freeze them in pairs. Pop them in the toaster oven while I shower, and I've got a fantastic hot breakfast ready and waiting. Who knows, I may even save one just for you. What would your favorite flavor be?
Please bake, rate, and review our recipe for Blueberry Hand Pies.
Print just the recipe.