Gluten-free cookies of the sky
From the almond cloud to pistachio paradise and hazelnut heaven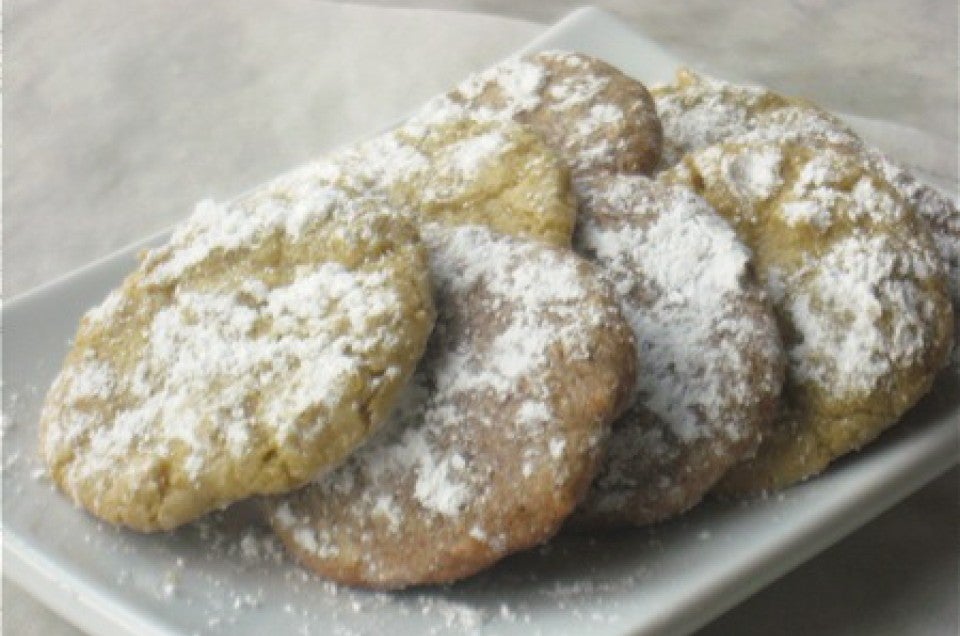 If you haven't had the chance to sink your teeth into a soft, chewy Almond Cloud cookie yet, then we're about to give you two more ethereal gluten-free incentives to get you on the bandwagon.
Our fans, gluten free or not, have held this cookie in high regards and rarely are there any left in our bakery case at the end of the day.
I wanted to make a simple substitution of the various nut pastes we sell to create other versions of the Almond Cloud, but I should have known better. Nothing is ever THAT simple.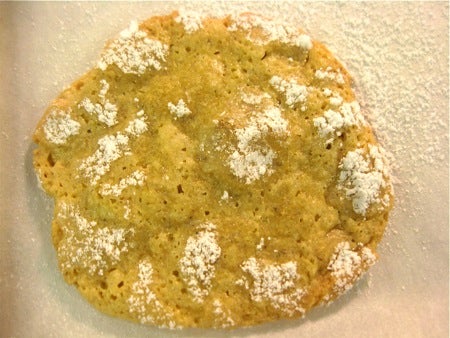 My first attempt was with pistachio paste, and I learned quickly that my potential clouds were going to be pancakes.
Using the same recipe and substituting pistachio paste for the almond paste produced a very flat, chewy cookie. It was tasty, but horrifying to the dental work. You could bend the thing like taffy and it would hold its shape like a tuile cookie.
I attempted a second version using some almond paste, which contains less fat. I used 6 ounces almond paste to 4 ounces pistachio paste. This experiment still spread a little more than I wanted and was so chewy that it felt more like a caramel in your mouth than a cookie.
Apparently the sugar added to the pistachio paste was working against me here, so I reduced the sugar by 1/2 and ended up with a cookie that was too cake-like. Uggghhh- just a few miles in the opposite texture direction.
Cookie project: Take 4. By this time, I was experiencing a painful sugar rush from all of the tasting – all the more reason to get it right this time.
I tried 2/3 cup sugar and finally achieved a balance between puff and chew. Because of the fat percentage in pistachios and hazelnuts, the new variations aren't identical to the Almond Cloud, but are satisfyingly close. The sugar content worked in favor of the texture, and the featured nut flavor wasn't overshadowed by the almond paste.
So here's that final formula for two new versions of one of our favorite cookies using pistachio and hazelnut pastes.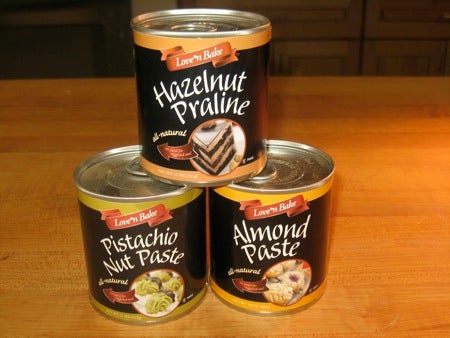 The recipe is the same for both versions. However, the pistachio paste, with its vibrant green glow, won the "most photogenic" contest; so for the purpose of modeling, I am featuring it here.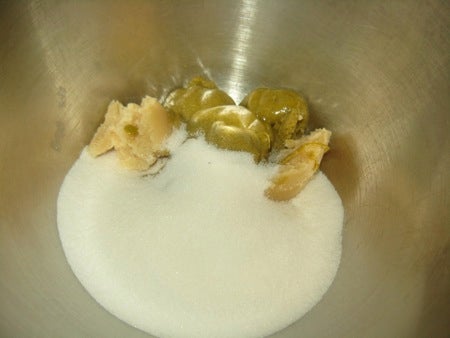 Preheat your oven to 325°F. Combine 6 ounces almond paste, 4 ounces pistachio or hazelnut paste, 2/3 cup sugar, and 1/4 teaspoon salt in your mixing bowl...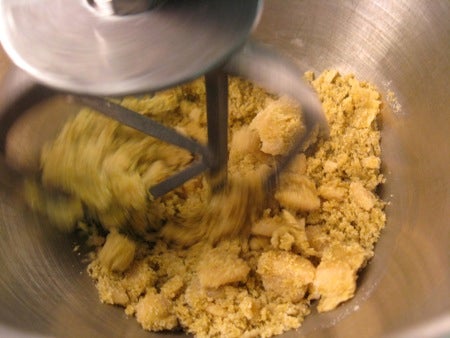 ...and blend until it reaches a uniform crumbly consistency similar to a streusel topping.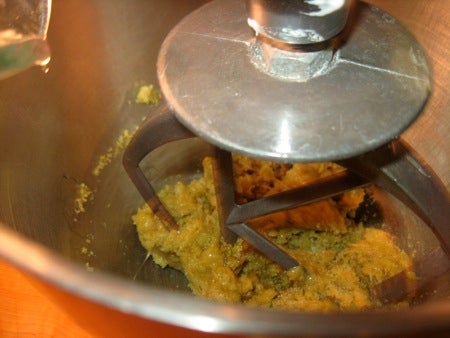 Add 2 egg whites slowly while the mixer is running and stir into a smooth paste. Stir in 1/8-1/4 teaspoon of either pistachio or creamy hazelnut flavor.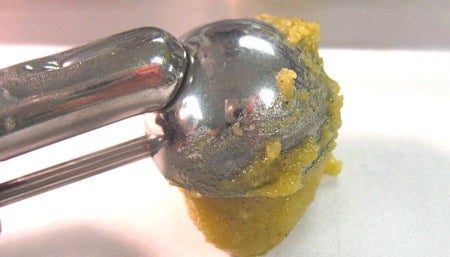 Drop by the tablespoon cookie scoopful onto lightly greased or parchment-lined baking sheets.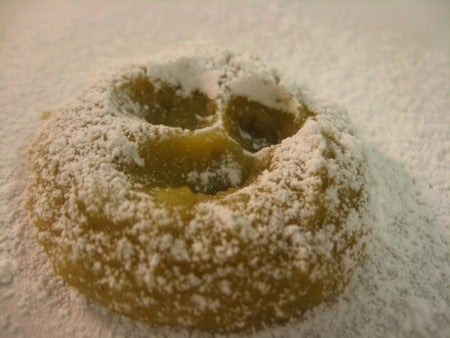 Dust generously with confectioners' sugar. Using three fingers, make indentations in the top of the dough. I found it helpful to keep my fingertips wet during this process.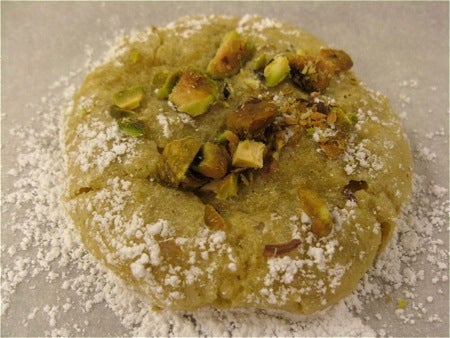 Bake at 350°F for 20 to 25 minutes, remove from the oven, and allow to cool right on the pan.
I happened to garnish this batch with some chopped pistachios before baking...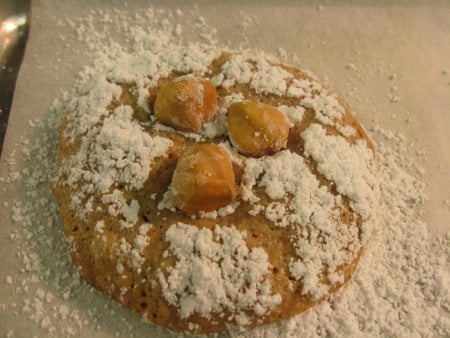 ...and here, with toasted hazelnuts (a.k.a filberts). Dipping this one halfway in dark chocolate would bring it to the divine realm. Wish I had thought of that sooner.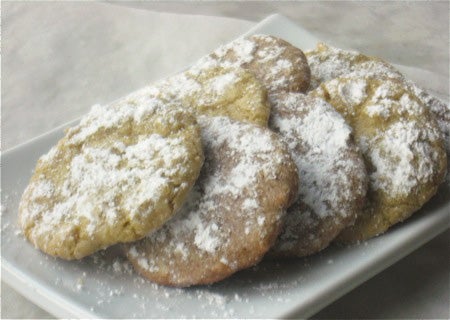 Please read, rate and review our recipe for Almond Cloud Cookies and note the variations in the tips section.
Print just the recipe.