Cool! Easy homemade ice cream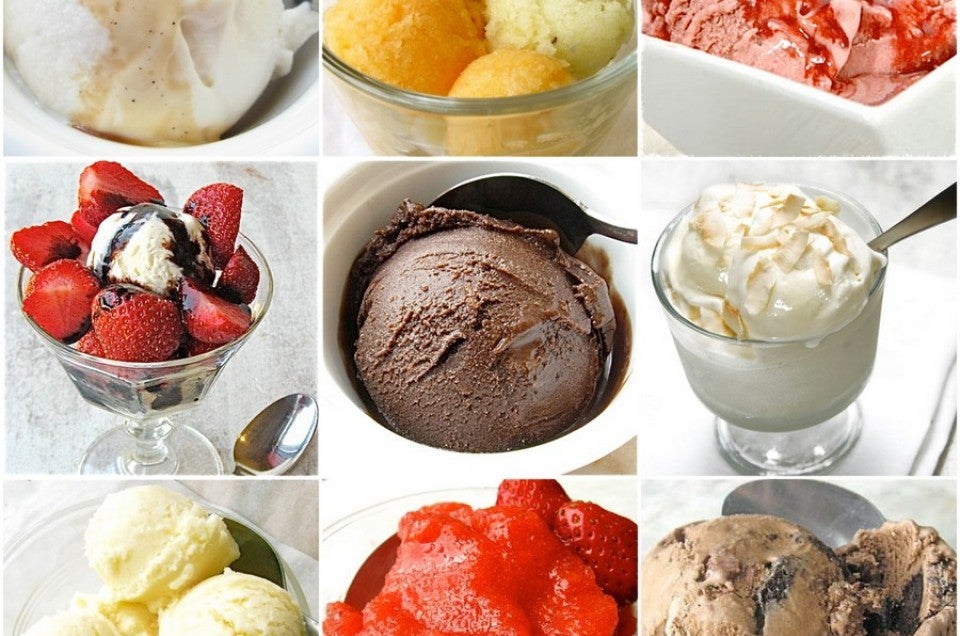 Fudge chocolate chip toffee crunch ice cream.
Strawberry-mango sorbet.
Ginger-peach frozen yogurt.
We all have an ice cream flavor of our dreams, don't we?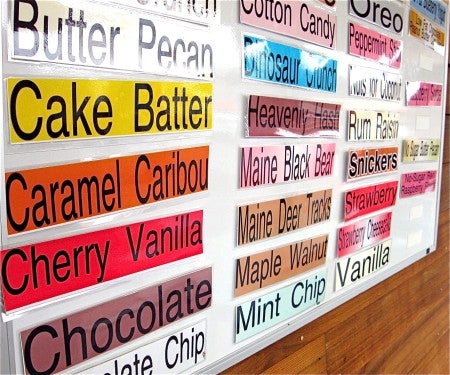 The one that pops into our head while standing in line at the ice cream stand, scanning the 45 flavors and NOT finding Strawberry Chocolate Chip.
I still lament the disappearance of Friendly's Chocolate Marshmallow. Sounds simple, but oh, the deep-dark chocolate ice cream... the thick swirl of sticky white marshmallow, just enough to soften the chocolate's bitter edge...
These days, gelato is everyone's new best friend. And yes, it's awesome stuff: thick, rich without seeming heavy, and incredibly flavorful.
But if you can even find gelato in your local supermarket (to say nothing of fresh-scooped gelato), it's liable to be prohibitively expensive.
You thought Ben & Jerry's was premium? Try buying real gelato.
Which is why you might want to consider making homemade ice cream. Yup, right there in your own kitchen.
Homemade ice cream can be as simple as a spoon, bowl, and your refrigerator's freezer compartment. Or as complicated (read: expensive) as a gelato machine costing upwards of $1,200.
Thankfully, there's lots of ground in between those extremes. And here in the King Arthur test kitchen, we make our frozen treats with Cuisinart's simple electric ice cream maker.
Sales pitch? You bet. But unlike many smoke-and-mirrors, "don't read the fine print" ads you probably see on a daily basis, this one is absolutely true.
You can make fabulous homemade ice cream VERY easily with a simple $59.95 electric ice cream maker.
We've tested other brands, and other models; and we've found the Cuisinart offers the best balance between performance and price.
Sure, you can spend a LOT of money on a home ice cream maker; but the possible uptick in ice cream quality just isn't worth the huge difference in price – at least to us cheapskate frugal northern New Englanders.
Also, when you make your own, you can control the ingredients. Julie, an ice-cream-loving member of our Web team, says, "We've recently gotten into making our own ice cream and discovered how easy it is and how much fun. The reason we started was after reading all the unpronounceable words in the ingredients on store-bought ice cream."
Simple is beautiful.
How easy is it to make your own Mocha Madness ice cream?
Just watch.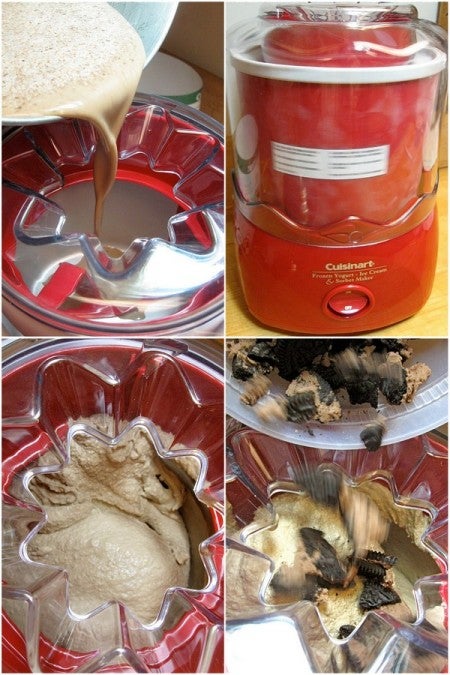 First, stir together milk, cream, sugar, espresso powder, cocoa powder, and vanilla.
Pour into the ice cream maker's canister. Put on the lid, and press the power button.
Go cool your heels for 25 minutes, while the machine does its work.
When the ice cream is soft-serve consistency, add chopped-up Oreos (I like the chocolate-filled ones). Turn off the machine, scoop the ice cream out of the bucket, and enjoy.
At this point it'll be soft-serve consistency.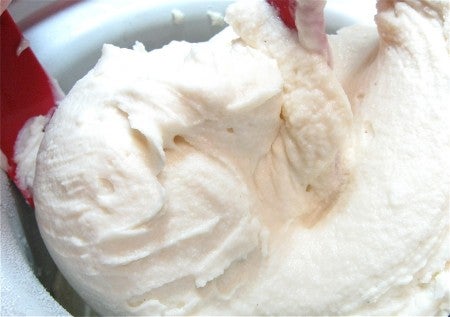 Like this frozen yogurt.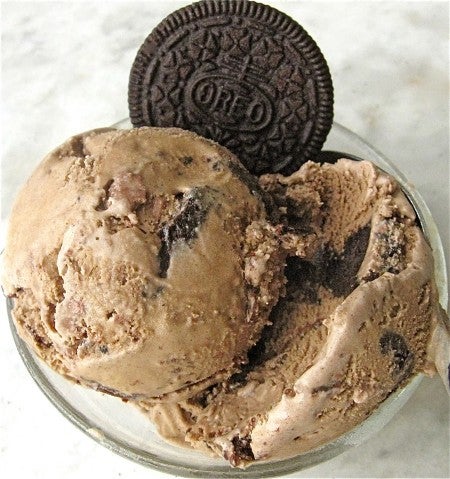 For harder ice cream, stick it in the freezer compartment of your fridge for 2 to 3 hours, until it's the consistency you like.
BTW, here's a good tip: Most homemade ice cream becomes rock-hard when stored in the freezer longer than 6 hours or so. To keep ice cream hard but not rock-hard, stir in 1 to 4 tablespoons liquor before placing in the freezer. Use vodka, brandy, or match a liqueur to your ice cream flavor: I've used Kahlua in the ice cream above.
So, what's up with that? The alcohol in the liquor acts as anti-freeze, and the ice cream stays hard, but scoopably so.
So, that's homemade ice cream. Easy, right?
If you need more proof, check out our various "cool" blogs, where you'll see how to make not just ice cream, but frozen yogurt, sorbet, and even American-style gelato – no $1,200 machine needed! Happy scooping –
Vanilla Frozen Yogurt
Sorbet Two Ways
Tart Cherry Ice Cream
Strawberries and Balsamic à la Mode
Chocolate Decadence
Coconut Ice Cream
Pineapple-Coconut Gelato
Strawberry Sorbet
Mocha Madness
And, to top them all off: