Citrus Surprise Grapefruit Cake
Surprise! It's 100% Whole Wheat!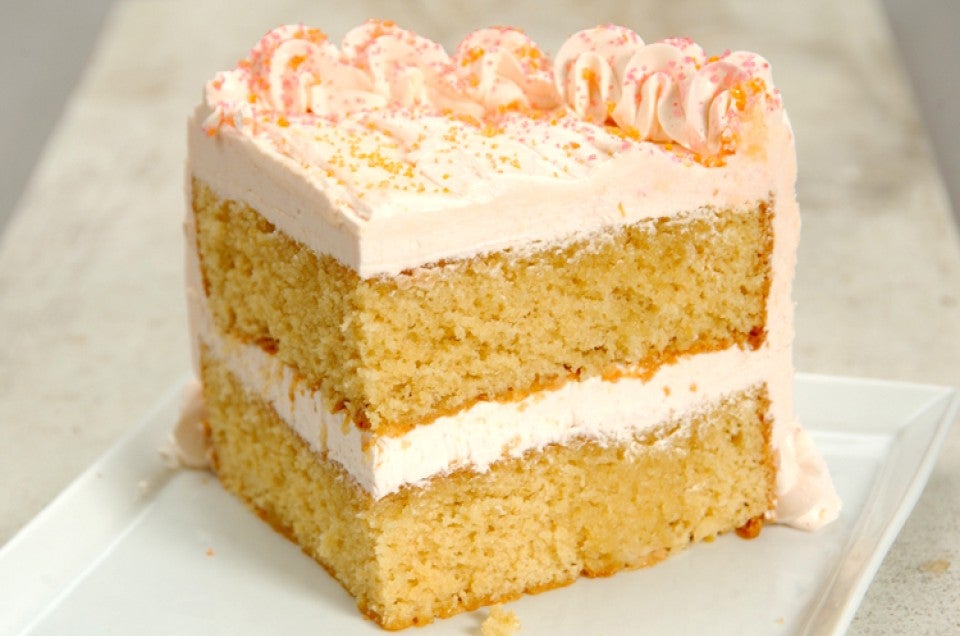 Ah, the giddy days in the kitchen. You know the ones, where you suddenly see Al Pacino's face in your morning toast, or you sing "Heard It Through the Grapevine" while measuring out your raisins (complete with hand rolls, if you lived through the '80s). I'm prone to juggling oranges and lemons and, ...
...when grapefruit is involved, I've been known to hold the fruit aloft in one hand, Hamlet-style, and wax poetic about knowing poor Yorick well.
Cue the eye-rolling and catcalls of "get off the stage!" from my teen, but I keep myself entertained. In these times when a gallon of milk outprices a gallon of gas, we all need as much laughter in our day as we can get.
So, were you surprised to see a recipe for a layer cake that's 100% whole wheat? I know I was when I read the original recipe in our Whole Grains Baking book.
I fully expected the ingredient list to call for whole wheat pastry flour, the flour of choice for whole wheat pastries, but was pleasantly surprised to see that it called for our King Arthur White Whole Wheat Flour, a pantry staple in our kitchen.
This cake starts with a cloud of whipped egg whites that work to keep it light. Vegetable oil takes the place of butter, making this a classic chiffon cake. It's really one of the easiest types of cakes to make, and yields an especially tender and light dessert.
Let's make Citrus Surprise Grapefruit Cake.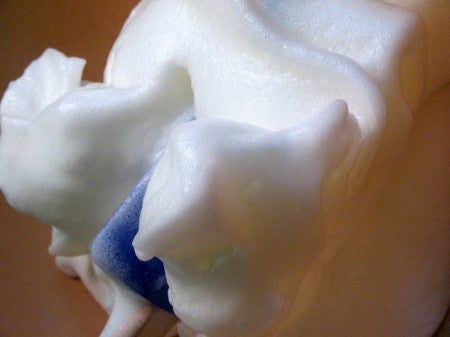 Separate 5 large eggs carefully, setting the yolks aside and adding the whites to the bowl of your mixer. Be diligent about keeping the yolks out of the whites, as even a little yolk will affect how the whites whip up.
Beat the whites until they begin to foam, then add 1/4 teaspoon cream of tartar. Continue to whip until the whites are stiff, but not dry. "Billowy" is a good way to describe them at this stage.
Scrape the whites gently into a clean bowl, and set aside. You'll use the same bowl to mix up the rest of the batter, so no need to wash it.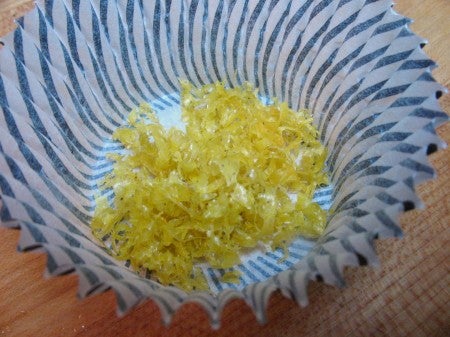 Grate 1 tablespoon peel from a fresh grapefruit; this grated peel is called "zest." A spare cupcake paper makes a handy place to keep the zest.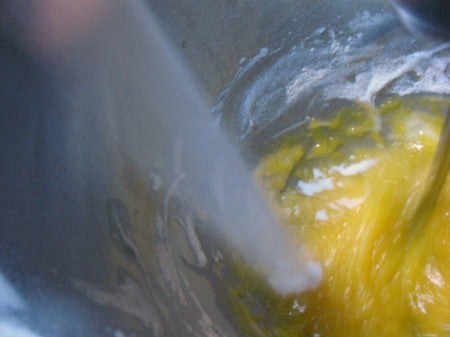 Add the 5 egg yolks and 1/2 cup vegetable oil to the bowl, and beat at low speed. Slowly add  1 1/2 cups of sugar as the mixture thickens and turns lighter in color.
Add 1/3 cup water and 1/4 cup freshly squeezed grapefruit juice. That's right, give Yorick a good squeeze in the head, and strain any seeds from the juice until you have 1/4 cup.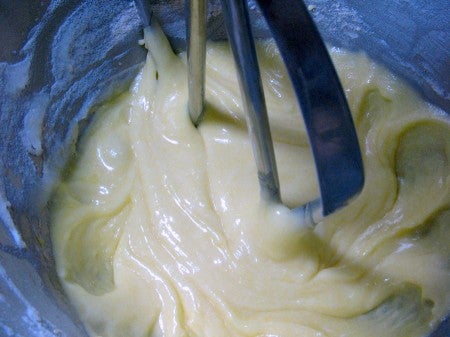 Beat the batter for 3 minutes on medium speed, then mix in the zest.
In a small bowl whisk together 2 cups King Arthur White Whole Wheat Flour, 2 teaspoons baking powder, and 1/2 teaspoon salt. Add this dry mixture to the batter and beat just until combined, about 30 seconds.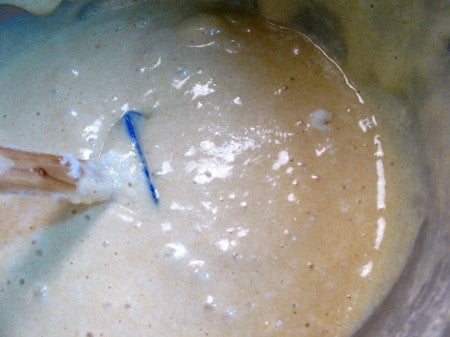 With a wide rubber spatula, fold the whipped egg whites into the cake batter in three stages. Fold just until a few streaks of white remain. Take care not to over-beat, as this will deflate the whites and make for a heavy cake.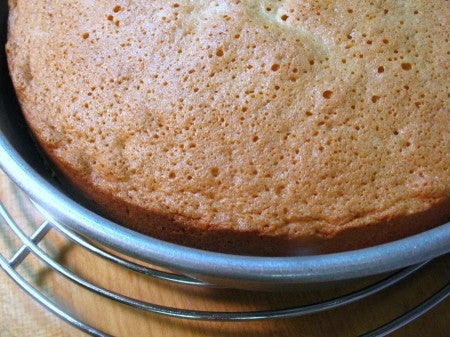 Divide the batter evenly into two 9" round pans that have  been greased and lined with parchment paper. Bake at 350°F for 20 to 25 minutes. A cake tester inserted into the center of one of the layers will come out clean, and the cake will begin to pull away from the sides of the pans.
Run a nylon spreader around the cake edges, and let cool in the pans for 10 minutes before turning out onto a wire rack to cool completely.
The original recipe calls for cream cheese icing laced with a little more grapefruit zest, but I'm on an Italian buttercream kick right now, so that's what I chose.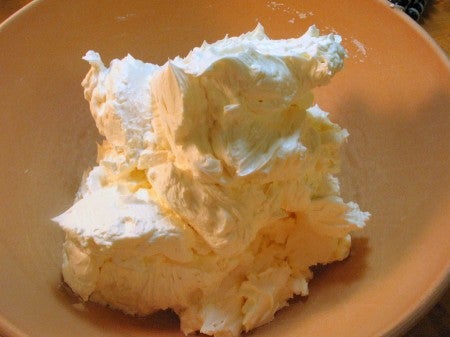 You'll need about 3 cups of prepared icing. Add 2 to 3 teaspoons of grapefruit zest to the icing, and a tablespoon of grapefruit juice, or to taste. I added 3 drops of pink food coloring and 1 drop of orange color to turn the icing a lovely pink grapefruit color.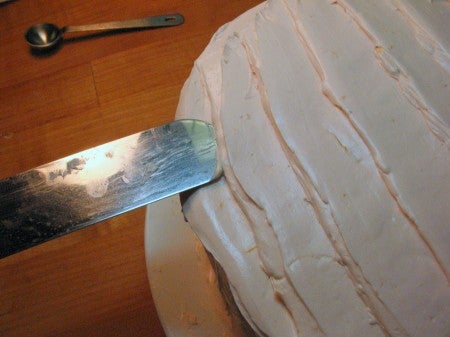 To make a beveled top on the icing, ice the top of the cake as usual, then run the tip of an offset spatula across in stripes from right to left. Press the tip in slightly to create panels that appear to overlap as they cross the top of the cake.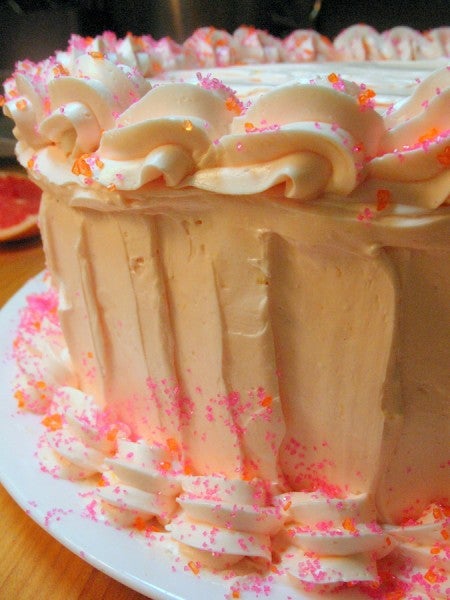 You can do the same thing around the edge of the cake, always working in the same direction. If you're feeling fancy, you can pipe on a border and add some colored sugars, too.
Again, I used a blend of pink and orange to give that pink grapefruit feel to the cake. By the end of the day I was feeling positively tropical!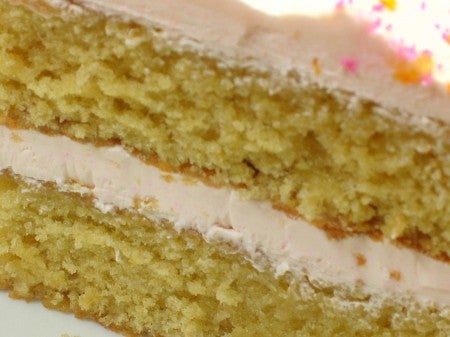 Isn't that a lovely slice of cake? Check out the tender crumb, the light color and texture.
Now be honest, was your first thought "whole wheat"? I'm going to guess not. This cake certainly didn't last long on the tasting table and I've actually been craving it for the past week, so you know another is in the works. I guess I'd better polish up my Hamlet... To cake, or not to cake; it's not really a question, now is it?
Please bake, rate and review our recipe for Citrus Surprise Grapefruit Cake.
Print just the recipe.