Learn to bake.
Who knew those three short words could encompass such a huge world of possibility?
Take a virtual tour of our new Baking Education Center here in Norwich, Vermont. And join one of the first classes held there as we make the definition of comfort food –
Bread and soup.
First, a bit of visual background.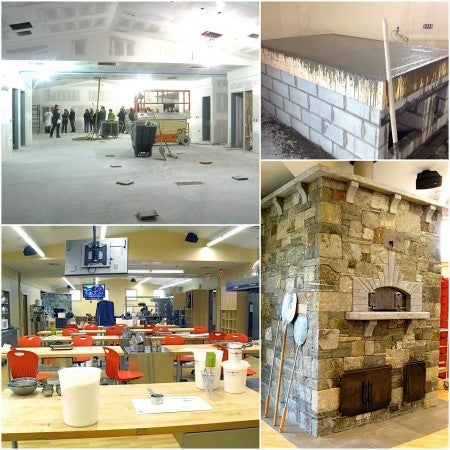 Just 3 short months ago, our new education center was awaiting ovens and sinks, tables and chairs, overhead monitors and storage racks and counters and everything else necessary to turn a large, empty room into two state-of-the-art classrooms.
One of the first projects started (and last completed) was the huge stone wood-burning pizza and bread oven. Its chimney was finally installed just hours before the first class.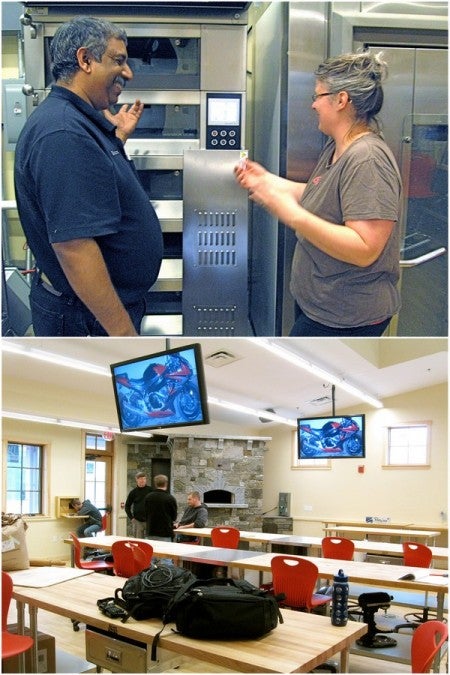 The new, computerized deck ovens took some getting used to.
"So, you have to push all those buttons to make it start, and it only takes one button to delete everything you just programmed in?"
Technology is our friend - most of the time. The ovens took some getting used to for our instructors, but they do bake beautifully.
OK, guys – 12 hours until the first class starts. Time to clear out the construction gear and get the motorcycle photos down off the overhead monitors!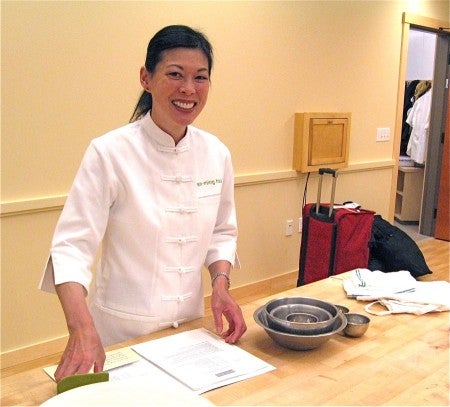 Our very first class was held May 4, with Chef En-ming Hsu, former captain of the U.S. Pastry Team and noted chocolatier, leading a sold-out class on – of course – chocolate.
The class I attended, held a week later, is one of our long-time favorites: Bread and Soup Suppers.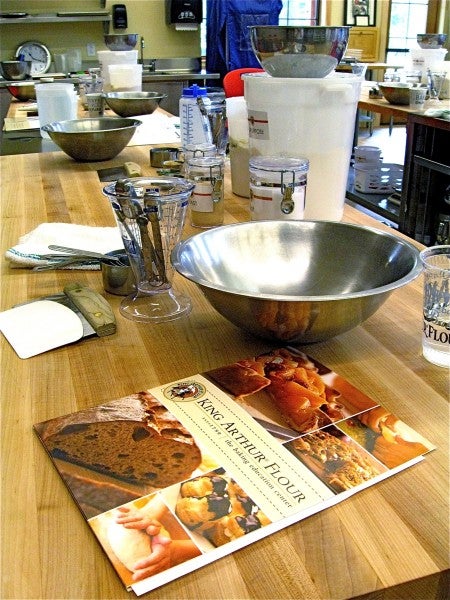 Looks like everything's ready. All we need are the students!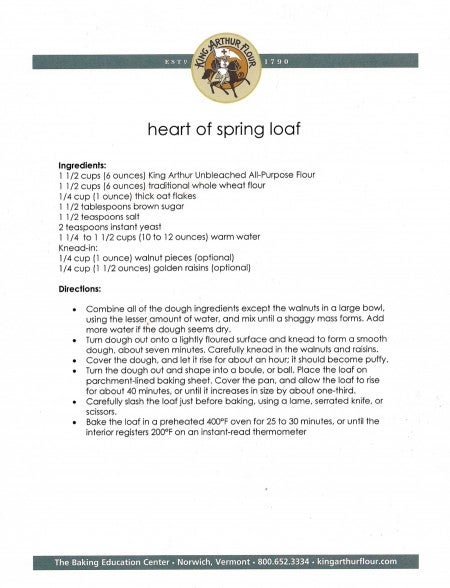 Here's the first recipe.
And here they come –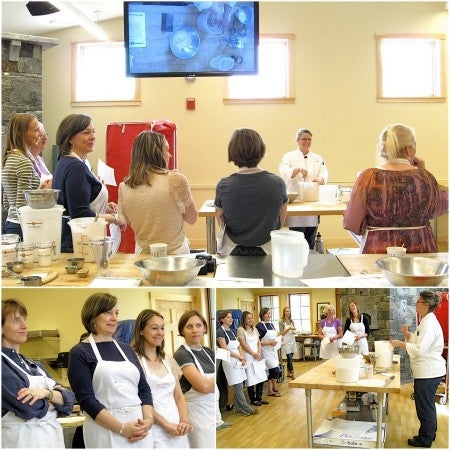 A full complement of a dozen students gathered, settled in, introduced themselves, and immediately went to the head of the class for King Arthur instructor Jess Meyers' introduction.
Large overhead monitors make it easy for everyone in the room to see what's going on up front, but Jess still likes to get up close and personal with her students.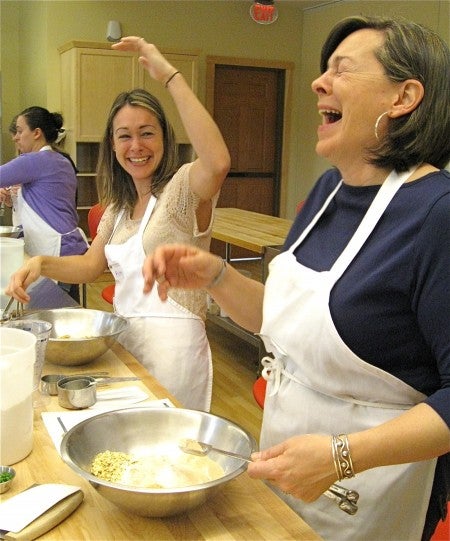 OK, let's make yeast bread: the first loaf ever, for some of the students.
"Whoops - I thought that was a TEASPOON measure, not a tablespoon..."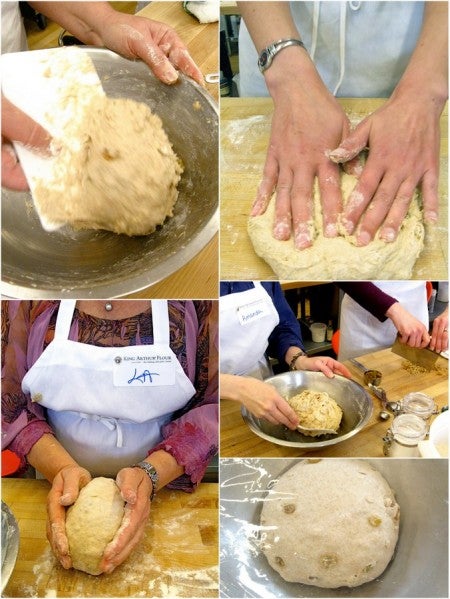 Mix the dough in the bowl, then knead – using JUST enough flour – then shape into a ball, and place in a bowl covered with plastic wrap.
Question: "Don't you have to grease the top of the dough? I'd always heard that was important."
Jess: "That's a holdover from the days before plastic wrap, when loaves tended to dry out under their covering of a tea towel. No need to grease the dough these days."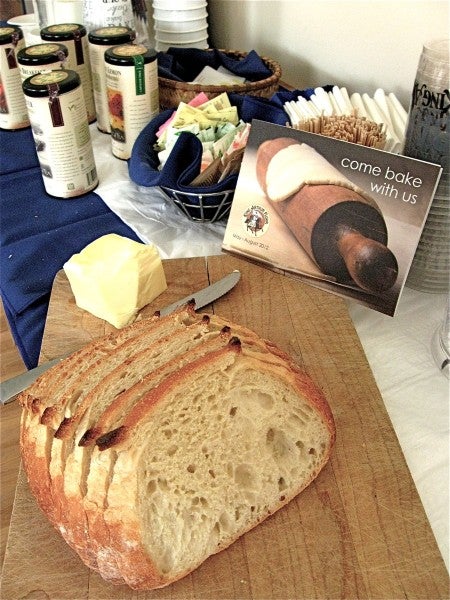 Break time - fresh bread from our bakery, Vermont butter, and lots of tea and coffee selections.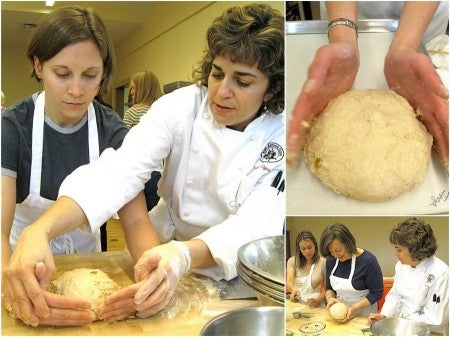 Fast forward: the dough has risen, and it's time for shaping.
Instructor Karen Ogrinc favors the hands-on approach, showing Stephanie how to gently pull the sticky dough towards herself to shape a smooth ball.
Loaves shaped and rising, it's time to move on to soup.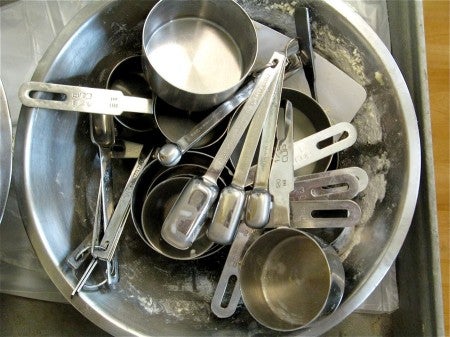 Luckily, this isn't like home, where you have to clean up as you go. Our King Arthur staff takes care of the dishes. Bonus!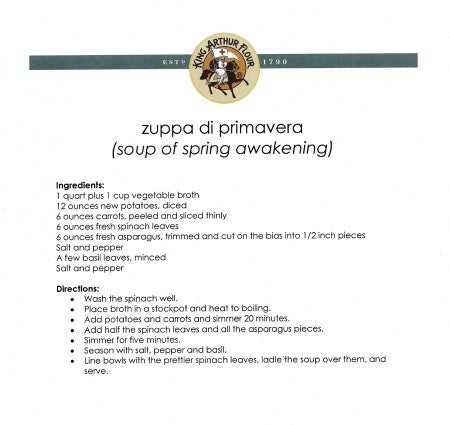 A lovely recipe for May.
Students also made Spring Pea Soup, a vibrant green salute to the season's new crop of peas; and Chive Biscuits, the perfect accompaniment.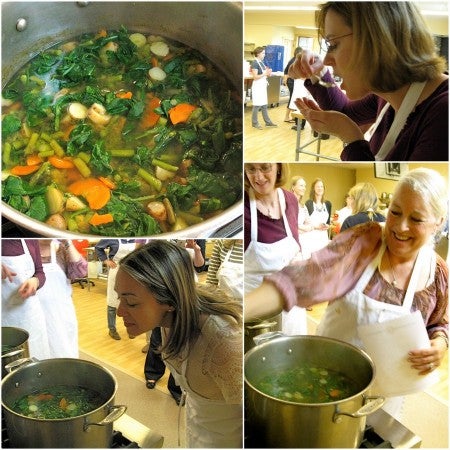 For the Zuppa, students collaborated on chopping vegetables, seasoning, stirring, tasting and, of course, enjoying the enticing aroma of bubbling soup.
The bread's risen – time to get it into the oven.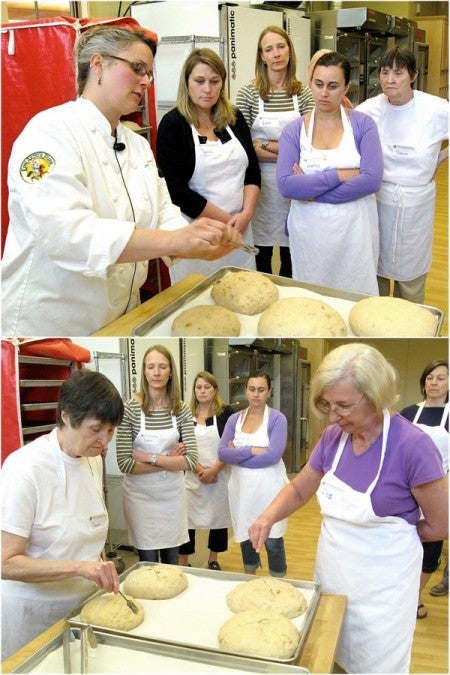 But first, it needs to be slashed. Jess shows and explains technique; "Use the tip of the blade only; don't let the end drag through the dough."
Then each student slashes her own loaf.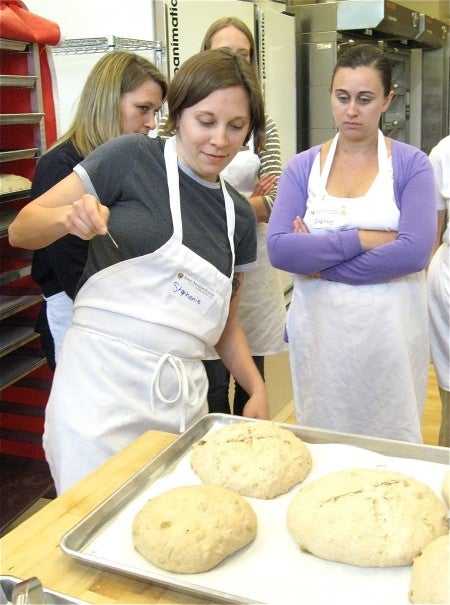 Some with a bit of body language!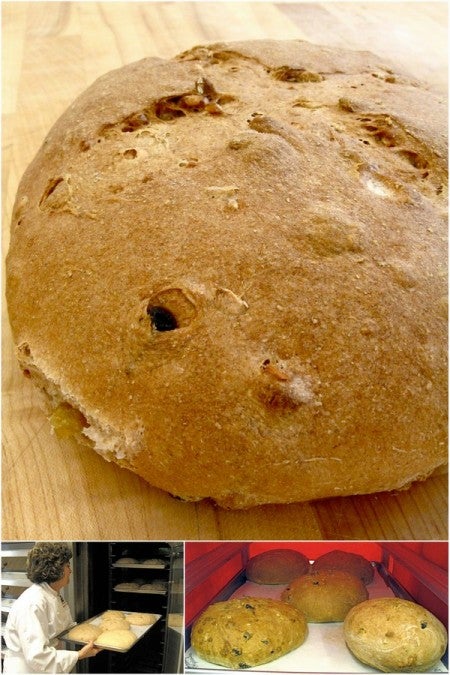 Karen quickly gets the loaves into the oven, and just about 30 minutes later, pulls out hot, fresh bread.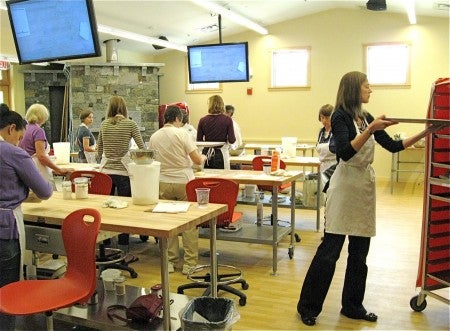 The class nearing its end, students tidy their work area in preparation for sitting down and enjoying the fruit (make that bread and soup) of their labors.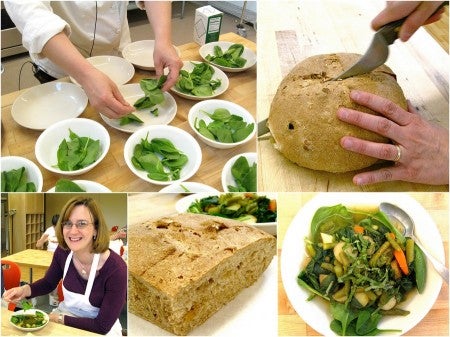 Jess readies the bowls and cuts into a loaf of warm bread.
Question: "I thought you weren't supposed to cut bread while it's hot."
Jess: "You're not. You don't see me doing this."
Ah, warm bread. Hot soup.
Smiles all around.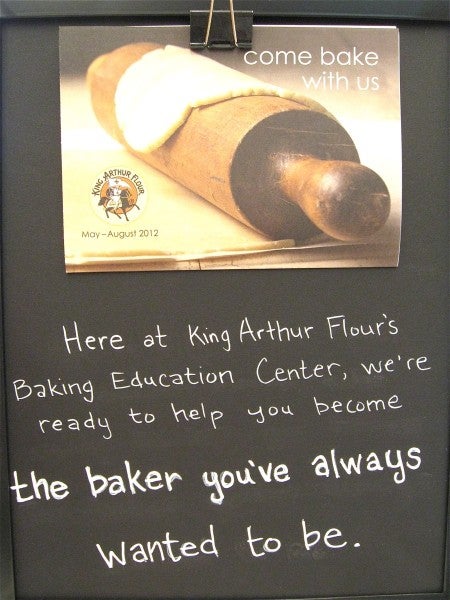 Come bake with us!
Check out the BEC's calendar for information on upcoming classes.
And, for a chance to win a FREE class at the BEC – along with a passel of other fabulous prizes – enter our Vermont Dream Getaway Sweepstakes, now through June 30, 2012. Good luck!