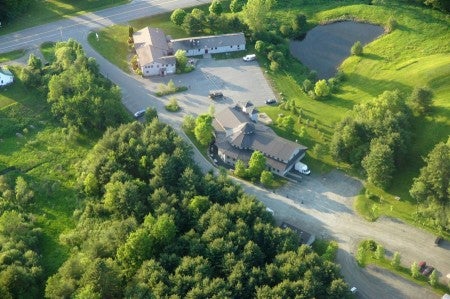 The rain may never fall till after sundown.
By eight, the morning fog must disappear.
In short, there's simply not
A more congenial spot
For happily-ever-aftering
Than here in Camelot. - from the musical "Camelot," Alan Jay Lerner and Frederick Loewe
Do you see that lovely scene above? It's Camelot, our King Arthur Flour campus – Baker's Store, Bakery, and Baking Education Center – in Norwich, Vermont, taken on a green and sunny day in late spring, 2011.
We've been at this particular location since 1995. And, with the pond and lots of trees, it's beautiful.
Problem is, we grew. And grew, and grew, until at many times of the year we couldn't squeeze another customer inside the store.
Classes at the BEC sold out so quickly we couldn't schedule enough of them to satisfy all of our would-be students.
And our Bakery was hard-pressed to turn out the number of baguettes and napoleons and pizzas demanded by the many folks looking for a fresh-baked treat.
So, what's a business to do?
Grow!
Which, in the economic climate we've all been experiencing, is music to our regional economy's ears.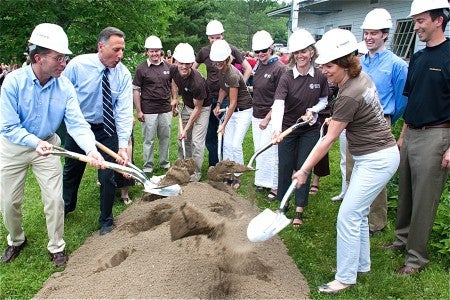 As most big building products do, this one all started with a few ceremonial shovelfuls of earth, turned over on a warm day last June.
And gradually, over the course of the next 10 months, a new building appeared alongside our original one.
Now, our store, café, bakery, and education center are all part of one large complex.
But I'm getting ahead of myself.
Let's dig into the story a bit –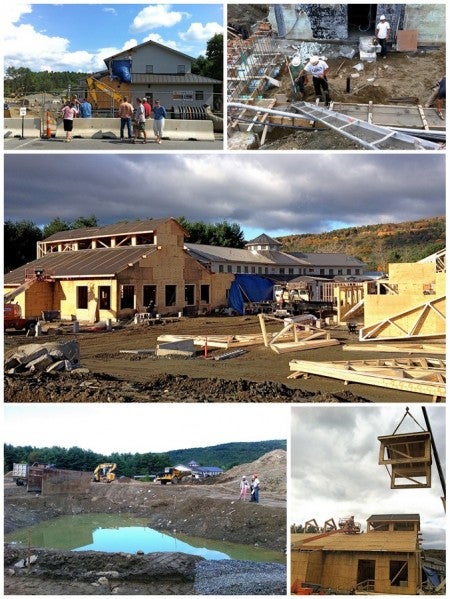 Those first shovelfuls of earth at our groundbreaking ceremony were a portent of things to come: massive amounts of earth were moved over the course of the project, as we built a new road and parking lots in addition to the building.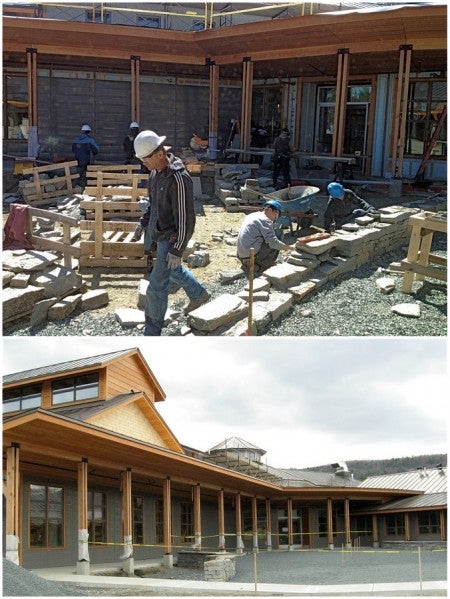 Our construction crews also moved tons of stone, constructing walls that now grace a sunny open courtyard.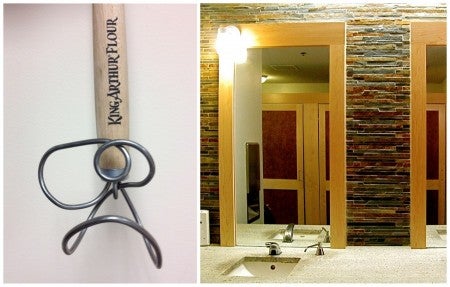 One of the very first parts of the project completed was the bathrooms. And, I have to say – they're really nice bathrooms, and we're proud of them!
At one point we discovered the coat hooks on the back of the stall doors were uncomfortably high for many of our customers; so we found a temporary solution: Danish dough whisks, bent to shape.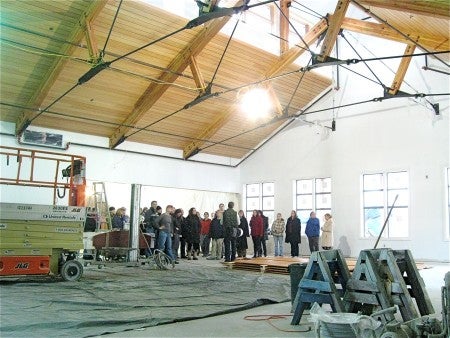 By late March, things were really starting to take shape. A group of us toured what would become the new store on a gray, chilly afternoon. Despite the somber late-afternoon light, we could see how wonderfully bright and cheery the new space was going to be.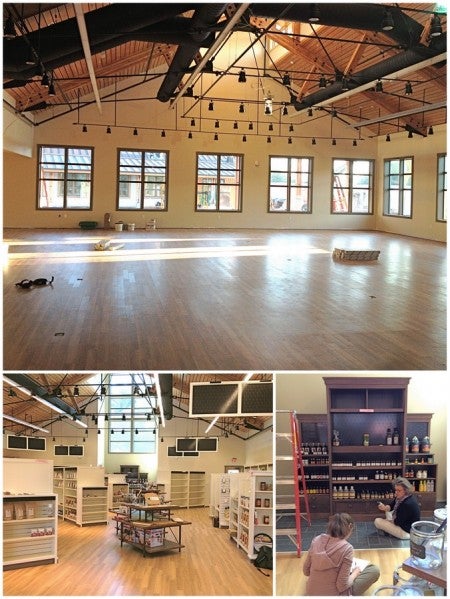 Early April: let's fill this big empty space!
The shelves come in. The chalkboard ceiling signs (not yet painted) go up. Teams start unpacking and shelving new inventory.
Finally, the big day arrives: time to move in and get this new store open!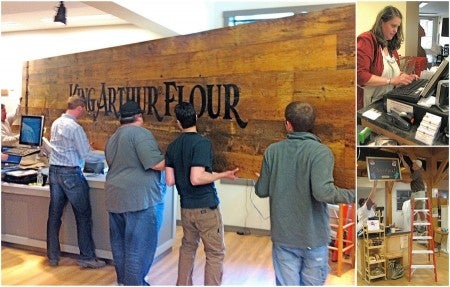 We didn't want to disrupt anyone's shopping, so made the move from old store to new in one long Sunday night: April 15. After cashing out the final customer, the old checkout sign was taken down. And a massive wooden sign was installed behind the registers in the new store.
But that was just the beginning.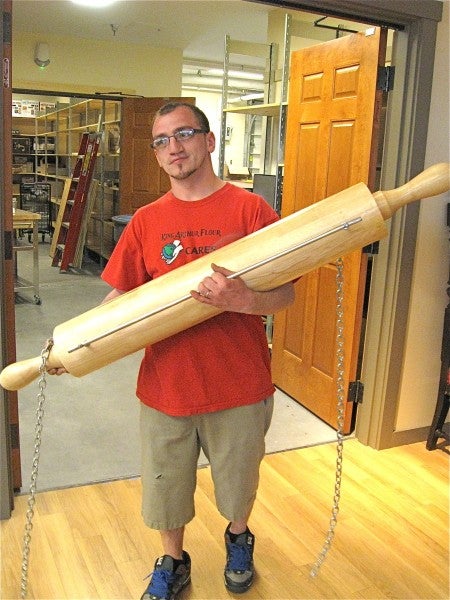 Everything had to be moved from old store to new – in one night. Including the giant rolling pin hanging over our old front door.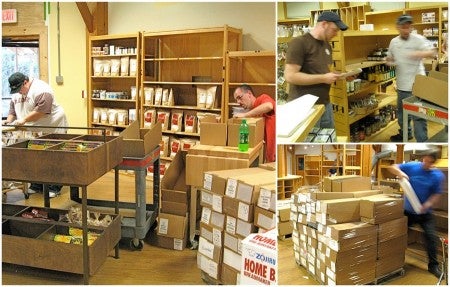 As one group counted and checked and boxed products and shrink-wrapped pallets...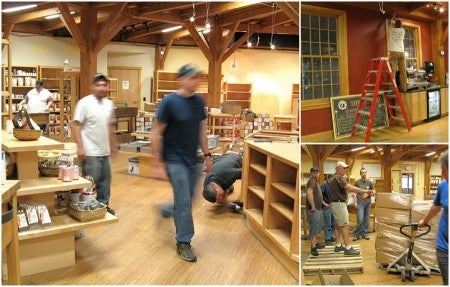 ...another moved them into the new space. As you can see, everyone was hustling.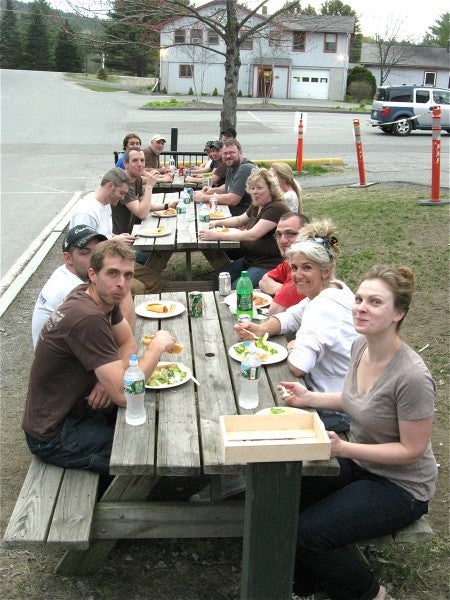 Still, we managed to find time for a quick pizza and salad supper on a patch of greening grass out front.
Thankfully, the evening was  unseasonably warm and bug-free; it was great getting some fresh air.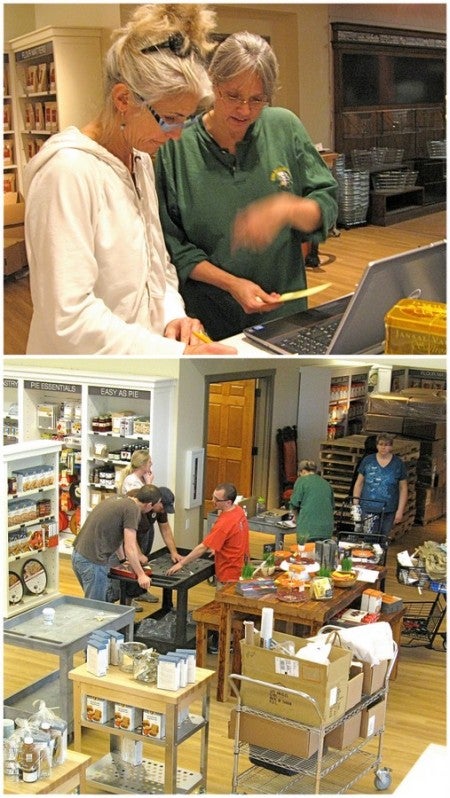 Between computer tracking and lots of quick huddles, we were able to figure out where everything was supposed to go – and get it there.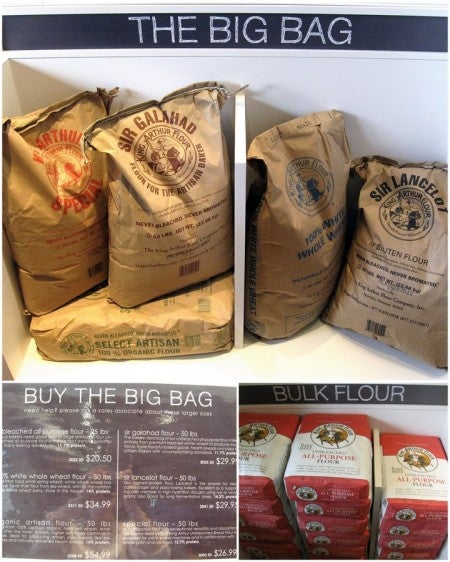 Here's one of my favorite features in the new store: bulk flour. Unbleached all-purpose flour in 25- and 50-lb. bags; and bread flour, high-gluten, white wheat, and organic artisan flour in 50-lb. bags.
Looking for some super prices on flour? Come on up!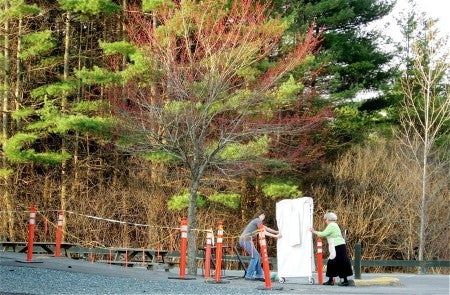 Monday, April 16, dawned clear and warm. The day began before 7 a.m., with store team members rolling racks of baguettes and pastries across the parking lot from our old Bakery to the new store. (The Bakery has since moved into its new space.)
There were signs that we weren't QUITE ready for prime time; but heck, we still had 30 minutes before our official opening!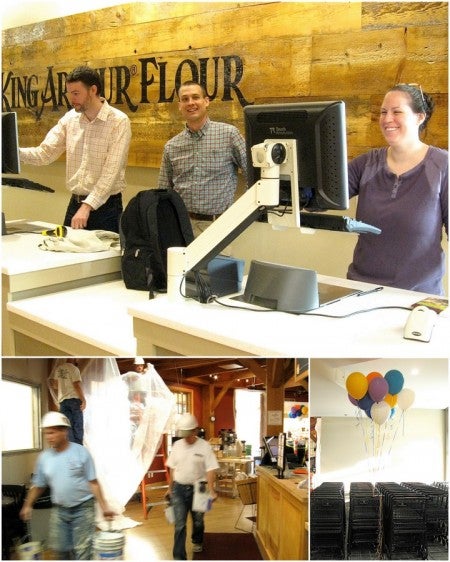 Plenty of time for our IT team to set up the new cash registers. And for the hardworking construction crew to finish up a few last details.
And for the balloons to arrive.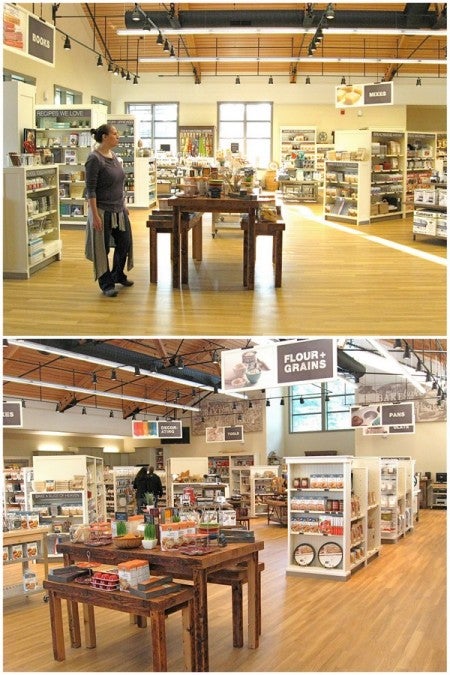 At last... we're ready!
Did someone try the hand-cranked mill? Check.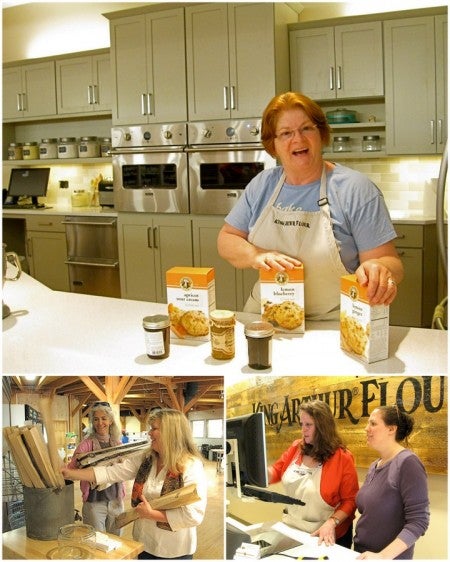 It's time to start baking samples for our new demo kitchen/sample area.
And stock a bin with baguettes - free baguettes to the first 25 customers!
And make one last run-through on the new cash registers.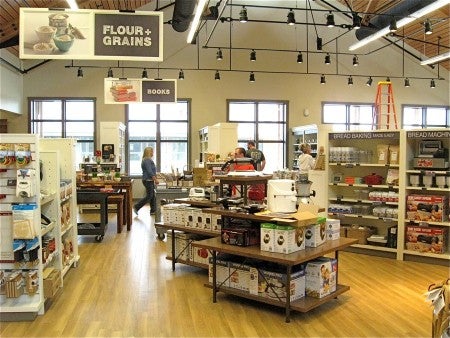 7:30 a.m. We're open for business!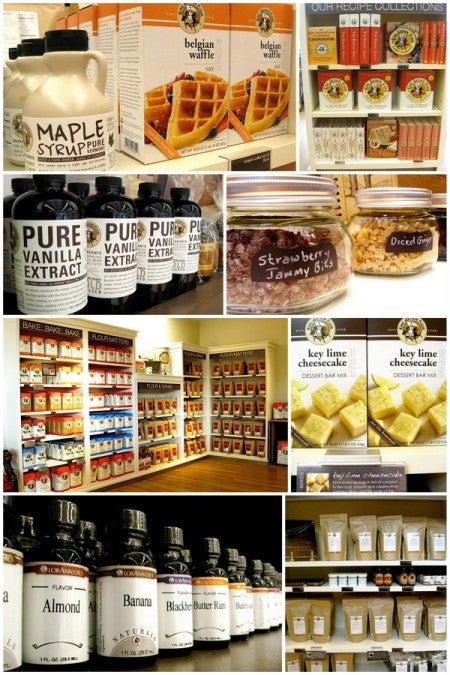 So, at the end of the (long) day, what's King Arthur Flour's most important ingredient?
You!
Rowan Carroll, a local resident and Baker's Store regular, was the very first customer in our new store Monday morning.
We surprised Rowan with a gift tote, emblematic of her "first customer" status. Clearly, she was thrilled and happy.
And so are we. We look forward to welcoming you to our new campus soon!
Construction continues on our new café, which will include an extensive soup, salad, and sandwich menu and seating for 63. Our new Bakery opens this week; featuring large viewing windows, it offers a great opportunity to watch our bakers at work.
Finally, our new education center opens the second week in May, with a schedule featuring celebrity guest bakers, our own seasoned staff, and an array of classes ranging from Mediterranean breads to bagels and bialys to spring and summer pies.
Interested in the blog posts leading up to this one? Check out our construction updates, stretching back to last July –
Building our future – from a hole (in the ground) up
Lost and found: pieces of King Arthur history
Like trees in autumn, changes happen overnight at The Baker's Store
King Arthur Flour from an eye in the sky
Behind the construction tape: exclusive expansion sneak peek!