WOW – I love it!
Um... what is it?
I have no idea.
Welcome to the fifth annual April Fool's edition of Baking Banter, our King Arthur Flour blog.
You assume we're experts, right? The ones who can whip up a stunning new recipe in a flash, pull pretty-as-a-picture treats out of the oven every single time, and never spill, drip, splash, drop, or create flour-bomb explosions?
Well, this post is here to disprove your assumptions.
Each year on this date we provide evidence that April Fools' Day isn't confined to April 1 – it's a regular occurrence here in the King Arthur test kitchen.
And why are we so ready to admit this? Because, as always -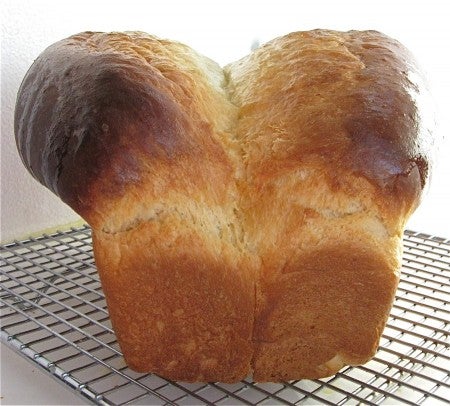 We make the mistakes so you don't have to!
Guess this slick method of making split-top buttertop bread isn't exactly a slam-dunk.
Some of our other loaves didn't fare too well, either.
Nor did our biscuits.
Yes, the biscuit on the left really was baked. Same recipe, same time, same temperature as the one on the right.
But we used severely outdated baking powder in that white flop on the left.
"Oh, it'll probably still work..."
Or not.
Picky, picky...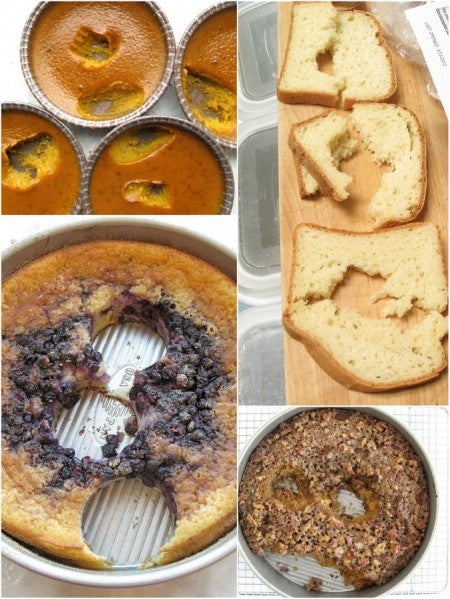 As I said, picky, picky... who's been picking at this stuff?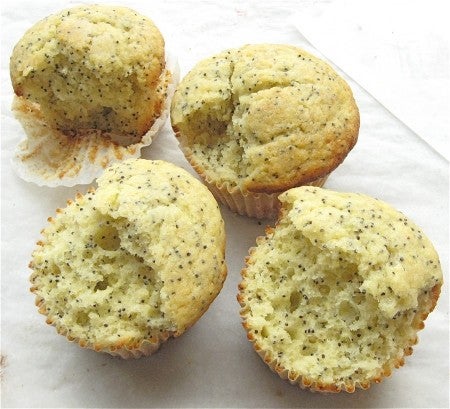 We like to think of ourselves as strictly middle-of-the-road. Or cake, or pie, or bread.
Or muffins.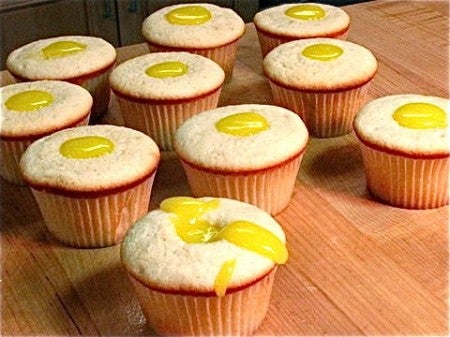 Or cupcakes.
There's one in every crowd, isn't there? Ah, perfection... even for our decorating maven MaryJane, it's sometimes hard to attain!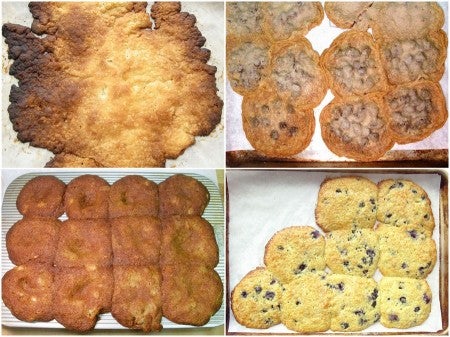 Perfection is even harder when you goof up the ingredients.
Take that pie crust, upper left. Miscalculated percentages, and that's what you get with too much butter, not enough flour.
The cookies, upper right? Gluten-free chocolate chip cookies without their xanthan gum.
The muffins, bottom left – double the amount of oil.
And the "scones," bottom right? I did remember the first cup of flour – but forgot the second.
Speaking of forgetting...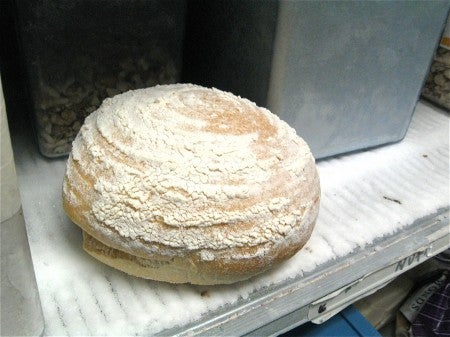 Isn't bread supposed to be "wrapped airtight" before putting it in the freezer?
I opened the door one day to find this poor naked thing sitting on the frosty shelf.
"Heavens," I thought to myself, "This loaf might be a tad dry."
Ya think?!
And then there are the battles we have with pans.
Bundt-type pans are notorious for creating those "hold your breath" moments when you hope-hope-HOPE that the birthday cake is going to come out perfectly intact. And it doesn't, and there's much wailing and gnashing of teeth.
But round cake pans? Not so tough. Unless you're Jeffrey Hamelman at the King Arthur Bakery trying a new chocolate cake recipe.
See, even the REAL pros endure flubs every now and then!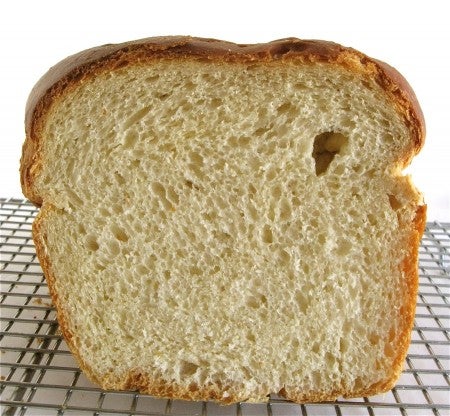 So, I did finally bake a decent loaf of buttertop bread. It was sitting on the cooling rack in the kitchen, and everyone was oohing and aahing over it.
"Can we cut a slice?"
"NO!" I said.
Actually, I kinda barked it. "Never ever ever ever EVER cut into a loaf of hot bread." (The picture above was taken AFTER it had cooled.)
Ten minutes later – well, I didn't catch anyone in the act, but the evidence was pretty plain: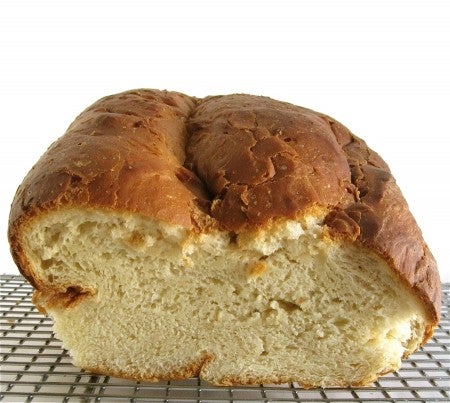 That's what you call cut and run.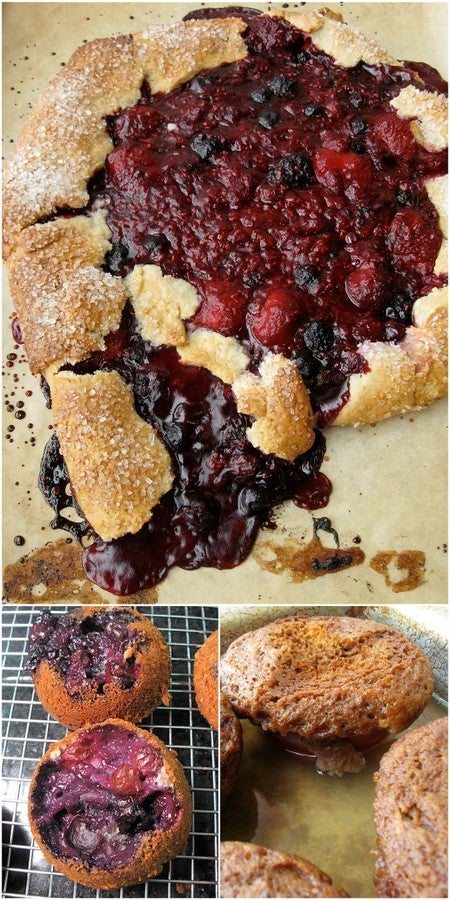 And run...
You've all experienced these rather sticky moments, right?
Here we have a "break the dike" freeform rustic bumbleberry pie; upside down (inside out?) blueberry-cranberry muffins; and water-baked (and water-bathed) sticky puddings.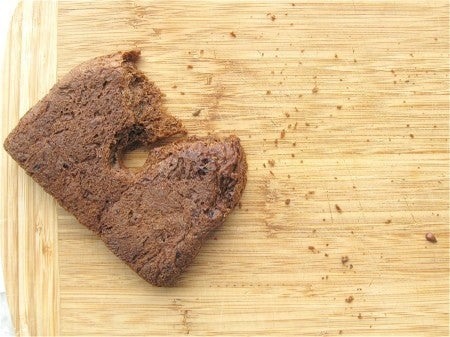 Yeah, life in the test kitchen can be kinda crum(b)y sometimes.
But you know what?
Stay cool. Chill out.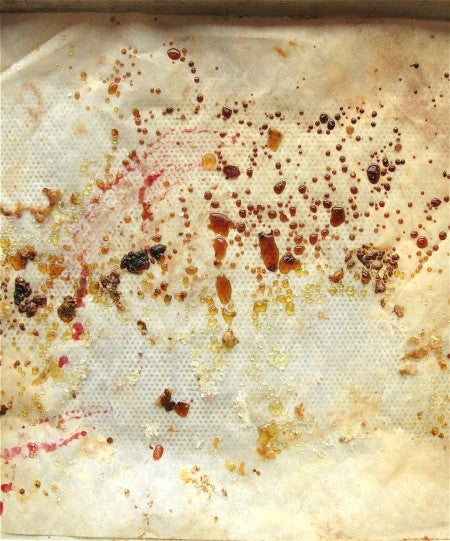 When life gets too messy...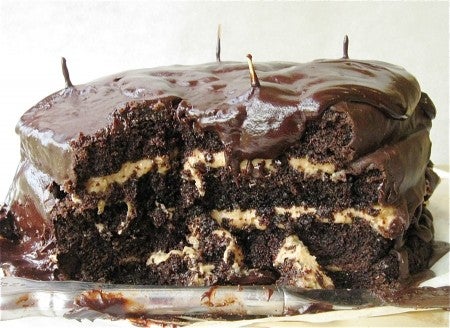 Break out the chocolate.
Even fools rush in when chocolate's on the table!
Happy April 1 - and happy baking from your foolish friends here at King Arthur Flour.