Michael Zakowski (l), one of the members of Team USA, with King Arthur's Michael Bittel, senior vice president/general manager of our flour division. Team USA competes today.
[Ed. note: King Arthur Flour Bakery director Jeffrey Hamelman continues his on-the-scene posts from Paris and La Coupe du Monde de la Boulangerie, the "World Cup" of bread baking.]
Today had its own particular characteristics, and it's been quite a pleasure.
I met fellow King Arthur Flour bakers Jud and Gen at the top steps of the Basilica Sacré Coeur right on time at 9:30. If we couldn't find each other by 9:45 the plan was for me to bellow out "Poolish!" For better or worse, that wasn't necessary.
For the next 7 hours, the three of us rambled and ambled. There were three bakeries and one chocolate shop on our "official" itinerary, with enough looseness of purpose to check out anything else of interest along the way.
Our first stop was at Le Grenier à Pain in Montmartre. Often the smells coming from a bakery are the first thing to alert you that you're close, but in this case it was the lengthy line coming out the door.
The window display of pastries was irresistible. When we finally got to the counter, an array of beautiful breads was in front of us, and not 15 feet from us, over to the left, was the proprietor, M Michel Galloyer, loading baguettes onto the enfourneur.
We got a gorgeous baguette, a small levain de tradition, a delectable pistachio napoleon, and Jud, who hadn't eaten for like half an hour, needed a ham and cheese sandwich on a baguette to keep his strength up.
This bakery won the most coveted Meilleur Baguette de Paris award in 2010, and without a doubt his beautiful products are worthy of that and any other accolades that he receives. In my experience, winners of the Meilleur Baguette award do not necessarily make breads of the highest quality. Since the competition – in which hundreds of bakers submit baguettes – is supposedly very rigidly a blind tasting among the judges, one wonders why this is the case.
But I have on more than one occasion had that experience. In fact, the winner of the 2011 competition owns a bakery quite close to Le Grenier à Pain. I stopped in the morning of my arrival and as is typical for me, I ordered a bien cuit (well baked) baguette. Assessing it back at the hotel a few hours later, I found it to be mediocre in every way. It certainly was not a baguette that we would sell to our customers at the King Arthur Bakery, and I don't say this due to misdirected subjectivity.
Certainly, like everyone, I eat bread with all the subjectivity I can muster, but I've also had enough years of making and judging baked goods to be able to objectify various quality parameters, and that particular baguette was quite below the high quality parameters I expected. I've wondered if winning the award can be a mixed blessing – the great media attention it brings also brings a great influx of new customers, and it may be that some bakers respond to the increased production demands in ways that don't necessarily favor the best results.
For example, instead of loading breads six across on the loader, it might be tempting to squeeze in a seventh and thereby increase the number of loaves per bake. There are numerous shortcuts possible.
Enfin, it was encouraging to see the beautiful products at Le Grenier à Pain this morning, all exuding not only the temptation of their beckoning tastes, but also the pride of workmanship evident in their appearance and taste.
The ambling and rambling continued from there, and the next stop was meant to be another highly acclaimed bakery – Au Levain du Marais-Caulincourt. Unfortunately for us (but not for the staff), it was closed for vacation, with a kind note thanking the customers for their fidelity. Another beautiful bakery came up unexpectedly – Gonchan Cherrier. We gazed in from the windows at massive dark loaves, intrigued by the rye with red miso and the levain with figs, lemon zest, and fennel seeds.
Alas, we didn't buy anything, which I later regretted. I certainly don't like to throw bread away, but at the same time I find it interesting, educational, and often fascinating to try out products that are clearly pushing the envelope. A café beckoned, and we sat with coffee at a tilty outdoor table. Why is it that I never nurse a miniscule espresso for half an hour back home – it's so easy to do so in Paris! We chatted about bread and traveling, and chuckled as we noticed that what seemed like half the people walking by had a baguette under their arm.
From the café we walked to the metro and over to the 19th arrondisement to one of the few bakeries in Paris owned by a woman – Pâtisserie Véronique Mauclerc. A woman bakery owner is (sadly) rare enough; even more so is the fact that she bakes in a 100+-year-old wood-burning oven. Although the shop was open, she was not in. But the fellow who assisted us was kind enough to assent to my request to see the oven, so into the back we went.
There we were surrounded by the beauty of a quiet bakery, some warmth coming from the oven, some lingering aromas of wood and bread, huge flour-crusted bannetons momentarily idle, couche linens drying. Such a small work space, and so many different products out front – the coordination must be extraordinary.
Back out front, we gazed at the great array of breads and pastries. How beautiful to see that there was a loaf of each of the day's bread offerings cut in half so that customers could see the insides. Jud and I could only agree when Gen opined that this would be a great thing for us to do at our bakery back in Vermont.
We chose two loaves: one-quarter of a rye/wheat blend with walnuts; and a bread made with 40% chestnut flour and hazelnuts. Like all the breads, these were organic and naturally leavened. To keep our sugar levels in balance, we also got two slices of a tart with almond filling, a thin layer of raspberry, and pear.
However, our bellies were growling at this point (this post is not a work of fiction, so please believe me, hard as that may be!), so we didn't try anything, but instead walked till we found a brasserie, where we all had simple but tasty and ample salads. Jud's had warm goat cheese, Jen's was a Caesar salad with chicken, and I got salade niçoise. The waiter asked if we wanted bread, and I told him that we had some; he encouraged us to eat what we had brought, so we tried both.
The rye had the perfect degree of acidity – a gentle tang – and it held hands with true affection with the walnuts. The chestnut bread was a revelation, like nothing I had ever had – perfectly sweet, nutty, suffused delicately with the backdrop of chestnut. It was a welcome respite, and we waited till we were back on the street, well-mannered Americans that we are, before plunging into the pear tart – which was lovely. Oh, did I mention that I also bought a cannelé de Bordeaux? That, as we say at my house, "went down easy."
Sated, we returned to the metro and headed to the stop at Republique in the Marais to visit one of the highly renowned Parisian chocolatiers – Jacques Genin. Here, the loose-limbed funkiness of the Mauclerc bakery was replaced by clinical bright modern décor, breathtaking chocolates that twinkled and shone with consummate allure, and a clientele that matched the high-toned air of the products.
Perfection surely was embodied in those glistening chocolates with their exotic flavors and fancy finishes. Given that one of their display boxes, containing all their offerings, cost 130 euros, it's obvious that the high-class ambience was necessary.
When it was my turn to order, the well-trained woman who helped me put on white gloves and carefully packed my humble assortment of nine pieces. We didn't try any of these, as I want to bring them back to the King Arthur bakery so that as many of the bakers as possible get to sample a delectable little morsel of Paris.
By now we were flagging a bit, but still continued our walking, through the narrow winding street of the Marais and on toward Ile St Louis and then to Ile de la Cité and Notre Dame. The rain had begun to come down pretty steadily but it didn't seem to bother us at all, although Gen, looking fashionable with her high boots and nifty belted coat, looked chagrined and non-Parisian when a gust of wet wind turned her umbrella inside out.
Finally, we crossed the Seine into the Rive Gauche, Jud and Gen descended into the St Michel metro, and I headed up to our hotel a few paces from the Pantheon.
Last notes: I don't have a cell phone so unfortunately there are few photos accompanying these posts. A couple of King Arthur compatriots do have cameras, and little by little they're taking photos to include here. Today, the hope was that we would finish the day by taking the train up to Parc des Expositions to see the ending of the first day of the Coupe du Monde, but time got the better of us, and when all was said and done we had run out of time, so I can't report on any of the day's activities.*
Tomorrow the US competes and I'll spend most of the day there. The wi-fi is weak at the Exposition hall, so I won't be able to write à la minute, which is too bad, but so be it. What a long and lovely day. The King Arthur contingent is gathering for a glass downstairs; I'll meet them now so we can compare notes about our respective days.
*Ed. note: Luckily, the senior vice president/general manager of our flour division, Michael Bittel, was at the competition, and passed along some photos, below.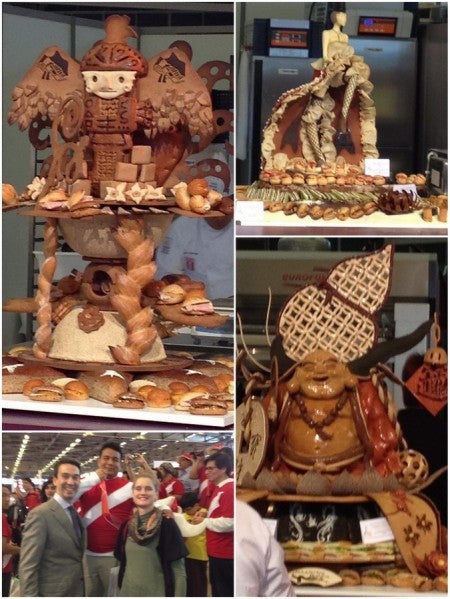 Clockwise from top left: entries in the artistic division, including bread sculptures from Peru, France, and Taiwan; Michael Bittel, his wife, Wendy, and members of the Peruvian team.
Enjoy all the news from Paris: