[Ed. note: We're pleased to welcome back King Arthur Flour Bakery director and Master Baker Jeffrey Hamelman to this blog. Jeffrey posted news from the Coupe du Monde de la Boulangerie in Paris 4 years ago, and will be doing so again this year. The Coupe begins this weekend; this is his first post.]
For the past year or more, unbeknownst to most professional and recreational bakers in the US, there has been a contingent of 36 bakers, from all corners of the globe, who have been stropping their skills by the day, with one goal in mind. Outside but contingent to this core group of three dozen, there are some few hundreds who have been supporting them, by helping to train them, by taking a load off their more usual work life, and in many other ways besides.
Who are these people, and what is it they're engaged in?
The three dozen are the bakers chosen to represent 12 countries at this year's Coupe du Monde de la Boulangerie, which convenes tomorrow, Sunday, March 4. The surrounding supporters are the coaches and managers, family, friends, and co-workers (among others), whose encouragement is a crucial component to the team members.
And now a third circle of bakers, much larger than these two core groups, enters the picture: the thousands of people who will be viewing at least part of the competition, now converging on Paris from all directions.
I arrived in Paris early Friday morning, 30 hours after leaving Tokyo. Now it's euros and no longer yen in my wallet. I mention having been in Japan because  four nights ago I had dinner with two dear Japanese baker friends and colleagues, both of whom have been key parts of the Japanese Coupe team since the mid '90s.
There was so much to talk about! We reminisced about former teams, and shared what we knew of our respective current teams, omitting any predictions of outcomes. After all, the group of 36 has collectively spent tens of thousands of hours refining their skills and timing, but the only thing that ultimately matters is which team does the best of all when the competition actually begins.
And speaking of that, the Coupe teams compete in the back of one of the halls in which the preeminent French bakery trade show – Europain – is held. Four baking kitchens are set up, each having the same basic equipment (although many different equipment manufacturers are represented, so no two kitchens are actually identical), and the competition takes place over three days. Each team has three members, who must complete an astonishing amount of work in 8 hours. The areas of competition include Baguettes and Specialty Breads; Viennoiserie; and Artistic Design.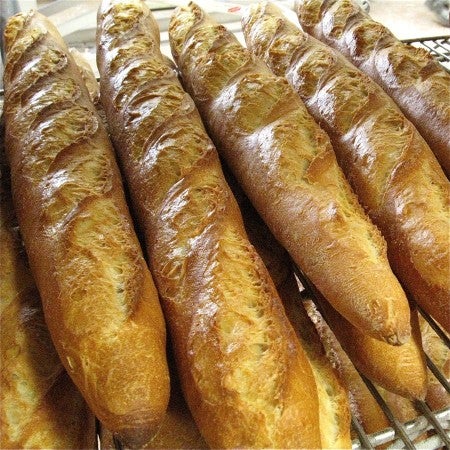 Here's the baking schedule for this year:
SUNDAY (the top four finishers from 2008's Coupe): France, Taiwan, Italy, and Peru.
MONDAY: USA, Korea, Sweden, and Senegal.
TUESDAY: Japan, Netherlands, Poland, and Costa Rica.
It's truly global, isn't it? At it's best, the Coupe not only showcases the highest quality of baking skill, it also represents the genuine camaraderie that characterizes the best of global baking. Talk to anyone who has ever been a member of a Coupe team, and they'll attest to the good will and sportsmanlike nature of the competitors.
Here's just one of many examples that comes to mind: in 1996, I was part of the American team. We had an hour in the evening to prepare pre-ferments for the next day (our day of competing). As we did so, the Japanese, who had baked that day in the same kitchen we were going to be using, were cleaning up the bakeshop.
One of the Japanese competitors came over to us, needing to convey something with evident urgency. It turned out that the quality of the steam on the top oven deck was weak, and he wanted to be sure we knew so that we didn't inadvertently under-steam our breads the next day.
This welcome piece of advice was being given by someone who wanted to win at least as much as we did, yet it was incomprehensible for him not to alert us to the defective steam ahead of time. It was the honoring of this kind of attitude, and the furthering of the brother- and sisterhood of global baking, that was the foundation of the values espoused by Christian Vabret, master baker from the Auvergne, when he first established the Coupe du Monde in 1992.
Next: