Cheese on Toast
A comforting dish for St. David's Day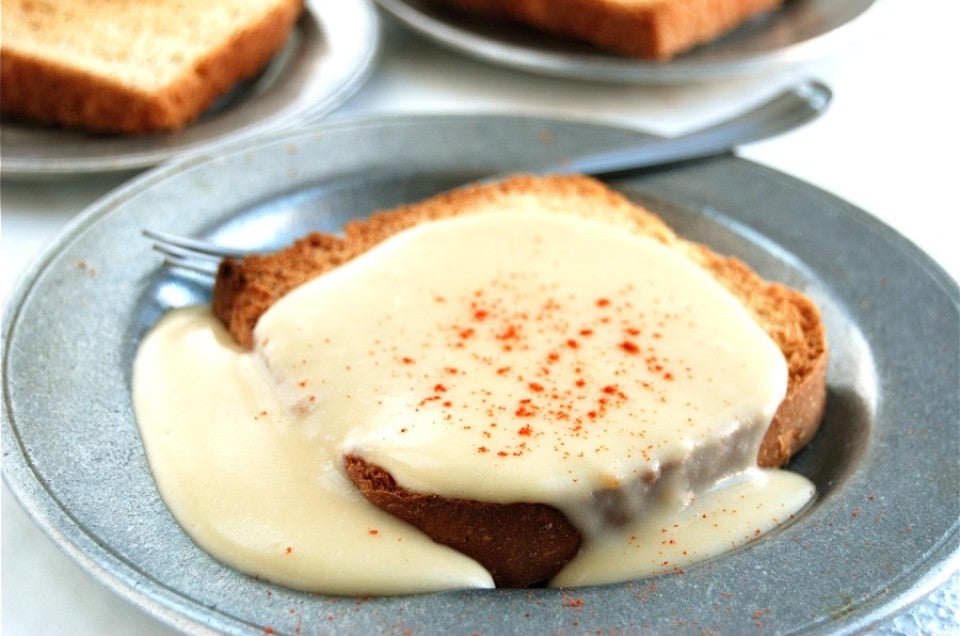 Hapus Dydd Gŵyl Dewi!
For those of you not familiar with the Welsh language, I've just wished you a Happy St. David's Day.
St. David's Day, March 1, celebrates Wales' patron saint. The Cymry (Welsh people) often celebrate the day with dinners, parties, and music.
Which brings us to "baked cheese": caws pobi, a.k.a. Welsh Rarebit, a.k.a. Welsh Rabbit.
Or, in plain descriptive terms, melted cheese on toast.
So, which is it – rarebit, or rabbit? After as much research on the subject as I cared to do, I conclude that each has its place in the culinary lexicon.
Welsh Rabbit was the first translation, "rarebit" appearing later – perhaps in response to the fact that Welsh Rabbit might be considered a slur.
Centuries ago the Welsh, trying to make a hardscrabble living in their rocky land, were often quite poor. Englishmen considered rabbit "poor man's meat," and poked fun at the Welsh for not even being able to afford rabbit – often substituting the more readily available baked cheese on toast for meat. Thus, Welsh Rabbit – cheese on toast.
And what about rarebit? Apparently it was a "nicer" name, concocted by those more sympathetic to the Welshman's plight. So, while Welsh Rabbit is the true and original name for cheese on toast, Welsh Rarebit is perceived as a kinder, gentler title.
But enough history - let's enjoy one of the ultimate examples of comfort food. If you celebrate St. David's Day, enjoy. If you don't, enjoy anyway; what's not to like about cheese on toast?
First, the toast. One of my favorite toasting breads is English Muffin Toasting Bread, a no-knead classic.
First step – combine the following in a microwave-safe bowl or measuring cup, or in a small saucepan:
1 cup (227g) milk
1/4 cup (57g) water
2 tablespoons (25g) vegetable oil or olive oil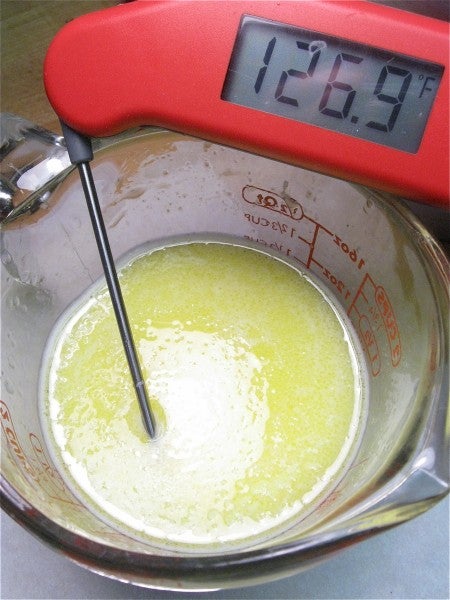 Heat to between 120°F and 130°F. Be sure to stir the liquid well before measuring its temperature; you want an accurate reading.
If you don't have a thermometer, the liquid will feel quite hot (hotter than lukewarm), but not so hot that it would be uncomfortable as bath water.
Whisk the following in a mixing bowl:
3 cups (361g) King Arthur Unbleached All-Purpose Flour
1 tablespoon (14g) sugar
1 1/2 teaspoons salt
1/4 teaspoon baking soda
1 tablespoon instant yeast
Pour the hot liquid over the dry ingredients in the mixing bowl. Beat at high speed for 1 minute. The dough will be very soft.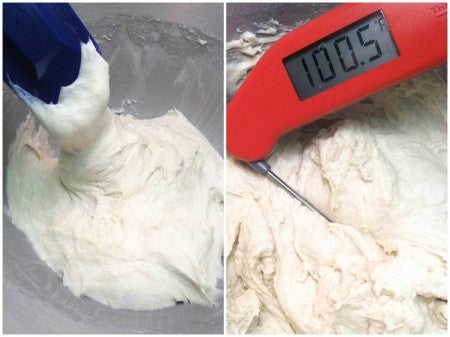 The dough is smooth, but not even close to forming a ball.
Notice its temperature; the dry ingredients have cooled the liquid, but the dough is still pretty warm. That's fine; it's going to rise quickly.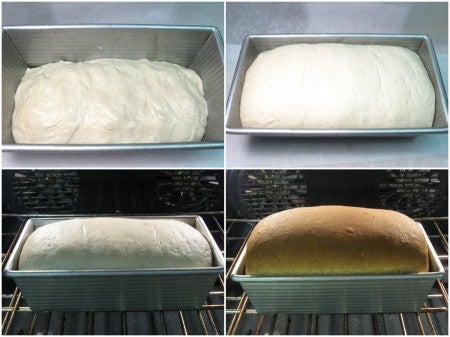 Lightly grease an 8 1/2" x 4 1/2" loaf pan, and sprinkle the bottom and sides with cornmeal, if desired, for that authentic English muffin experience.
Scoop the soft dough into the pan, smoothing and leveling it as much as possible.
Cover the dough, and let it rise until it's just barely crowned over the rim of the pan. When you look at the rim of the pan from eye level, you should see the dough, but it shouldn't be more than, say, 1/4" over the rim. This will take about 45 minutes to 1 hour – if you heated the liquid to the correct temperature, and your kitchen isn't very cold.
While the dough is rising, preheat the oven to 400°F.
Uncover the risen bread, and bake it for 22 to 27 minutes, until it's golden brown and its interior temperature is 190°F.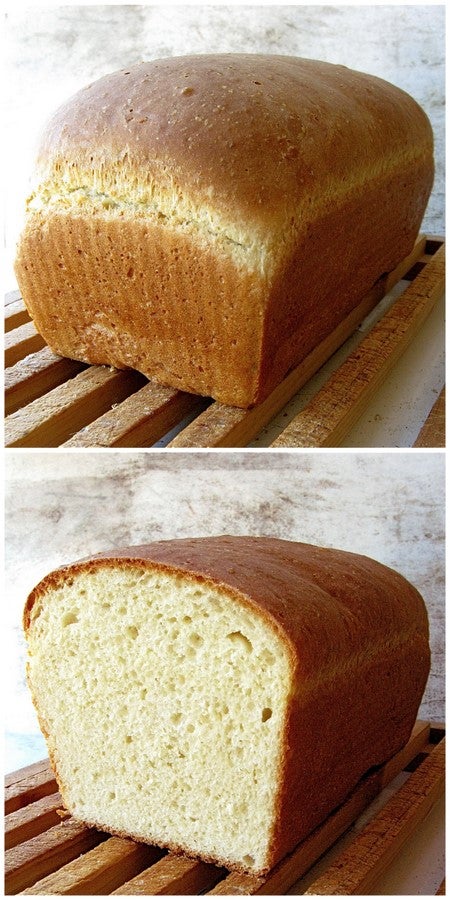 Remove the bread from the oven, and after 5 minutes turn it out of the pan onto a rack to cool. Let the bread cool completely before slicing.
See that nice, craggy texture, perfect for trapping melting butter... or cheese?
Next up: cheese on toast.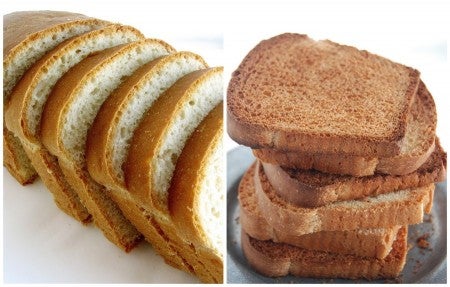 Slice the loaf into 3/4"-thick slices. Your goal is toast that's golden brown on the outside, but still a bit moist within.
You can toast all the bread beforehand and keep it warm in a 200°F oven while you make the melted cheese. Or just toast however many slices you want, right before serving.
Next, the cheese.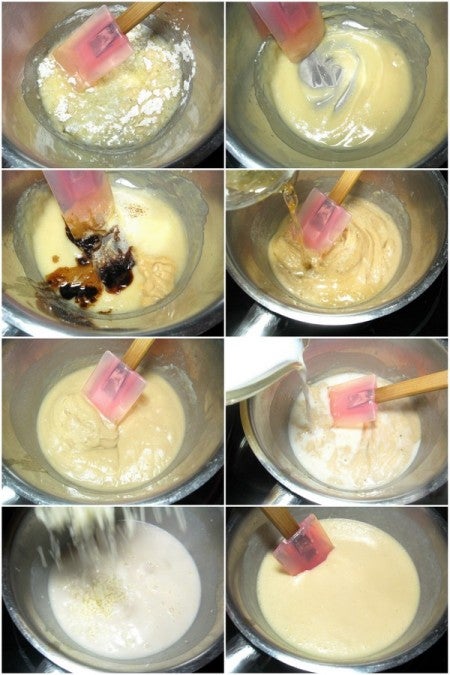 Melt 3 tablespoons (42g) butter in a medium-sized saucepan set over medium heat.
Stir in the following:
3 tablespoons (21g) King Arthur Unbleached All-Purpose Flour
1/2 teaspoon dry mustard or 1 teaspoon prepared mustard, optional
1 teaspoon Worcestershire Sauce, optional
1/2 teaspoon salt
a pinch of cayenne pepper, optional
Whisk in 1/2 cup (113g) beer or ale, stirring vigorously to avoid lumps.
Don't like beer or ale? A dry white wine is good, too, adding a touch of fondue flavor. If you're after something completely non-alcoholic, substitute 1/2 cup milk.
Place 3 to 5 tablespoons (21g to 35g) King Arthur Unbleached All-Purpose Flour into a bowl or measuring cup. Use the lesser amount for a thinner sauce; the greater amount for thicker. Gradually whisk 1 1/4 cups (283g) milk (skim, low-fat, full-fat, evaporated, half & half, or light cream, your choice) into the flour.
Why not just add all the flour to the melted butter up front, you ask? Because you'd need more than 3 tablespoons melted butter to absorb all that flour; this allows you to reduce the fat content a bit.
Add the milk to the saucepan, whisking continually to avoid lumps. Cook until very hot, but not simmering.
Gradually stir in 2 cups (227g) shredded sharp cheddar cheese, again stirring constantly until the cheese is melted. Reduce the heat to low, and stir the sauce occasionally as you ready the toast. This amount of melted cheese is enough for 6 servings.
At last! Here comes the best part: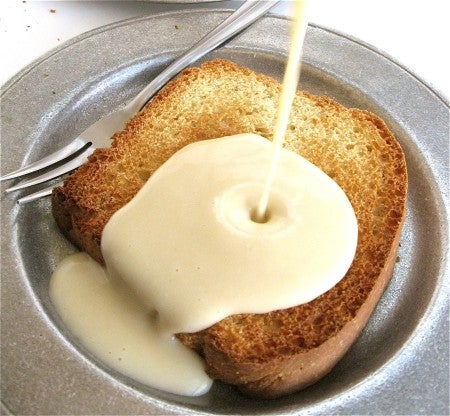 Butter the toast, if desired. Place each piece on a plate, and pour on the cheese sauce.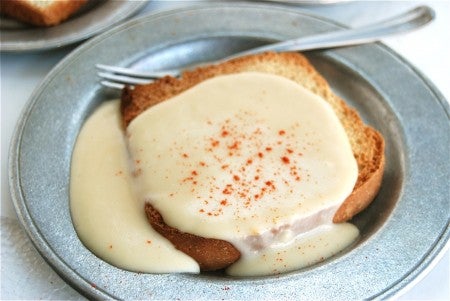 Serve hot. A tiny sprinkle of paprika adds visual interest.
But wait - there's more!
Did you ever hear of a Kentucky Hot Brown?
This over-the-top sandwich, created by Fred K. Schmidt at Louisville's Brown Hotel in 1926, pairs toast and cheese and... well, let me just show you.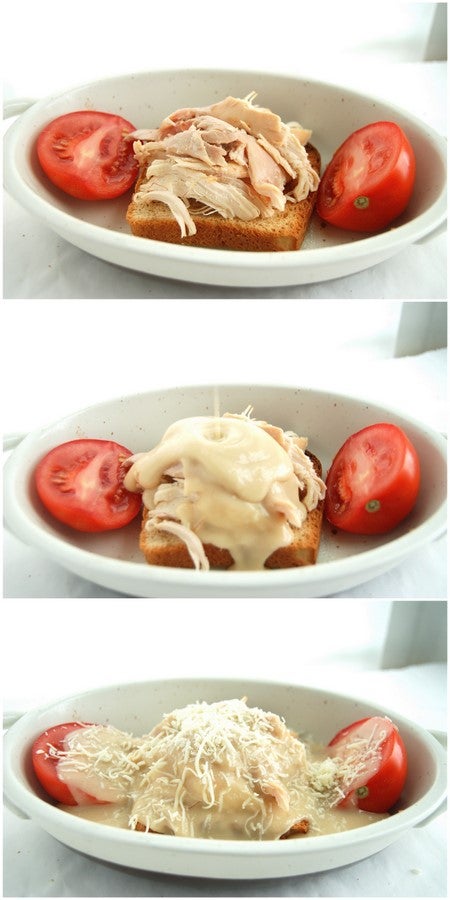 Put a slice of toast in an oven-safe dish. Cut a Roma tomato in half, and position one half on each side of the toast. Place some roast turkey (traditional) or cooked chicken (variation) atop the toast.
Pour cheese sauce into the dish. LOTS of cheese sauce. The original recipe called for 2+ cups of sauce for each serving. Made with heavy cream, no less.
Garnish with shredded Parmesan cheese.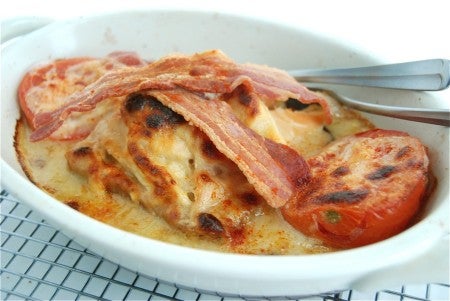 Bake until the sauce is bubbly and browned. Cross two strips of cooked bacon on top.
Eat. Swoon. Diet tomorrow.
Read, make, and review (please) our recipe for Cheese on Toast.
Jump to Comments