Chocolate Crêpe Cake
Endless layers, endless possibilities
Crêpes are such an easy and fast way to make a special presentation, but you hardly ever see them on a menu or have them at home. I really hope to change that at my house, so I've been looking at crêpe recipes for months now. A little egg, a little flour. It's hard to believe that just a few simple ingredients can combine to make such a delicate and enticing treat. Sweet, savory, mild or wild, I'm stunned at the variety.
Crêpes are even showing up more on the blogosphere and in pop culture. On one season of Food Network's "Great Food Truck Race" a crêpe truck was one of the favorite contenders even. I think walking up on the sidewalk to the window and walking away with a hot crêpe stuffed with Nutella, Biscoff or fresh berries would make me one happy little baker.
Our sweet Chocolate Crêpe Cake features light and ethereal chocolate crêpes layered with a hazelnut chocolate pastry cream. Once you have the art of making crêpes down, the world is your playground for flavor combinations. Chocolate vanilla? Chocolate raspberry? Vanilla crêpes with cinnamon pastry cream? A là James Brown "Baby, help me please!"
No trips to France are needed to bring crêpes to your own house. Just a bowl, a whisk, a good non-stick skillet or crêpe pan, and a little time are all you need.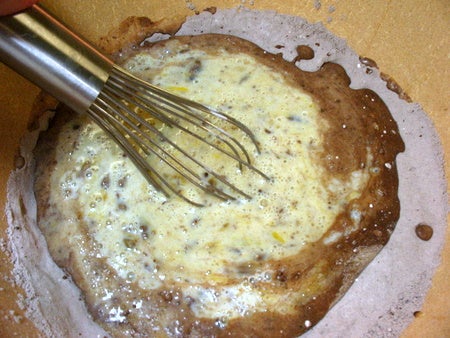 To make the chocolate crêpe batter, whisk together for one minute:
Then whisk in:
4 large eggs, room temperature
1 1/2 cups (340g) milk
8 tablespoons (113g) butter, melted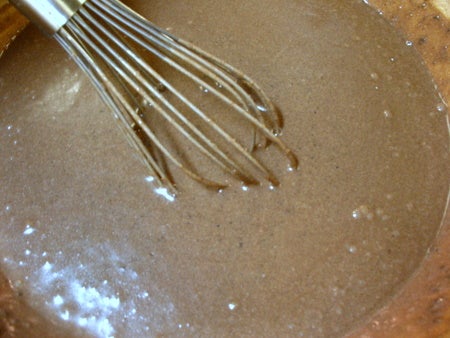 Whisk until no lumps remain, then pass the mixture through a sieve into a clean bowl and let stand at room temperature for 30 minutes.
The rest period will allow the flour to hydrate and form better gluten bonds.
At the end of the rest time, preheat your crêpe pan or skillet. Spritz with a touch of cooking spray, then pour about 1/8 cup of batter into the pan and swirl the pan to spread the batter evenly. Bake a test crêpe just to get the feel for it. Usually the first crêpe or two will be the "ugly ducklings", and then you'll just roll on from there, turning out one perfect crêpe after the other.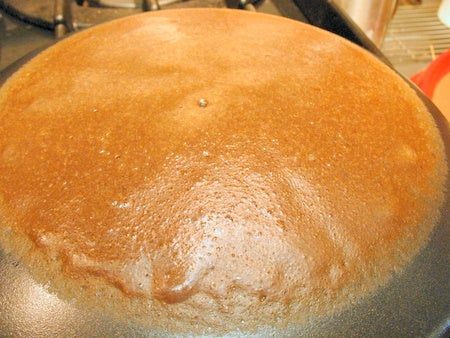 See how the batter smoothly coats this pan, no gaps and no lumps? If your batter has lumps, you'll need to strain it again before proceeding. If the batter runs off and leaves gaps, you'll need to whisk in a little more flour to thicken it up and try again.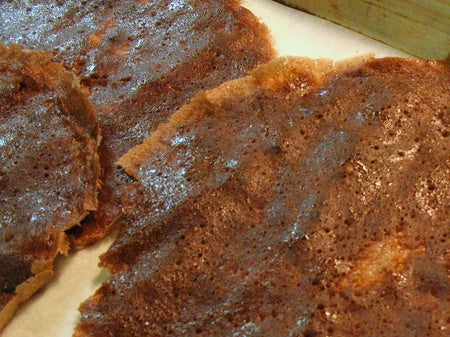 There, that's what we are looking for. A nice batch of crêpes, crisp on the outer edge and soft and pliable in the centers. You'll need about 18 to 20 for the cake, but cook all the batter now and save the leftovers for nibbling while you work, or freezing for another day.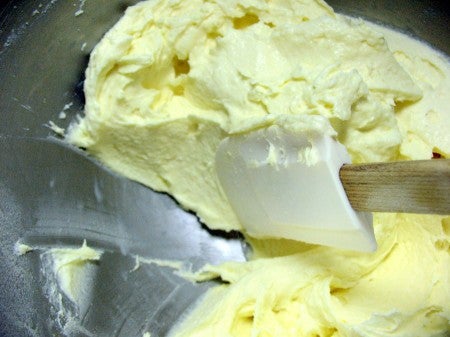 For the filling, you'll need about 2 cups of prepared pastry cream. I love using our Pastry Cream Filling Mix, but you could make a batch from a scratch recipe if you prefer. You can even use instant vanilla pudding mix made with cream instead of milk. Soft, smooth and creamy.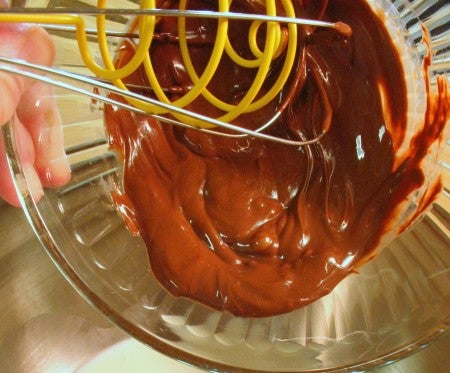 To make the chocolate hazelnut filling, soften 3/4 cup of chocolate hazelnut spread (like Nutella) in the microwave for about 20 seconds. Pour the spread into the pastry cream and whisk until completely smooth. You can eat a spoonful if you want, you know, just to check the smoothness.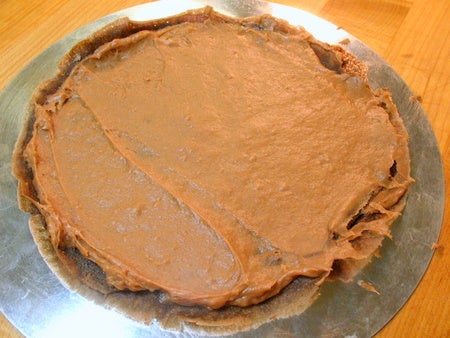 To assemble the cake, lay out 3 crêpes on your serving plate. Spread with 2 tablespoons of the pastry cream, then continue to layer with single crêpes and pastry cream. Occasionally make a layer with two or 3 crêpes to help the cake be more stable. Finish with another layer of 3 crêpes.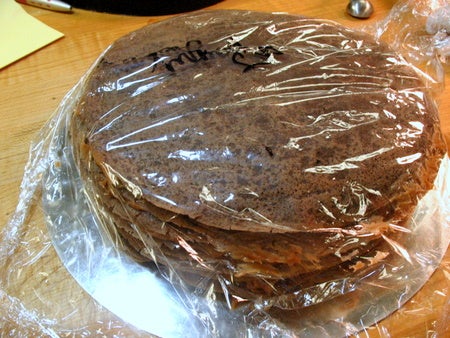 Wrap the entire cake with plastic wrap, applying a little pressure to seal the layers. Chill for at least an hour, or up to overnight.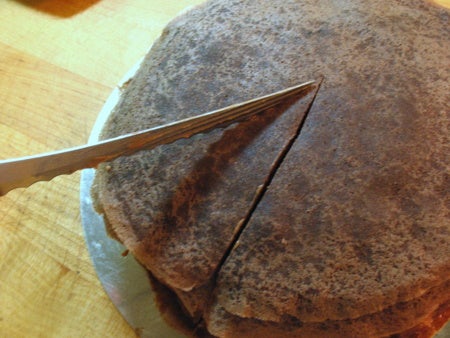 To serve, slice into wedges and top with a dusting of confectioners' sugar. The cake is soft and tender and RICH, so a little wedge goes far. Enjoy with a cup of dark coffee, or even a tipple of Frangelico if you're splurging.
Please bake, rate and review our recipe for Chocolate Crêpe Cake.