[Ed. note: Amy Trage, a member of our bakers' team and a dedicated gluten-free baker, is our newest blogger. Welcome, Amy!]
It has been through a series of trials and errors that I've learned to embrace the styles and challenges of gluten-free baking. When I first learned of my intolerance a few years ago, I not only resisted the change; I even avoided baking for almost a year.
One of my biggest tests was to sell this lifestyle to my three young children: Picky, Finicky, and Ewwthat'syucky. We are now united in a strong mission to discover at least one "I like" in every food. And to be honest, the transition from a wheat-based diet to one of gluten freedom has actually been more successful than my old strategy of hiding puréed vegetables in their dinner.
It's no secret that chocolate and cinnamon have always had a thing for each other.  Aside from the days of fall when the favorite pie spice is busy flirting with the apples, the two are a relatively loyal couple of flavors. In fact, a chocolate-cinnamon combination, liquid-style, was traditionally served at Mayan weddings, as it was believed to promote virility.
Perhaps back then, this elixir was considered to be more practical than romantic; but nevertheless, Valentine's Day seems the perfect occasion to reunite these old lovers for a sentimental gluten-free treat that never goes out of style or demand.
Let's make Cinnamon-Kissed Chocolate Soufflés.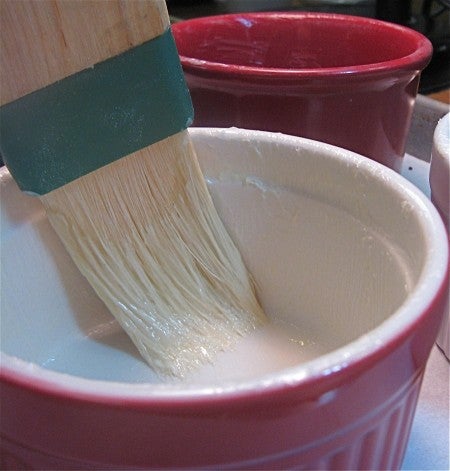 Preheat your oven to 400°F and brush six 6-ounce ramekins with butter, being certain to cover thoroughly and evenly.
Some of you may have ramekins in the 7- or 7 1/2-ounce range, which are also fine to use.
You'll notice I had a difficult time finding a matching set. I rarely match my socks, why bother with my dishes? Uniformity is for the birds.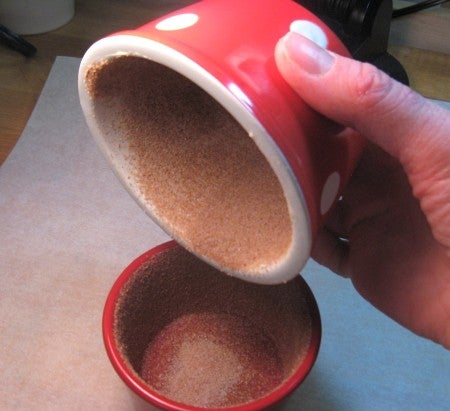 I opted to coat my eclectic collection of ramekins with cinnamon-sugar for a little more spice punch. For some, however, less is more, so please feel free to leave the cinnamon behind. Wipe the rim of each ramekin clean after coating with sugar, and set them aside.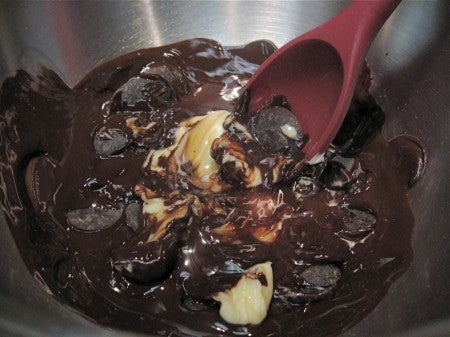 Melt 1 heaping cup bittersweet chocolate and 4 tablespoons butter. I'm quite fond of our Belcolade Bittersweet Disks.
I made a double boiler out of a stainless steel bowl and pot, where the occasional stir is needed, but I'm also an advocate of the microwave method – as long as you're willing to babysit. Love fever is good for people... not-so-hot for chocolate.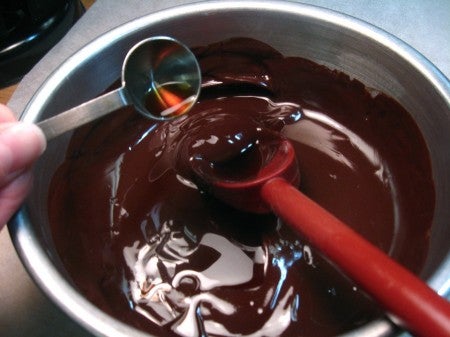 Add 2 teaspoons chocolate extract to this puddle of ecstasy, and consider it a little moral support.
More chocolate. More to love. Why not?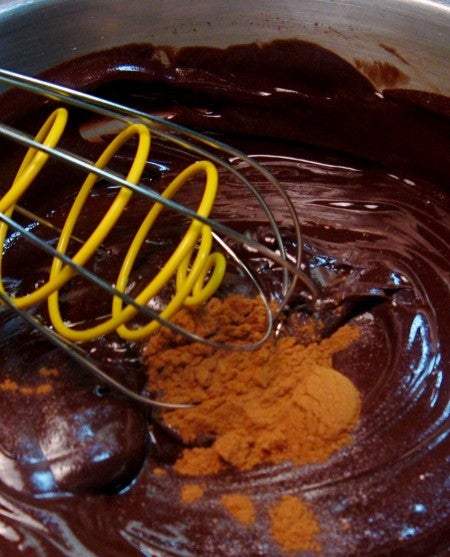 Don't forget to switch to a whisk and stir in the Vietnamese cinnamon. Just 1 1/2 teaspoons is enough. It won't compete with the chocolate, nor be a subtle mystery; but will rather sit right in the quiet middle of the flavor, as it should.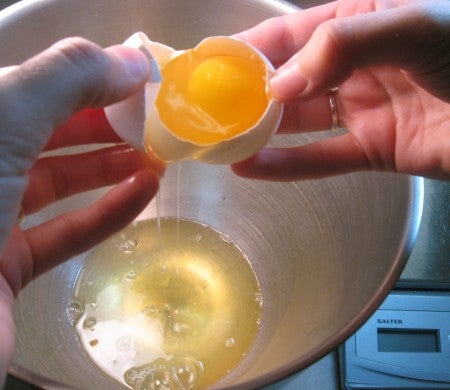 Separate 8 eggs (10 ounces), placing three of the yolks in your mixer's bowl.  Set the 8 whites aside.
Separating eggs is my least favorite baking activity. I have a sensory disorder when it comes to raw eggs on my hands, so sometimes I pawn the job off onto a more tolerant kitchen friend; one who also happens to have better hand-modeling qualities!
The ghostly, subliminal scale in the background may be gently suggesting that you weigh your ingredients whenever possible.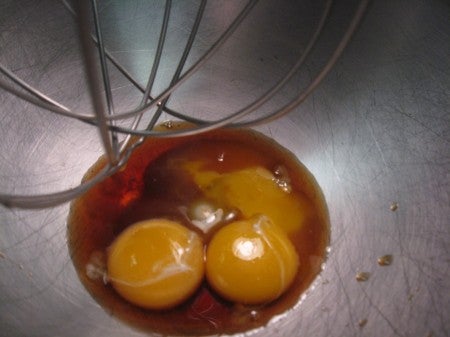 Add 2 tablespoons brewed coffee to the yolks... not hot coffee, though, or you'll make a latte scramble.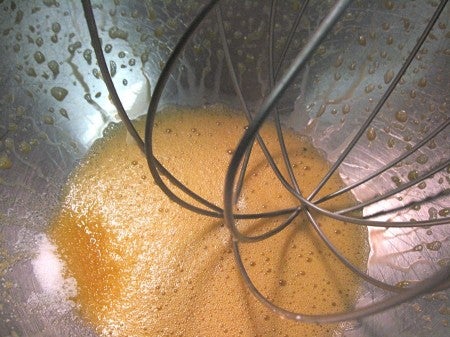 Beat on high speed until they're frothy, then add 2 tablespoons sugar from your measured 1/2 cup. If you have Baker's Special Sugar, this recipe would be a great opportunity to use it.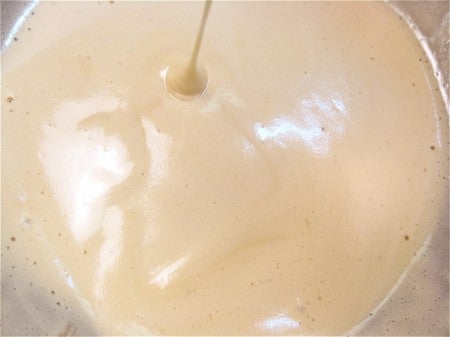 Once the sugar has been added, you'll want to bring this combination to what's called ribbon stage, which will take approximately 5 minutes at high speed.
The yolk color will lighten considerably and, when drizzled, you'll find that it holds its shape for a few seconds before disappearing into the rest of the mixture. This one looks like the beginnings of a dribble castle.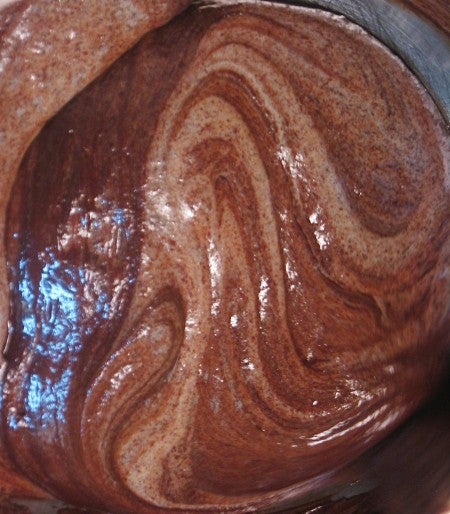 Gently fold the silky yolks into the melted chocolate with a spatula, taking care to reach the bottom of the bowl with each fold, and turning the bowl every few strokes. This mixture is just about complete; you'll want most of the streaks to disappear.
I had the advantage of having multiple mixers to serve me in the test kitchen, so I was able to go right to whipping the egg whites without needing to wash a bowl. I added a pinch of cream of tartar for stable results. Again, like the yolks, you bring the whites to a frothy consistency first.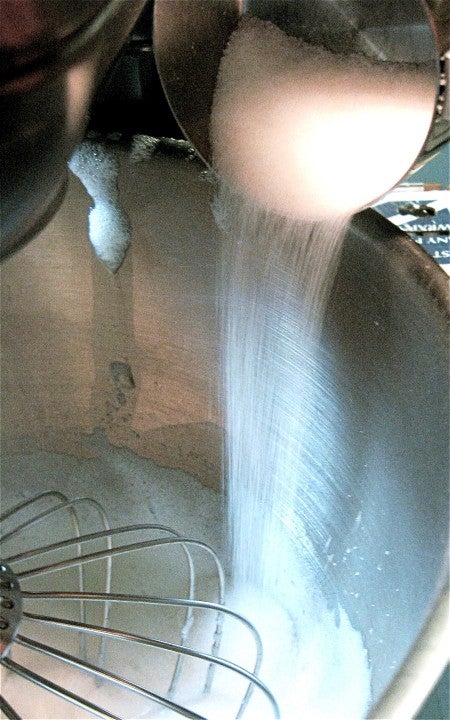 Then, with the mixer running on medium-high speed, slowly make a gentle sugarfall into the bowl with the remainder of the sugar.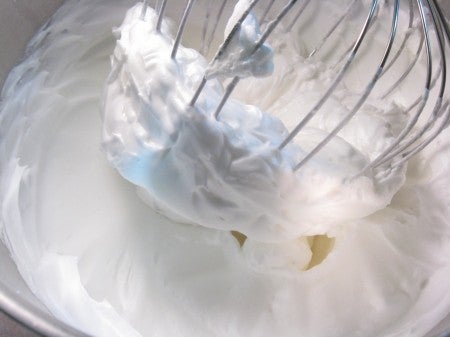 Once the sugar is gradually added, you can shift into high gear and bring the whites to peaks that are solid and glossy.
I hesitate to use the phrase "stiff peaks," as it's easy for the whites to cross into over-beaten territory. The difference will be between smooth, folding-friendly whites and dry, dull, mealy-looking whites that break up and clump in your mixture.
Thoroughly fold 1/3 of the whites into the chocolate mixture, then gently fold the last 2/3 in as quickly and efficiently as possible, so not to deflate them. Some streaks may remain in the final mixture; no worries.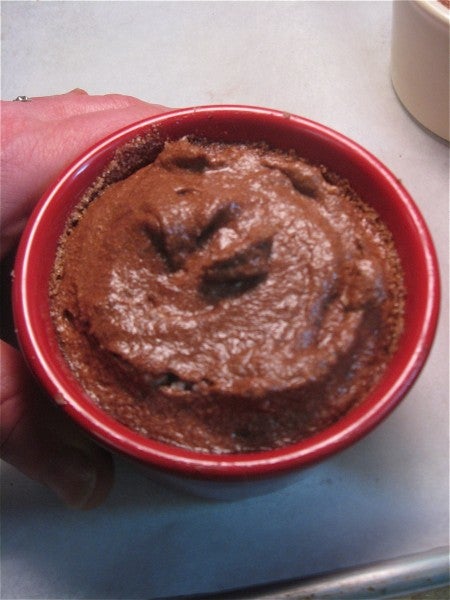 Fill each ramekin, leaving about 1/4" to 1/2" of space at the top. It's a good idea to clear away any smears or smudges of batter on the edges to ensure a clean rise. It's time to pass the faith over to your oven and read the riot act to those around you:
1)  Thou shalt not do jumping jacks.
2)  Thou shalt not slam doors.
3)  Thou shalt not make a one-man-marching-band with kitchen utensils.
4)  Thou who causes soufflé deflation shall be responsible for scrubbing the dirty ramekins. And there's no love in that.
Bake at 400°F for 20 minutes.  There will still be some wiggling in the centers when the soufflés are done.
Remove from the oven, dust with confectioners' sugar, and serve immediately.
It was a grand adventure gathering a team of co-workers to make this shot happen. As you can imagine, the timing here is a tricky matter, since soufflés naturally begin to fall as soon as they're removed from the heat. We had to strategically plan with 3 minutes remaining on the timer: one set of hands removes the tray from the oven, one rookie blogger removes most attractive candidate from the tray, one steady camera hand at the ready.
Two people. One soufflé. Tap your spoon into the center. It's like docking fresh, untouched powdery snow with your skis or poking your toes into a hot foamy bubble bath. You can hear a whisper of air escape when you break it open. If you're feeling fancy, try pouring  a little Creme Anglaise into the center.
And, if you dare, try adding a little liquor to the anglaise - preferably something that won't intimidate the cinnamon. Feed each other and share some laughter. I wish you joy and love.
[Ed. note: If you're extremely sensitive to gluten, be sure to use ingredients packaged in a gluten-free facility. Our Belcolade Bittersweet Disks and Baker's Special Sugar are gluten-free, but are NOT packaged in a gluten-free facility.]