Now let me say, right off the bat – I'm not one of those people who thinks fooling around with the flavor of chocolate is a good thing.
I mean, I LOVE chocolate – if it's bittersweet, dark, or semisweet.
Milk chocolate? Meh.
White chocolate? Well, as the guys on Car Talk say, bo-o-o-o-o-gus.
But dark chocolate? I could nibble it all day long. And sometimes do.
Thus it was with great trepidation that I approached this recipe for Florentines, a classic European confection pairing dark chocolate with (gulp) candied orange peel and toasted almonds.
Toasted almonds, OK. Nuts and chocolate were made for one another.
But chocolate and orange? I feel the marriage does neither justice. Kinda like a concert featuring Placido Domingo and Lady Gaga. Each is fine in his/her own right, but would they make beautiful music together?
Methinks not.
Still, I'm always ready to have my mind changed, especially if it means adding another dark chocolate recipe to my arsenal of favorites.
And danged if these Florentines didn't do just that: change my mind.
The chewy, tangy/sweet orange peel, toasty/crunchy nuts, and dark chocolate are absolutely PERFECT with one another. Not only that - they're held together in a whisper-thin, transparent disk of sugar/honey/cream that snaps like the thinnest layer of just-formed ice.
And the best part of all - they're EASY TO MAKE. The whole is so much more than the sum of its four simple parts.
And those four parts would be chocolate, almonds, orange peel, sugar, honey, cream... hey, wait a minute. That's way more than four ingredients.
Not when you substitute our Sticky Bun Sugar for the sugar/honey/cream, thereby taking most of the effort and all of the angst out of making these sometimes tricky confections.
C'mon along with me, as I convince you to try these... cookies? Candy?
Whatever they are, I guarantee they'll disappear in a flash. Even in a crowd of "pure" chocolate lovers.
Preheat your oven to 375°F. Line a couple of baking sheets with parchment, or non-stick foil.
Can you make these without parchment or non-stick foil? Well, you can grease your baking sheet, but you'll have a lot more success if you use parchment or non-stick foil.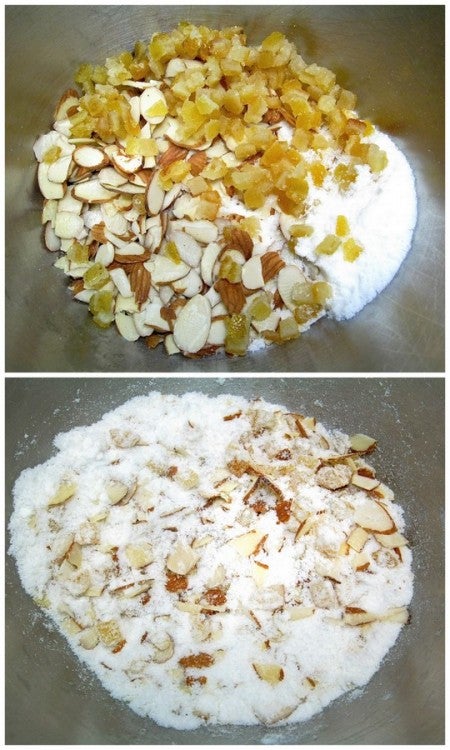 Mix the following in a bowl:
1 1/4 cups (120g) Sticky Bun Sugar*
1 cup (85g) unblanched sliced almonds
1/2 cup (78g) candied orange peel
*Can you make these without Sticky Bun Sugar? Yes; but not using this recipe. Classic Florentines are made with a boiled mixture of butter, honey, cream, and sugar, and are much more difficult to successfully pull off. We think this simple version, using Sticky Bun Sugar, is easy, fail-safe, and well worth the investment in the special sugar.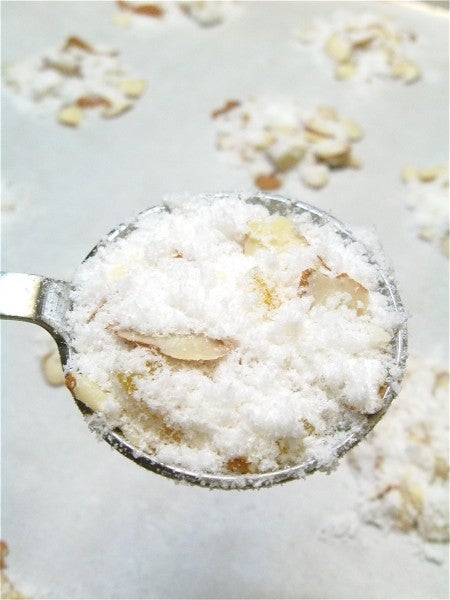 Using a tablespoon measure, make 1-tablespoon mounds of the mixture on the prepared baking sheet, spacing them about 2" apart; they'll spread a lot as they bake.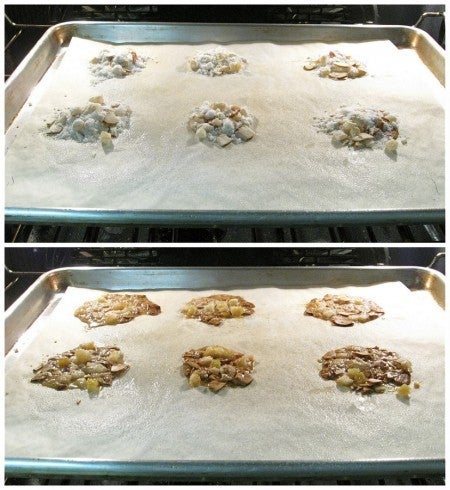 Bake the Florentines for about 10 minutes, until the almonds are golden brown. Reverse the pans in the oven midway through the baking time, so they brown evenly.
Clearly I could have spaced these closer together. The next sheet, I baked 12 at a time.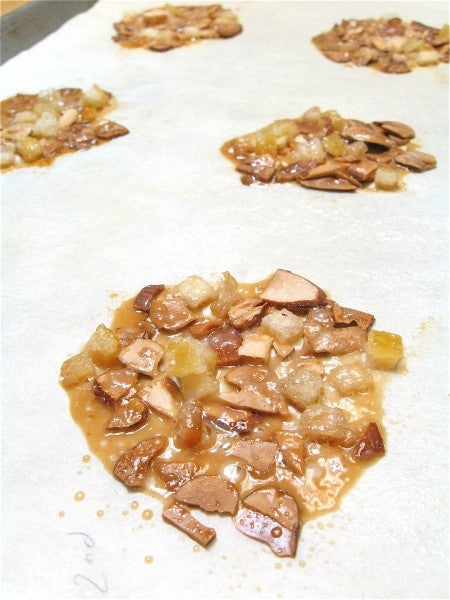 Remove the Florentines from the oven, and allow them to cool completely on the pan.
When the Florentines are completely cool, melt a scant 1 cup (about 142g) chopped bittersweet or semisweet chocolate (or chocolate chips), either in a microwave, or over very low heat. Stir until it's completely smooth.
I'm using Peter's Burgundy Chunks here, my favorite semisweet chocolate.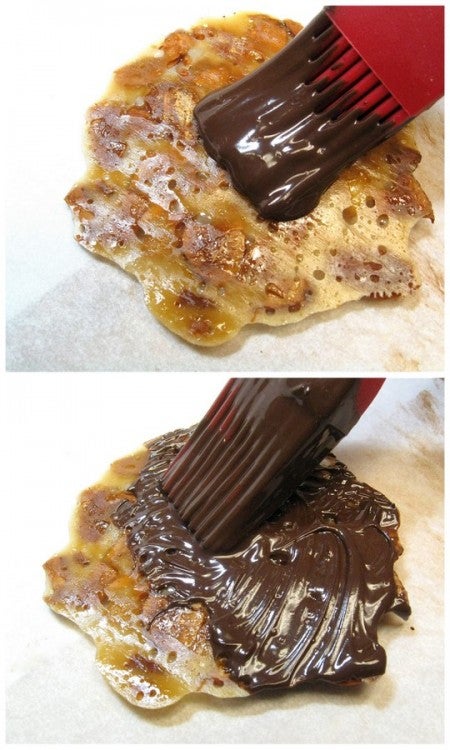 Brush the melted chocolate onto the flat (bottom) of each cookie, placing them, chocolate side up, on a rack to set.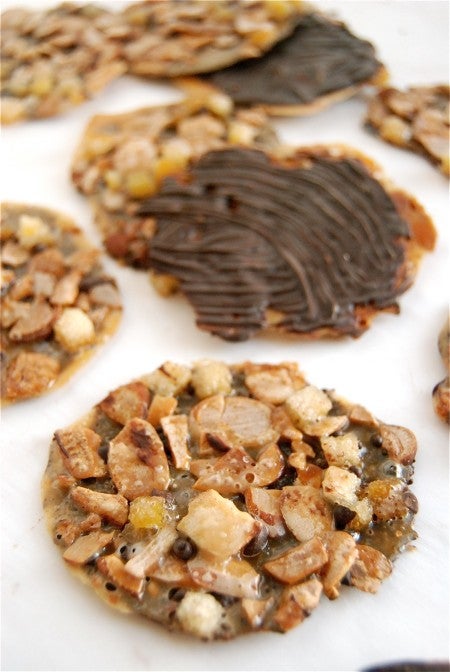 Serve with tea or coffee; they make a truly elegant finish to a dinner party. Or, carefully packed in a pretty jar, a nice hostess gift.
Wrap airtight, and store cool and dry for up to several weeks.
Read, make, and review (please) our recipe for Easy Florentines.
Jump to Comments