Stuffed Breakfast Crescent
Easy and satisfying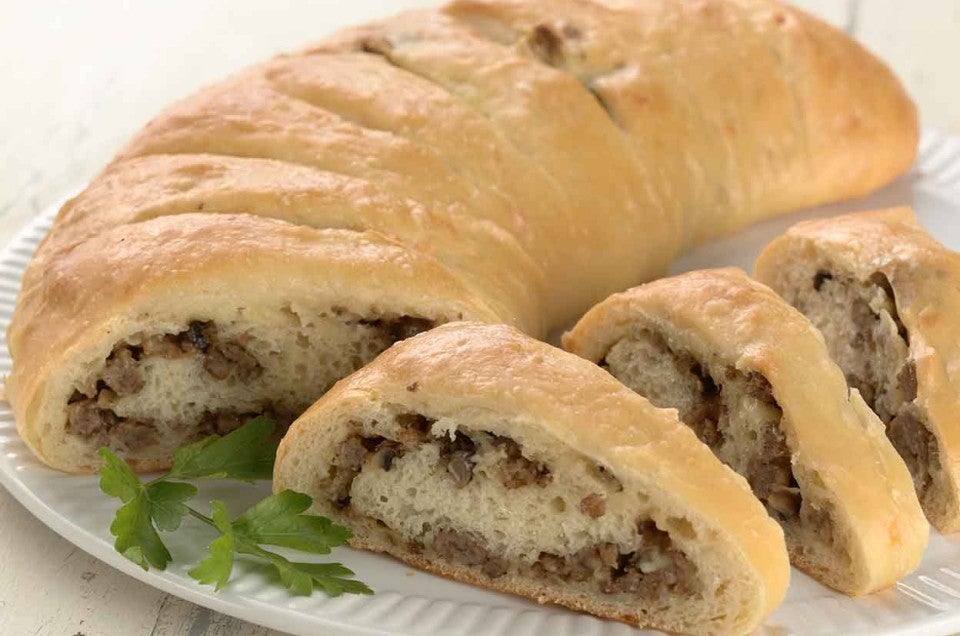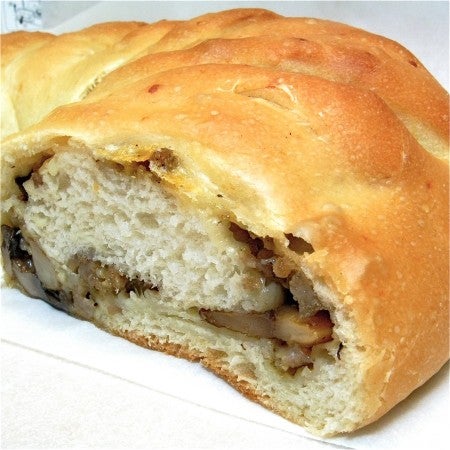 Stuffing.
You're thinking bread cubes, onions, herbs, celery, a bit of broth, right?
Or maybe a bag of Stovetop.
Well, think again. When it comes to this breakfast bread, "stuffing" runs a whole different (and tasty) gamut of possibilities.
Think breakfast sausage, browned to perfection. And mushrooms, sautéed to concentrate their flavor.
Think sharp cheddar cheese. And a touch of garlic.
Best of all, think EASY.
The last thing you want to do Christmas morning is fool around with a complicated baking project.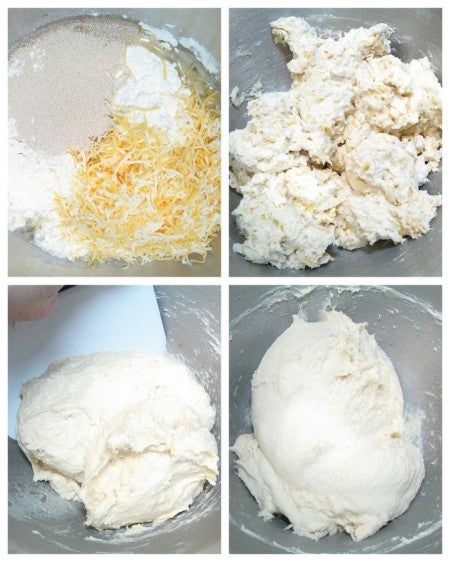 Place the following in a mixing bowl:
1 1/4 cups (283g) lukewarm water
2 tablespoons (25g) olive oil
3 1/2 cups (397g) King Arthur Unbleached All-Purpose Flour
3/4 cup (85g) grated cheddar cheese
1 1/2 teaspoons salt
2 teaspoons instant yeast
Mix until cohesive, then knead for about 7 minutes (in a stand mixer), or 10 minutes (by hand), until the dough is soft, smooth, and perhaps a tiny bit sticky. You can also make the dough in your bread machine set on the dough setting.
If you're kneading in a mixer, it helps to stop midway through and scrape the sticky dough away from the sides and off the bottom of the bowl.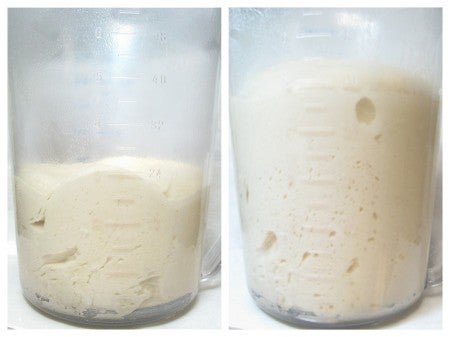 Transfer the dough to a lightly greased bowl or 8-cup measure, cover it, and allow it to rise for 60 to 90 minutes, until it's just about doubled in bulk.
I like to use this measuring cup for dough-rising; it's so easy to track the dough's growth.
While the dough is rising, stir together the filling ingredients.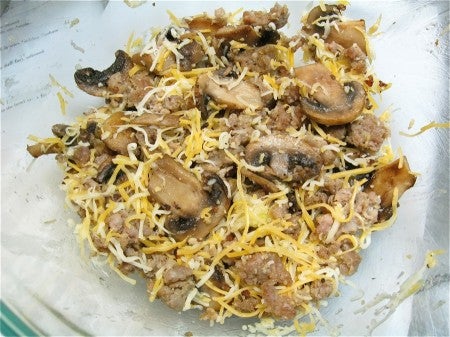 Mix the following:
1 3/4 cups (142g) fresh mushrooms, sliced and lightly sautéed
3/4 pound (340g) breakfast sausage, cooked and crumbled, fat removed; 1 scant cup
2 teaspoons fresh crushed garlic
1/2 cup (57g) grated cheddar cheese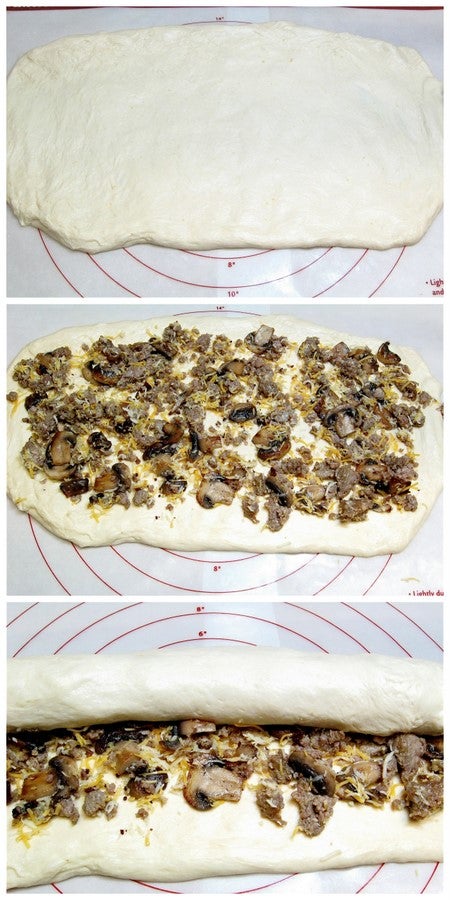 Gently deflate the risen dough. On a lightly floured or lightly greased work surface, roll it into a 9" x 15" rectangle.
Sprinkle the filling atop the dough, leaving a 1" border at the edges. Roll the dough up jelly-roll style, starting with a long edge. Pinch the seams well, and tuck the side edges under, pinching them to seal.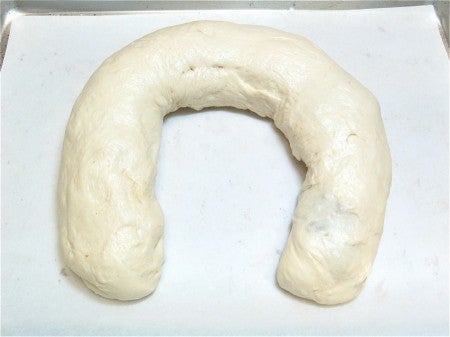 Pick up the log of dough and transfer it, seam-side down, to a parchment-lined baking sheet. Shape it into a crescent or horseshoe shape.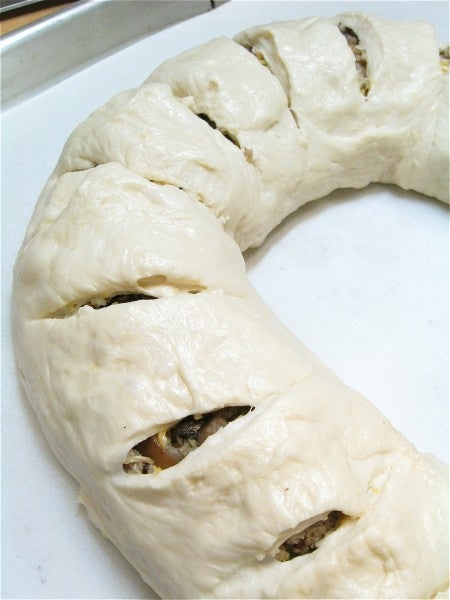 Make cuts (about 1/2" deep) at 1" intervals across the top of the loaf.
Cover the crescent with greased plastic wrap and let it rise for 30 minutes.
Now, at this point, you can tent the crescent with plastic wrap and refrigerate it overnight. Makes for a VERY easy breakfast the next day.
You can also bake it as directed below, then cool, refrigerate overnight, and rewarm individual slices the next day.
You can also bake it immediately and enjoy it hot out of the oven.
Totally up to you which path you take – they're all delicious.
Towards the end of the rising time, preheat the oven to 375°F.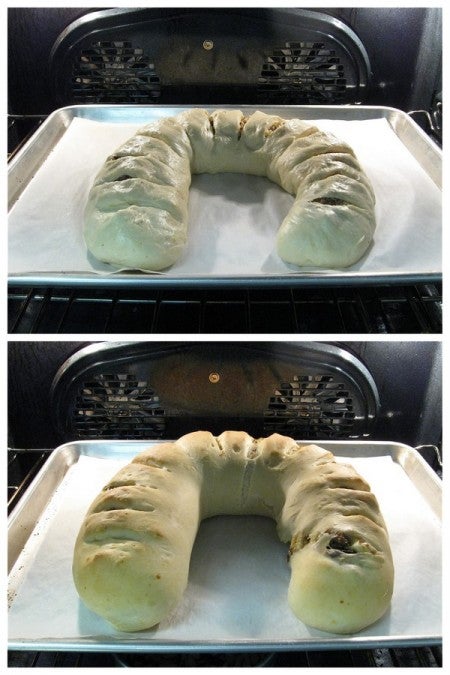 Bake the crescent for 25 to 30 minutes, or until it's golden brown. It should puff up nicely.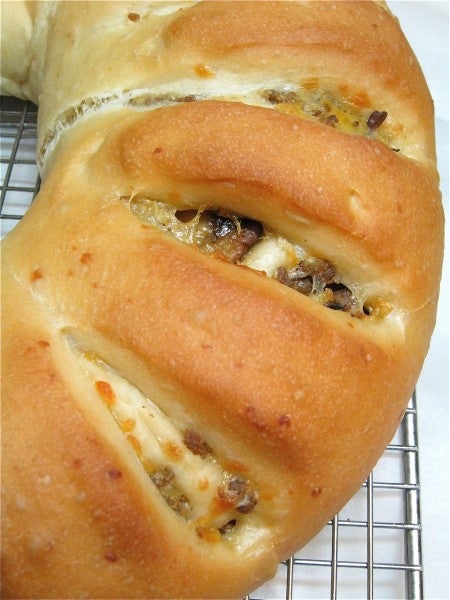 Allow the crescent to cool for 10 minutes before serving warm.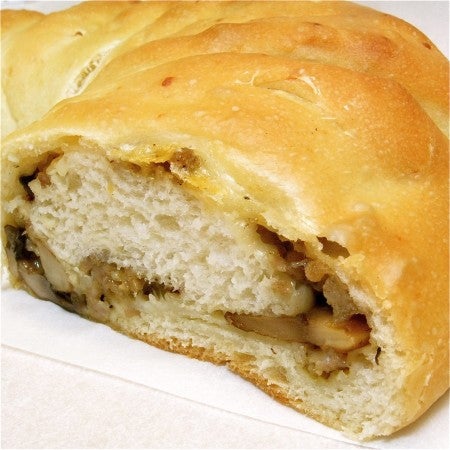 This stuffed bread holds together nicely. It's easy to eat out of hand, rather than off a plate – perfect for the frenzy of Christmas morning!
Read, bake, and review (please) our recipe for Stuffed Breakfast Crescent.
Jump to Comments