Easy Jelly Doughnut Holes: happy Chanukah!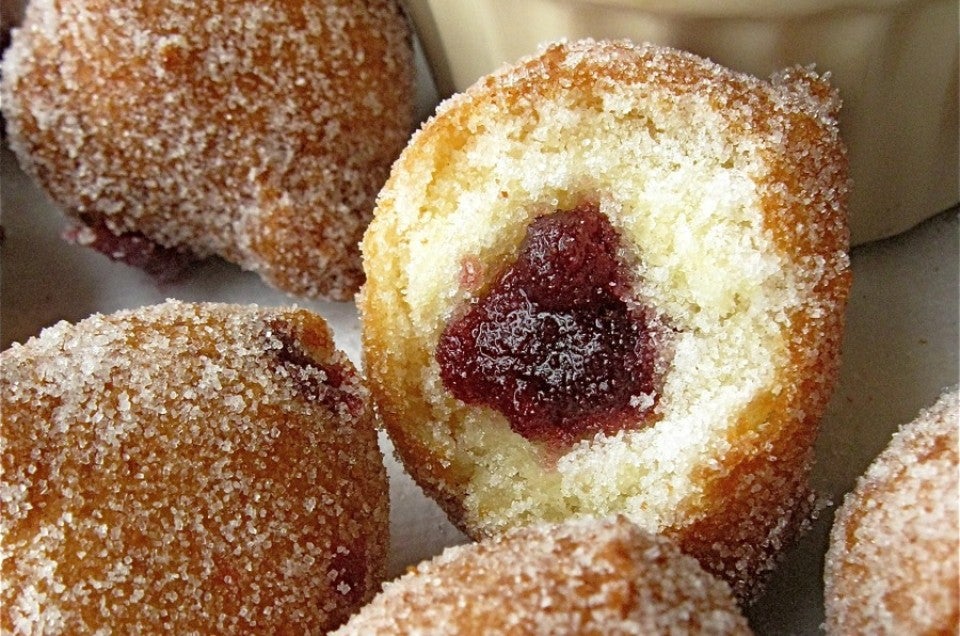 Chanukah, the Jewish Festival of Lights, begins at sundown tomorrow, December 20.
One of the best-loved Chanukah treats is sufganiyot: a yeast-filled doughnut filled with something as simple as red jelly, or as decadent as cappuccino cream.
How easy is it to make sufganiyot for Chanukah?
Well...
How easy is it to make these jelly doughnut holes?
VERY.
Chanukah food is all about the oil, right? That small bit of olive oil that once miraculously kept the temple menorah burning for 8 days is now represented in the holiday's signature fried food.
Think latkes, those wonderfully crisp potato pancakes.
And sufganiyot. According to Wikipedia, "Angel Bakeries, the largest bakery in Israel, reportedly fries up more than 250,000 sufganiyot every day during the eight-day Hanukkah festival."
Now THAT's a lot of doughnuts!
And a lot of deep fat - if that's how you fry your doughnuts.
Which I don't.
I much prefer the shallow-fat frying method, using a mere 3/4" to 1" of oil in an electric frying pan.
The resulting doughnuts are, I swear, just as crispy, light, and flavorful as any fried in a bubbling vat of hot oil. Remember, Chanukah celebrates a shortage of oil; why mark the occasion with a gallon of fat, when just a quart will do?
The following recipe makes a cake-type doughnut, rather than yeast-raised. Hey, I know this isn't traditional; but what can I say, it's fast, easy, and delicious.
And that means a lot during the holidays, whether you celebrate Chanukah, Christmas, or even the winter solstice (any Druids out there?)
Let's whip up some Easy Jelly Doughnut Holes.
Get out a skillet that's at least 2 1/2" deep; a 10" electric frying pan is a great choice, if you have one. Fill it with about 1" of vegetable oil – peanut oil gives the best flavor, but plain vegetable oil is fine, too.
How about canola oil? It tends to have a strong taste that some people love, and some dislike. Use it only if you know you like its deep-fried flavor.
Start heating the oil to 350°F while you make the doughnut batter.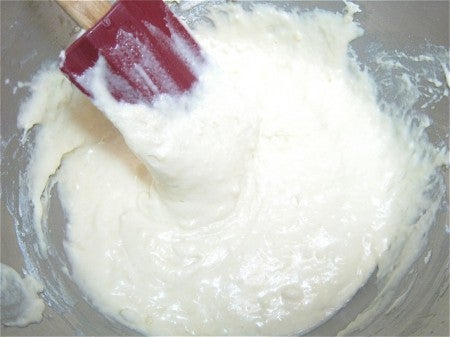 Whisk together the following:
2 cups (8 1/2 ounces) King Arthur Unbleached All-Purpose Flour
2 tablespoons sugar
1 1/2 tablespoons (4 1/2 teaspoons) baking powder
1/2 teaspoon salt
Whisk the following in a separate bowl:
1 cup lukewarm milk
1/4 cup melted butter
1 large egg
1 teaspoon vanilla extract, optional
Combine the wet and dry ingredients to make a thick batter.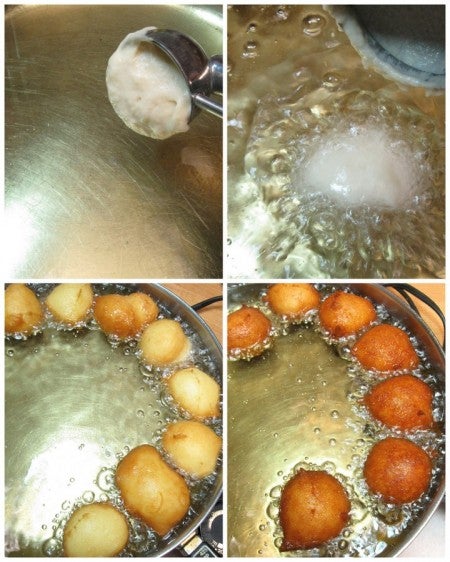 When the oil has come up to temperature, use a tablespoon cookie scoop (or spoon) to drop balls of batter into the hot oil. The balls should be about the size of an undersized ping pong ball, which will result in doughnut holes about 2" in diameter.
Don't crowd the pan; I've found frying about 8 balls at a time, in a 10" skillet, is plenty.
Fry the doughnut holes for 2 minutes on the first side, or until they're a deep golden brown. Some of them may turn themselves over; that's OK, just use a pair of tongs to turn them back. After 2 minutes, turn the holes over, and fry for an additional 2 minutes, until golden brown.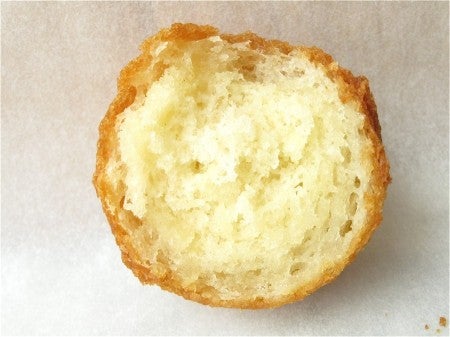 You might want to test-fry a single doughnut hole first, to nail the time/oil temperature. This is what the perfectly fried doughnut should look like inside: a thin, crisp crust, with the center cooked all the way through.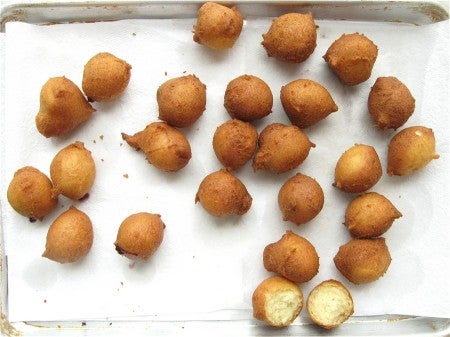 Transfer the doughnut holes to a baking sheet lined with paper towels to drain and cool.
Next - fill 'er up!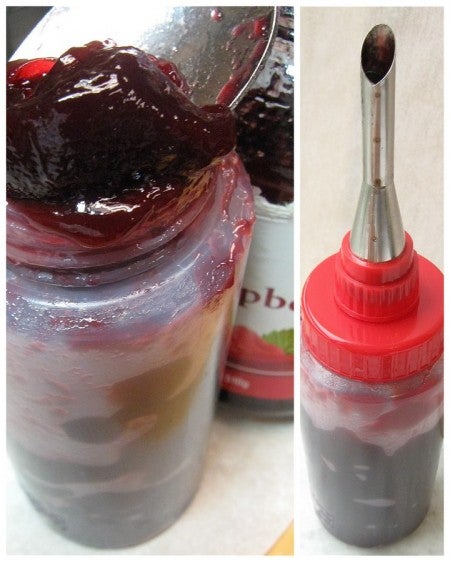 We happened to have one of the squeeze bottles from a decorating set hanging around the kitchen when I made these, so that's what I used.
You can also use a piping bag with a long, plain tip. If you don't have a piping bag, try using an inexpensive plastic condiment squeeze bottle (think mustard or ketchup), with its tip cut off midway down to widen it sufficiently for jelly to flow easily.
Fill your tool of choice with jelly or seedless jam. The less chunky the jam, the easier it'll be to pipe.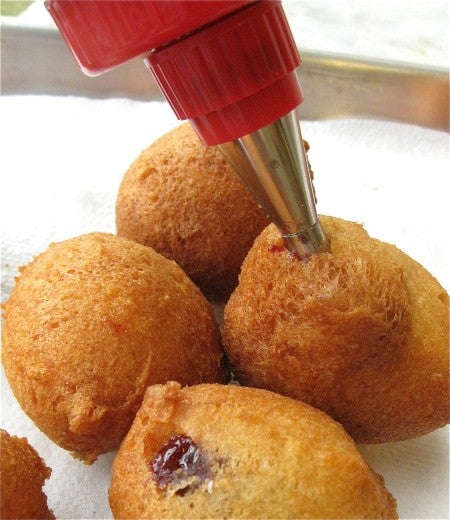 Stick the tip of whatever tool you're using into the center of a doughnut hole.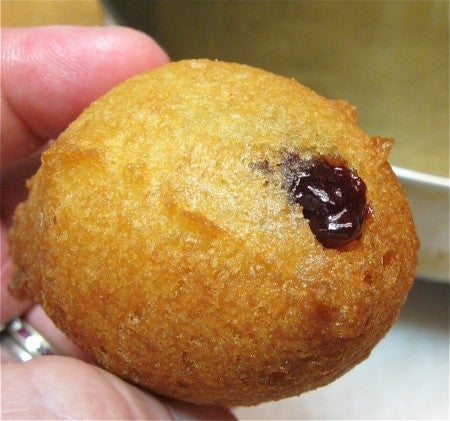 Squeeze until jelly starts to ooze out the hole around the tip.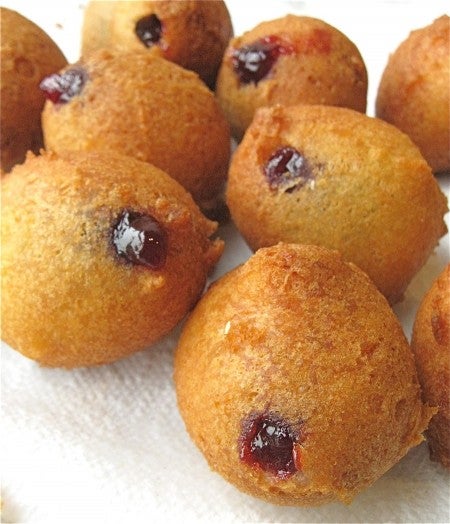 Repeat with all the doughnut holes.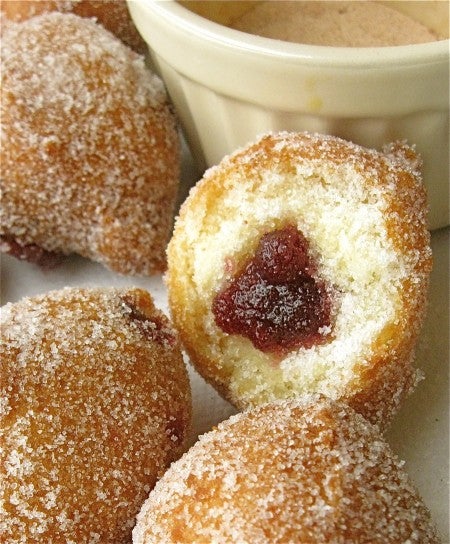 I like to shake these doughnut holes in granulated sugar. While confectioners' sugar is traditional, granulated is less messy, doesn't sink in and disappear, and adds to the doughnuts' crunch.
Works for me.
Read, make, and review (please) our recipe for Easy Jelly Doughnut Holes.