Got scissors?
How to snip your way to a beautiful cake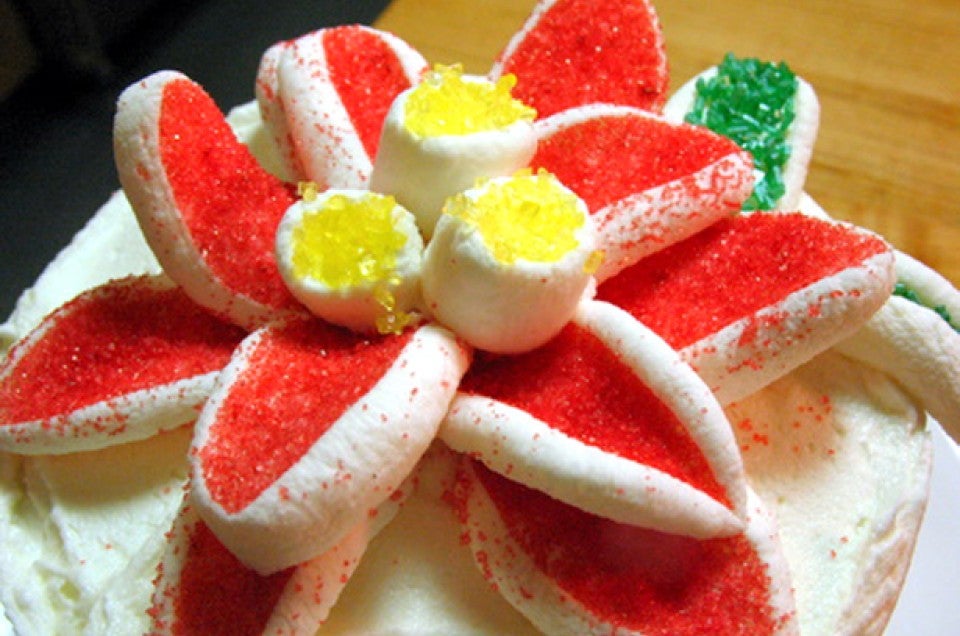 With holiday parties just around the corner, you'll be needing some quick festive cakes at some point. This sparkly, whimsical cake can be decorated in less than...
10 MINUTES!  Seriously, I promise anyone can make this and in record time too. Let's find out how.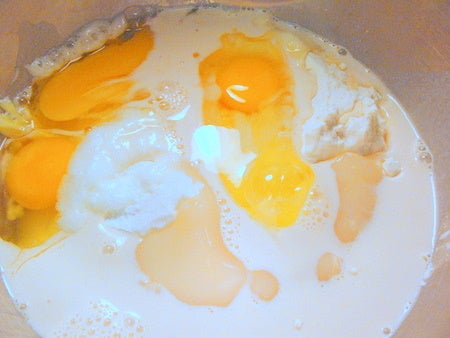 Preheat the oven to 350°F.  I'm using my favorite recipe for Tender White Cake, but using the Classic Yellow Cake version in the recipe tips section.
Lately, I've been playing with a two step method for putting together a standard butter cake batter. All ingredients except for half of the liquid go into the bowl and get beaten on medium speed for three minutes.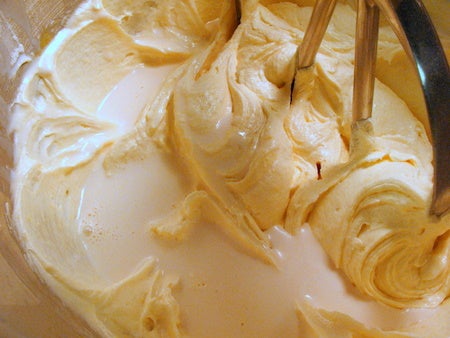 The remaining liquid goes into the batter, and the batter is mixed on medium for another two minutes. The result is a fine-grained cake with good loft, and little chance of overbeating.
If you are making a recipe for the first time, be sure to follow the directions in the recipe. If you have a favorite recipe and want to try this method, give it a go and let me know what you think. I've been happy with the results myself, but the more the merrier.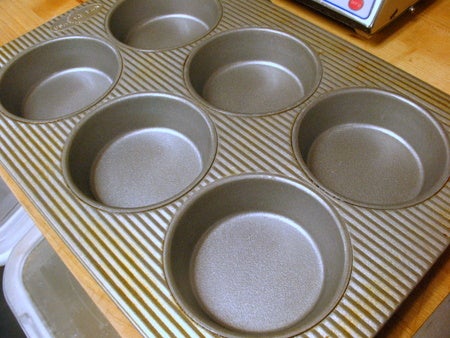 Check out my new favorite cake pan. For you sharp-eyed, long-time readers you'll recognize it as our hamburger bun pan. We've been having fun finding new ways to use the pan and both Charlotte, our recipe developer and I have been making cake after cake in them. The size is perfect for two people to share, or for taking to a bake sale or dinner.
When baking in this pan, one recipe for a two-layer cake will fill 10 to 12 of the wells, so if you only have one pan you'll need to use it twice. No worries, the extra batter can rest at room temperature while the first round bakes, as it only take about 15 minutes. Unique cakes, and quick too!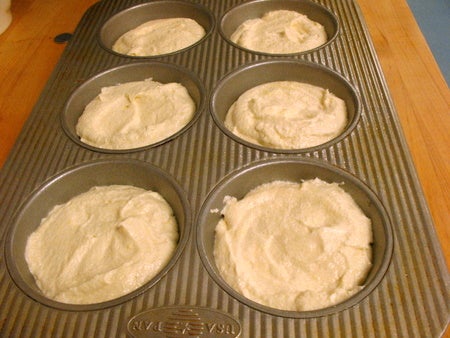 Lightly spritz the pan with cooking spray and fill the wells half full with cake batter. Bake for about 12 to 15 minutes or until the cake is golden brown and a cake tester inserted into the center comes out clean.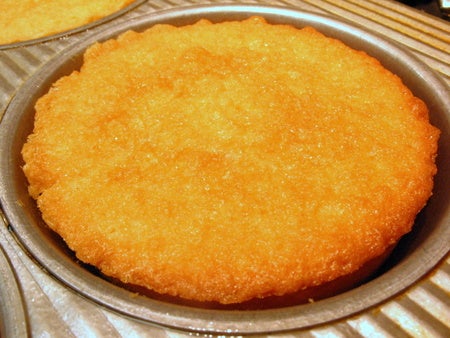 What a cute little layer of cake. Notice how it slightly pulled away from the sides of the pan, another visual sign that it is done. Let the cakes rest in the pan for 5 minutes before turning them out on a wire rack to cool completely.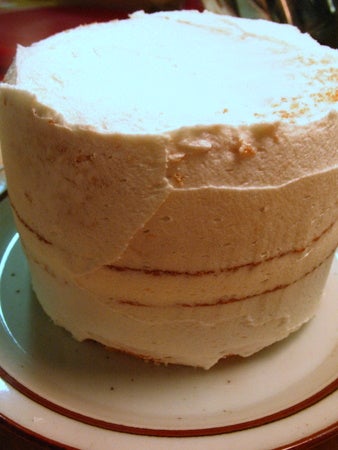 Match up two layers and fill, stack and ice them with your favorite frosting. In all honesty, my favorite vanilla icing is our Vanilla Buttercream Frosting mix. I always try to keep at least one box on hand for when the cake mood strikes.
This cake is not fully frosted yet. It has what's called a crumb coat on it. That is, it has a thin layer of icing applied which acts as a base, a primer coat if you will. That covered the flaws and glues down the crumbs so that when you apply the final layer of icing, it stays neat and clean.
Crumb coats should be thin, and after applying the coat it's best to place the cake in the fridge or freezer to firm up before adding your final layer of icing. Cakes can be frozen in just their crumb coat for up to 4 weeks. Be sure to wrap them very well to ensure they don't pick up odors from the freezer.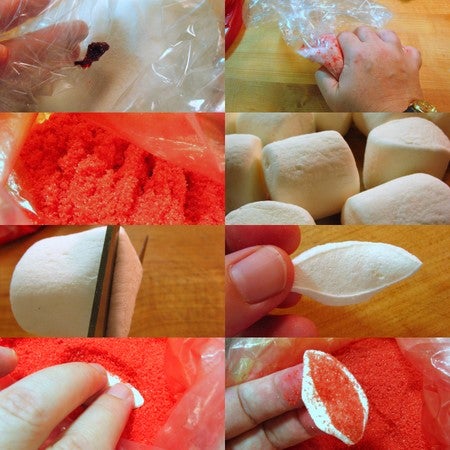 Now, where did you put those scissors from the blog title, you're going to need them.
No worries, we're going to break down the collage above into simple steps. First, if you want to color your own sugar, it's as easy as can be. Place a cup of table sugar in a sturdy plastic bag, and add some gel paste food coloring. Please don't use liquid food coloring, it will melt the sugar rather than color it. Close the bag and massage the gel throughout the sugar. This will take a few minutes and is a great way to get the little ones involved.
Once your sugar is to the desired shade (red, red, red for me), you are ready to snip your secret ingredient. MARSHMALLOWS!
Hold the marshmallow sideways, like a tipped over barrel, and snip all the way across like cutting a section off of a log. The "petal" will peel away and curl slightly. The thinner the slice, the more it will curl. For each petal, you'll have a firmer border and a soft, sticky center.
Press the center into your sugar, then shake off the excess. Presto change-O, you've got yourself a burst of beauty. Keep snipping and dipping until you have a good sized stockpile of leaves.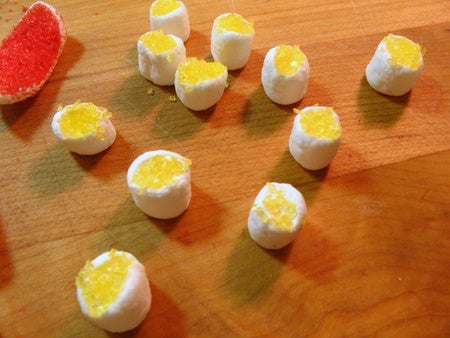 Mini marshmallows make excellent centers for your flowers. Snip just the top off of each one and dip in sugar. For extra bling, try some coarse colored sugar.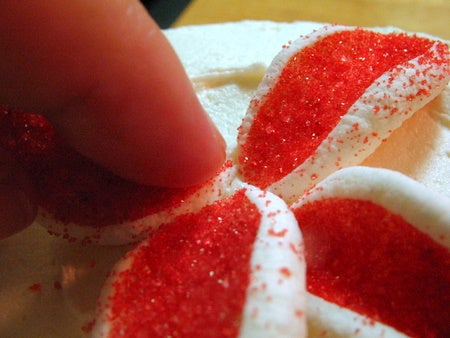 Now you are ready to start creating your flowers. (By the way, do you know how many times I've typed "flours" instead of "flowers" for this blog? Toooo many!).
While your final layer of icing is still soft, press the sugared leaves into the icing. Start with the bottom layer of petals and work your way around the cake. If you need to, squirt a little extra icing on the back of any petal that won't stay in place. Paste never tasted so good.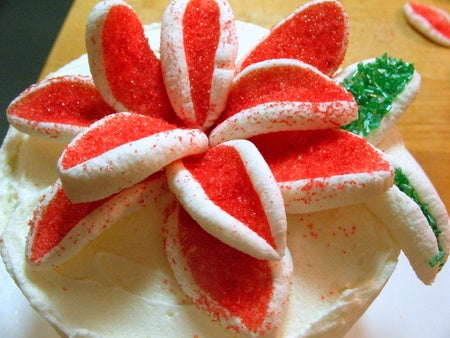 Working your way towards the center, add layers of leaves to build your ultimate blossom.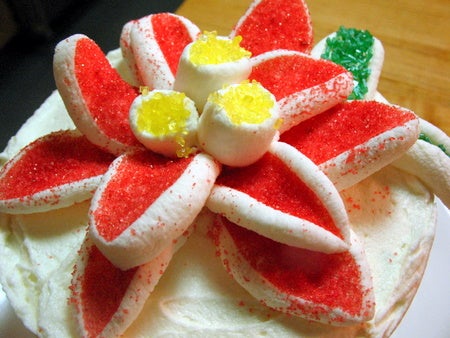 Attach the centers with daubs of icing. If you check to the right, you can see a couple of green leaves. The green luster sugar we carry really gave the leaves a splash of glitz.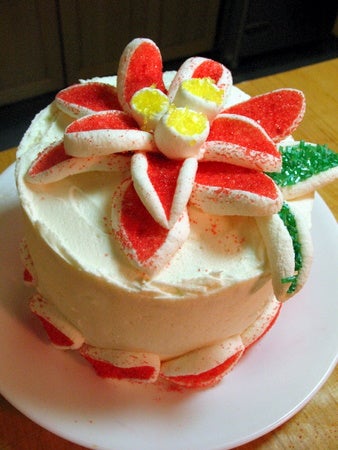 To finish, place a border of petals around the base of the cake. You could add more details with piped icing if desired. We offer a variety of decorating sets to help you out with all of your Cake Boss dreams.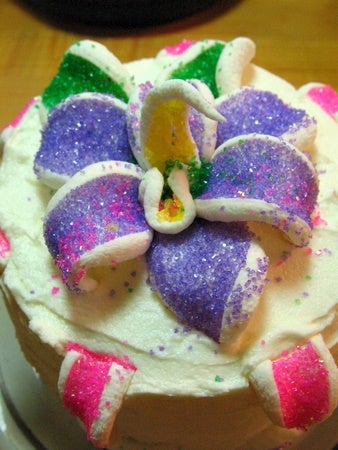 Don't think you have to stick with poinsettias either. With a little color and imagination, you can create wildflowers and WILD flowers. Who wouldn't love this orchid cake on their plate for a birthday celebration?
For those of you who are like me and prefer perfection, I'll tell you up front there will be sugar crystals escaping onto your cake left and right and you'll never be able to catch them all. Just relax and go with the flow of the flower and you'll dazzle your friends so much they won't notice the occasional errant sprinkles.
I hope you give this fast, fabulous technique a try. It's a perfect snow day activity if you have kids who love to bake and trust me, the bake sale table will never be the same!
Please bake, rate and review our recipe for Tender White Cake.