Yule logs
Gluten free or not, yule love 'em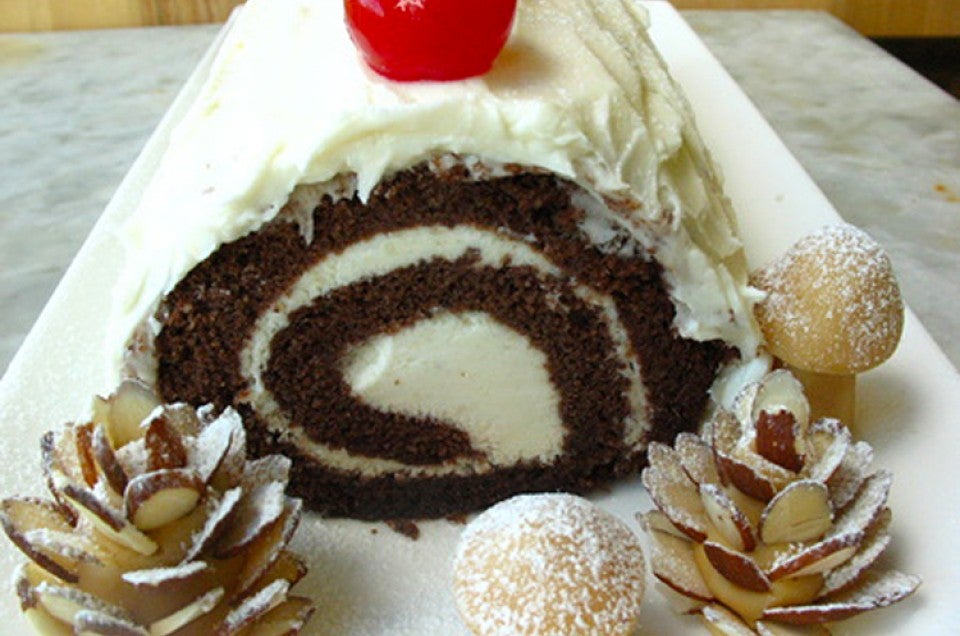 Deep in the woods of Bakeryland, the forest creatures are preparing for their holiday feast. Cookies and pies and buns for the bunnies and birdies, but what about Sammy the squirrel? Sammy is gluten free and cannot join his friends in eating cake.Whatever shall he do?
OK, so maybe this opening is a little...
sappy (pun intended). It reminds me of the Little Golden Books from decades ago. No worries though, this blog won't be filled with morality lessons and hints about tolerance, but we'll definitely cover the part about gluten free treats for our holiday friends.
Not just any treats either, but genuine holiday yule logs, aka Bûche de Noël. This is a classic dessert of a sponge cake rolled up with a rich creamy filling and enrobed in chocolate. The chocolate is often roughened with the tines of a fork to mimic the bark of tree and dusted with cocoa powder. Meringue mushrooms or marzipan berries are added to complete the woodsy look. For those without fireplaces in which to burn real logs, a cake log is a perfect way to celebrate the season.
This blog will cover both a gluten free cake version and a regular wheat flour version. Gluten free is up first, followed by the flour version. Feel free to read both, or just the section that applies to the cake you need to bake. The techniques are different for both cakes, so why not check out both, and expand your baking bag of tricks.
Onward, my forest friends to a Gluten-Free Chocolate Yule Log.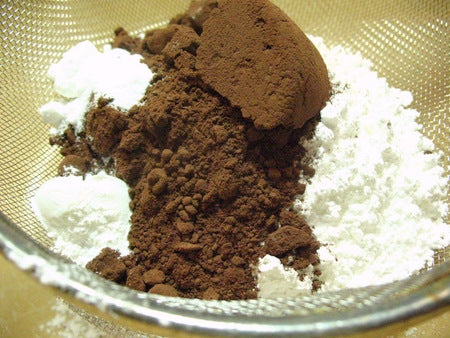 Preheat the oven to 375°F. Line a 9 1/4" x 14" x 1" (jelly roll) pan with parchment or foil; generously grease the parchment or foil.
Sift together the 1/2 cup confectioners' sugar, 2/3 cup Gluten-Free Flour, 1/4 cup unsweetened baking cocoa ,1 teaspoon Gluten-Free Cake Enhancer, and 1/2 teaspoon baking powder twice. You want the dry ingredients light and airy, so don't skip this step.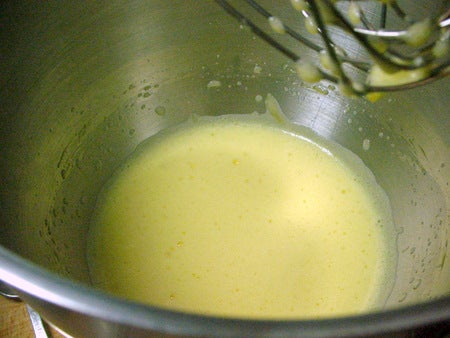 Whip the eggs and salt at high speed of an electric mixer for about 5 minutes, until thick and lemon-colored.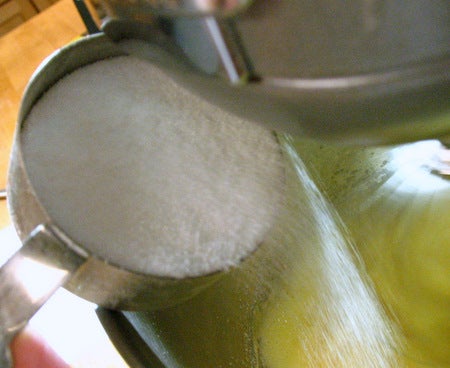 While continuing to beat, gradually add the granulated sugar. I've found if you set the cup of sugar on the edge of bowl, the vibrations will slowly giggle the sugar into the bowl, not too fast, not too slow.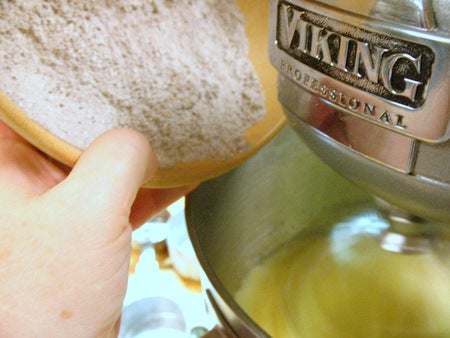 Add the sifted dry ingredients in the same way, mixing just until the dry ingredients are wet.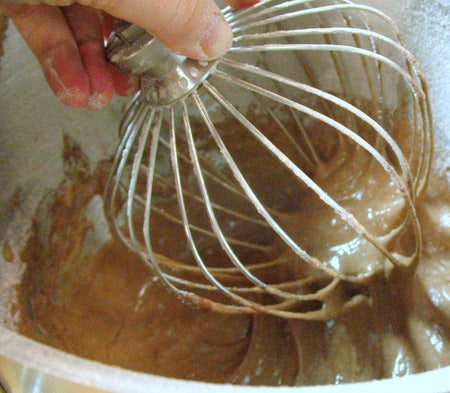 At this point, it is easier to stop the mixer and complete the last stirring by hand.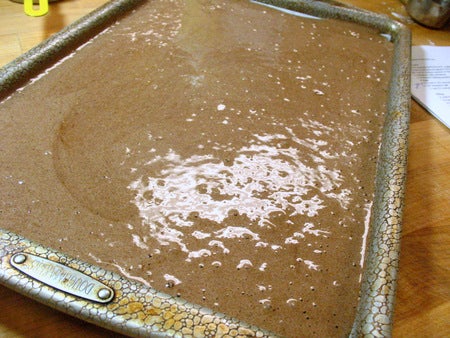 You want to still see streaks of darker batter in the mixture. Check out the nice streak on the left side of the pan.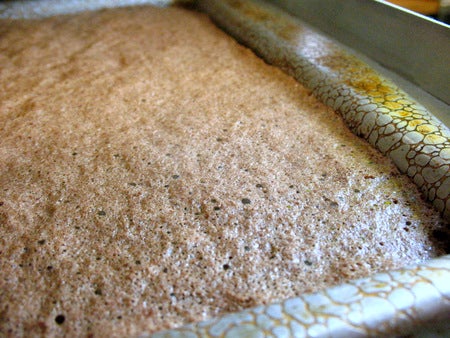 Bake for 13 to 16 minutes or until a cake tester in the center of the cake tests clean. Remove from the oven and cool IN THE PAN for one hour. This is very different from other cream roll type cakes, but is essential for success with a gluten free roll.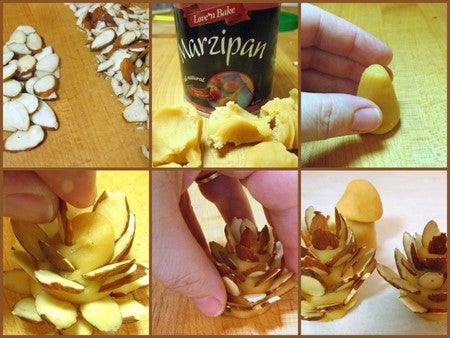 While you are waiting, try your hand at marzipan decorations. To make the pine cones, select even "leaves" of sliced almonds, then roll a small cone of marzipan. Beginning at the bottom, press the almonds into the paste round after round. When you have a full pine cone, use your fingers to shape and press the almonds upward to create the pine cone shape.
For mushrooms, begin with the same cone of paste, then press a half ball of paste onto the top. Press and shape with your fingers until you have a "cap" for your 'shroom. Marzipan keeps well, so these can also be made several days ahead and stored covered at room temperature.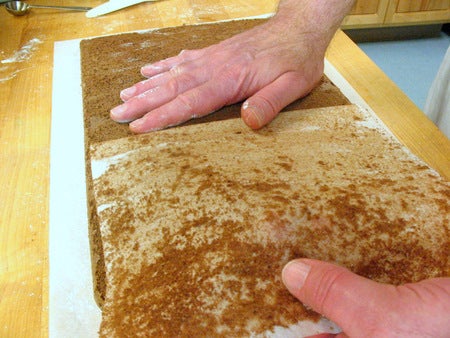 Once the cake is completely cooled, turn it out onto a clean sheet of parchment paper dusted with confectioners' sugar. Gently peel off the baking parchment, taking your time and pressing gently on the cake to keep it in place.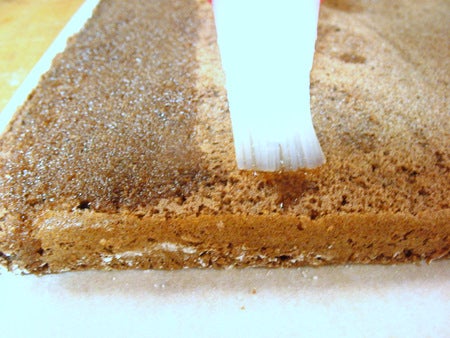 Brush the cake with 1/4 cup of your choice of liquor (here I used Frangelico). You can also use simple syrup.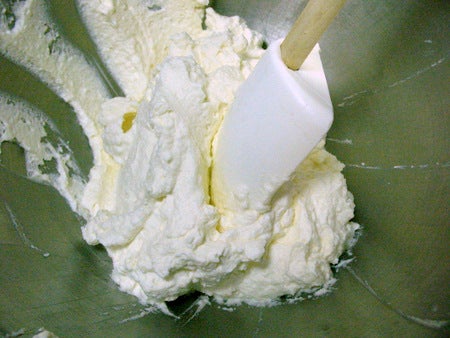 For a simple creamy filling, whip 2 cups of heavy cream with 2 teaspoons of vanilla and 4 teaspoons of sugar. If you wish, you can use whipped cream stabilizer or instant clearjel to stabilize the filling. These two ingredients are NOT gluten free however, so be sure you know your crowd and their gluten tolerances before adding.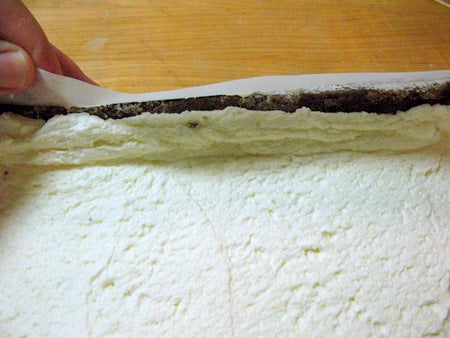 Spread on 1 cup of the filling, then gently roll up the cake, starting with the short end.  Slow and steady wins the race here.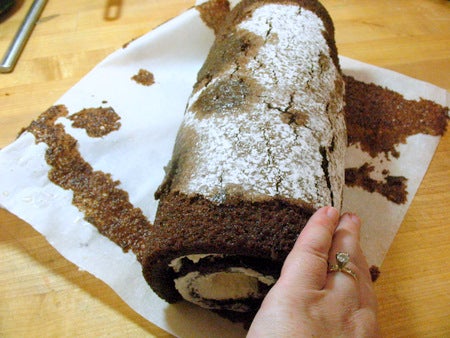 When the cake is rolled, press it evenly all over to help it adhere together. To ice the cake, spread with the remaining cup of whipped cream.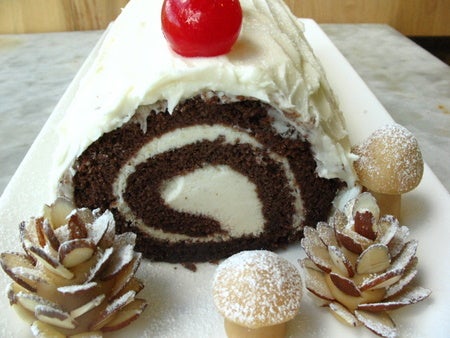 Some pretty red cherries for color, a few pine cones and a dusting of sugar "snow" and you'll have a yule log that will leave your guests burning with desire for another slice.
Here endeth the lesson on the gluten free version of the yule log. For the regular wheat flour version, keep reading below the fold.
_____*****_____*****_____*****_____*****_____*****_____*****_____*****_____*****_____*****_____*****_____*****_____*****_____*****_____*****_____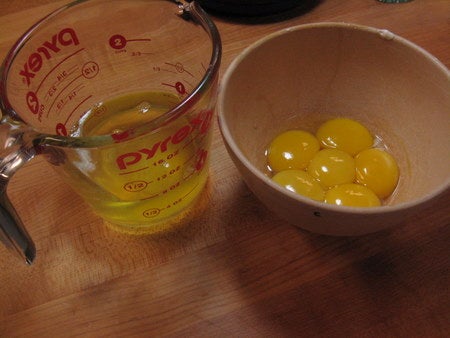 A traditional jelly roll cake is a chiffon, with beaten yolks and sugar combined with beaten whites. To start, separate 7 large eggs.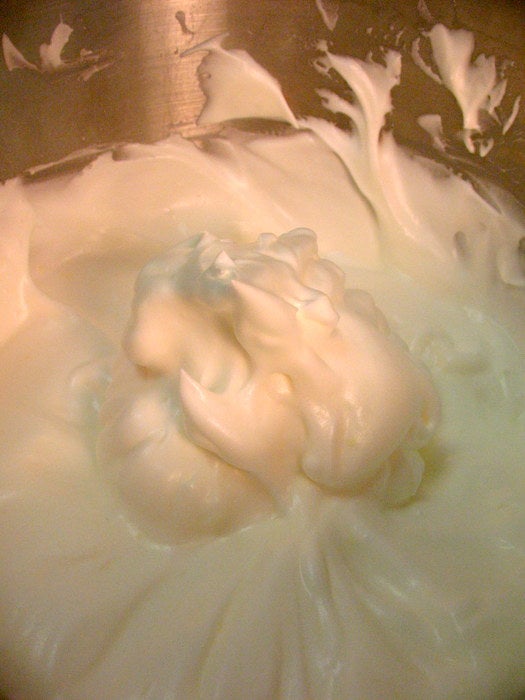 Whip the whites  until foamy, then slowly pour in 1/2 cup of granulated sugar. Continue to whip on high speed for several minutes until stiff peaks form. You want the whites stiff, but not dry. Set aside while you whip the yolks.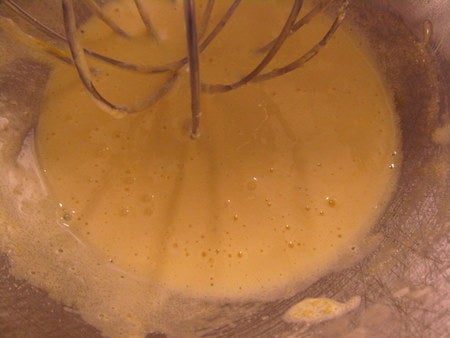 Whip the 7 egg yolks, 1/2 cup vegetable oil, 3/4 cup milk and 1 teaspoon vanilla until very light and buttery yellow in color. If you wish, you can add 1/8 teaspoon of hazelnut, or almond or other flavoring of your choice.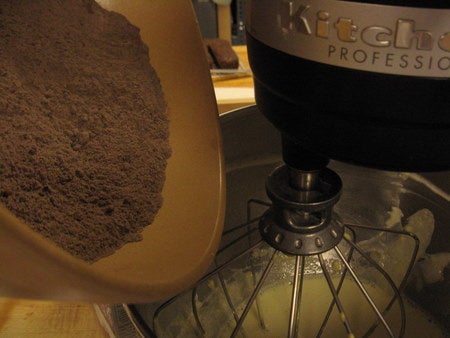 In a small bowl, sift together 2 cups King Arthur Unbleached All-Purpose flour, remaining one cup sugar, 1/2 cup dutch-processed cocoa, 2 1/4 teaspoons baking powder and 1/2 teaspoon salt.
Blend the dry ingredients into the wet while mixing on low speed. Increase the speed to medium and blend for one minute until fully incorporated.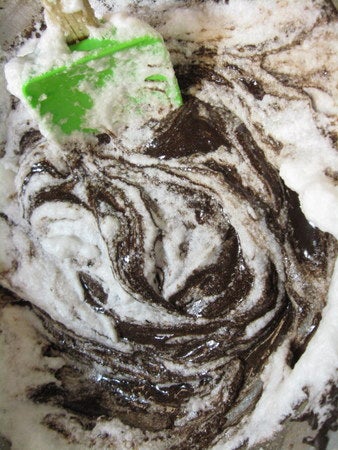 Remove the bowl from the mixer and fold in the beaten whites, 1/3 at a time. Use a down, up, fold motion with a light touch to keep the volume of the whites.
When you have just a few streaks of whites left after the last addition of whites, stop blending.
Pour the batter into a parchment-lined half sheet pan and bake at 325°F oven for 15 to 18 minutes, or until the cake begins to pull away from the sides of the pan. Remove the warm cake from the pan by lifting it with the parchment paper.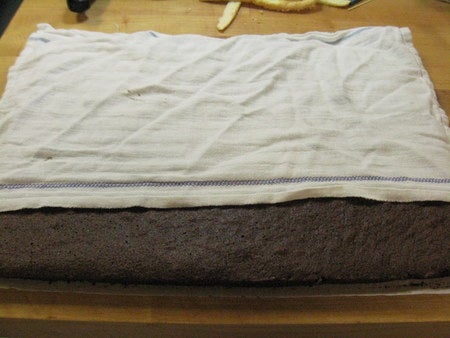 Lay the cake on the counter and trim off 1/2" on all four edges. You'll need a clean kitchen towel or two for rolling up the cake. If you lay the towel next to the cake, you can judge to see if it will be long and wide enough BEFORE you start rolling and get stuck.
When you have your towel(s) set, generously dust the top of the cake with confectioners' sugar then cover with the towel.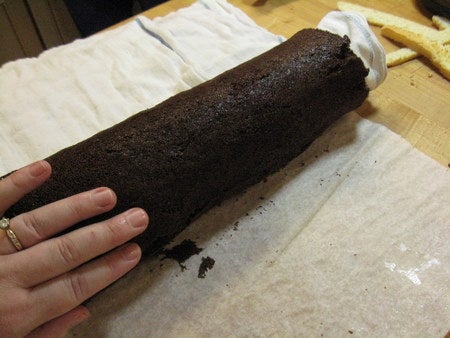 Roll 'er up, starting with one short side. Keep the towel inside the roll of cake, as if it were the filling. Cool the cake completely on a wire rack. When cooled unroll, replace the towel with the filling of your choice and re-roll up, just as pictured for the gluten-free cake at the beginning of the blog. Frost as desired.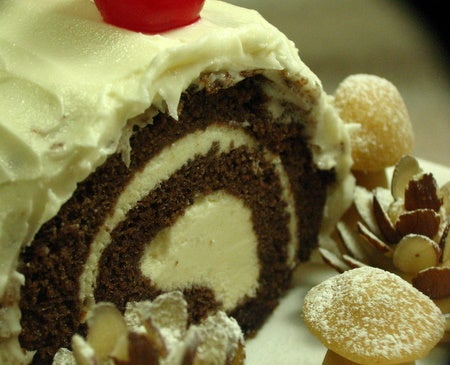 Gluten free or not, a yule log is a lovely way to celebrate the holidays. With the decorative swirls of cream and cake, plus personal little touches like pine cones, squirrels and mushrooms, you can really make a statement and show everyone how much you care. In New England, there is a saying about cord wood, that it warms you twice. Once when you cut it and once when you burn it.
To me, these yule logs warm you twice as well. They warm your heart as you bake them and again as you see how much everyone enjoys them. From our hearth to yours, have a great holiday season.
Please bake, rate and review our recipe for Gluten-free chocolate yule log.
Please bake, rate and review our recipe for Bûche de Noël.