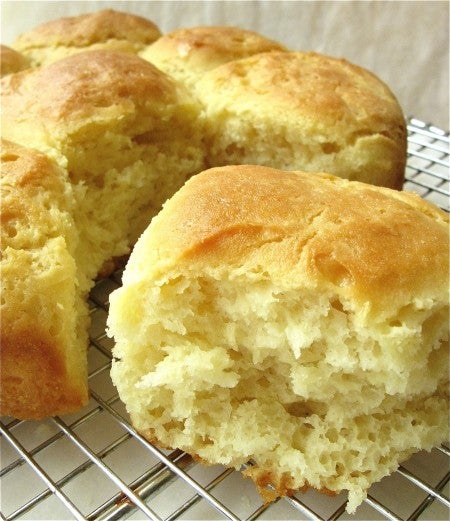 When someone first starts following a gluten-free diet, what do you think they miss the most?
Chocolate chip cookies? Pancakes? Birthday cake, maybe?
Nope. While we haven't seen any "official" studies offering insight into this question, our anecdotal research shows that what people miss most on their gluten-free diet is...
Bread.
Bread of all kinds, from sandwich bread to crusty sourdough, toast and croutons to stuffing for the Thanksgiving bird.
It's not surprising – I mean, a peanut butter cookie is a peanut butter cookie. But bread – it's a mainstay of so many of our meals, it's difficult to imagine life without it.
Yet that's exactly what all of our friends on gluten-free diets are forced to do.
Until they discover how to make their own gluten-free version of "the staff of life."
Gluten-free yeast bread is the most difficult project our GF team here at King Arthur flour has tackled. We've spent about 3 years devoting a lot of time and resources to GF baking, and yeast bread is still a work in progress.
Which isn't to say our recipes for sandwich bread, sorghum sandwich bread, and whole-grain bread aren't pretty darned good; just that we continue to work on ways to make them even better.
Like mounding the sticky batter in the pan to make the traditional dome-shaped loaf. Unlike yeast breads with gluten, GF bread won't dome on its own; you have to help it.
And how about baking a good loaf of GF bread in your bread machine? The tips we offer for baking King Arthur GF bread mix in your Zojirushi bread machine may very well translate to your own recipe and bread machine.
With the holidays right on the doorstep, we figured this would be a great time to showcase one of our newest GF recipes: Gluten-Free High-Fiber Dinner Rolls. Moist and tender, these rolls could easily slip unnoticed (though not unappreciated) into any Thanksgiving bread basket.
Note the recipe title: many of you have requested breads with fiber.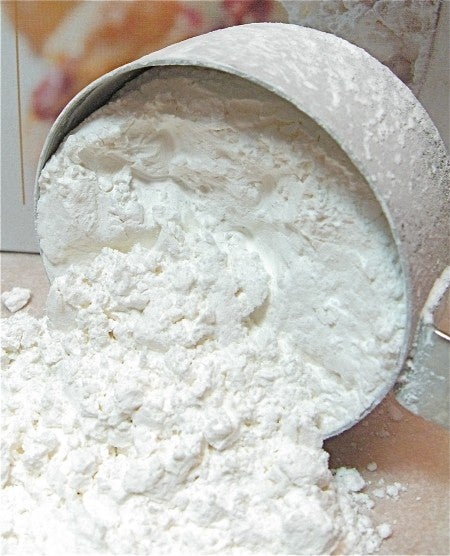 So we've added Hi-maize Fiber to the recipe. Trust me, you'll never know it's there – these rolls are soft and tender, with none of the grittiness sometimes associated with GF flours and whole grains.
So, enough with the preamble - let's bake some gluten-free rolls.
Whisk together the following in a mixing bowl:
1 1/2 cups King Arthur Gluten-Free Multi-Purpose Flour or brown rice flour blend (6 ¾ ounces)*
1/4 cup Hi-maize Fiber
1 tablespoon gluten-free Cake Enhancer, optional (helps keep rolls moist and fresh)
1 teaspoon instant yeast
3/4 teaspoon salt
3/4 teaspoon xanthan gum
1/2 cup lukewarm milk
2 large eggs
2 tablespoons honey
2 tablespoons soft butter
*To make your own brown rice flour blend, whisk together 6 cups (32 ounces) King Arthur stabilized brown rice flour; 2 cups (10 3/4 ounces) potato starch; and 1 cup (4 ounces) tapioca flour or tapioca starch. Store airtight at room temperature. Note: You can substitute white rice flour for the brown rice flour if you like; it'll make your baked goods grittier (unless you manage to find a finely ground version).
Using an electric mixer (hand mixer, or stand), beat everything together until smooth. Scrape the bottom and sides of the bowl, then beat at high speed for 3 minutes, to make a smooth, thick batter. Scrape the batter into the center of the bowl.
Attention, eagle-eyed readers: if you compare this blog post with the online recipe, you'll notice I wasn't very good about following the recipe exactly. I'm impatient; where the recipe has you whisking dry ingredients, beating together liquid ingredients separately, adding them a bit at a time, etc., I just dumped everything in the bowl and beat it.
The rolls came out just fine. So follow my instructions here, or follow the recipe instructions; either is a good option.
Cover the bowl, and let the thick batter rise for 1 hour. It won't appear to do much; that's OK.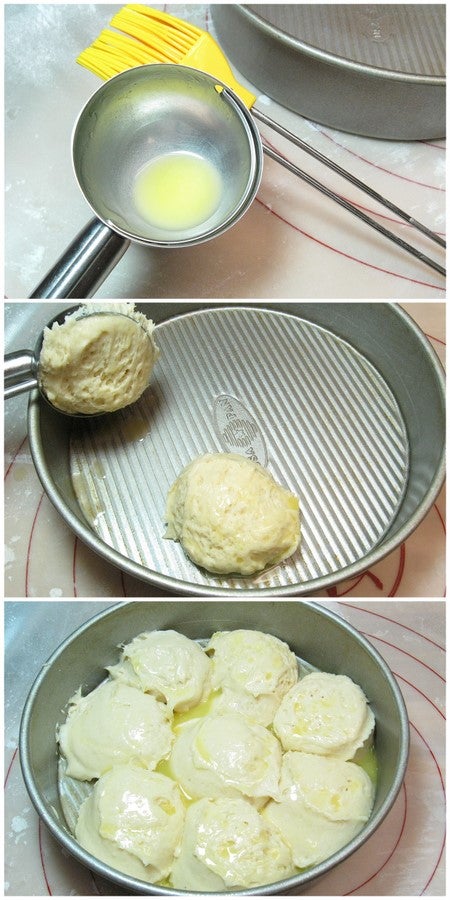 Grease an 8" round pan; or 6 English muffin rings; or the wells of a hamburger bun pan. Grease a muffin scoop or large spoon with some melted butter, or with non-stick baking spray.
Scoop the dough into the 8" round pan; slightly overfilling a muffin scoop works well here. Space 7 mounds around the perimeter, and 1 in the middle.
To make larger sandwich buns, drop the batter into the prepared hamburger bun pan, or into the English muffin rings placed onto a greased or parchment-lined baking sheet. Flatten the dough slightly, using a greased spatula or your wet fingers.
Cover with greased plastic wrap, and set in a warm place to rise until the rolls touch each other and look puffy. This should take about 45 to 60 minutes. Towards the end of the rising time, preheat the oven to 350°F.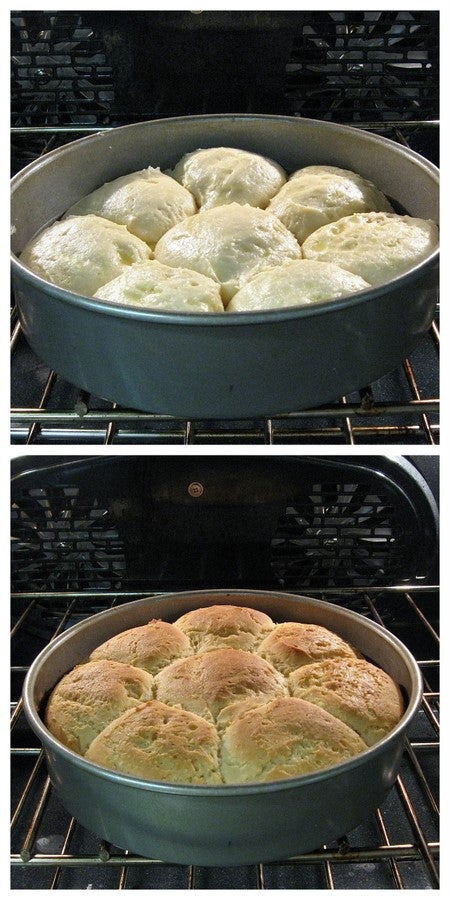 Bake the rolls for 28 to 32 minutes, until they're golden brown.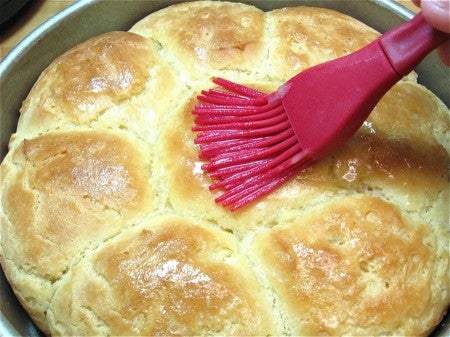 Remove the rolls from the oven. Brush with melted butter, if desired.
Let the rolls cool in the pan for 10 minutes, then turn them out of the pan onto a rack.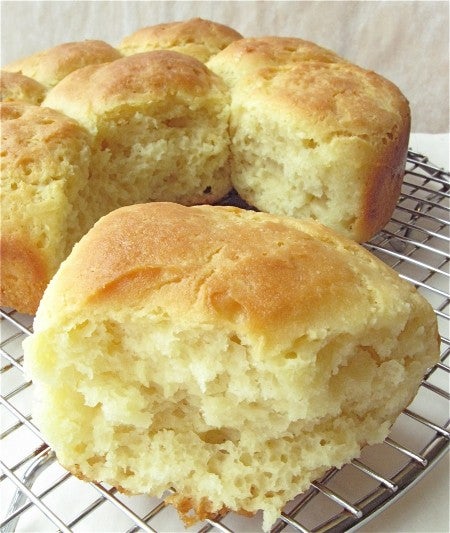 Serve warm.
Your GF family and friends will thank you...
Read, bake, and review (please) our recipe for Gluten-Free High-Fiber Dinner Rolls.