It's been a busy day. Maybe a tough one. You get home, drop your keys, and take a peek at the mail. Smiling up at you from the pile is your Baking Sheet, with a gorgeous photo of something that a) makes you hungry and b) has you itching to bake. RIGHT NOW. Better yet, there's the promise of many more recipes of equal allure inside. Recipes like this one.
Behold the Butterflake Herb Loaf from our Holiday 2011 issue. Like just about every recipe we publish, it's got a story. I love stories. Here's the introduction to this one from page 31:
"This recipe, which is approaching its 40th birthday, was sent to us by Barbara Tuttlebee of Signal Mountain, TN. She wrote that she's 76 years old.
"Dating from 1964, the recipe has been a holiday staple for her family for more than 30 years. It was originally a 'Senior Best of Class Winner' for Mrs. Roy Knighton, from Chama, NM. I made a few changes: First, I replaced shortening with butter in the dough and reduced the amount to 1/4 cup. Then I switched to instant yeast, and used a different flour (of course). After the first test, and possibly because of King Arthur's higher protein level, I found the dough was fighting back a bit as I tried to work with it. So I reduced the amount of all-purpose and added a bit of potato flour to make the bread more tender. I can see why this is such a favorite at the holiday table, but I think the idea is just as viable for summer, with olive oil in the dough and pesto as the spread between the layers."
This is an easy bread to make; the fun is in putting it together once you've got dough in hand. You can mix it by hand, in a mixer, or in the bread machine. Here's a link to the recipe for Butterflake Herb Loaf; or follow along here and we'll make some lovely bread.
First, the dough.
1 cup (8 ounces) milk
1/4 cup (4 tablespoons, 2 ounces) butter
3 tablespoons (1 1/4 ounces) sugar
2 teaspoons salt
2 large eggs
2 teaspoons instant or active dry yeast
4 1/4 to 4 3/4 cups (1 pound to 1 pound, 4 ounces) King Arthur Unbleached All-Purpose Flour
2 tablespoons (3/4 ounce) potato flour or 1/4 cup mashed potato flakes, if that's what you have
Bring the milk to a simmer and pour it over the butter, either in your bread machine bucket (set the machine on the dough cycle) or a mixing bowl.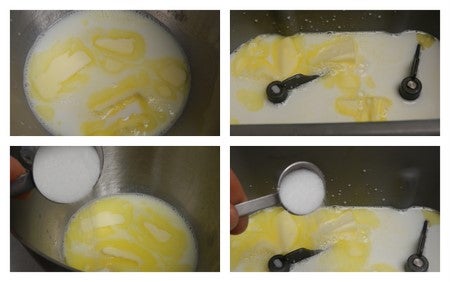 Let the whole business cool to lukewarm. You can add the sugar and salt while you're waiting. Once the milk is just slightly warm to the touch, add the eggs, yeast, and 3 1/2 cups of the flour and the potato flour or flakes. Hit "start" or start mixing.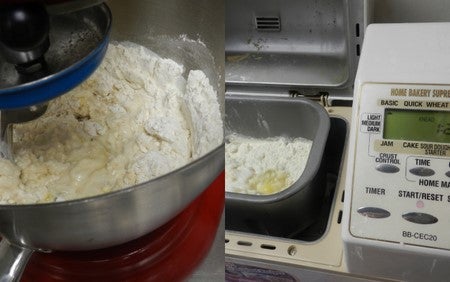 Learning moment here: I've intentionally put in less flour than the recipe calls for. This is a good habit to get into, for two reasons. It forces you to interact with your dough as it develops, since you KNOW you're going to need to add more flour; you just don't know how much. And we can't tell you how much, because we're not in your kitchen. We don't know if it's hot and dry where you live, or cool and wet, or hot and wet, or...
The other reason is that too much flour isn't good for the quality of your bread. Too much flour means the dough will be stiff, take much longer to rise, and will likely be dry and crumbly when baked, instead of tender and yummy.
The answer? You need to use (and get to trust) your hands. As the dough mixes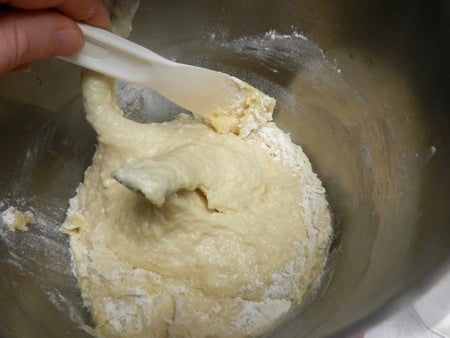 and comes together, the first move on your part is to scrape the edges of the bowl or bread machine bucket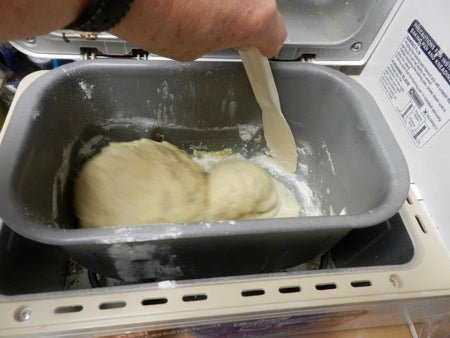 until everything you've put in is fully incorporated. By this time, it will have been mixing for about 3 or 4 minutes. Time to touch the dough. If your finger comes away with dough sticking to it,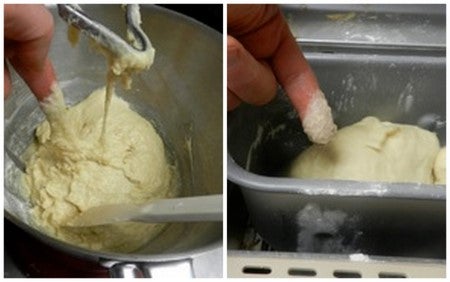 you'll need to add more flour (for this style of dough. If this were a no-knead or artisan bread, this level of moisture is closer to what you're aiming for). Add 2 tablespoons at a time, and let the dough mix until the flour disappears before you touch it again to see if it needs more. You may need a quarter cup more flour (two additions), or more; it just depends. Once your dough is smooth and soft but not sticky, cover it and let it rise for either the rest of the bread machine's cycle, or in the mixing bowl.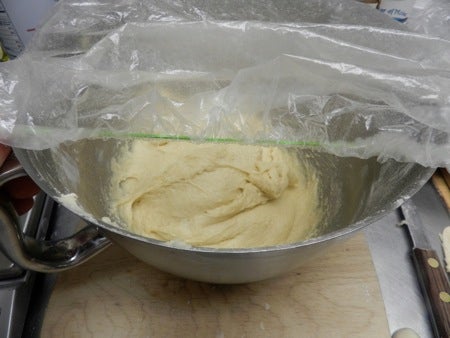 If you're new to bread making and not sure of how to know when the dough's ready to work with, PJ's 8-cup measure idea is still as good as it ever was. Grease the inside, put the dough in it, cover it up, and set a timer. I set this one for 55 minutes.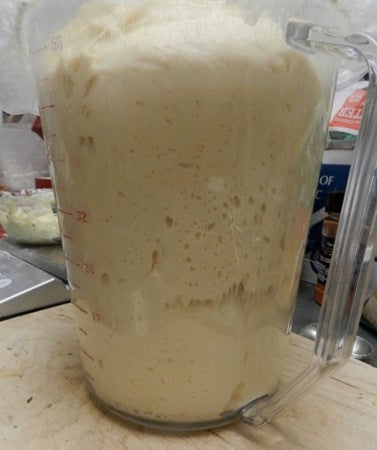 When it doubles, you're ready to go.
While the dough is rising, you can mix up the filling. For the herb butter, you can follow the recipe, or use this part of the recipe to put your own spin on things. The recipe calls for
1/2 cup (1 stick, 4 ounces) unsalted butter
1/2 teaspoon caraway or chopped fennel seeds
1/2 teaspoon dried basil
1 teaspoon grated onion
1/4 teaspoon oregano
1/2 teaspoon salt (next time I make this, I'm going to use smoked salt)
1/4 teaspoon cayenne pepper (for the faint of taste bud, try paprika instead)
1 clove garlic, minced
I did one loaf as the recipe specified, using one of my absolute favorite kitchen toys: our mini tools. I use them for getting peanut butter or shortening out of their containers (also that last little bit of Greek yogurt), stirring chocolate, and things like this. Can't live without 'em.
I did another version with Herbes de Provence and 1/4 cup grated Parmesan cheese, but you can really go to town with the filling. For sweet, you could mix maple or cinnamon sugar (1/4 cup) and soft butter for spreading in between. Nutella. Chocolate Schmear. Almond Filling. Baker's Cinnamon Filling. Really, anything that has a spreadable texture that you can imagine will be just fine.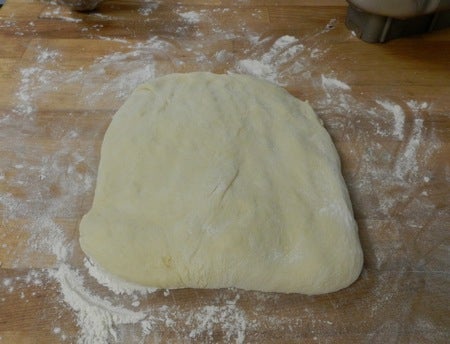 Now for the fun part. Roll the dough out 1/2" thick on a floured surface. We're going to cut the dough in circles, spread it with butter, fold the circles in half, and make a loaf out of it. The original recipe called for just piling the circles on top of each other, overlapping them, sort of like this: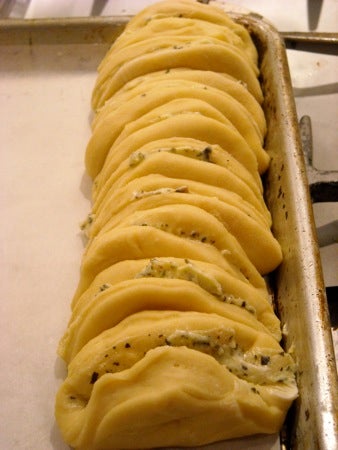 Which worked OK, but wasn't quite as pretty as my next try, when I reached for our Tea Loaf Pan, parchment paper, and a couple of binder clips, which are another indispensable bit of equipment on my station. It just so happens that our English Muffin Rings are the exact right size to cut circles for this pan.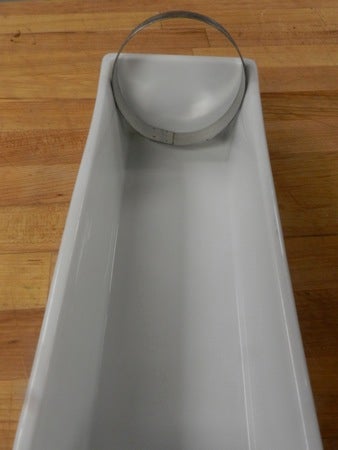 I always line my baking pans with parchment. I never know if what I'm baking will be so beautiful that I'll want a picture of it, and there's simply no substitute for getting things out of the pan in one piece.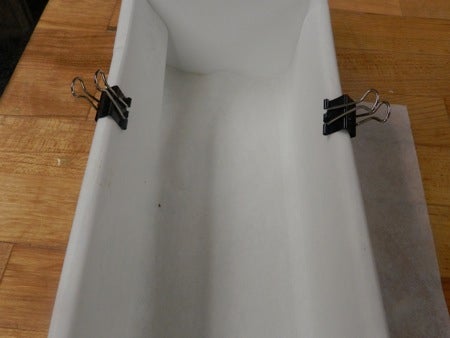 The binder clips don't care if they're going for a ride in the oven; they're all metal. There's nothing worse than having the edge of the paper flop down into your brownies or cake batter, and the clips keep things where they belong.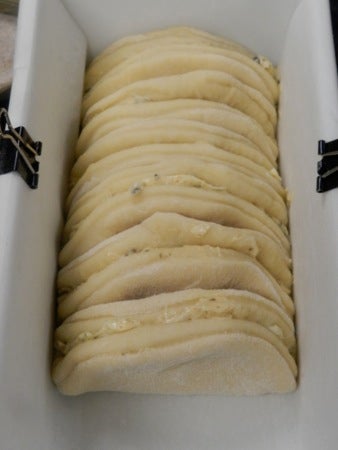 Once the pan is full, cover the loaf with greased plastic and let the dough rise for 30 to 40 minutes, until it's pretty puffy-looking.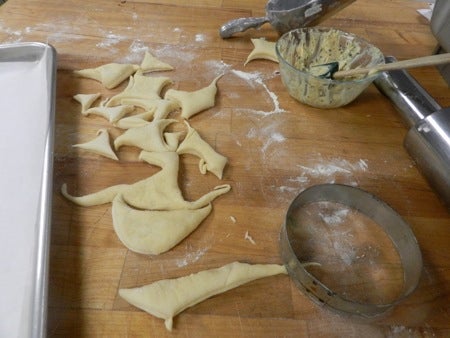 This is one of the super bonus features of this bread. See the cool scrap shapes? And the bit of extra butter? Time to play. Give 'em a schmear, and line 'em up on a baking sheet.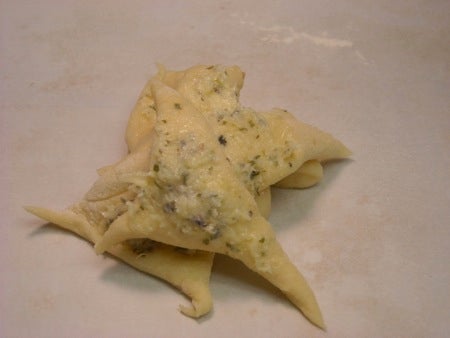 After they're all piled up, let them rise until they're puffy-looking, just like the bread. You'll want to fire up both ovens, if you have two, or you can assemble the bread and refrigerate it for several hours before you bake it. Yes, you can build the bread and freeze it, too. Just thaw overnight in the refrigerator the night before you need it. Put it on the counter while your oven preheats (350°F), and bake. The scraps make a very cool-looking starfish or dinosaur bread. The kids will dig it.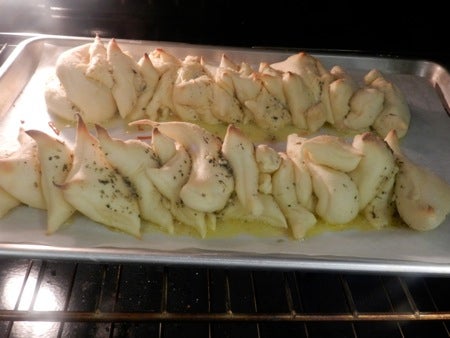 A word about bake times. If you're baking the bread in a metal loaf pan, it takes about 22 to 25 minutes. If you're baking in a ceramic pan, it will need as much as 30 to 35, and may want a foil tent for the last 10 to 15 minutes. The scraps on a baking sheet won't need much more than 20 minutes.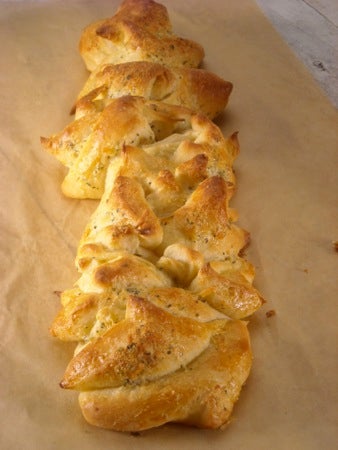 I made two batches of this bread yesterday, to capture some step photos. I took it on tour to the customer service team, hot out of the oven (they're less able to get up and follow their noses to the kitchen, since they're talking or chatting with you all). First I took the scrap loaf around, then put out the "grownup" versions. Honestly, a total of 4 loaves of this herb bread disappeared in under 12 minutes.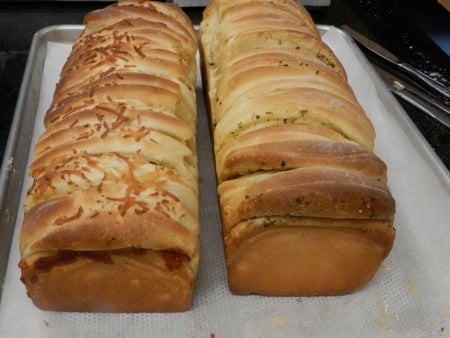 Everyone asked for the recipe. I must have chanted "Holiday Baking Sheet, page 31" about 20 times. That's the kind of response you'll get when you have your own source of great recipe and meal ideas. The Winter issue coming around the bend is full of amazing breads and soups to go with them, among many other goodies you won't find anyplace else. If you want to get in on this great source of recipes that you KNOW will work, have nutritional analysis for each (Weight Watchers PointsPlus®, too), and would welcome the treat of a good read, lots of sharing, stories, and baking conversations every other month, The Baking Sheet is for you.