Cheesecake
The plain, the swirled and the pumpkin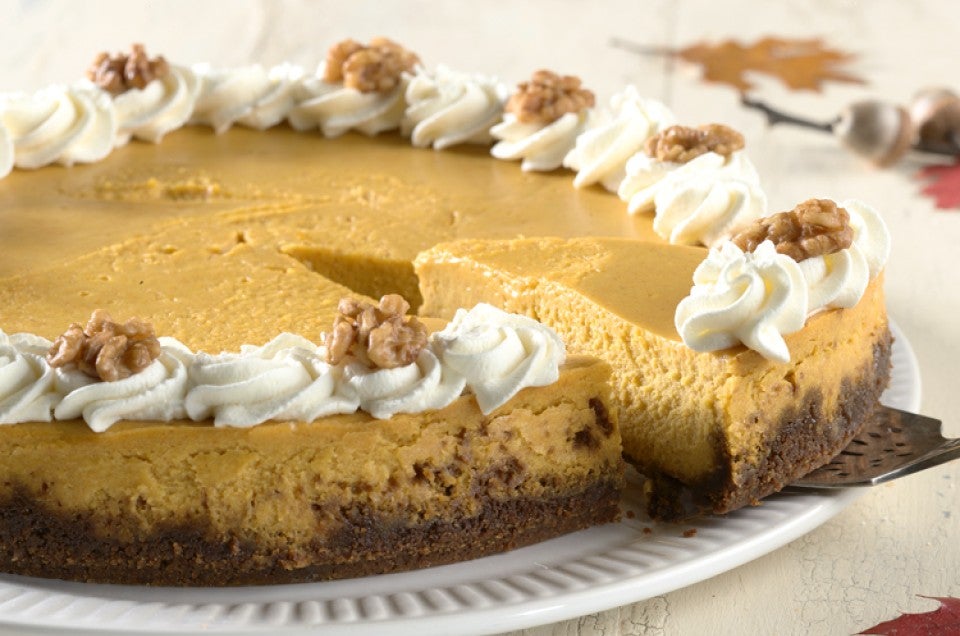 Move over Eve, Marilyn, Cleopatra and Mae West, and let me show you how this temptation thing is really done.  Plan ahead, you'll want plenty of time to be ready for this.
First you warm things up. Then you...
Dab on a little spice, sprinkle on a little sweetness, and always remember to keep the fire low.  Now, aren't you in the mood for...
Cheesecake?!
Yes, cheesecake. What else did you think I was talking about? Cheesecake like all good things in life favors those who plan ahead and take their time. Plus, once you have the basics well in hand, there are endless new varieties to try to keep things interesting.
This blog will cover the basics of cheesecake making and will link to 2 different cheesecake recipes. You'll see these different versions of cheesecake in the step photos. First, a plain NY cheesecake, perfect for all occasions. Next, we'll talk about how to make that same cheesecake as a pumpkin swirl cheesecake, and lastly, a full-on 100% pumpkin cheesecake.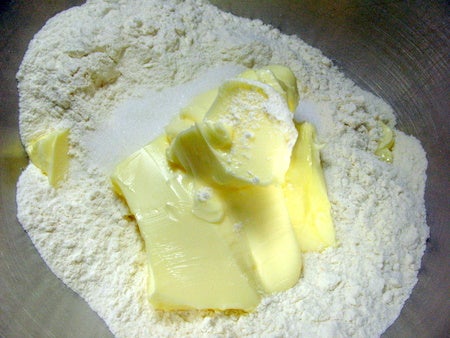 For the cookie style crust, place in your mixing bowl:
• 1 1/2 cups King Arthur Unbleached All-Purpose Flour
• 1/3 cup sugar
• 1/4 teaspoon salt
• 1/2 cup (1 stick) unsalted butter, softened
• 1 large egg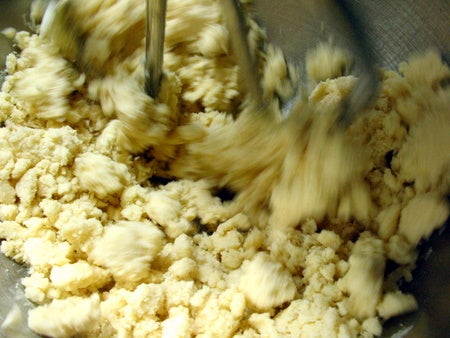 Blend on medium-low speed until the mixture comes together in large moist chunks.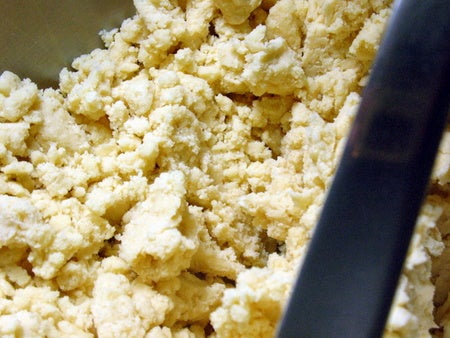 Once the mixture resembles cookie dough, you're ready to press it into a greased 9" x 13" x 2" pan. Be sure to double check the 2" height measurement. You want plenty of room for all of the luscious filling.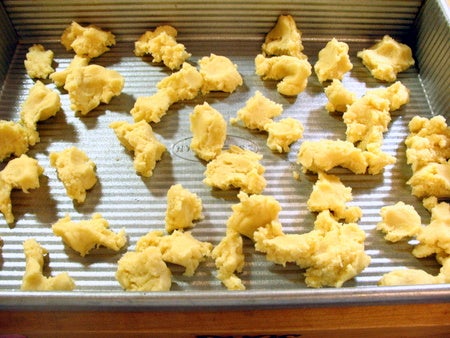 Remember the old days when you would put all of your dough in the center of the pan and push, pull and cuss it into all of the corners of the pan? Well no more! Instead, break up the dough into lots of pieces and distribute them evenly over the bottom of the pan.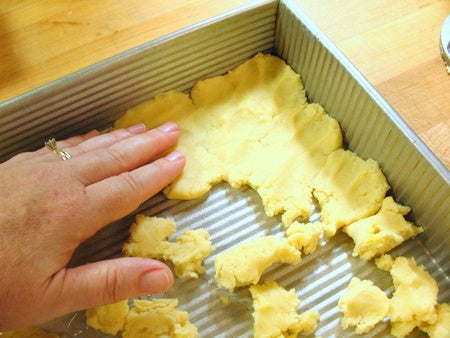 Then just work your way across the bottom of the pan, blending each chunk into the next in a nice even layer.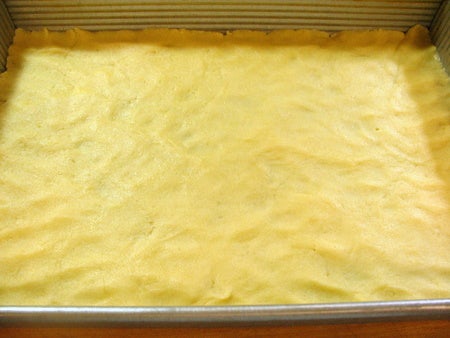 Voila! And nary a curse word spoken. Be sure to press the dough up the sides of the pan to provide side support. About an inch all around should do the trick.
Prick the base all over with a fork, and bake in a preheated 400°F for 15 minutes, or until lightly browned. Remove from the oven and reduce the oven temperature to 325°F.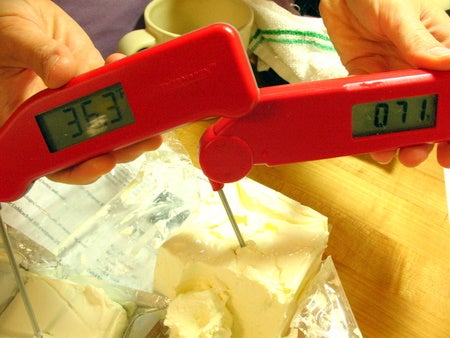 One of the most important parts of a smooth and creamy cheesecake filling is the cream cheese itself. Use a good quality cream cheese, and take the time to let it warm to room temperature. As you can see, there is a vast difference in temperature in cheese straight from the fridge (left) and cheese that has been left out for 2 hours (right). Warm cream cheese means far fewer lumps in your filling.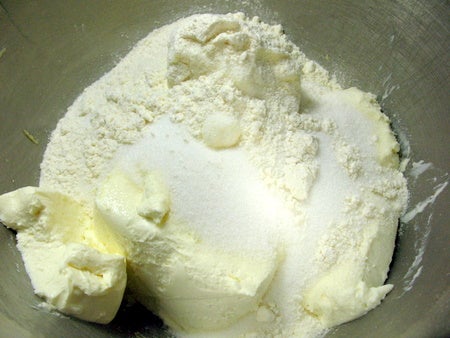 For your filling, place in the mixing bowl:
• 2 pounds (four 8-ounce packages) cream cheese, at room temperature
• 1 3/4 cups sugar
• 3 tablespoons King Arthur Unbleached All-Purpose Flour
Mix at low speed with your paddle attachment until there are no lumps. Scrape the bottom and sides of the bowl at least twice during this process, to be sure no cheese is sticking.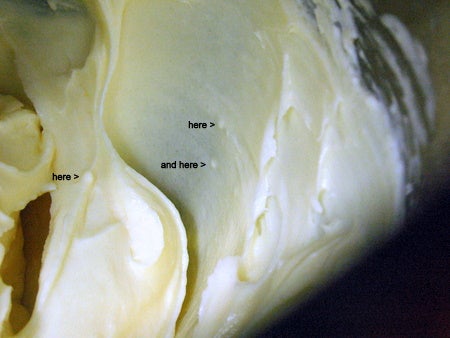 Stop the mixer every now and then to scrape down the bowl and check for lumps. As you can see, there are still a few in the mixture, so keep going on low speed for a few more minutes.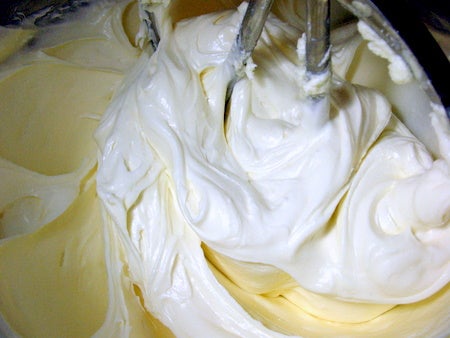 When the initial mixture is fairly lump-free, add the lemon zest, salt, and vanilla, and mix to combine. Add the eggs, one at a time, mixing until incorporated and scraping the mixing bowl between additions. Stir in the sour cream on low speed.
Why low speed? Why can't we just set this baby on high and whip the leapin' ladybugs out of the filling? It would save a lot of time.  Sure, it would save time, but the beauty of cheesecake lies in its dense texture. Whipping on high speed incorporates more air than you want into the filling and will create bubbles in your finished cheesecake. So, set your iPod up with a slow and dreamy music mix, and go with the low and slow.
** STOP HERE FOR PLAIN NY CHEESECAKE**Pour the filling over the crust and bake for 45 to 50 minutes, until the edges of the cake are set one inch in from the edge. The middle should still jiggle when you nudge the pan; in fact, the cake will look underbaked. Measure the temperature of the cake an inch from the edge: when it reaches 175°F, turn off the oven.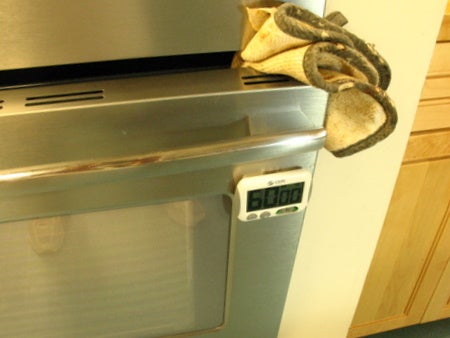 Another must-do for crack free cheesecake is a slow cool down. Once you've turned the oven off, prop the door open with an oven mitt or foil ball and leave the cheesecake to "coast" for an hour. The filling will finish baking and will become set and the slow cool down will not shock the cake into cracking.
Now, say you didn't want to stop at a plain cheesecake as the fall holidays grow nearer. Care to give the swirl a whirl?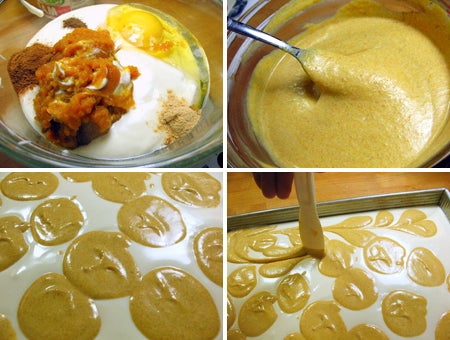 For pumpkin swirl cheesecake, remove 1 cup of your prepared batter and mix it with 1/2 cup pumpkin puree (canned is fine), one egg, 1/2 teaspoon cinnamon, 1/4 teaspoon ginger and a pinch of allspice. (no worries, these amounts are listed in the "tips" section of the basic NY cheesecake recipe).
Blend with a fork until the mixture is nice and smooth.
Pour your plain cheesecake batter into the prepared crust. Dollop the pumpkin batter randomly over the surface and swirl gently with a knife, spreader or similar tool.
Bake as you would for the plain cheesecake, including the jiggle test and long, slow cooling time.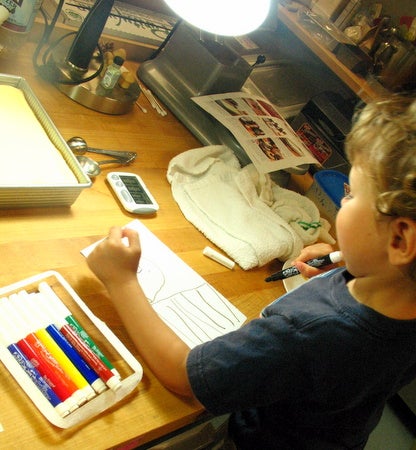 One cheesecake is out of the oven, crack free. You can see it in the upper left hand corner of the photo.
Want a fun way to pass the 60 minutes as you wait for your cheesecake masterpiece to coast to deliciousness? Invite a young friend in to the kitchen and have him draw a picture with you. Portraits are always fun, such as a portrait of our boss, Matt, in customer service.  Henry had some great ideas about how Matt should look...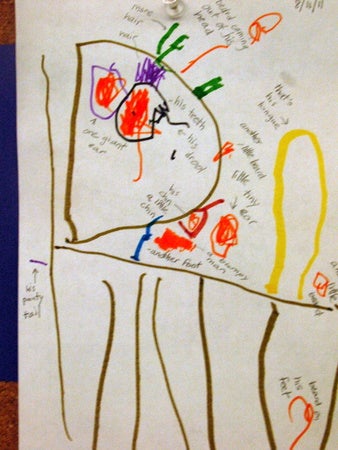 Sorry for the blurry picture, but I just couldn't stop laughing. In case you can't read all of the descriptions Matt has several legs, a pointy tail, lots of hair, pointed teeth and yes folks, yet another beard coming out of his head. Despite his "devilish good looks" Matt is a very dear man and he claimed first dibs on his special portrait from soon to be famous artist Henry.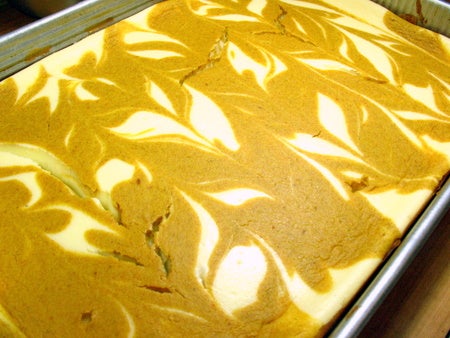 The only drawback to my art session was I got distracted and didn't check this cheesecake early. It baked to 182°F, so the proteins in the eggs began to tighten up and caused some cracking during the cooling stage. Some carefully cutting and a little whipped cream will take care of that though.
Chill the cheesecake for at least 6 hours. Overnight is best.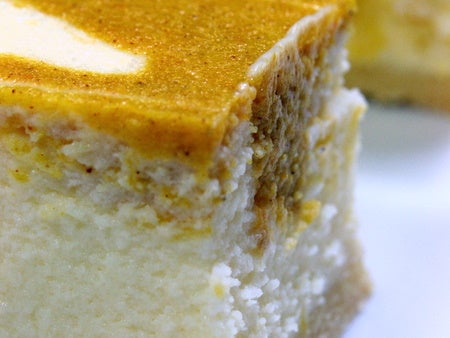 Check out that amazing texture. Dense, smooth and creamy. Dipping your knife in hot water then wiping clean will help make cleaner cuts in your chilled cheesecakes.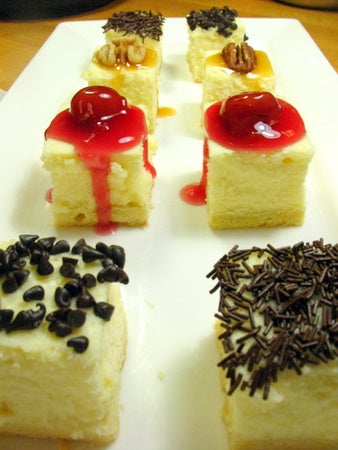 One pan of cheesecake, many different looks. Using a few bits and bobs and leftover toppings from the fridge, you can create a cheesecake tasting plate that will appeal to every guest. Would you rather have chocolate sprinkles, or mini chocolate chips?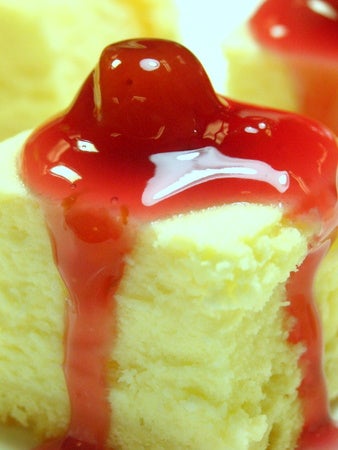 For me, it's always going to be cherry pie filling. At least for the first round. I may try the pecan and caramel sauce on my second trip.
Now that you have a basic cheesecake and a swirled cheesecake under your belt, try our full-flavored pumpkin cheesecake from the main photo. With a spicy gingersnap cookie crust, it makes a nice change from pumpkin pie for fall holiday feasts, and can be embellished with a little cinnamon whipped cream  if desired.
Let's review those key cheesecake points one more time.
Make sure your ingredients are room temperature, especially your cream cheese
Blend well to get rid of lumps before proceeding. You only get one change to be lump-free
Low and slow is the key to mixing. Avoid introducing too much air
Stay with low and slow for baking too. Test your cheesecake while the center is still loose.
A long coast to the finish is the best plan.
Proper chilling before serving will give you the best texture.
I really hope this has answered some of your burning cheesecake questions. We'd love to hear your tips and tricky for perfect cheesecakes so fill up those comments!