Construction can be stressful. Construction can be noisy. The sounds that come from a site can try even the most patient of people.
I'm not sure if you've noticed, but here at King Arthur Flour, we're still smiling as big and as bright as ever. Want to know the reason why?
Amidst the hustle and bustle of the new renovation, two side projects have emerged and blossomed. They opened with minimal fuss and without much advertisement, but still quickly gained popularity amongst locals. Now, it's time we share with you where we've been going when we've needed a change of pace.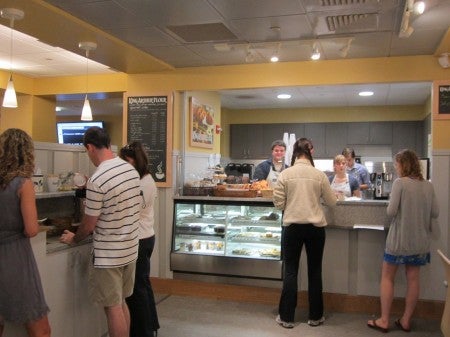 Our newest King Arthur Flour locale is on the first floor of the Baker-Berry Library, located in the heart of the Dartmouth College campus, just across the Connecticut River from our home in Norwich, VT. There, we serve all of the pastries and sweets you know and love from the retail store, as well as the delicious fresh sandwiches and salads created for you by Chef Maria Hall.
Just like at The Baker's Store across the river, we serve barista drinks, iced coffee, iced tea, and fresh lemonade. Something that we make there that isn't something you'll see in our retail store is our iced barista drinks. There hasn't been a college student yet who hasn't raved about the iced mocha lattes or iced vanilla soy cappuccinos. We think you might agree.
The setting is relaxing and the air is conditioned, making it a perfect place for lunch. The hours are Monday-Friday, 8:00 a.m.-6:00 p.m. and 10:00 a.m.-6:00 p.m. on the weekends. Weekends are our slow time since there are no classes, so it's a perfect time to bring the family over for a visit.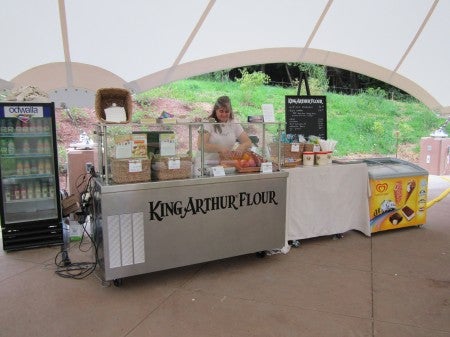 If you're looking for a more kid-friendly atmosphere and a great family activity, visit the KAF lunch cart in the Hughes Pavilion at the Montshire Museum of Science in Norwich. Our hours are 10:30 a.m.-3:00 p.m. daily, through September 5. There we serve delicious lunch items such as sandwiches made by Chef Maria, as well as chips, drinks, fruit, granola bars, and ice cream.
We love working there because our tent is open on all sides and there is a great breeze that comes through, keeping it cool even on the hottest days. It's a true picnic area since the seating is picnic tables and your view is of the river and mountains (the train comes through a couple times a day too!)
Our new locations at Baker-Berry Library and the Montshire Museum are our favorite getaways and we hope you will give us a visit after your shopping trip at The Baker's Store and make them yours as well.