It's interesting how you strike up a conversation with someone.
While at the Kneading Conference in Skowhegan, Maine, on July 28th & 29th, I was taking this picture of my delectable lunch when the gentleman across the table chuckled a bit (doesn't everyone take pictures of their food?). I explained that I would be blogging about the conference and was taking pictures of pretty much everything because I just didn't know what I might end up writing about.
From that chuckle came a conversation. The gentleman's name was Perry, and he had traveled from Missouri to attend this event. He recently built a wood-fired oven in his backyard and bakes bread in it weekly. Much of the bread is given to his neighbors, "so they won't complain about the oven." So far there have been no complaints – only rave reviews. He attended this event because he was interested in learning about more varieties of products he could bake in his oven.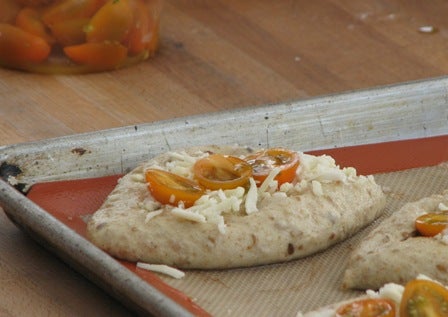 Tom and Lenora drove to the conference from Massachusetts as the result of a 25-year quest to make the perfect pizza. Tom has developed the perfect sauce, perfect combination of toppings, and found the most divine cheese. The perfect crust has eluded him, however, and he hoped to find the answers he sought at this event.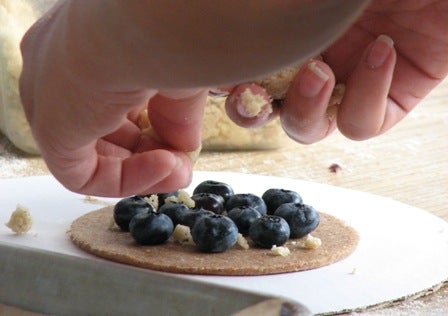 Cindi from Connecticut recently learned her position as bread and pastries teacher at a culinary institute had been cut. She was hoping to find inspiration for a new path to follow for the next chapter of her life. The next chapter begins after she gets back from France in September (color me jealous!).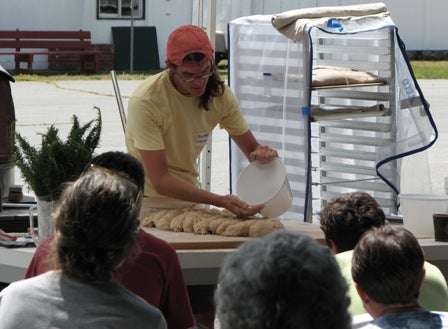 These folks and the different journeys that all brought them to The Kneading Conference was what interested me most about this event. It was great to see so many people with different goals come together as they did.
The novice, the long-time enthusiast, and the professional baker all mingled as one. They learned from the fantastic presenters (Ciril Hitz was my personal favorite), but they also learned from one another. This created a vibe of enthusiastic jubilation surrounding the act of baking with flour. This thought sort of makes me want to dance around in my kitchen tossing handfuls of flour. Is it just me?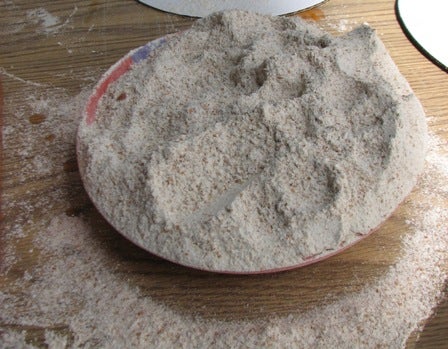 The Kneading Conference does go deeper than simply baking with flour, though.
A major focus of the conference is to build awareness and support for artisanal, local, and sustainable food systems. Our marketing director, Tom Payne, wrote a fantastic post last year about how King Arthur Flour fits into this focus. As he so eloquently put it, "We're giving our support to the movement to build a knowledge base among practitioners (those millers, oven builders, growers and bakers) so that one day soon Maine – and perhaps other locales around the country – will boast a thriving, sustainable wheat supply."
King Arthur Flour has very exacting standards for its flours, which is how we're all able to expect perfect consistency when using it. As a company we continue to support a local wheat initiative so that someday local flour may meet those standards.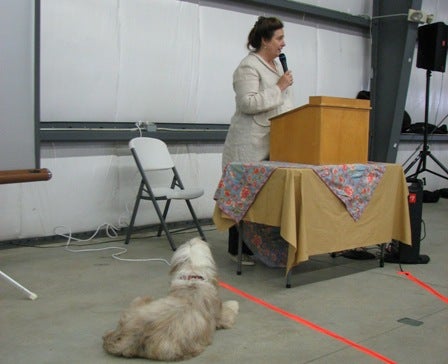 In the meantime, keynote speaker Molly O'Neill (who brought along her shaggy dog, Tootsie) shared a story that brought to light that everywhere is local to someone.
Molly's family owned a mill for several generations. While she was traveling in Kansas doing research for a book, she kept passing a small mill that looked very much like the one her family had operated. She decided to stop in and talk to the folks at this Kansas mill, and she found out that 200 families in the area rely on the mill to provide employment, and frankly, to keep the little town on the map. If it weren't for this mill's primary customer, King Arthur Flour, their little town would be no more.
For anyone that missed the Kneading Conference, don't fret. You'll get another chance. The Kneading Conference is an annual event and will be back in Maine again next year. There will also be a Kneading Conference West held in Mt Vernon, Washington, September 15-17. Find out more at http://kneadingconferencewest.com/ and http://kneadingconference.com/.